It's Not Just Bad Behavior – Why Social Media Design Makes It Hard to Have Constructive Disagreements Online – Nextgov
Good-faith disagreements are a normal part of society and building strong relationships. Yet it's difficult to engage in good-faith disagreements on the internet, and people reach less common ground online compared with face-to-face disagreements.
There's no shortage of research about the psychology of arguing online, from text versus voice to how anyone can become a troll and advice about how to argue well. But there's another factor that's often overlooked: the design of social media itself.
My colleagues and I investigated how the design of social media affects online disagreements and how to design for constructive arguments. We surveyed and interviewed 257 people about their experiences with online arguments and how design could help. We asked which features of 10 different social media platforms made it easy or difficult to engage in online arguments, and why. (Full disclosure: I receive research funding from Facebook.)
We found that people often avoid discussing challenging topics online for fear of harming their relationships, and when it comes to disagreements, not all social media are the same. People can spend a lot of time on a social media site and not engage in arguments (e.g. YouTube) or find it nearly impossible to avoid arguments on certain platforms (e.g. Facebook and WhatsApp).
Here's what people told us about their experiences with Facebook, WhatsApp and YouTube, which were the most and least common places for online arguments.
Facebook
Seventy percent of our participants had engaged in a Facebook argument, and many spoke negatively of the experience. People said they felt it was hard to be vulnerable because they had an audience: the rest of their Facebook friends. One participant said, on Facebook, "Sometimes you don't admit your failures because other people are looking." Disagreements became sparring matches with a captive audience, rather than two or more people trying to express their views and find common ground.
People also said that the way Facebook structures commenting prevents meaningful engagement because many comments are automatically hidden and cut shorter. This prevents people from seeing content and participating in the discussion at all.
WhatsApp
In contrast, people said arguing on a private messaging platform such as WhatsApp allowed them "to be honest and have an honest conversation." It was a popular place for online arguments, with 76% of our participants saying that they had argued on the platform.
The organization of messages also allowed people to "keep the focus on the discussion at hand." And, unlike the experience with face-to-face conversations, someone receiving a message on WhatsApp could choose when to respond. People said that this helped online dialogue because they had more time to think out their responses and take a step back from the emotional charge of the situation. However, sometimes this turned into too much time between messages, and people said they felt that they were being ignored.
Overall, our participants felt the privacy they had on WhatsApp was necessary for vulnerability and authenticity online, with significantly more people agreeing that they could talk about controversial topics on private platforms as opposed to public ones like Facebook.
YouTube
Very few people reported engaging in arguments on YouTube, and their opinions of YouTube depended on which feature they used. When commenting, people said they "may write something controversial and nobody will reply to it," which makes the site "feel more like leaving a review than having a conversation." Users felt they could have disagreements in the live chat of a video, with the caveat that the channel didn't moderate the discussion.
Unlike Facebook and WhatsApp, YouTube is centered around video content. Users liked "the fact that one particular video can be focused on, without having to defend, a whole issue," and that "you can make long videos to really explain yourself." They also liked that videos facilitate more social cues than is possible in most online interactions, since "you can see the person's facial expressions on the videos they produce."
YouTube's platform-wide moderation had mixed reviews, as some people felt they could "comment freely without persecution" and others said videos were removed at YouTube's discretion "usually [for] a ridiculous or nonsensical reason." People also felt that when creators moderated their comments and "just filter things they don't like," it hindered people's ability to have difficult discussions.
Redesigning social media for better arguing
We asked participants how proposed design interactions could improve their experiences arguing online. We showed them storyboards of features that could be added to social media. We found that people like some features that are already present in social media, like the ability to delete inflammatory content, block users who derail conversations and use emoji to convey emotions in text.
People were also enthusiastic about an intervention that helps users to "channel switch" from a public to private online space. This involves an app intervening in an argument on a public post and suggesting users move to a private chat. One person said "this way, people don't get annoyed and included in online discussion that doesn't really involve them." Another said, "this would save a lot of people embarrassment from arguing in public."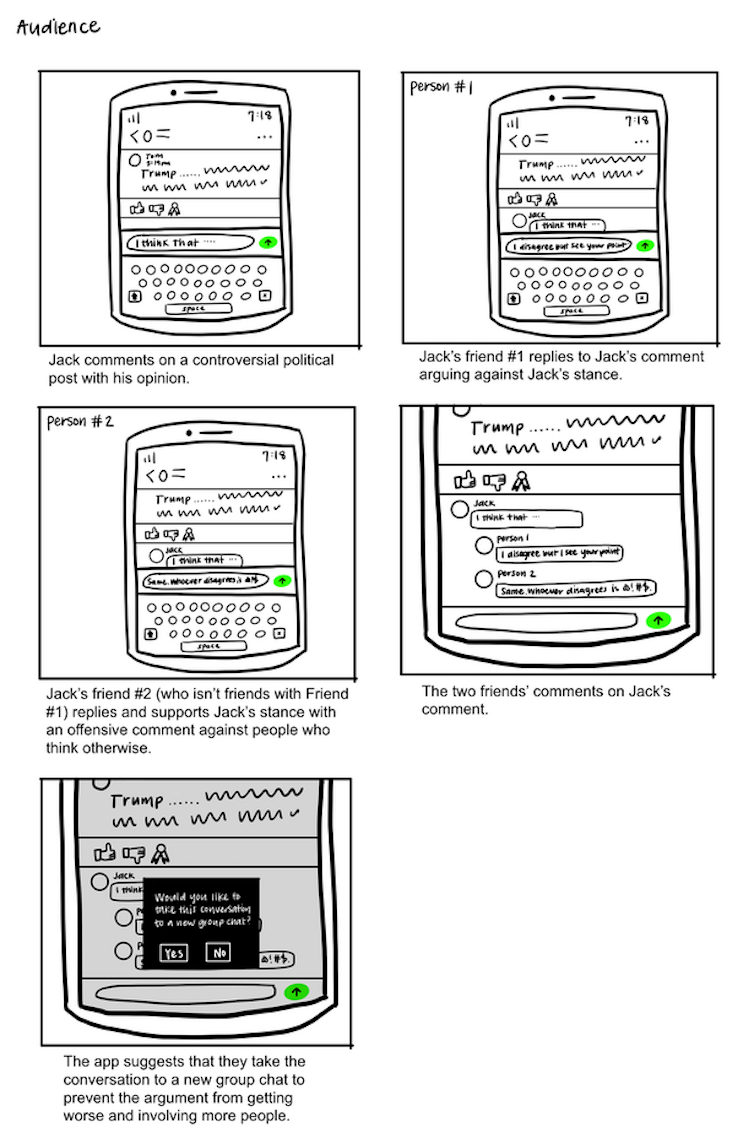 Intervene, but carefully
Overall, the people we interviewed were cautiously optimistic about the potential for design to improve the tone of online arguments. They were hopeful that design could help them find more common ground with others online.
Yet, people are also wary of technology's potential to become intrusive during an already sensitive interpersonal exchange. For instance, a well-intentioned but naïve intervention could backfire and come across as "creepy" and "too much." One of our interventions involved a forced 30-second timeout, designed to give people time to cool off before responding. However, our subjects thought it could end up frustrating people further and derail the conversation.
Social media developers can take steps to foster constructive disagreements online through design. But our findings suggest that they also will need to consider how their interventions might backfire, intrude or otherwise have unintended consequences for their users.
[Get the best of The Conversation, every weekend. Sign up for our weekly newsletter.]
Amanda Baughan, PhD Student in Computer Science & Engineering, University of Washington

This article is republished from The Conversation under a Creative Commons license. Read the original article.
Alberta Education investigating social media leak of provincial exam answers – CBC.ca
Alberta Education is investigating alleged answers for Provincial Achievement Tests (PATs) leaking to social media, with at least one school cancelling exams.
The ministry notified schools of Grade 9 math answers reportedly circulating on June 18, according to education press secretary Katherine Stavropoulos. The ministry is "reminding school authorities to exercise their due diligence in supervising the remaining PATs."
"Findings from this investigation may have an impact on future administrations to help minimize the chances of such a breach from occurring again," she said in an emailed statement Friday.
The ministry is also aware of other photos and other subjects circulating online, which it will investigate.
The PATs — standardized tests administered annually to reflect what students are expected to learn — were written across the province between June 13 and June 24.
The exams were suspended for the 2019-2020 school year, and only language arts and mathematics were available as an option for 2020-2021.
Stavropoulos said schools started having the option to write PATs at different times in the 2018-2019 school year. Around a quarter of schools were asking to write on alternate dates due to local events, transportation, and other issues.
"The window is a way to provide school authorities with flexibility," she said.
PATs cancelled
Calgary Catholic Schools spokesperson Sandra Borowski said in an email the division became aware the breach extended beyond the first part of the math PATs to other exams as students who had access to answer keys and wrote the exams earlier posted to social media.
She said St. Martin de Porres School in Airdrie, Alta. canceled PATs because the school runs on a quarter schedule with writing dates extending beyond June 24, "which would result in a more widespread security breach putting into question the validity of Grade 9 PAT results."
Grade 9 students there were provided with an alternate optional final assessment, Borowski said.
Edmonton Public Schools said last week it was looking into the matter. The Calgary Board of Education said it was aware of a breach and was working with Alberta Education. The Edmonton Catholic School Board said communication was ongoing with the province but that it had not cancelled any PATs.
A search for "Alberta PAT answers" on TikTok shows several videos with thousands of views purporting to reveal the multiple choice answers for science and social studies.
'They should be voided'
Sarah Elaine Eaton, an associate professor at the University of Calgary who studies cheating and academic misconduct, said it would be natural for the test takers to look at these answer keys, whether they are verifiably correct or not.
"It's human nature to be tempted, especially when we think that if we don't cheat, or we don't take a peek at those answers, that others may gain an advantage over us," Eaton said.
Eaton said the PATs have been compromised, making the results no longer valid and reliable. She said what happens next should be a straightforward matter — they should be voided.
"There's no way to put the toothpaste back in the tube, if you will," she said.
Eaton said there have been numerous cases of answers leaking online in the past several years, including the Ontario bar exams.
"I have heard of this in other jurisdictions, it's really not that uncommon, so it really does call into question about standardized tests being an effective way for students to show their knowledge," she said.
Ensuring devices are off, tests are in person using pencil and paper and administering exams at the same time are possible security measures to be employed, she said.
This Right-Wing Québec Media Website Has Mysterious Ties With Alberta's Oil Lobby – PressProgress
This article was originally published by Pivot, an independent, non-profit francophone news outlet based in Québec — PressProgress and Pivot are working together to translate and republish each other's stories.
Québec Nouvelles, the online media outlet, has links to individuals close to the Conservative Party of Québec (CPQ) and to Alberta's pro-oil lobby groups.
Mysteriously, after Pivot asked a few questions, evidence of these links began to disappear on the Internet. Well, almost.
Québec Nouvelles, the news and opinion website, was launched in the fall of 2019.
Québec Nouvelles claims to be different from other media outlets. Unlike those that "demand taxpayers' money in the form of subsidies, taxes, and other imposed measures," this "alternative independent media outlet" survives solely thanks to donations made by its readers, according to its website.
It claims the media outlet owes its survival to the fact that it "speaks to the people and defends the people against political corruption and the dishonesty of certain elites."
But the articles that have disappeared suggest a slightly different story.
In spring 2020, a similar news site, but published in English, The Westphalian Times, came into being. At first glance, aside from the editorial position, the connection between the two publications is not obvious.
However, the page devoted to donations on the respective websites makes it clear that the two entities are, in fact, linked to a single company, named Dominion Media, which has links to the CPQ and pro-oil lobby groups.
Very close ties with the Quebec Conservative Party
Headlines such as "I support Éric Duhaime, the only politician who can save Quebec," leave little doubt as to Québec Nouvelles's editorial position.
In fact, the website's content shows that the media outlet maintains particularly close ties with Duhaime and his party.
For example, on November 22, 2020, the media outlet acquired exclusive access to the logo the former radio host was about to unveil during the launch of his Conservative Party leadership campaign.
More recently, Québec Nouvelles published an article announcing, in advance, the results of a poll on voting intentions in Quebec, even before they were released by Utica Resources, the oil and gas company that had commissioned the poll.
The results had also been given to the CPQ ahead of time, which raised questions about the possibility of a breach of the rules governing donations to political parties.
We asked Québec Nouvelles who — from Utica Resources or from the CPQ — gave the survey to the media outlet, but we did not get an answer.
Strangely, the day after we tried to get clarification, the article in question had disappeared. However, an archived version is available.
Furthermore, the business registry indicates that Samuel Racine sits on the board of Dominion Media, which owns both Québec Nouvelles and The Westphalian Times.
He publishes under the pseudonym Samuel Rz in both media outlets. From his LinkedIn profile, we learn that at the Université de Montréal he was president of the Conservative Party of Canada's campus association.
Samuel Racine, under the pseudonym "Sam Rz," is also the moderator of a Facebook group in support of Éric Duhaime: "Appuyons Éric Duhaime, chef du PCQ."
This group appears to have the party's backing, since its administrators and moderators include such CPQ figures as Fred Têtu (Éric Duhaime's friend and biographer), Donald Gagnon (national vice-president of the CPQ), André Valiquette (chair of the CPQ's political commission) and Raffael Cavaliere (executive director of the CPQ).
Ties with the Québec Fier pressure group
Another administrator of the "Appuyons Éric Duhaime" Facebook group is Nicolas Gagnon. He's also an active contributor to the Québec Nouvelles website in addition to being one of the people in charge of the Québec Fier pressure group.
A report submitted by Québec Fier to Elections Canada during the 2019 federal election states that Samuel Racine was also paid by Québec Fier. His name does not appear on the list of expenses submitted by the organization for the 2021 election.
Québec Fier is a pressure group that is part of an ecosystem of similar groups that belong to the Canada Strong and Proud network.
Nicolas Gagnon is also an administrator with the Proudly New Brunswick, West Coast Proud, NS Proud, and Québec Fier organizations. This network fights mainly for the development of the fossil fuel industry in Canada.
Québec Fier was co-founded by Maxime Hupé, the former director of communications for Maxime Bernier. According to a report in the Huffington Post, Éric Duhaime offered advice to Jean Philippe Fournier, one of the former hosts of Québec Fier's Facebook page. Fournier was himself a candidate for the Conservative Party of Canada and the CPQ. He no longer has ties with Québec Fier.
During the 2019 federal election, Québec Fier received $45,000 from the Manning Centre for Building Democracy, a conservative advocacy group that was recently renamed Canada Strong and Free Network. This organization has also contributed $240,500 to the Canada Strong and Proud network.
During the 2021 federal election, Québec Fier received close to $93,000 from Canada Strong and Proud and nearly $2,500 from the Modern Miracle Network, a fossil fuel advocacy group.
We asked Québec Nouvelles if the media outlet received any money from the Modern Miracle Network, from the Canada Strong and Free Network, or from the oil industry. All responses, which were written by a certain Michael Binnion, have also disappeared, without explanation, from the Québec Nouvelles website. Fortunately, a number of archived versions are still available.
Michael Binnion and the influence of Alberta oil
On April 1 of this year, an open letter published in The Westphalian Times defended "the moral imperative" of exploiting Canadian hydrocarbons within the context of the war in Ukraine. The author of this letter is Michael Binnion, an Alberta businessman.
On April 4, Québec Nouvelles published this letter in translation, but without naming its author.
Michael Binnion is the CEO of Questerre, an Alberta oil and gas producing company that has interests in the Saint Lawrence Valley.
This little detail is not mentioned by either The Westphalian Times or by Québec Nouvelles. Binnion is also the chairman of the Québec Oil and Gas Association.
Binnion also chairs the board of directors for the Canada Strong and Free Network (formerly the Manning Centre) and is the founder of the Modern Miracle Network.
In 2019, the Globe and Mail revealed that some conservative politicians and heads of oil companies held a meeting at the invitation of the Modern Miracle Network. The goal of the meeting: Come up with strategies for overturning Justin Trudeau's government.
Québec Nouvelles claims, in all seriousness, that while several Québec media outlets have forsaken impartiality for ideology, it provides "quality information."
This statement would be much easier to take seriously if Québec Nouvelles owned up to its political and financial ties and if articles didn't disappear each time a reporter asked a question.
Our journalism is powered by readers like you.

We're an award-winning non-profit news organization that covers topics like social and economic inequality, big business and labour, and right-wing extremism.
Help us build so we can bring to light stories that don't get the attention they deserve from Canada's big corporate media outlets.
Company set to buy Trump's social media app faces subpoenas – Global News
The company planning to buy Donald Trump's new social media business has disclosed a federal grand jury investigation that it says could impede or even prevent its acquisition of the Truth Social app.
Shares of Digital World Acquisition Corp. dropped 10% in morning trading Monday as the company revealed that it has received subpoenas from a grand jury in New York.
The Justice Department subpoenas follow an ongoing probe by the Securities and Exchange Commission into whether Digital World broke rules by having substantial talks about buying Trump's company starting early last year before Digital World sold stock to the public for the first time in September, just weeks before its announcement that it would be buying Trump's company.
Trump's social media venture launched in February as he seeks a new digital stage to rally his supporters and fight Big Tech limits on speech, a year after he was banned from Twitter, Facebook and YouTube.
The Trump Media & Technology Group – which operates the Truth Social app and was in the process of being acquired by Digital World – said in a statement that it will cooperate with "oversight that supports the SEC's important mission of protecting retail investors."
The new probe could make it more difficult for Trump to finance his social media company. The company last year got promises from dozens of investors to pump $1 billion into the company, but it can't get the cash until the Digital World acquisition is completed.
Stock in Digital World rocketed to more than $100 in October after its deal to buy Trump's company was announced. The stock traded at just around $25 in morning trading Monday.
Digital World is a special-purpose acquisition company, or SPAC, part of an investing phenomenon that exploded in popularity over the past two years.

2:24


U.S. Capitol siege hearings focus on Trump's pressure campaign to overturn 2020 election



Such "blank-check" companies are empty corporate entities with no operations, only offering investors the promise they will buy a business in the future. As such they are allowed to sell stock to the public quickly without the usual regulatory disclosures and delays, but only if they haven't already lined up possible acquisition targets.
Digital World said in a regulatory filing Monday that each member of its board of directors has been subpoenaed by the grand jury in the Southern District of New York. Both the grand jury and the SEC are also seeking a number of documents tied to the company and others including a sponsor, ARC Global Investments, and Miami-based venture capital firm Rocket One Capital.
Some of the sought documents involve "due diligence" regarding Trump Media and other potential acquisition targets, as well as communications with Digital World's underwriter and financial adviser in its initial public offering, according to the SEC disclosure.
Digital World also Monday announced the resignation of one of its board members, Bruce Garelick, a chief strategy officer at Rocket One.
© 2022 The Canadian Press