Drop-in vaccination clinic held for vulnerable Peterborough residents, including those experiencing homelessness – kawarthaNOW.com
Peterborough Public Health held a drop-in COVID-19 vaccination clinic outside Peterborough City Hall earlier this week for vulnerable residents, including those experiencing homelessness.
The three-day clinic, which took place from Tuesday (July 6) to Thursday, administered first and second doses to 96 people despite the heat, humidity, and rain.
To reduce barriers to getting vaccinations, the health unit did not require appointments. Even those without a health card were able to receive a vaccine dose.
Advertisement – story continues below
"None of this would have been possible without the help of our community partners in organizing, promoting and staffing this multi-day clinic," says Hallie Alter, the health unit's manager of family and community health, in a media release.
Participating community agencies included the Brock Mission, Canadian Mental Health Association, Fourcast, Nogojiwanong Friendship Centre, One City Peterborough, One Roof Community Centre, PARN, Salvation Army, YES Shelter for Youth and families, and YWCA Crossroads Shelter, along with support from the City of Peterborough, Peterborough 360 Degree Nurse Practitioner-Led Clinic, and Peterborough Regional Health Centre.
According to Atter, clients of community agencies serving vulnerable people find it harder to protect themselves from exposure to COVID-19 and can be at greater risk for severe illness.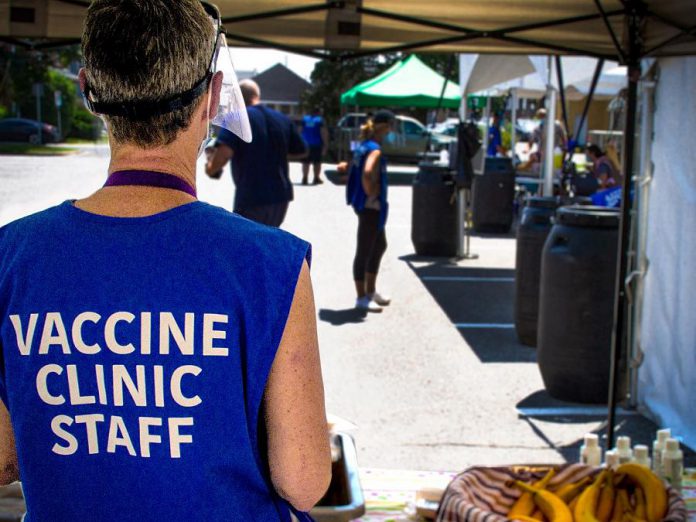 A recent Ontario study found that people experiencing homelessness were at least 20 times more likely to be hospitalized with COVID-19 and over 10 times more likely to be admitted into intensive care with COVID-19.
Due to their circumstances, vulnerable residents may also find it challenging to follow public health measures as well as to register for and attend mass vaccination clinics.
With the highly contagious delta variant circulating in the region, Peterborough Public Health plans to continue increasing local vaccination coverage through various strategies including pop-up clinics.
Amazon's Alexa could soon mimic voice of dead relatives – Prince Rupert Northern View – The Northern View
Amazon's Alexa might soon replicate the voice of family members – even if they're dead.
The capability, unveiled at Amazon's Re:Mars conference in Las Vegas, is in development and would allow the virtual assistant to mimic the voice of a specific person based on a less than a minute of provided recording.
Rohit Prasad, senior vice president and head scientist for Alexa, said at the event Wednesday that the desire behind the feature was to build greater trust in the interactions users have with Alexa by putting more "human attributes of empathy and affect."
"These attributes have become even more important during the ongoing pandemic when so many of us have lost ones that we love," Prasad said. "While AI can't eliminate that pain of loss, it can definitely make their memories last."
In a video played by Amazon at the event, a young child asks "Alexa, can Grandma finish reading me the Wizard of Oz?" Alexa then acknowledges the request, and switches to another voice mimicking the child's grandmother. The voice assistant then continues to read the book in that same voice.
To create the feature, Prasad said the company had to learn how to make a "high-quality voice" with a shorter recording, opposed to hours of recording in a studio. Amazon did not provide further details about the feature, which is bound to spark more privacy concerns and ethical questions about consent.
Amazon's push comes as competitor Microsoft earlier this week said it was scaling back its synthetic voice offerings and setting stricter guidelines to "ensure the active participation of the speaker" whose voice is recreated. Microsoft said Tuesday it is limiting which customers get to use the service — while also continuing to highlight acceptable uses such as an interactive Bugs Bunny character at AT&T stores.
"This technology has exciting potential in education, accessibility, and entertainment, and yet it is also easy to imagine how it could be used to inappropriately impersonate speakers and deceive listeners," said a blog post from Natasha Crampton, who heads Microsoft's AI ethics division.
THE ASSOCIATED PRESS
Like us on<!––> Facebook and follow us on Twitter
Nothing Phone 1 Colors – What're Your Options? – KnowYourMobile
When it comes to colors, what options will you have with the Nothing Phone 1? Let's find out…
---
Part of the Nothing Phone 1's allure is its design. The phone runs a fairly unique, though not as cool as the leaks suggested, transparent back panel design, whereby you can see its internal components. Because of this design, however, the color schemes – at least at launch – are limited to just one color option: white.
Nothing Phone 1 Colors
The Nothing Phone 1 will be available in a single color option when it gets released. The phone will be white with a transparent back panel, through which you'll be able to see some of its internal gubbins. This design harks back to Nothing's first product release, the Nothing Ear 1 wireless headphones.
What else do we know about the phone? Well, for starters we know that it will run Qualcomm's Snapdragon 778+ CPU alongside 8GB of RAM. The phone will also ship with 128GB of storage as standard, although there is no word on whether it will support MicroSD cards. The display will be a 6.55in OLED panel with a 120Hz refresh rate, and the phone will run on Nothing's custom Nothing OS on top of Android 12.
With respect to other internal components, the Nothing Phone 1 is expected to ship with a 4500mAh battery, complete with 45W fast charging abilities. You'll also have support for WiFi 6, 5G, and a side-mounted fingerprint scanner. The Nothing Phone 1 will not support a headphone jack, however, and this is likely down to Nothing wanting you to buy its wireless Nothing Ear 1 headphones.
Nothing Phone 1 Price – What To Expect…
As for pricing, the Nothing Phone 1 is expected to retail for around $500/£500. The phone will get a release date on July 21, following its July 12 unveiling. As with OnePlus' first phone, the Nothing Phone 1 will be available – at least at first – via an invite-based system. Carl Pei has plenty of experience with this in the past, so he is adopting it once again to create hype around the phone. As of right now, some 14,000 people have registered for an invite.
The Nothing Phone 1 will not be getting a release in the United States nor Canada, however, with Nothing focussing its efforts on the UK, Europe, and other markets. Given the phone's price, I'd assume it would be a big hit in one of the most important phone markets on the planet right now, India. In fact, Indians apparently make up the bulk of those who have signed up for an invite for the Nothing Phone 1.
Carl Pei, Nothing CEO, said while there will be no US release date to begin with this could change as things progress and develop. The main reason for the US market being skipped is likely down to how locked down it is at the moment – hardly any brands outside of Apple, Samsung, Google, and Motorola can get a look in with US carriers. And this needs to change if consumers are to be given more choice with what phones they can and can't buy.
But if Xiaomi cannot get a look in, I highly doubt Nothing will have much success…
Richard Goodwin
Richard Goodwin has been working as a tech journalist for over 10 years. He is the editor and owner of KnowYourMobile.
GPods TWS earbuds use light control to let your unique soul shine through – Yanko Design
[embedded content]
Wireless earbuds like the Apple AirPods have become a common accessory in this digital world. It isn't considered odd or even rude anymore to see people walking about with small knobs sticking out of their ears. While different brands try to stand apart in their designs, most Bluetooth earbuds share the same basic shape or, at the very least, share the same standard color choices. Almost everyone wants to personalize not only their experience but also their accessories to show off their personality and style. Earbuds, however, are one of the most difficult things to personalize, but this revolutionary pair breaks out of the mold and uses light and color to let the real you shine even in the dark.
Designer: HHOGene
Click Here to Buy Now: $79 $129 (38% off and free shipping). Hurry, exclusive deal for YD readers only.
Call it whatever you want, but each one of us has what some would refer to as a unique soul. It is a part of ourselves that sets us apart from others, whether through the way we see the world or the ways we express ourselves. Our clothing, our accessories, and even our gadgets have become part of such expressions, but mass-produced electronics like earbuds don't always offer customization options, and that's where the GPods come in, shedding some light on the problem, literally.
Whether it's matching the beat or matching your style, the GPods' six RGB LEDs light up the stem of the earbuds to let you shine and show what you hear and feel. Every color is in your control, whether you handpick the hues yourself or let the AI select the colors based on a photo of your choosing. With 72 basic colors at your disposal, you or the AI can create around 300,000 color combinations, ensuring that no two GPods owners will be alike.
And if that weren't enough, the GPods come with snap-on accessories that further add a bit of flair to the earbuds. Most notable is the Tiger Stripes, which introduces a play of light and shadow into your listening and shining experience. Ripples, Solar Eclipse, and Newborn are some of the planned accessories that you can easily snap and swap to truly make your buds unique.
The GPods isn't just all show, of course, and it packs some of the best hardware found inside Truly Wireless Stereo (TWS) Bluetooth buds. High-quality audio is delivered by 10mm dynamic drivers with polymer composite diaphragms, and Bluetooth 5.2 is the conduit through which your music travels. Convenient touch controls and IPX4 water resistance make the GPods a fit for any use and occasion, while the remarkable five-hour battery life (20 if you include the charging case) and speedy charging mean it will be ready for action anytime you need it.
We stick earbuds to our heads all the time these days, and these accessories have become an important part of our lives. Why settle for bland, uninspiring, and common earbuds when the rest of your body and your accessories are screaming with expression? With the GPods TWS earbuds and its light control, you can tell the world just how much you enjoy your music and dare to let your unique soul shine, whenever and wherever.
Click Here to Buy Now: $79 $129 (38% off and free shipping). Hurry, exclusive deal for YD readers only. Raised over $115,000.