It's the busiest travel day of the holiday season at Pearson International Airport – CP24 Toronto's Breaking News
Chris Fox, CP24.com

Published Friday, December 20, 2019 6:13AM EST


Last Updated Friday, December 20, 2019 9:02AM EST

It's going to be the busiest day of the holiday season at Pearson International Airport, so if you are catching a flight you may want to leave some extra time.
A total of 138,000 people are expected to pass through the airport by the end of the day with Pearson bringing in extra staff to help accommodate the influx of travellers.
Nonetheless, the airport is still advising anyone with a flight to arrive early and to give themselves extra time to check in, pass through security and make it to their gate.
They are also reminding travellers to leave all holiday gifts in their carry-on luggage unwrapped.
"It is busy and the advice to passengers if you are flying today or anytime over the holidays is leave early. Come to the airport early and give yourself lots of time," Greater Toronto Airports Authority spokesperson Tori Gass told CP24 on Friday morning. "You may need extra time to get through security, to take off all your winter layers, the boots, everything. But we have lots of stuff waiting on the other side for you. There is last minute shopping, there are dining promotions, there is a scavenger hunt booklet for kids and there are decorations. So once you get here there is lots to keep you entertained."
According to the Greater Toronto Airports Authority, holiday passenger traffic is up about two per cent compared to this time last year.
Vancouver's long and winding road to ride-hailing – CBC.ca
It took less than 24 hours for ride-hailing apps Uber and Lyft to get up and running after B.C.'s Passenger Transportation Board approved their operation in the Lower Mainland and Whistler this week.
But the nearly eight-year journey that preceded those first few rides in the city? Anything but swift.
And even though Metro Vancouverites can hail a ride through the tap of an app, the rest of the province is still waiting for their opportunity.
Here's what it took for ride-hailing to arrive in the city:
Summer 2012: Uber soft launches — unofficially — in Vancouver
While Uber, a San-Francisco based ride-hailing company, launches in Toronto in March, it also has an unofficial soft-launch in Vancouver during the summer.
Nov. 28, 2012: Uber withdraws from Vancouver
After operating unofficially for six months, Uber withdraws from Vancouver after the Passenger Transportation Board imposes a minimum fare of $75 per trip.
September 2014: Social media abuzz with rumours of Uber's return
Uber begins tweeting its intention to return to Vancouver and puts ads on Facebook to recruit drivers.
Nov. 3, 2014: Province announces undercover checks to combat Uber
Amid the rumours Uber is coming, Transportation Minister Todd Stone says plainclothes transit agents posing as potential customers will be deployed to ensure taxis and their drivers are operating by B.C.'s rules, which are enforced to ensure passenger safety.
Nov. 5, 2014: Vancouver taxi companies sue Uber
Vancouver's taxi industry fires a pre-emptive strike against Uber, alleging in a lawsuit that the U.S.-based company is preparing to launch with unlicensed drivers in an attempt to illegally undercut traditional cabs. Uber responds by calling the taxi industry a "cartel." They drop the lawsuit in March 2015.
Oct. 30, 2015: Vancouver council says no to new taxi licences, Uber
Michael Van Hemmen, public policy manager for Uber Canada, makes an informal pitch for ride hailing to Vancouver city council. Even though they agree the city is short on cabs — especially during peak hours, council votes to not open the streets up to more competition.
Feb. 16, 2016: Uber CEO slams regulations at Vancouver TED talk
"Old rules need to bend," Uber CEO Travis Kalanick reportedly tells an audience, making the pitch that Uber could create jobs and help cut traffic and pollution.
April 25, 2016: B.C. Green Party introduces ride-hailing legislation
The B.C. Green Party introduces legislation to "start a conversation" about bringing ride-hailing companies to British Columbia. The bill, introduced by Green Party leader Andrew Weaver, would require ride-hailing drivers to get a background check. This is the first of three attempts the Green Party makes to introduce ride-hailing legislation.
Oct. 19, 2016: Vancouver council bans Uber for another year
City council votes in favour of extending a moratorium on issuing new taxi licences for another year. This means there will be no new taxis on Vancouver streets until at least October 2017, and that Uber cabs will be unable to break into B.C.'s taxi market.
March 7, 2017: Liberals promise Uber if they win the election
Uber and other ride-hailing companies will be available by December, announces B.C. Transportation Minister Todd Stone, contingent on the B.C. Liberal party winning the 2017 provincial election. Taxi advocates plan to challenge the decision.
May 9, 2017: B.C. general election topples government
No single party wins the majority of seats, but the Greens say they will provide confidence to an NDP minority government. NDP leader John Horgan becomes premier, succeeding B.C. Liberal leader Christy Clark. The future of ride-hailing is unclear.
Sept. 27, 2017: New transportation minister mum on ride-hailing timeline
B.C.'s new transportation minister, Claire Trevena, says ride-hailing legislation won't be coming from the government anytime soon in response to a question put to her during the Union of B.C. Municipalities conference.
"It's too complicated. The previous government [wanted] it by the end of the year. I don't want to do that," Trevena says.
Aug. 25, 2017: Uber creates an accidental ice cream debacle
The online app promises to deliver free Earnest ice-cream and Uber promotional items to anybody in Vancouver who downloads the app and requests ice cream between the hours of 11 a.m. and 3 p.m. PT Aug. 25.
But instead of a sweet treat, many users are met with an "Ice Cream Unavailable" message. Social media users rage.
Nov. 13, 2017: Lyft arrives in Canada
Uber's biggest rival, San Francisco-based Lyft eyes the Toronto market, it's first move outside of the U.S., where it operates in 300 cities.
Nov. 23, 2017: Provincial committee created to investigate ride-hailing
Andrew Weaver, leader of the B.C. Green Party, announces that a select standing committee made up of MLAs from all three parties will investigate ride-hailing for the province and produce a report by February 2018 that will inform future legislation allowing the service.
Feb. 7, 2018: B.C. organizations create ride-hailing lobby
Nine organizations in British Columbia join forces to advocate for ride-hailing services in the province as soon as possible. The group is called Ridesharing Now for B.C.
Feb. 15, 2018: Government committee report: 'Yes!' to ride-hailing
The all-party MLA committee completes its report, which supports a plan for ride-hailing services throughout the province.
June 22, 2018: 'There really isn't a delay'
Transportation Minister Claire Trevena says the introduction of ride-hailing is running on schedule, despite claims from critics to the contrary.
Nov. 19, 2018: Ride-hailing legislation (finally) passes
The B.C. government introduces legislation to allow ride-hailing in the province by sometime in 2019. The proposed changes include amendments to eight provincial statutes. It passes.
July 8, 2019: Regulations for drivers, companies revealed
The province reveals regulations for ride-hailing, including Class 4 licences for drivers, and ride-hailing companies paying a $5,000 annual fee to operate.
Sept. 4, 2019: Vancouver taxis go back to court
A group of Vancouver-based taxi companies asks the Supreme Court of B.C. to quash rules recently introduced by the Passenger Transportation Board that would allow ride-hailing to begin legally operating in B.C.
Premier John Horgan dismisses their claims.
Jan. 23, 2020: Uber, Lyft approved for Lower Mainland, Whistler
Ride-hailing companies Uber and Lyft are approved to operate in the Lower Mainland, including Metro Vancouver. Less than 24 hours later, drivers hit the streets.
GRT strike: what we know so far – KitchenerToday.com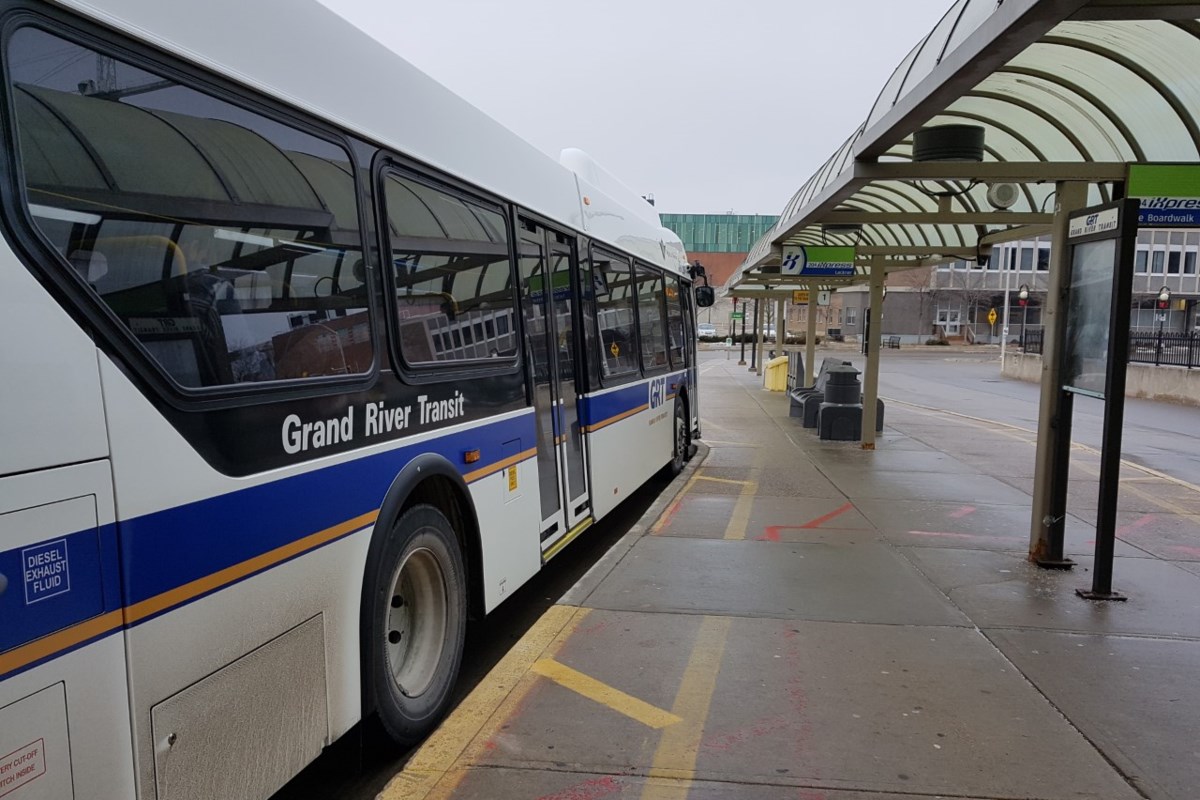 Waterloo Region will soon be entering its second week of GRT strikes as no new talks have been scheduled as of Saturday, January 25th.
Talks broke down Wednesday between the Region and the union representing around 700 Grand River Transit workers, as it became clear that no progress was being made.
Both sides remain open to continuing talks, as their respective negotiators hash out a future bargaining date.
Unifor Local 4304 President Tim Jewell says their members have made it clear they weren't happy with the original agreement that was presented. Among the concerns that weren't being addressed were driver safety, an end to heavy-handed, excessive discipline and unfettered use of video surveillance.
Region of Waterloo CAO Mike Murray says the terms being presented were broad and vague at times.
Earlier this week on Tuesday, Jewell pushed back at the idea the strike was over money, after the region revealed that morning the wage details of the agreement.
GRT employees were looking at a six per cent pay increase for operators, dispatchers, and service attendants over three years, while mechanics would receive a 15 per cent pay increase.
At the time, the concern that was put forth from Jewell was a safe work environment. The region responded by revealing the agreement included safety barrier installations over the next three years, estimated to cost $1.7 million. They also noted that every bus was equipped with multiple security cameras too.
Jewell says when it came to a safe working environment, they were asking for faster response time for security.
"We're looking at response right now. Barriers are the end result, which is going to be great whenever they get installed, but in the meanwhile⁠—in the past history⁠—as I stated last week, people are spat on and verbally abused and stuff like that."
Murray says the region also shares the unions concerns over driver safety, but is waiting for more specifics about what is wrong with the current system.
"If we're really going to get this resolved, we need to sit down face-to-face. We need to understand in detail what their issues are and see if there's ways that we can resolve them." said Murray.
He says they regret the toll the strike was having on the region's more vulnerable people. Jewell asks for their understanding as the strike continues.
On average, 70,000 people use GRT on an average weekday, according to the region. Meanwhile the Waterloo Undergraduate Student Association says 17,000 students at the university are affected by the strike.
Conestoga College announced Friday, they would be reimbursing travel costs for full-time students who are GRT pass holders. They're offering up to $200 for eligible travel-related costs: taxi fares, Uber fares and parking fees.
According to Art Sinclair, Vice President, Greater Kitchener-Waterloo Chamber of Commerce, the economic impact to local business is clear, but they won't know the dollar amount till after the end of the strike.
Meantime, Waterloo Region has a webpage dedicated to alternative transportation options here.
'Transportation-starved' Surrey needs Uber: Board of Trade – CityNews Vancouver
SURREY (NEWS 1130) — Ride-hailing is here to stay, according to the head of Surrey's Board of Trade, even as the city doubles down on promises to swipe Uber out of its future.
So far, Premier John Horgan, the head of Surrey's Board of Trade and Uber, says they've all told Surrey Mayor Doug McCallum he has no say over ride-sharing coming to his city.
"We absolutely need it for economic development to make sure that Surrey has a vibrant night culture and so people can have a safe ride home," says Anita Huberman, adding next steps include rallying businesses and others to send a message to councilors.
"To ensure that the City of Surrey knows that there is a strong desire for ride sharing to exist in Surrey despite comments to the contrary."
Ride-hailing is here to stay, according to the head of @SBofT even as the city doubles down on promises to swipe Uber out of its future. @jjhorgan and Uber have also told Surrey Mayor Doug McCallum he has no say over ride-sharing coming to his city. @anitahuberman agrees

— Ash Kelly (@AshDKelly) January 25, 2020
Premier Horgan says the legislation is "clear" and the City of Surrey, can't block Uber from operating there.
McCallum says he won't change his mind until he sees a "level playing field" for taxi drivers, which would mean at least doing away with municipal taxi boundaries.
Huberman says the board is also lobbying the province for updates to taxi licensing as ride-sharing is only part of the solution for the "transportation-starved" region, which also needs more public transit and taxi service.
"We need different ways to get around. In Surrey you can fit the cities of Vancouver, Richmond and Burnaby in our geography and we absolutely need it; for economic development, to make sure that Surrey has a vibrant night culture; so people can have a sfae ride home," she says.
"We'll send a letter and have some commentary discussion … to ensure the taxi industry also has a levelled playing field so that they can cross boundaries throught Metro Vancouver."
Saturday morning, @Uber told @NEWS1130 it "respectfully declines" to cease operations in Surrey after receiving a letter from the city's bylaw office to stop, saying
"The Passenger Transportation Board and the provincial government have given Uber all necessary licences."

— Ash Kelly (@AshDKelly) January 25, 2020
Saturday morning, Uber told NEWS 1130 they "respectfully declined" to cease operations in Surrey after receiving a letter from the city's bylaw office to stop.'
"The Passenger Transportation Board and the provincial government have given Uber all necessary licences authorizing Uber to continue operating across Metro Vancouver and in the City of Surrey," the release read. "We look forward to working with all Councils on a path forward for the regional licencing of this new industry."
Huberman says that advocacy work will continue, and she's looking forward to Monday's council meeting, where the conversation about Uber is planned to be raised.