Japan awaits spacecraft return with asteroid soil samples – Toronto Star
TOKYO – Japan's space agency said the Hayabusa2 spacecraft successfully separated a capsule and sent it toward Earth to deliver samples from a distant asteroid that could provide clues to the origin of the solar system and life on our planet.
The Japan Aerospace Exploration Agency said the capsule successfully detached Saturday afternoon from 220,000 kilometres (136,700 miles) away in a challenging operation that required precision control. The capsule is now descending to land in a remote, sparsely populated area of Woomera, Australia, on Sunday.
Hayabusa2 left the asteroid Ryugu, about 300 million kilometres (180 million miles) away, a year ago. After the capsule release, it is now moving away from Earth to capture images of the capsule descending to the planet.
Yuichi Tsuda, project manager at the space agency JAXA, stood up and raised his fists as everyone applauded the moment command centre officials confirmed the successful separation of the capsule.
Hayabusa2's return with the world's first asteroid subsurface samples comes weeks after NASA's OSIRIS-REx spacecraft made a successful touch-and-go grab of surface samples from asteroid Bennu. China, meanwhile, announced this week its lunar lander collected underground samples and sealed them within the spacecraft for return to Earth, as space developing nations compete in their missions.
Many Hayabusa2 fans gathered to observe the moment of the capsule separation at public viewing events across the country, including one at the Tokyo Dome stadium.
In the early hours of Sunday, the capsule, protected by a heat shield, will briefly turn into a fireball as it reenters the atmosphere 120 kilometres (75 miles) above Earth. At about 10 kilometres (6 miles) above ground, a parachute will open to slow its fall and beacon signals will be transmitted to indicate its location.
JAXA staff have set up satellite dishes at several locations in the target area to receive the signals, while also preparing a marine radar, drones and helicopters to assist in the search and retrieval of the pan-shaped capsule, 40 centimetres (15 inches) in diameter.
Australian National University space rock expert Trevor Ireland, who is in Woomera for the arrival of the capsule, said he expected the Ryugu samples to be similar to the meteorite that fell in Australia near Murchison in Victoria state more than 50 years ago.
"The Murchison meteorite opened a window on the origin of organics on Earth because these rocks were found to contain simple amino acids as well as abundant water," Ireland said, "We will examine whether Ryugu is a potential source of organic matter and water on Earth when the solar system was forming, and whether these still remain intact on the asteroid."
Scientists say they believe the samples, especially ones taken from under the asteroid's surface, contain valuable data unaffected by space radiation and other environmental factors. They are particularly interested in analyzing organic materials in the samples.
JAXA hopes to find clues to how the materials are distributed in the solar system and are related to life on Earth.
For Hayabusa2, it's not the end of the mission it started in 2014. After dropping the capsule, it will return to space and head to another distant small asteroid called 1998KY26 on a journey slated to take 10 years one way, for a possible research including finding ways to prevent meteorites from hitting Earth.
So far, its mission has been fully successful. It touched down twice on Ryugu despite its extremely rocky surface, and successfully collected data and samples during the 1 1/2 years it spent near Ryugu after arriving there in June 2018.
In its first touchdown in February 2019, it collected surface dust samples. In a more challenging mission in July that year, it collected underground samples from the asteroid for the first time in space history after landing in a crater that it created earlier by blasting the asteroid's surface.
Asteroids, which orbit the sun but are much smaller than planets, are among the oldest objects in the solar system and therefore may help explain how Earth evolved.
Ryugu in Japanese means "Dragon Palace," the name of a sea-bottom castle in a Japanese folk tale.
___
Loading…
Loading…Loading…Loading…Loading…Loading…
Associated Press writer Dennis Passa in Brisbane, Australia, contributed to this report.
___
Follow Mari Yamaguchi on Twitter at https://www.twitter.com/mariyamaguchi
Scientists Are Figuring Out Why Some People Can 'Hear' The Voices of The Dead – ScienceAlert
Scientists have identified the traits that may make a person more likely to claim they hear the voices of the dead.
According to new research, a predisposition to high levels of absorption in tasks, unusual auditory experiences in childhood, and a high susceptibility to auditory hallucinations all occur more strongly in self-described clairaudient mediums than the general population.
The finding could help us to better understand the upsetting auditory hallucinations that accompany mental illnesses such as schizophrenia, the researchers say.
The Spiritualist experiences of clairvoyance and clairaudience – the experience of seeing or hearing something in the absence of an external stimulus, and attributed to the spirits of the dead – is of great scientific interest, both for anthropologists studying religious and spiritual experiences, and scientists studying pathological hallucinatory experiences.
In particular, researchers would like to better understand why some people with auditory experiences report a Spiritualist experience, while others find them more distressing, and receive a mental health diagnosis.
"Spiritualists tend to report unusual auditory experiences which are positive, start early in life and which they are often then able to control," explained psychologist Peter Moseley of Northumbria University in the UK.
"Understanding how these develop is important because it could help us understand more about distressing or non-controllable experiences of hearing voices too."
He and his colleague psychologist Adam Powell of Durham University in the UK recruited and surveyed 65 clairaudient mediums from the UK's Spiritualists' National Union, and 143 members of the general population recruited through social media, to determine what differentiated Spiritualists from the general public, who don't (usually) report hearing the voices of the dead.
Overall, 44.6 percent of the Spiritualists reported hearing voices daily, and 79 percent said the experiences were part of their daily lives. And while most reported hearing the voices inside their head, 31.7 percent reported that the voices were external, too.
The results of the survey were striking.
Compared to the general population, the Spiritualists reported much higher belief in the paranormal, and were less likely to care what other people thought of them.
The Spiritualists on the whole had their first auditory experience young, at an average age of 21.7 years, and reported a high level of absorption. That's a term that describes total immersion in mental tasks and activities or altered states, and how effective the individual is at tuning out the world around them.
In addition, they reported that they were more prone to hallucination-like experiences. The researchers noted that they hadn't usually heard of Spiritualism prior to their experiences; rather, they had come across it while looking for answers.
In the general population, high levels of absorption were also strongly correlated with belief in the paranormal – but little or no susceptibility to auditory hallucinations. And in both groups, there were no differences in the levels of belief in the paranormal and susceptibility to visual hallucinations.
These results, the researchers say, suggest that experiencing the 'voices of the dead' is therefore unlikely to be a result of peer pressure, a positive social context, or suggestibility due to belief in the paranormal. Instead, these individuals adopt Spiritualism because it aligns with their experience and is personally meaningful to them.
"Our findings say a lot about 'learning and yearning'. For our participants, the tenets of Spiritualism seem to make sense of both extraordinary childhood experiences as well as the frequent auditory phenomena they experience as practising mediums," Powell said.
"But all of those experiences may result more from having certain tendencies or early abilities than from simply believing in the possibility of contacting the dead if one tries hard enough."
Future research, they concluded, should explore a variety of cultural context to better understand the relationship between absorption, belief, and the strange, spiritual experience of ghosts whispering in one's ear.
The research has been published in Mental Health, Religion and Culture.
NASA abandons mars heat probe mission following unexpected soil conditions – Designboom
after two years of trial and error, NASA has called it quits on a mission to burrow into the surface of mars. the heat probe was deployed by NASA's insight lander, which landed on mars on november 26th 2018. since february 28, 2019, the team has tried to bury the probe into the ground in an attempt to measure the red planet's internal temperature. however, following unusual and unexpected soil conditions, the probe has not been able to dig itself to a sufficient depth.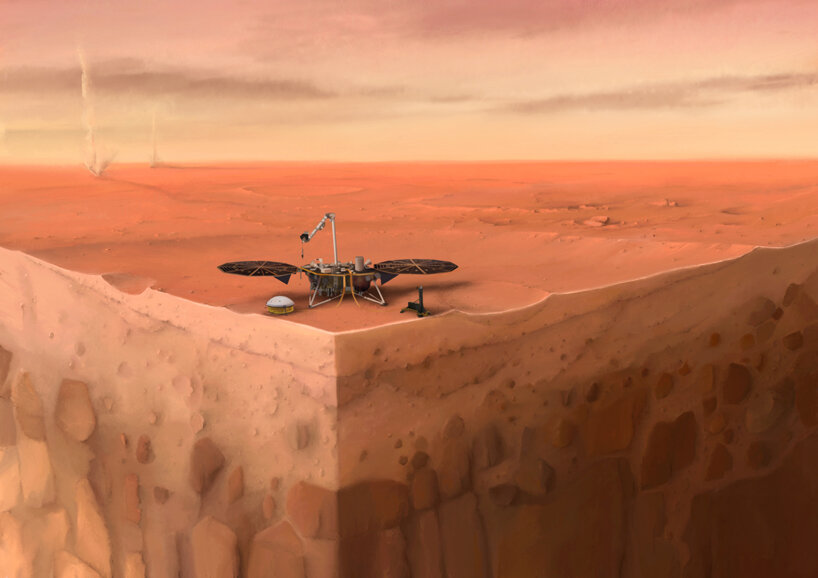 artist's illustration of NASA's insight lander on mars showing cutaway layers
image by IPGP/nicolas sarter
the heat probe, called the 'mole', was developed and built by the german aerospace center (DLR). the intention of the probe was to find out more about the geology of mars and how the planet came to be. by measuring the internal temperature, the mission team hoped to discover water ice underneath the soil, while scientists wanted to study the subsurface's potential to support microbial life (via NASA).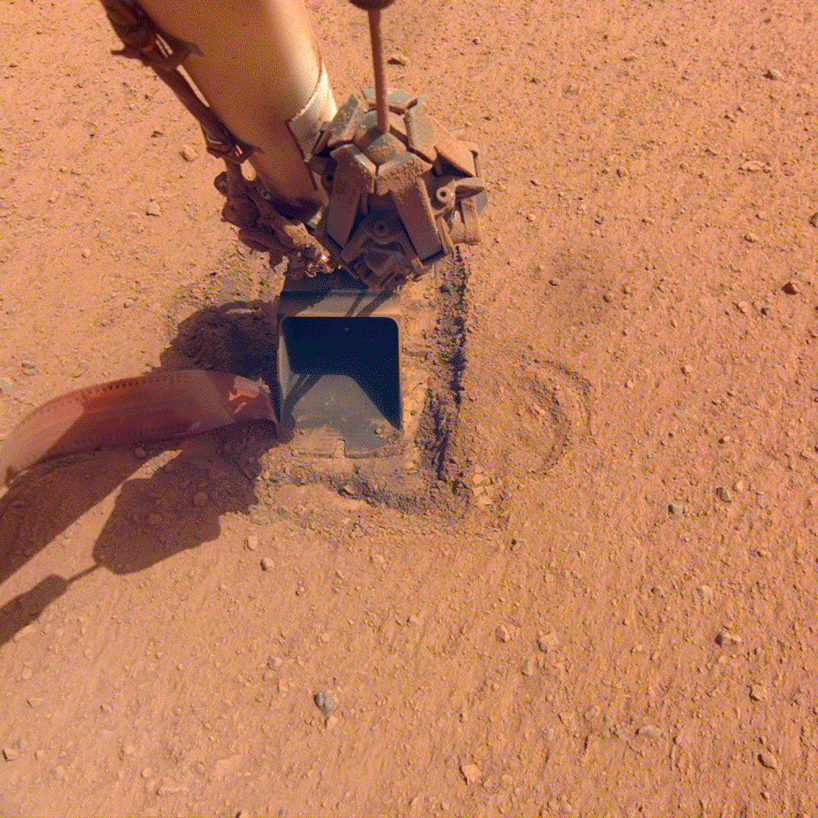 insight's heat probe or 'mole' as it looked after hammering on saturday, january 9th 2021
image by NASA/JPL-caltech
the heat probe is a 16-inch-long (40-centimeter-long) pile driver that's designed to burrow at least 10 feet (3 meters) deep before recording the temperature with embedded sensors. unfortunately, the pile driver came across soil that tended to clump together, meaning the probe couldn't gain the friction it needed to dig into the subsurface. in fact, it only reached about 2 or 3 centimeters under the surface. the mission team tried to troubleshoot the friction problem by using a scoop on insight's robotic arm to scrape soil onto the probe. but after no progress, the team called it quits on saturday, january 9th 2021.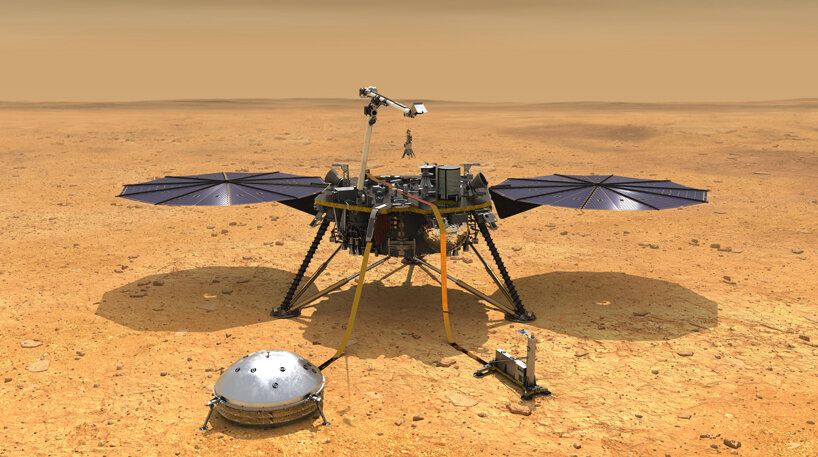 artist's illustration of the insight lander
image by NASA/JPL-caltech
all is not lost and NASA's insight lander will continue to explore mars until the end of 2022. as well as hunting for quakes, insight will continue to collect invaluable meteorological data. alongside NASA's curiosity rover and its new perseverance rover, which lands on february 18th 2021, the three spacecraft will create the first meteorological network on another planet (via NASA).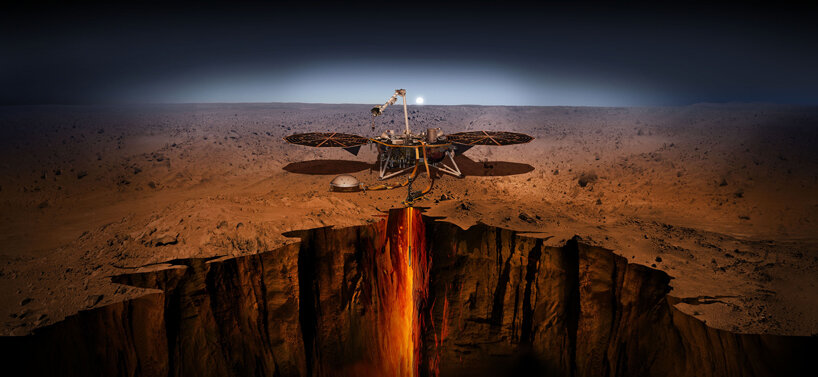 artist's illustration of the insight lander
image by NASA/JPL-caltech
article via: NASA
NASA Declares The Mars InSight Digger Dead After Two Years! – Mashable India
NASA announced on Thursday that a "mole" on Mars has ended its mission after landing on the Red Planet nearly two years ago.
The mole — also called a digger, drill, and probe — was built by the German Aerospace Center (DLR) and deployed by NASA's InSight lander. Its purpose was to drill 16 feet into Martian soil to take its temperature and…well, it never managed to do that.
The digger had drilled down merely 14 inches before getting stuck in the first month of its mission. Months later in Oct. 2019, NASA engineers made a plan to put the digger back on track by using a robotic scoop to help refill the 14 inches and support the digger in its next attempt at burrowing down 16 feet. The team at NASA was confident that the probe was finally ready to go, but they were wrong.
NASA's next idea, in Feb. 2020, was to direct the InSight lander to push on the probe with its robotic arm.
That didn't work, either. After attempting to use the scoop on InSight's robotic arm once again on Jan. 9, 2021, the probe made 500 additional hammer strokes with no progress. At that point, the team declared the probe dead.
"We've given it everything we've got, but Mars and our heroic mole remain incompatible," said DLR's Tilman Spohn in NASA's announcement.
There is good news, however. Spohn said that the work on this probe will benefit future missions, as they've learned a lot about the surface of Mars.
Thomas Zurbuchen, associate administrator for science at NASA's Washington headquarters, said he was proud of the mission's team — and that their work was purposeful. "This is why we take risks at NASA — we have to push the limits of technology to learn what works and what doesn't," he said.
"In that sense, we've been successful: We've learned a lot that will benefit future missions to Mars and elsewhere," Zurbuchen continued, "and we thank our German partners from DLR for providing this instrument and for their collaboration."