Japan's Economy Returns to Growth, but Virus Threat Looms – The New York Times
Even as other major economies have roared back to life, Japan's has been stuck in a cycle of growth and contraction.
TOKYO — Japan stepped back into economic growth in the second three months of 2021, but prospects for a more robust recovery looked dim as the country grappled with its worst coronavirus outbreak since the pandemic began.
The country's economy, the third-largest after the United States and China, grew at an annualized rate of 1.3 percent during the April-to-June period, recording a quarterly increase of 0.3 percent. The expansion followed a quarter-to-quarter drop of 0.9 percent in the previous three-month period.
Even as other major economies have roared back to life, Japan's has been stuck in a cycle of growth and contraction as the country has struggled with a persistent spread of infections that has kept its shops, bars and restaurants under constricted schedules.
Currently, case levels in Japan are at record highs. The country reported almost 18,000 new infections on Sunday, with nearly 4,300 in Tokyo, which entered its fourth state of emergency in July. The declaration has since been expanded to cover the country's other major economic centers.
Just over 36 percent of the population is fully vaccinated, well behind the levels in most other developed nations, and analysts say that the economy will not recover until a large majority of the country has received its shots.
Japan just emerged from a "state of emergency from late April to May that damaged consumption significantly," said Tomohiro Ota, a senior economist at Goldman Sachs in Japan. But "consumption recovered in June, which improved G.D.P.," he said, adding that the result was better than analysts had expected.
The country's slow start in vaccinations has left it struggling to regain economic momentum, even as other countries like the United States and China have seen their growth rocket as people come out of isolation and return to workplaces and shopping centers. G.D.P. in the United States grew 1.6 percent in the second quarter, for an annualized increase of 6.5 percent.
The recoveries in countries like the United States and China have helped Japanese exports bounce back from their nadir in the early stages of the pandemic, but Japanese consumption levels remained weak.
In the first three months of the year, "business dropped because of the state of emergency and the spread of infections, and the recovery in the second quarter has been sluggish, meaning that we're in a slump. Growth is stagnating," said Yoshiki Shinke, chief economist of the Dai-ichi Life Research Institute.
Japan saw a burst of economic activity in the second half of 2020, with two consecutive quarters of growth, as consumers returned to empty restaurants, bars and theaters and began to crisscross the country on trips underwritten by a government recovery plan.
But the winter brought an increase in coronavirus cases, and since then, the country has continued to seesaw between opening up and closing down. The measures are largely voluntary, and each iteration has been less effective at keeping people home. But even so, they have powerfully suppressed economic activity in Japan, which even before the pandemic was struggling to produce more than modest levels of growth.
Now, recovery will depend on whether the government's vaccination program and other efforts can control the virus's spread. The country is giving over a million shots a day. If it can keep up that pace, it will top vaccination levels in the United States and Britain by early autumn.
But the appearance of the more contagious Delta variant in Japan raises the possibility that the country may no longer be able to keep the virus at manageable levels. Case numbers have raced up since July, with no end in sight, as control measures seem to have lost their potency.
With people tired of limiting their daily activities and less willing to stay home, Japan may have to make a "qualitative" change to its virus control tactics, such as putting stricter curbs on business activity, said Mr. Ota, the Goldman Sachs economist.
"The current state of emergency can't really contain people and mobility," he said, adding that "one possible kind of risk is that the government decides to tighten the regulations once again," with a correspondingly large impact on consumption.
If the vaccine program proceeds apace, however, Japan "will return to normal economic activity," said Keiji Kanda, a senior economist at the Daiwa Institute of Research.
Canadian dollar falls as Canadian data shows economic momentum easing
The Canadian dollar weakened against its U.S. counterpart on Thursday as the greenback notched broad-based gains and investors weighed domestic data showing some weakening in activity.
The loonie was trading 0.3% lower at 1.2675 to the greenback, or 78.90 U.S. cents, after moving in a range of 1.2616 to 1.2698.
Canadian wholesale trade fell by 2.1% in July from June, the biggest decline since April last year, and housing starts were down 3.9% in August compared with the previous month.
"Momentum (in housing starts) has been moderating after unprecedented strength earlier in the year," Shelly Kaushik, an economist at BMO Capital Markets, said in a note.
Foreign investors are growing more worried that Canada's federal election on Monday could result in a deadlock that hampers Ottawa's response to the COVID-19 pandemic and further slows the economic recovery from the crisis.
The U.S. dollar climbed to a near 3-week high against a basket of currencies after data showing U.S. retail sales unexpectedly increased in August.
The data could ease some concerns about a sharp slowdown in the U.S. economy, ahead of a Federal Reserve policy meeting next week.
U.S. crude prices were unchanged at $72.61 a barrel as the threat to U.S. Gulf production from Hurricane Nicholas receded. Oil is one of Canada's major exports.
Canadian government bond yields were higher across the curve. The 10-year touched its highest since Aug. 12 at 1.272% before pulling back to 1.231%, up 1.2 basis points on the day.
(Reporting by Fergal Smith; Editing by Bernadette Baum)
New Zealand's Economy Was Humming Prior to Delta Lockdown – BNN
(Bloomberg) — New Zealand's economy was expanding at a rapid pace before a nationwide lockdown interrupted its momentum, latest data show.
Gross domestic product climbed 2.8% in the second quarter after jumping 1.4% in the first, Statistics New Zealand said Thursday in Wellington. Economists forecast a 1.1% gain. From a year earlier, when the country was in its initial pandemic lockdown, the economy expanded 17.4% against expectations of 16.1% growth.
Today's report will do nothing to dissuade the central bank from raising interest rates at its next meeting on Oct. 6 as it frets about mounting inflation pressures. While a contraction is expected in the current quarter after an outbreak of the delta strain of coronavirus prompted a three-week national lockdown, last year's experience shows that demand quickly bounces back when restrictions are lifted.
The New Zealand dollar rose on the data. It bought 71.29 U.S. cents at 10:47 a.m. in Wellington, up from 71.2 cents beforehand.
©2021 Bloomberg L.P.
Global economy projected to show fastest growth in 50 years – UN News
In its new report released on Wednesday, the agency said that the rebound was highly uneven along regional, sectoral and income lines, however.
During 2022, UNCTAD expects global growth to slow to 3.6 per cent, leaving world income levels trailing some 3.7 per cent below the pre-pandemic trend line.
The report also warns that growth deceleration could be bigger than expected, if policymakers lose their nerve or answer what it regards as misguided calls for a return to deregulation and austerity.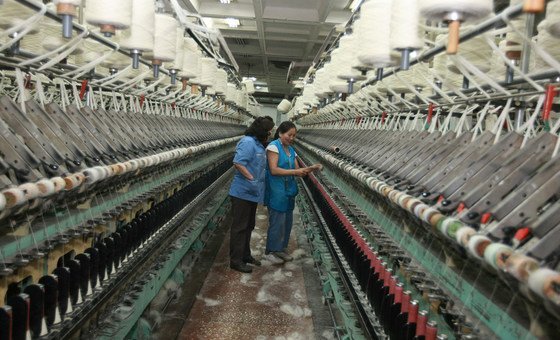 Differences in growth
The report says that, while the response saw an end to public spending constraints in many developed countries, international rules and practices have locked developing countries into pre-pandemic responses, and a semi-permanent state of economic stress.
Many countries in the South have been hit much harder than during the global financial crisis. With a heavy debt burden, they also have less room for maneuvering their way out through public spending.
Lack of monetary autonomy and access to vaccines are also holding many developing economies back, widening the gulf with advanced economies and threatening to usher in another "lost decade".
"These widening gaps, both domestic and international, are a reminder that underlying conditions, if left in place, will make resilience and growth luxuries enjoyed by fewer and fewer privileged people," said Rebeca Grynspan, the secretary-general of UNCTAD.
"Without bolder policies that reflect reinvigorated multilateralism, the post-pandemic recovery will lack equity, and fail to meet the challenges of our time."
Lessons of the pandemic
UNCTAD includes several proposals in the report that are drawn from the lessons of the pandemic.
They include concerted debt relief and even cancellation in some cases, a reassessment of fiscal policy, greater policy coordination and strong support for developing countries in vaccine deployment.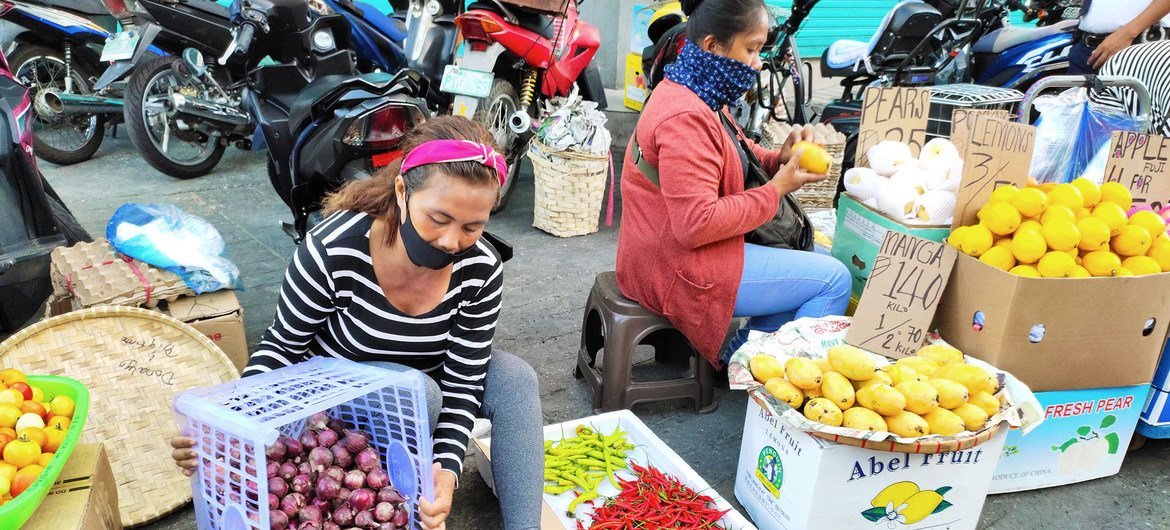 ILO/Minette Rimando.
Women sell fruit and vegetables on a sidewalk in the Philippines, where workers in the informal economy are in danger of having their livelihoods destroyed by the impacts of COVID-19.
Even without significant setbacks, global output will only resume its 2016-19 trend by 2030. But even before COVID-19, the income growth trend was unsatisfactory, says UNCTAD. Average annual global growth in the decade after the global financial crisis was the slowest since 1945.
Despite a decade of massive monetary injections from leading central banks, since the 2008-9 crash, inflation targets have been missed. Even with the current strong recovery in advanced economies, there is no sign of a sustained rise in prices.
After decades of a declining wage share, real wages in advanced countries need to rise well above productivity for a long time before a better balance between wages and profits is achieved again, according to the trade and development body's analysis.
Food prices and global trade
Despite current trends on inflation, UNCTAD believes the rise in food prices could pose a serious threat to vulnerable populations in the South, already financially weakened by the health crisis.
Globally, international trade in goods and services has recovered, after a drop of 5.6 per cent in 2020. The downturn proved less severe than had been anticipated, as trade flows in the latter part of 2020 rebounded almost as strongly as they had fallen earlier.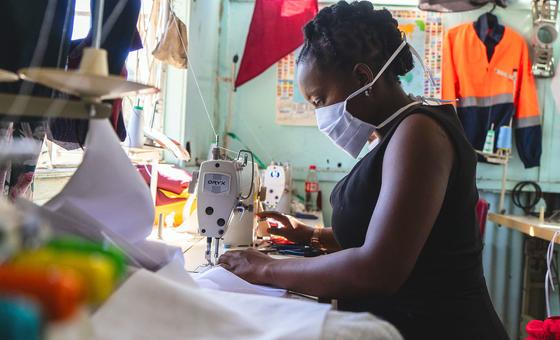 The report's modelling projections point to real growth of global trade in goods and services of 9.5 per cent in 2021. Still, the consequences of the crisis will continue to weigh on the trade performance in the years ahead.
For director of UNCTAD's globalization and development strategies division, Richard Kozul-Wright, "the pandemic has created an opportunity to rethink the core principles of international economic governance, a chance that was missed after the global financial crisis."
"In less than a year, wide-ranging US policy initiatives in the United States have begun to effect concrete change in the case of infrastructure spending and expanded social protection, financed through more progressive taxation. The next logical step is to take this approach to the multilateral level."
The report highlights a "possibility of a renewal of multilateralism", pointing to the United States support of a new special drawing rights (SDR) allocation, global minimum corporate taxation, and a waiver of vaccine-related intellectual property rights.
UNCTAD warns, though, that these proposals "will need much stronger backing from other advanced economies and the inclusion of developing country voices if the world is to tackle the excesses of hyperglobalization and the deepening environmental crisis in a timely manner."
For the UN agency, the biggest risk for the global economy is that "a rebound in the North will divert attention from long-needed reforms without which developing countries will remain in a weak and vulnerable position."