Joel Hofer turning Americans into Team Canada fans at World Juniors – TSN
OSTRAV​A, Czech Republic — Ian Walsh is one of the few, the proud – one of just five Americans currently working as a full-time referee in the National Hockey League.

But Walsh will find himself in an unfamiliar position on Boxing Day when Team USA clashes with Team Canada to open up the 2020 World Junior Championship (12 p.m. ET on TSN 1/4/5).

"Tough to admit it, but I think this is the first time in my life I'm ever going to be rooting for Canada," Walsh said, laughing.

That's because Walsh and his family have developed a bond with Team Canada goaltender Joel Hofer, who billets with them in Portland during his season with the WHL's Winterhawks.
Team Canada coach Dale Hunter did not name his starter for the tournament opener on Wednesday, leaving it up in the air between Hofer and Guelph's Nico Daws.

"There's going to be a lot of nerves for me. I'm sure for him, too," Hofer said, smiling. "He pays attention to all of our games. I hope he's on our side. It's a really nice family. I'm really lucky to be there."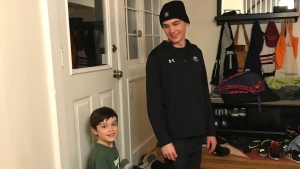 But it's not luck that got Hofer, 19, to the Czech Republic as part of Team Canada's triumvirate in goal. The Winnipeg native was not really on Team Canada's radar last season when he finished 23rd in the WHL in save percentage, working through a mid-year trade between Swift Current and Portland.

His start to this season raised plenty of eyebrows, though. Hofer was twice named the WHL's goaltender of the week, followed by goaltender of the month in November. He leads the Western League in wins (20) and goals against-average (1.81) and is second in save percentage (.937).

Then Hofer closed out the CHL Canada-Russia series in net for the WHL squad, planting the seed that pulling on a Team Canada sweater might be a real possibility. The St. Louis Blues' fourth-round pick (107th overall) in 2018 had not represented Canada at any level prior to last week's pre-tournament tune-up against the Swiss in Brno.

Hofer led Team Canada out of the tunnel to start the exhibition, where he posted a shutout in his half of the game, needing only to stop four shots.

Walsh said he didn't talk about the World Juniors with Hofer, but could tell it was on his list of goals for the season.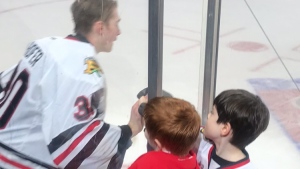 "He is such a mature kid. He is very focused," Walsh said. "He knows what he wants and then works to go out and do it. He is quiet, but he is confident. He has a calm presence. I think his mentality and mental strength could really be a big asset for him in a tournament like this one."

When he signed up to billet last summer, Walsh had no idea he would be taking in a player about to skate onto the world stage. He and his wife, Margo, talked it over and thought it would be a good idea to have another role model around for their 7-year-old son Clarke while Walsh is criss-crossing the continent to call games.

Walsh has learned two things about Hofer since he arrived in late August.

Even at home, Hofer is competitive – and he is respectful.

"It's been great. He is a wonderful kid," Walsh said. "He is not the type of kid to just eat dinner and run. He helps clean up, he sets the table. Then when dinner is over, we have an ongoing game of soccer every night."

Walsh said the game of footy, which takes place just off the family kitchen, is Clarke's equivalent of mini sticks in the house.

"It's been awesome to see the bond between Clarke and him," Walsh said. "The one thing though is that Joel is competitive and he likes to win. There are some games where he just takes it to Clarke. But he isn't a father. I know that sometimes I have to let a few in for Clarke to win and feel good. Joel is still working on that."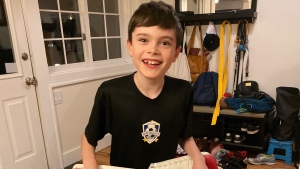 Walsh said Hofer has just been "part of the family" for the last four months. When they go to dinner parties, Hofer tags along. Hofer is an avid golfer, so they took a trip to the nearby TopGolf one night with Clarke – even though Walsh isn't much of a golfer.

When Walsh is home and the schedule allows, the two will go out for lunch in Portland. Hofer loves the big-city feel after parts of two seasons in Swift Current, the smallest WHL outpost.

"He doesn't say a whole lot, but we have the hockey bond," Walsh said. "We watch a lot of hockey, talk about hockey. He will show me clips of his games; I will show him clips of mine. I ask him for his opinion about different calls. We talk about goalie interference penalties."

Hofer said spending time with Walsh has opened up his eyes to what it's like to be a referee in the NHL.

"You definitely have a different perspective on it now," Hofer said. "I love it. I always ask him questions: 'Who is the nicest guy? Who is a pain in the ass?' I like asking him questions."

Walsh said he has discovered that his job as referee and Hofer's job in net are similar.

"I think everyone looks at goalies. They could not be a factor all game, but one goal and that's all anyone wants to talk about. There is a similar singular pressure there," Walsh said. "Just as he probably wishes he could have a shot back, it's the same with referees and a blown call."

Walsh will be feeling that same pressure watching his favourite tournament all the way back in Portland – or whatever NHL city he is in. The Philadelphia native has put his allegiance aside, at least for two weeks, and Santa might have even brought Clarke some Team Canada swag.

"I never thought I'd see the day," Walsh said, laughing. "I told Joel to go over there and get a medal. I just didn't say which colour."

Contact Frank Seravalli on Twitter: @frank_seravalli
Astros erupt for seven runs in ninth, beat Red Sox to tie ALCS – Sportsnet.ca
BOSTON — Six outs from falling behind 3-1 in the AL Championship Series and facing elimination in Game 5 in Boston — where the Red Sox had yet to lose this postseason — the Houston Astros offence awakened.
After tying it in the eighth inning on Jose Altuve's solo homer, the Astros bullied the Boston bullpen for seven runs in the ninth to win 9-2 on Tuesday night and even the best-of-seven playoff at two games apiece.
"This is one of the great things about baseball," said the Astros' 72-year-old manager, Dusty Baker. "When you're dead in the water and things aren't going good, and then all of a sudden, boom, boom, boom, and you got seven runs.
"That's what they've been doing to us this whole series," he said. "And we're capable of doing that as well."
Jason Castro looked off a potential third strike from Nathan Eovaldi before driving in watch-tapping Carlos Correa with the go-ahead run in the ninth, then the AL West champions kept on scoring to guarantee themselves at least one more game back home.
Game 5 is Wednesday in Boston, with Games 6 and 7 back in Houston on Friday and, if necessary, Saturday.
The Red Sox are 5-0 after playoff losses under manager Alex Cora.
"We're feeling pretty confident," said Eovaldi, the Game 2 winner who made his first relief appearance since 2019. "That's been one of our strengths is being able to turn the page and come in tomorrow."
In a series that had been dominated by offence — especially Boston's, which has hit 10 homers in the series, including a record-setting three grand slams to turn Games 2 and 3 into routs — the teams traded first-inning home runs.
Alex Bregman hit a solo shot into the Green Monster seats, then Xander Bogaerts topped it with a towering, two-run drive onto Lansdowne Street in the bottom half to give the Red Sox a 2-1 lead.
Then, the pitchers took over.
It was still 2-1 when Altuve homered against Garrett Whitlock to tie it in the eighth. It was his 21st career postseason home run, breaking a tie with Derek Jeter for third-most in baseball history and trailing only Manny Ramirez (29) and Bernie Williams (22).
Eovaldi, making his first relief appearance since he was coming back from an injury two years ago, came on for the ninth and gave up Correa's leadoff double.
The Red Sox thought they were out of the inning when Eovaldi's 1-2 breaking ball appeared to catch the plate for strike three on Castro. Still alive, Castro singled in Correa to give Houston the lead.
"Yeah, a lot of people thought it was a strike," Cora said. "It was a good game until the end, right? We were one pitch away from ending that inning, and it didn't happen, and then they scored seven."
Michael Brantley hit a three-run double off Martin Perez. Yordan Alvarez added an RBI single. Perez's throwing error on Correa's infield single allowed a run to score, and Kyle Tucker singled in another run.
Houston has scored 36 runs with two outs in the postseason, including 18 of its 22 in this series.
"We knew with this team that we're playing we wanted to pad the lead," Baker said. "And pad the lead we did, you know what I mean? That one run might not have stood up, especially in this ballpark."
The Red Sox, who were the first team in major league history to have double-digit hits six straight times in a single postseason, had just five on Tuesday — two of them when already trailing by seven in the ninth.
Nick Pivetta allowed just one more hit after Bregman's homer before leaving with a 2-1 lead through five innings. Eovaldi took the loss, allowing four runs while getting just two outs.
Kendall Graveman, the fifth Houston pitcher, threw two scoreless innings for the win. The Astros had special praise for Cristian Javier, who pitched three scoreless innings to get them through five as Houston's bullpen delivered 7 2/3 shutout innings.
"What the relievers did today was amazing," Altuve said.
It was the third straight game the Red Sox got five or more innings from a starter, and the third straight that the Houston starter didn't make it out of the second inning; Zack Greinke got just four outs on Tuesday.
TRAINER'S ROOM
Astros: CF Jake Meyers, who injured his left shoulder crashing into the wall in the Division Series clincher, was originally listed in the starting lineup but "wasn't quite ready yet," Baker said. Chas McCormick started in centre instead.
Red Sox: Schwarber appeared to tweak his left hamstring on a swing in the fourth inning. He limped out a groundout and remained in the game.
UP NEXT
Game 5 is Wednesday at 5:08 p.m. Chris Sale will start for the Red Sox after allowing one run over 2 2/3 innings in Game 1. Framber Valdez goes for Houston. He gave up two earned runs in 2 2/3 innings during the series opener.
Golf-Olympic gold medallist Schauffele pumped for Zozo Championship in Japan
AmericanXander Schauffele returns this week for the Zozo Championship in Japan nearly two and half months after winning the gold medal at the Tokyo Games and the 27-year-old said he is looking to grab a "special" victory at the PGA Tour event.
The tournament returns to Japan at the Accordia Golf Narashino Country Club on Thursday after last year's edition was moved to California due to COVID-19 restrictions.
The $9.95 million event will feature Asia's first Masters champion Hideki Matsuyama, two-time major winner Collin Morikawa and Schauffele, who won gold for the United States at the Tokyo Olympics in August with a one-stroke victory.
Schauffele, whose grandparents reside in Japan, said winning at the Zozo Championship would be a huge honour for his family.
"I'm very excited," Schauffele, who also won the Ryder Cup with the United States last month, said on Wednesday.
"Winning here would be really cool. It would be really special to sort of win twice in Japan, especially since I don't live here.
"I think it would be a huge honour for my family if I was able to do that and I'm going to do my best this week."
American Morikawa, whose father is of Japanese descent, said he is looking forward to playing in front of an energetic crowd with 5,000 spectators allowed each day.
"These are some of the best fans," Morikawa said. "I remember my first tee shot out here two years ago when there were fans on stools and lined up five, six people deep.
"They would cheer for you walking to tee boxes, hitting every tee shot whether it's good or bad.
"They bring so much energy. I've said it since we returned from COVID, it's just really good to see people out here again."
(Reporting by Manasi Pathak in Bengaluru; editing by Kim Coghill)
NHL suspends Evander Kane for 21 games over COVID-19 vaccination status – Global News
The NHL has suspended San Jose Sharks forward Evander Kane for 21 games for submitting a fake COVID-19 vaccination card.
The league on Monday announced the suspension without pay and said Kane will not be eligible to play until Nov. 30 at New Jersey. Kane will forfeit about US$1.68 million of his US$7 million salary for this season with the money going to the Players' Emergency Assistance Fund.
The league also announced that a concurrent investigation into allegations of sexual and physical abuse made against Kane by his estranged wife, Anna, could not be substantiated.
"I would like to apologize to my teammates, the San Jose Sharks organization, and all Sharks fans for violating the NHL COVID protocols," Kane said in a statement. "I made a mistake, one I sincerely regret and take responsibility for. During my suspension, I will continue to participate in counseling to help me make better decisions in the future. When my suspension is over, I plan to return to the ice with great effort, determination, and love for the game of hockey."
The Sharks have not said what Kane's status will be after the investigations. Kane had not been around the team since the start of training camp while these investigations were ongoing in an agreement between him and the team.
"While we are encouraged by Evander's commitment to moving forward, we are extremely disappointed by his disregard for the health and safety protocols put in place by the NHL and the NHLPA," the team said in a statement. "We will not be commenting further on Evander's status prior to the conclusion of the NHL's mandated suspension."
Kane had previously been cleared by the NHL in an investigation into allegations made by Anna Kane that he bet on hockey games, including some against the Sharks.

1:56


Edmonton Oilers fans enter Rogers Place for 1st time amid new COVID-19 protocols



But the league did determine that Kane violated the COVID-19 protocols. A person familiar with the investigation said earlier this month that the league was looking into allegations that Kane submitted a fake vaccination card. The person spoke on condition of anonymity because details weren't made public.
Using a fake vaccination card is illegal in both the United States and Canada, as well as against NHL rules.
Commissioner Gary Bettman said last week that only four players on active rosters hadn't been vaccinated.
Kane, 30, is three seasons into a $49 million, seven-year contract. He's with his third organization after being drafted by and debuting with Atlanta/Winnipeg and a stint in Buffalo.
Last season, he had 22 goals and 27 assists in 56 games.
© 2021 The Canadian Press