Joel Hofer turning Americans into Team Canada fans at World Juniors – TSN
OSTRAV​A, Czech Republic — Ian Walsh is one of the few, the proud – one of just five Americans currently working as a full-time referee in the National Hockey League.

But Walsh will find himself in an unfamiliar position on Boxing Day when Team USA clashes with Team Canada to open up the 2020 World Junior Championship (12 p.m. ET on TSN 1/4/5).

"Tough to admit it, but I think this is the first time in my life I'm ever going to be rooting for Canada," Walsh said, laughing.

That's because Walsh and his family have developed a bond with Team Canada goaltender Joel Hofer, who billets with them in Portland during his season with the WHL's Winterhawks.
Team Canada coach Dale Hunter did not name his starter for the tournament opener on Wednesday, leaving it up in the air between Hofer and Guelph's Nico Daws.

"There's going to be a lot of nerves for me. I'm sure for him, too," Hofer said, smiling. "He pays attention to all of our games. I hope he's on our side. It's a really nice family. I'm really lucky to be there."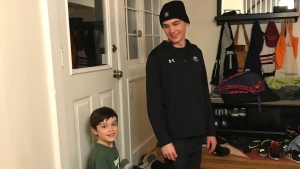 But it's not luck that got Hofer, 19, to the Czech Republic as part of Team Canada's triumvirate in goal. The Winnipeg native was not really on Team Canada's radar last season when he finished 23rd in the WHL in save percentage, working through a mid-year trade between Swift Current and Portland.

His start to this season raised plenty of eyebrows, though. Hofer was twice named the WHL's goaltender of the week, followed by goaltender of the month in November. He leads the Western League in wins (20) and goals against-average (1.81) and is second in save percentage (.937).

Then Hofer closed out the CHL Canada-Russia series in net for the WHL squad, planting the seed that pulling on a Team Canada sweater might be a real possibility. The St. Louis Blues' fourth-round pick (107th overall) in 2018 had not represented Canada at any level prior to last week's pre-tournament tune-up against the Swiss in Brno.

Hofer led Team Canada out of the tunnel to start the exhibition, where he posted a shutout in his half of the game, needing only to stop four shots.

Walsh said he didn't talk about the World Juniors with Hofer, but could tell it was on his list of goals for the season.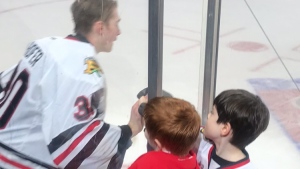 "He is such a mature kid. He is very focused," Walsh said. "He knows what he wants and then works to go out and do it. He is quiet, but he is confident. He has a calm presence. I think his mentality and mental strength could really be a big asset for him in a tournament like this one."

When he signed up to billet last summer, Walsh had no idea he would be taking in a player about to skate onto the world stage. He and his wife, Margo, talked it over and thought it would be a good idea to have another role model around for their 7-year-old son Clarke while Walsh is criss-crossing the continent to call games.

Walsh has learned two things about Hofer since he arrived in late August.

Even at home, Hofer is competitive – and he is respectful.

"It's been great. He is a wonderful kid," Walsh said. "He is not the type of kid to just eat dinner and run. He helps clean up, he sets the table. Then when dinner is over, we have an ongoing game of soccer every night."

Walsh said the game of footy, which takes place just off the family kitchen, is Clarke's equivalent of mini sticks in the house.

"It's been awesome to see the bond between Clarke and him," Walsh said. "The one thing though is that Joel is competitive and he likes to win. There are some games where he just takes it to Clarke. But he isn't a father. I know that sometimes I have to let a few in for Clarke to win and feel good. Joel is still working on that."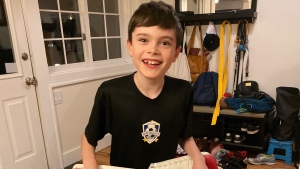 Walsh said Hofer has just been "part of the family" for the last four months. When they go to dinner parties, Hofer tags along. Hofer is an avid golfer, so they took a trip to the nearby TopGolf one night with Clarke – even though Walsh isn't much of a golfer.

When Walsh is home and the schedule allows, the two will go out for lunch in Portland. Hofer loves the big-city feel after parts of two seasons in Swift Current, the smallest WHL outpost.

"He doesn't say a whole lot, but we have the hockey bond," Walsh said. "We watch a lot of hockey, talk about hockey. He will show me clips of his games; I will show him clips of mine. I ask him for his opinion about different calls. We talk about goalie interference penalties."

Hofer said spending time with Walsh has opened up his eyes to what it's like to be a referee in the NHL.

"You definitely have a different perspective on it now," Hofer said. "I love it. I always ask him questions: 'Who is the nicest guy? Who is a pain in the ass?' I like asking him questions."

Walsh said he has discovered that his job as referee and Hofer's job in net are similar.

"I think everyone looks at goalies. They could not be a factor all game, but one goal and that's all anyone wants to talk about. There is a similar singular pressure there," Walsh said. "Just as he probably wishes he could have a shot back, it's the same with referees and a blown call."

Walsh will be feeling that same pressure watching his favourite tournament all the way back in Portland – or whatever NHL city he is in. The Philadelphia native has put his allegiance aside, at least for two weeks, and Santa might have even brought Clarke some Team Canada swag.

"I never thought I'd see the day," Walsh said, laughing. "I told Joel to go over there and get a medal. I just didn't say which colour."

Contact Frank Seravalli on Twitter: @frank_seravalli
Maple Leafs' Tavares, Marner reunite on top line with Matthews out vs. Oilers – Sportsnet.ca
The showdown between the hockey's most dangerous goal-scorer and its most prolific point-getter has been put on hold until Monday, at the earliest.
Auston Matthews, who leads the NHL with 18 goals, will be sidelined with a nagging wrist injury Saturday in Edmonton as the Toronto Maple Leafs visit Connor McDavid and the Edmonton Oilers.
Matthews aggravated his wrist during Wednesday's overtime victory over the Calgary Flames when he crashed hands-first into the boards. Matthews completed the game, gathering a pair of assists, but coach Sheldon Keefe shielded his top centre from taking faceoffs.
Listed as day-to-day, Matthews missed the team's full practice Friday and skated with the reserves Saturday morning at Rogers Arena:
"He's played through some stuff here all year long, and he's been a complete stud," Joe Thornton said.
Toronto (15-4-2) has already missed 55 man-games due to injuries this season, and this will mark Matthews' second absence against the red-hot Oilers, who carry a five-game win streak into the night.
The Leafs will welcome back a trio of healthy players to their lineup, however.
Shutdown defenceman Jake Muzzin (fractured face bone) will don a full cage, and veteran Joe Thornton (lower body) jumps back into the top six.
Beloved backup goalie Jack Campbell (2-0-0) gets his first start since suffering a leg injury on Jan. 24.
"He's amazing. He was watching some tape [on the plane], and I was laughing because on every clip he makes the save and he tapped someone that's closest to him," Justin Holl said, with a smile. "Like, it doesn't even matter. It could be me, and I didn't even do anything on the play."
Matthews' injury paves the way for a John Tavares–Mitch Marner reunion on the front line.
"We've already played a game this season without Auston against the Oilers. Putting John and Mitch together, they've got a long history of playing together, and having Joe available today will give our whole group a boost," coach Sheldon Keefe said.
Tavares enjoyed his most productive season, 2018-19, with Marner on his wing, and the elite playmaker will try to help the captain out of an offensive funk that has seen Tavares score one goal in his past 10 outings.
Thornton skated alongside that duo Friday, staying on the ice to take extra reps with Tavares.
"He just wants the puck all the time, and I think that's a good sign," Thornton said of his fellow No. 1 draft pick.
"He always wants to distribute and handle the puck, and he's not afraid of the puck coming to him so I like that. And, off the ice, a real good guy, an easy guy to talk to. And when he opens up, he's a surprising guy. It's nice."
The Maple Leafs assigned Kenny Agostino and Timothy Liljegren to their taxi squad for this five-game western road trip, while newly acquired forward Alex Galchenyuk and defenceman Martin Marincin have been loaned to the AHL Marlies.
Liljegren, 21, has impressed early this season, putting up six points through eight games with the Marlies.
"Regardless of his start," coach Sheldon Keefe notes, "he's someone we've wanted to get some games."
Saturday's projected lines:
Thornton-Tavares-Marner
Barabanov-Kerfoot-Nylander
Hyman-Engvall-Mikheyev
Petan-Boyd-Spezza
Rielly-Brodie
Muzzin-Holl
Dermott-Bogosian
Campbell
Hutchinson
Canadiens changes to watch for under interim coach Dominique Ducharme – Sportsnet.ca
Will the real Montreal Canadiens please stand up?
The Canadiens' first 10 games of the season, they were the best team in the NHL. Their last nine games: 29th.
Montreal's loss to the Winnipeg Jets on Thursday was a microcosm of their season to date. A solid first half followed by a disastrous second half. The Canadiens led 3-1 halfway through Thursday's game and then fell apart. Winnipeg scored five unanswered goals en route to a 6-3 win.
"We cracked," said the Canadiens newly appointed interim head coach Dominique Ducharme. "We cracked mentally. We cracked physically."
It all started well enough. In the first period the Canadiens looked like the early-season team that torched their opponents with quick puck movement and speed. Joel Armia scored twice on quick-ups that caught the Jets defence off guard.
That's the Canadiens team we saw in their first 10 games. A team that played on its toes, not its heels.
When Montreal is attacking as they did in the first 30 minutes of Thursday night's game, they are a tough team to handle. Montreal led the NHL in rush chances and goals through its first 10 games of the season. It's no coincidence that when the offence dried up, so too did the wins.
While the Canadiens excelled at creating and capitalizing off the rush early in the season, those chances faded away as their opponents adapted. The Canadiens adapted as well and more or less made up the difference in scoring chances/expected goals by creating offence in different ways. In the final eight games of Claude Julien's tenure, Montreal ranked third in cycle scoring chances and first in chances off the forecheck and off rebounds. In-zone offence as opposed to the high-volume off the rush opportunities.
The plan to score goals once set up in the offensive zone under Julien was fairly straightforward. Move pucks low-to-high and shoot from the point with traffic in front of the net. Deflections, rebound chances, screens and recovering loose pucks was the name of the game.
While this strategy did produce a fair amount of quality shots due to the sheer volume of shots the Canadiens produced, Montreal struggled to score goals once defending teams were set up in the defensive zone. The Canadiens simply could not convert these chance types at even a league-average rate. It was rush or bust and the rush was gone. Entering Thursday's game, the Canadiens had scored 39 per cent of their goals this season off the rush. No team relied more on rush offence than Montreal.
Ducharme hinted that the Canadiens' strategy in the offensive zone would be tweaked, emphasizing more puck support to give the puck carrier more options. We saw examples of this Thursday night. Midway through the first period Jonathan Drouin had a chance to move the puck to the point, but instead tried to pass it into the slot. Moments later, he worked a give-and-go with Nick Suzuki that created a scoring chance.
Late in the second period, Joel Armia has the puck behind the net and looks for Drouin in the slot, but he's covered. So, Armia works the puck to the blue line, but instead of a point shot from Shea Weber, Drouin makes himself available in the middle of the ice where Weber hits him with a pass. After fumbling the puck, Drouin stick-handles himself out of trouble for a scoring chance.
These are the type of plays Canadiens fans can expect to see more of under Ducharme.
Whether this in-zone adjustment will prove more effective than the low-to-high, volume-shooting approach Julien favoured remains to be seen. One game is a small sample but sure enough, all three of Montreal's goals against Winnipeg came off the rush.
That said, how Montreal creates its offence may not matter much if the Canadiens can't do a better job of keeping the puck out of their own net. Defensive breakdowns and an inability to get a timely save cost the Canadiens more than anything in their loss to the Jets. While Carey Price wasn't the reason Montreal lost the game, the goal he allowed to Nate Thompson that proved to be the game-winner was the type of deflating goal that can sink a team.
"I just think maybe I'm overthinking things," Price said after the loss.
Perhaps taking some time to recapture his game is what will serve Price and the Canadiens best right now. When he's on his game, there are few goalies better in the world. So far this season, Price's performance has been below average, though.
GM Marc Bergevin acquired Jake Allen to give Price something he has not had in recent years: A competent back-up capable of easing Price's workload when needed. This might be the time for that. Allen has not only outperformed Price in the seven games he's played this season, he's been one of the best goalies in the goalie graveyard that is the North Division.
The last stat on the graphic above — goals saved above expected — shows that Allen is saving his team approximately one goal every three games beyond expected, based on the shot quality and quantity he faces. Price is costing the Canadiens roughly a goal every two games. Among 47 qualified goalies, Allen ranks ninth overall in that statistic, while Price ranks 43rd.
It will take more than one game for the Canadiens to familiarize themselves with how Ducharme wants them to play. Certainly more than one game for the team to start executing with a high degree of consistency. A few more saves at key times might be the difference between a win or a loss in the coming games, which is significant for a team that looks as fragile as the Canadiens do right now.
The Canadiens get another crack at the Jets Saturday night on Hockey Night in Canada. We'll see which Habs team shows up. The first half team that plays on its toes or the second half version that plays on its heels.
With six coaches out, Sergio Scariolo steps in to lead Toronto Raptors to win – ESPN
For Sergio Scariolo, this was just another game.
The Toronto Raptors assistant coach slid over into the head coach's chair, leading the team to a 122-111 win over the Houston Rockets in Tampa Bay on Friday night. The win came despite Toronto being without star Pascal Siakam, head coach Nick Nurse and five other Raptors assistants because of health and safety protocols.
But even with Toronto down another assistant in Chris Finch, who earlier this week became the head coach in Minnesota, the Raptors still had a pretty experienced man on the bench to handle the job.
Scariolo has 25 years of coaching experience overseas, and since 2009 has been the head coach of the Spanish national team, with which he won the FIBA Eurobasket tournament three times (2009, 2011 and 2015) and the FIBA World Cup (2019). He also coached Spain to a silver medal at the 2012 Olympics and a bronze medal at the 2016 Olympics.
So no, this wasn't his first rodeo.
In fact, Scariolo served as a head coach just last week as he coached Spain for the Eurobasket qualifiers in Poland on Feb. 19 and 21. Spain won both of those games.
"It's a 3-0 week," Raptors guard Kyle Lowry said.
Originally quarantining this week after he returned from Poland, Scariolo became available to rejoin the team on Friday, just as the health and safety protocols took out the coaching staff. Scariolo said he got back from Poland on Monday and spent the rest of the week away from the Raptors. He drove to Miami, where the Raptors played on Wednesday, but still stayed separate from the team; he drove back to Tampa in the same car the day after the game.
Scariolo said the team started to put a plan in action Thursday, with the Raptors having reassigned tasks to the coaches who would still be able to be with the team by Friday morning. The team also had to alter its pregame routine because tests didn't come back on time, so the Raptors had to have one joint film session before getting on the floor without a walk-through.
"So it was kind of reacting every time to something different, but at the end of the day, we got the W, so who cares," Scariolo said.
Scariolo said he had a video call with Nurse before the game and credited Nurse's philosophy and the teamwork he has instilled in the coaching staff for helping to make the transition as smooth as possible. He also credited his own experience as a head coach.
"Honestly, it didn't feel too much difference with the 1,500 games I've coached before," Scariolo said. "I felt that we were prepared getting into the game because everybody made his contribution and this is what it takes in a team sport like basketball."
Lowry and guard Fred VanVleet tried to downplay the situation as much as possible, but Lowry made sure to grab the ball after the buzzer and present it to Scariolo after the game. Scariolo said that basketball will go next to other balls players have given to him following medal games or other championships throughout his career.
VanVleet said the team tried to keep things the same as much as possible so as not to try to overcorrect something that didn't need to be corrected.
"I think I kind of came to grips with that pretty early on once they made a decision that obviously those coaches were going to be out. I didn't really want to overreact to it," VanVleet said. "I think it's one of those things that you probably put a little bit too much stock into, but the game doesn't change.
"The way we need to play doesn't change. The way we play doesn't change. So just having a different voice out there, obviously, that's why you have a strong coaching staff for situations like this. Obviously, Sergio has been a great head coach for a long time. He's been doing it at a high level, so plugging him in was pretty simple to do."
The Raptors didn't release the names of the coaches who missed the game, but Jim Sann, Jamaal Magloire and Mark Tyndale were spotted along the Raptors' bench and received shoutouts from VanVleet and Lowry after the game.
Scariolo said he doesn't know how long he'll serve as the acting head coach, adding that the team will continue to operate on the fly until it knows more. While he had talked to Nurse before the game, he hadn't talked to him before meeting with reporters postgame. There were more important matters to take care of first.
"I will make sure I get tested first, this is my first test and I don't want to make a mistake right now," he said. "We can't afford it. Then, for sure, we'll talk."