Joel Hofer turning Americans into Team Canada fans at World Juniors – TSN
OSTRAV​A, Czech Republic — Ian Walsh is one of the few, the proud – one of just five Americans currently working as a full-time referee in the National Hockey League.

But Walsh will find himself in an unfamiliar position on Boxing Day when Team USA clashes with Team Canada to open up the 2020 World Junior Championship (12 p.m. ET on TSN 1/4/5).

"Tough to admit it, but I think this is the first time in my life I'm ever going to be rooting for Canada," Walsh said, laughing.

That's because Walsh and his family have developed a bond with Team Canada goaltender Joel Hofer, who billets with them in Portland during his season with the WHL's Winterhawks.
Team Canada coach Dale Hunter did not name his starter for the tournament opener on Wednesday, leaving it up in the air between Hofer and Guelph's Nico Daws.

"There's going to be a lot of nerves for me. I'm sure for him, too," Hofer said, smiling. "He pays attention to all of our games. I hope he's on our side. It's a really nice family. I'm really lucky to be there."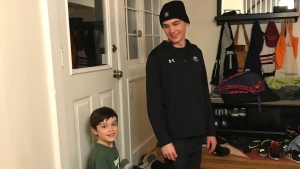 But it's not luck that got Hofer, 19, to the Czech Republic as part of Team Canada's triumvirate in goal. The Winnipeg native was not really on Team Canada's radar last season when he finished 23rd in the WHL in save percentage, working through a mid-year trade between Swift Current and Portland.

His start to this season raised plenty of eyebrows, though. Hofer was twice named the WHL's goaltender of the week, followed by goaltender of the month in November. He leads the Western League in wins (20) and goals against-average (1.81) and is second in save percentage (.937).

Then Hofer closed out the CHL Canada-Russia series in net for the WHL squad, planting the seed that pulling on a Team Canada sweater might be a real possibility. The St. Louis Blues' fourth-round pick (107th overall) in 2018 had not represented Canada at any level prior to last week's pre-tournament tune-up against the Swiss in Brno.

Hofer led Team Canada out of the tunnel to start the exhibition, where he posted a shutout in his half of the game, needing only to stop four shots.

Walsh said he didn't talk about the World Juniors with Hofer, but could tell it was on his list of goals for the season.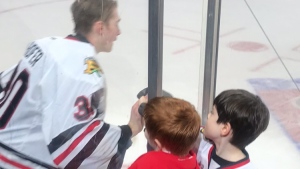 "He is such a mature kid. He is very focused," Walsh said. "He knows what he wants and then works to go out and do it. He is quiet, but he is confident. He has a calm presence. I think his mentality and mental strength could really be a big asset for him in a tournament like this one."

When he signed up to billet last summer, Walsh had no idea he would be taking in a player about to skate onto the world stage. He and his wife, Margo, talked it over and thought it would be a good idea to have another role model around for their 7-year-old son Clarke while Walsh is criss-crossing the continent to call games.

Walsh has learned two things about Hofer since he arrived in late August.

Even at home, Hofer is competitive – and he is respectful.

"It's been great. He is a wonderful kid," Walsh said. "He is not the type of kid to just eat dinner and run. He helps clean up, he sets the table. Then when dinner is over, we have an ongoing game of soccer every night."

Walsh said the game of footy, which takes place just off the family kitchen, is Clarke's equivalent of mini sticks in the house.

"It's been awesome to see the bond between Clarke and him," Walsh said. "The one thing though is that Joel is competitive and he likes to win. There are some games where he just takes it to Clarke. But he isn't a father. I know that sometimes I have to let a few in for Clarke to win and feel good. Joel is still working on that."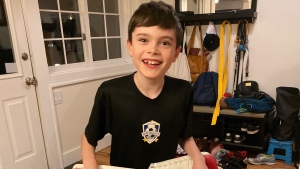 Walsh said Hofer has just been "part of the family" for the last four months. When they go to dinner parties, Hofer tags along. Hofer is an avid golfer, so they took a trip to the nearby TopGolf one night with Clarke – even though Walsh isn't much of a golfer.

When Walsh is home and the schedule allows, the two will go out for lunch in Portland. Hofer loves the big-city feel after parts of two seasons in Swift Current, the smallest WHL outpost.

"He doesn't say a whole lot, but we have the hockey bond," Walsh said. "We watch a lot of hockey, talk about hockey. He will show me clips of his games; I will show him clips of mine. I ask him for his opinion about different calls. We talk about goalie interference penalties."

Hofer said spending time with Walsh has opened up his eyes to what it's like to be a referee in the NHL.

"You definitely have a different perspective on it now," Hofer said. "I love it. I always ask him questions: 'Who is the nicest guy? Who is a pain in the ass?' I like asking him questions."

Walsh said he has discovered that his job as referee and Hofer's job in net are similar.

"I think everyone looks at goalies. They could not be a factor all game, but one goal and that's all anyone wants to talk about. There is a similar singular pressure there," Walsh said. "Just as he probably wishes he could have a shot back, it's the same with referees and a blown call."

Walsh will be feeling that same pressure watching his favourite tournament all the way back in Portland – or whatever NHL city he is in. The Philadelphia native has put his allegiance aside, at least for two weeks, and Santa might have even brought Clarke some Team Canada swag.

"I never thought I'd see the day," Walsh said, laughing. "I told Joel to go over there and get a medal. I just didn't say which colour."

Contact Frank Seravalli on Twitter: @frank_seravalli
Venezuela battle inner demons ahead of Copa America
Last November, players of Venezuelan first division football team Trujillanos took to the pitch with a banner demanding their long unpaid salaries and then stood still for a minute in protest once the game kicked off.
Since then, the head coach has left to manage the U-20 national team and their three best players moved to clubs in Brazil, Colombia and Canada for next to nothing.
In the first four games of the new season, the 2014 league runners-up have shipped 15 goals without reply, non-payment persists, and they play in a stadium 200 km (125 miles) away after their own failed to meet minimum standards.
"The past year has been very difficult and hard for everyone, but I have never lost hope," Trujillanos midfielder Jair Andara told Reuters on the bus back from a 2-0 loss away to Deportivo Tachira.
"Here we say 'bad things don't last forever'. It's a great pride to represent the team of my city."
It is a familiar story across Latin America, where the coronavirus pandemic has wreaked havoc with sport, but matters are acutely exacerbated in Venezuela by economic crisis and political strife during President Nicolas Maduro's rule.
Despite such domestic chaos, the national team are hopeful as they head into next month's Copa America 10 years on from their greatest ever finish in the tournament: a semi-final penalty shootout exit to Paraguay.
"It's been 12 very weird months, but an opportunity to grow and evaluate," said defender Roberto Rosales, who played on that historic night in 2011 and will almost certainly be in the squad again in June, now aged 32.
"We couldn't play the Copa America last year, but now it has special significance on top of what it means to wear the shirt, which for me is a dream I keep living."
FIFA INTERVENTION
As it stands, Venezuela will begin the Copa with a leaderless federation. Jesus Berardinelli, then Venezuelan Football Federation (FVF) president, died in police custody on Aug. 5 last year, with the cause recorded as acute respiratory failure and COVID-19.
Authorities were investigating him at the time for alleged misuse of public funds, but his family rubbished the accusations and lamented that his death deprived them of a chance to defend him.
His arrest came days after he denounced the possibility of "government intervention" on local radio, referencing the dual occupation of Pedro Infante as Maduro's minister of sport and FVF vice president: a combination prohibited by world governing body FIFA.
A month later, after calls from former national team manager Dr. Richard Paez and other prominent figures, FIFA appointed a normalisation committee to take charge of the federation and hold elections for new directors by June 30, 2021.
Eight months on, an election date of May 28 has only just been set and Paez believes nothing has changed.
"There is nowhere to turn," he said from Texas, having left Venezuela at the height of the pandemic.
"Faced with this abnormal situation, we in the Movimiento Venezuela Vinotinto (lobby group) have decided not to endorse or participate … We only hope that the wisdom of the leadership will overcome the immaturity and ineptitude of the past."
Often in spite of off-field obstacles, however, Venezuelan football has been on the ascendancy for much of the 21st century. From a low of 129th in the FIFA World Rankings in November 1998 to a high of 25th in November 2019, the national team transformed themselves from the mockingly-nicknamed "Cinderella" to a new proud epithet of "The Red Wine."
No longer were they last to the ball or first to go home. Full-bodied performances in their burgundy shirts became the new norm.
Although La Vinotinto's standing on the world stage does not always mirror the strength of Venezuela's league, small but incremental markers of progress are never too far apart, and 2021 began with a quick succession of them.
Two-time World Cup participant and 2011 Copa America winner Alvaro Pereira of Uruguay was a marquee signing for Estudiantes de Merida; Telasco Segovia (Deportivo Lara) and Yerson Chacon Deportivo Tachira) were named in a global list of the top 20 "most promising youngsters" born in 2003 by Swiss-based research group the CIES Football Observatory; and Darwin Machis and Yangel Herrera reached the quarter-finals of the Europa League with Granada CF, only the fifth and sixth Venezuelans to do so.
'ALWAYS PROUD TO PLAY'
Yet the national team's current FIFA ranking of 30th is fragile. If they drop lower, work permits to play in Europe's top leagues become harder to obtain and many players are left at the mercy of access to a European passport to achieve their dreams.
It would be a worrisome predicament for a league less scouted than many of its neighbours, and places an extra need for the national team, for the first time likely to be made up exclusively of footballers playing abroad, to do well in next month's tournament co-hosted by Colombia and Argentina.
This makes the recent signing of an international TV deal with Florida-based GOL TV all the more important.
After 18 months without an overseas broadcaster, for the first time every league game is being shown live, televised in 16 countries and available to stream worldwide, except for the United States.
Along with much needed revenue, which local media put at $1 million per year, it demonstrates the league's desire to showcase its talent, as does the recent successful bid from the FVF to host the delayed U-20 South American Championships later this year, originally given to Colombia.
"For us, it's an honour to host this tournament," U-20 head coach Martin Carrillo told Reuters. "In this generation, we don't just have quality, but quantity, too.
"It's important to give them this international participation so that they can compete and show themselves at a national level to then take a step forward to the senior team or take advantage of this stage to find a foreign club."
The next six months are full of opportunity for Venezuelan football. With vital World Cup qualifiers, the Copa America, and the U-20 championship, success cannot be expected in all three.
A good showing in one, however, could be enough to keep its profile growing abroad.
"We need to do our best because we do not have much margin for error," Venezuela international goalkeeper Rafael Romo said from Belgium. "To be in the national team is a pleasure for me, I will always be proud to play for Venezuela, so I will go (to the Copa) and be ready."
(Reporting by Jordan Florit; Editing by Andrew Cawthorne)
Warriors top Grizzlies for No. 8 seed
Stephen Curry scored a game-high 46 points en route to his second NBA scoring title and Jordan Poole stalled a rally with a late 3-pointer Sunday afternoon as the Golden State Warriors held off the visiting Memphis Grizzlies in San Francisco for a 113-101 win to claim the No. 8 position in this week's play-in tournament.
With Curry scoring 17 of his 46 points, the Warriors appeared to take command of the game in the third quarter, but Dillon Brooks led a Memphis comeback. Before fouling out, Brooks contributed 13 points to a 22-5 flurry that made it 91 all with 6:32 still to play.
The Grizzlies went up by two twice after that, before Poole nailed his momentum-changing 3-pointer.
The loss ended Memphis' five-game winning streak and landed the Grizzlies in the No. 9 spot in the play-in, where they will host 10th-seeded San Antonio on Wednesday.
Lakers 110, Pelicans 98
LeBron James scored 25 points as Los Angeles won in New Orleans on the final day of the regular season, but was unable to avoid the play-in round.
James left the game midway through the fourth quarter, slightly favoring the injured right ankle that sidelined him 26 games down the stretch.
But the victory wasn't enough for the defending NBA champions to avoid the Western Conference play-in tournament. Portland defeated Denver to claim the sixth seed so the seventh-seeded Lakers will host eighth-seeded Golden State in a play-in game Wednesday.
Jazz 121, Kings 99
Jordan Clarkson scored 33 points and made six 3-pointers and Bojan Bogdanovic added 18 points to lead Utah past Sacramento and the league's best regular-season record.
Rudy Gobert added 13 points and 16 rebounds. Mike Conley chipped in 11 points, nine assists and six rebounds. Utah clinched the No. 1 seed in the Western Conference and will have home-court advantage throughout the playoffs.
Terence Davis scored 20 points to lead the Kings. Damian Jones chipped in 19 points. Buddy Hield added 13 points, nine assists and seven rebounds for Sacramento, which rested several key players: De'Aaron Fox, Tyrese Haliburton, Harrison Barnes, Marvin Bagley III and Richaun Holmes
Timberwolves 136, Mavericks 121
Anthony Edwards closed his push for NBA Rookie of the Year with 30 points, and Minnesota dominated Dallas nearly wire-to-wire for a season-ending win in Minneapolis.
Edwards capped his debut season with his eighth game of 22 or more points over the final nine. He is in contention to be Minnesota's first Rookie of the Year since teammate Karl-Anthony Towns, who won the award in 2016.
Dallas, which locked up the No. 5 seed and will play the Los Angeles Clippers in the first round of the playoffs, shot 16-of-38 from 3-point range, including Kristaps Porzingis making 4 of 5. Porzingis finished with 18 points.
Heat 120, Pistons 107
Precious Achiuwa had 23 points and 10 rebounds to lead Miami to a road win over Detroit in the regular-season finale.
With little to no incentive to win the game, each team rested several starters. Miami already had the No. 6 seed in the Eastern Conference playoffs clinched going into the game, while Detroit was looking to clinch the league's second-worst record and enhance its odds of winning the first pick in the NBA draft lottery.
Saddiq Bey scored 22 points and Josh Jackson scored 17 points off the bench for Detroit.
76ers 128, Magic 117
Tyrese Maxey had 30 points, seven rebounds and six assists to lift host Philadelphia over Orlando in game in which the 76ers rested all of their starters.
Since the Sixers have had already secured the top seed in the Eastern Conference playoff race, Joel Embiid, Ben Simmons, Danny Green, Seth Curry and Tobias Harris sat the game out.
Isaiah Joe scored 17 points, rookie Paul Reed added season highs of 17 and 12 rebounds, and Shake Milton contributed 15 points and nine assists for the Sixers, who improved to 49-23. George Hill added 14 points.
Nets 123, Cavaliers 109
Kevin Durant totaled 23 points, a season-high-tying 13 assists and eight rebounds in three quarters as Brooklyn Nets secured the second seed in the Eastern Conference with a wire-to-wire win over Cleveland in New York.
The Nets ended the season on a five-game winning streak and edged out the Milwaukee Bucks for the second seed. A loss by Brooklyn and a Milwaukee win over the Chicago Bulls would have pushed the Nets into the third seed due to losing the head-to-head tiebreaker with the Bucks.
Kyrie Irving added 17 points on 7 of 11 from the field for the Nets and became the ninth player in NBA history to shoot at least 50 percent from the field, 40 percent from 3-point range and 90 percent from the free throw line.
Knicks 96, Celtics 92
RJ Barrett scored a game-high 22 points as New York completed a resurgent regular season and clinched the fourth seed in the Eastern Conference by hanging on for a win over visiting Boston.
The Knicks, who are headed for the playoffs for the first time since 2013, will open the quarterfinals at home next weekend against the fifth-seeded Atlanta Hawks.
The Celtics already were locked into the seventh spot in the Eastern Conference and the first seed in the play-in tournament. Boston, which needs to win just once to advance to the playoffs, will play the eighth-seeded Washington Wizards on Tuesday.
Pacers 125, Raptors 113
Canadian-born Oshae Brissett exploded for a career-high 31 points against his country's displaced team, and Indiana earned a home game in the NBA's play-in tournament with a thrashing of host Toronto.
Brissett completed a double-double with 10 rebounds, while Domantas Sabonis had one of his own with 25 points and 16 rebounds, as the Pacers snapped a two-game losing streak to clinch a tie for eighth place in the Eastern Conference.
Indiana assured it would finish tied with either Charlotte or Washington, who were playing each other in a contest that finished after the Pacers-Raptors game had ended. The Wizards secured the win 115-110 over the Hornets.
Wizards 115, Hornets 110
Bradley Beal made a go-ahead layup with 2:53 remaining as host Washington beat Charlotte to secure the eighth seed in the Eastern Conference.
Russell Westbrook collected 23 points, 15 rebounds and 10 assists and Beal added 25 points in his first contest after a three-game absence for the Wizards.
Robin Lopez posted 18 points and Rui Hachimura had 16 for Washington, which will visit the seventh-seeded Boston Celtics in the play-in round on Tuesday. Charlotte, which owns the No. 10 seed, will face the Indiana Pacers on Tuesday in Indianapolis.
Suns 123, Spurs 121
E'Twaun Moore poured in 22 points, including the deciding 3-pointer with 2.2 seconds to play, to lift visiting Phoenix past San Antonio.
Phoenix was without Devin Booker (rest), Chris Paul (rest) and Deandre Ayton (knee) as the Suns opted to keep key players on the bench despite the chance to earn the top spot in the Western Conference.
San Antonio pulled its starters at the end of the third quarter, allowing the two teams' bench players to decide the contest. The Suns' reserves had just enough to secure the win that forced Utah to win in Sacramento later Sunday in order to finish atop of Phoenix in the West.
Hawks 124, Rockets 95
Led by rookie Onyeka Okongwu's career bests of 21 points and 15 rebounds, Atlanta tuned up for its first trip to the playoffs since 2017 with a win over visiting Houston in the regular-season finale on Sunday.
Okongwu, who posted his second double-double, was 10-for-13 from the field and added three assists, two steals and two blocked shots. The Hawks had eight players in double figures, including Skylar Mays with 16, John Collins with 15 and De'Andre Hunter with 14. Trae Young (sore big right toe) was limited to 16 minutes and scored 10 points with nine assists.
The Hawks will be the No. 5 seed in the Eastern Conference and face off with the No. 4 New York Knicks in the first round.
Bulls 118, Bucks 112
Thaddeus Young finished with 20 points and seven rebounds to help host Chicago finish its season with a victory over playoff-bound Milwaukee.
Young was one of six Bulls who scored in double figures. Coby White totaled 19 points, five rebounds and five assists, and Lauri Markkanen had 17 points and five rebounds.
Locked into the No. 3 spot in the Eastern Conference after the Brooklyn Nets' victory over the Cleveland Cavaliers earlier in the evening, the Bucks rested all of their starters — Giannis Antetokounmpo, Khris Middleton, Brook Lopez, Jrue Holiday and Donte DiVincenzo.
Thunder 117, Clippers 112
Aleksej Pokusevski scored a career-high 29 points to lead Oklahoma City to a win over Los Angeles in the final night of the NBA regular season.
The loss sent the Clippers to the No. 4 seed in the Western Conference. They'll face Dallas in the first round of the playoffs.
Pokusevski got off to a hot start and then hit a 3-pointer to break a tie in the final minute and snap the Thunder's nine-game losing streak. He hit his first six shots and finished 10 of 19 from the floor, hitting six 3-pointers.
Trail Blazers 132, Nuggets 116
CJ McCollum scored 24 points and Portland clinched a Western Conference playoff spot with an easy victory over visiting Denver.
Damian Lillard recorded 22 points and 10 assists and Jusuf Nurkic added 20 points and 13 rebounds in the wire-to-wire victory that allowed Portland to avoid the play-in round and claim the No. 6 spot in the West.
Nikola Jokic scored 21 points in the first half before exiting for the Nuggets, who landed the third seed in West despite the setback because the Los Angeles Clippers lost to the Oklahoma City Thunder. Denver owned the tiebreaker with the Clippers.
–Field Level Media
Djokovic outlasts Sonego to set up Rome final with Nadal
Defending champion Novak Djokovic and Rafa Nadal will clash for the Italian Open title after the top two seeds advanced to the final of the Masters tournament on Saturday.
Djokovic, who beat Greek Stefanos Tsitsipas 4-6 7-5 7-5 in a rain-delayed quarter-final earlier in the day, was also stretched to three sets in the semi-final before overcoming local favourite Lorenzo Sonego.
Sonego, the first Italian to make the semi-finals in Rome in 14 years after he beat world number seven Andrey Rublev earlier on Saturday, had his dream run ended by Djokovic who triumphed 6-3 6-7(5) 6-2.
Djokovic failed to convert two match points in the second set that lasted 91 minutes as Sonego forced a tiebreak, where the Serb lost a 4-2 lead.
However, the world number one controlled proceedings in the decider and advanced after Sonego's return on match point found the net.
Earlier, Nadal beat Reilly Opelka 6-4 6-4 to move into the final in Rome for the 12th time.
The match was Nadal's 500th on clay where he has a formidable 458-42 record and the Spaniard advanced after twice breaking the big-serving American.
"When you play these kind of matches, you know it's not going to be a beautiful match… you're not going to find rhythm in the match. You're going to have just a few chances to break," Nadal told reporters.
"It's important not to suffer much with your serve because if you are… you feel the stress all the time. So the positive thing today, I just faced break points in one game during the whole match."
Djokovic was trailing Tsitsipas 6-4 2-1 when Friday's quarter-final was halted by rain but the Serb raised his game at key moments to twice come back from a break down in the deciding set.
Djokovic has a 29-27 career record against Nadal but the Spaniard has won five of their eight matches in Rome.
(Reporting by Rohith Nair in Bengaluru and Sudipto Ganguly in Berhampore, India; Editing by Hugh Lawson and Ed Osmond)