Joel Hofer turning Americans into Team Canada fans at World Juniors – TSN
OSTRAV​A, Czech Republic — Ian Walsh is one of the few, the proud – one of just five Americans currently working as a full-time referee in the National Hockey League.

But Walsh will find himself in an unfamiliar position on Boxing Day when Team USA clashes with Team Canada to open up the 2020 World Junior Championship (12 p.m. ET on TSN 1/4/5).

"Tough to admit it, but I think this is the first time in my life I'm ever going to be rooting for Canada," Walsh said, laughing.

That's because Walsh and his family have developed a bond with Team Canada goaltender Joel Hofer, who billets with them in Portland during his season with the WHL's Winterhawks.
Team Canada coach Dale Hunter did not name his starter for the tournament opener on Wednesday, leaving it up in the air between Hofer and Guelph's Nico Daws.

"There's going to be a lot of nerves for me. I'm sure for him, too," Hofer said, smiling. "He pays attention to all of our games. I hope he's on our side. It's a really nice family. I'm really lucky to be there."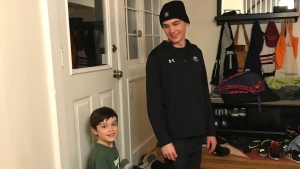 But it's not luck that got Hofer, 19, to the Czech Republic as part of Team Canada's triumvirate in goal. The Winnipeg native was not really on Team Canada's radar last season when he finished 23rd in the WHL in save percentage, working through a mid-year trade between Swift Current and Portland.

His start to this season raised plenty of eyebrows, though. Hofer was twice named the WHL's goaltender of the week, followed by goaltender of the month in November. He leads the Western League in wins (20) and goals against-average (1.81) and is second in save percentage (.937).

Then Hofer closed out the CHL Canada-Russia series in net for the WHL squad, planting the seed that pulling on a Team Canada sweater might be a real possibility. The St. Louis Blues' fourth-round pick (107th overall) in 2018 had not represented Canada at any level prior to last week's pre-tournament tune-up against the Swiss in Brno.

Hofer led Team Canada out of the tunnel to start the exhibition, where he posted a shutout in his half of the game, needing only to stop four shots.

Walsh said he didn't talk about the World Juniors with Hofer, but could tell it was on his list of goals for the season.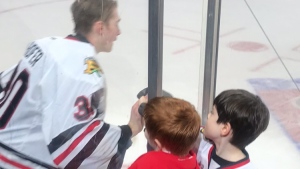 "He is such a mature kid. He is very focused," Walsh said. "He knows what he wants and then works to go out and do it. He is quiet, but he is confident. He has a calm presence. I think his mentality and mental strength could really be a big asset for him in a tournament like this one."

When he signed up to billet last summer, Walsh had no idea he would be taking in a player about to skate onto the world stage. He and his wife, Margo, talked it over and thought it would be a good idea to have another role model around for their 7-year-old son Clarke while Walsh is criss-crossing the continent to call games.

Walsh has learned two things about Hofer since he arrived in late August.

Even at home, Hofer is competitive – and he is respectful.

"It's been great. He is a wonderful kid," Walsh said. "He is not the type of kid to just eat dinner and run. He helps clean up, he sets the table. Then when dinner is over, we have an ongoing game of soccer every night."

Walsh said the game of footy, which takes place just off the family kitchen, is Clarke's equivalent of mini sticks in the house.

"It's been awesome to see the bond between Clarke and him," Walsh said. "The one thing though is that Joel is competitive and he likes to win. There are some games where he just takes it to Clarke. But he isn't a father. I know that sometimes I have to let a few in for Clarke to win and feel good. Joel is still working on that."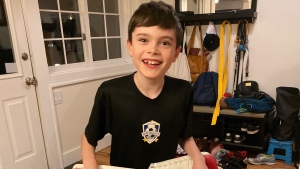 Walsh said Hofer has just been "part of the family" for the last four months. When they go to dinner parties, Hofer tags along. Hofer is an avid golfer, so they took a trip to the nearby TopGolf one night with Clarke – even though Walsh isn't much of a golfer.

When Walsh is home and the schedule allows, the two will go out for lunch in Portland. Hofer loves the big-city feel after parts of two seasons in Swift Current, the smallest WHL outpost.

"He doesn't say a whole lot, but we have the hockey bond," Walsh said. "We watch a lot of hockey, talk about hockey. He will show me clips of his games; I will show him clips of mine. I ask him for his opinion about different calls. We talk about goalie interference penalties."

Hofer said spending time with Walsh has opened up his eyes to what it's like to be a referee in the NHL.

"You definitely have a different perspective on it now," Hofer said. "I love it. I always ask him questions: 'Who is the nicest guy? Who is a pain in the ass?' I like asking him questions."

Walsh said he has discovered that his job as referee and Hofer's job in net are similar.

"I think everyone looks at goalies. They could not be a factor all game, but one goal and that's all anyone wants to talk about. There is a similar singular pressure there," Walsh said. "Just as he probably wishes he could have a shot back, it's the same with referees and a blown call."

Walsh will be feeling that same pressure watching his favourite tournament all the way back in Portland – or whatever NHL city he is in. The Philadelphia native has put his allegiance aside, at least for two weeks, and Santa might have even brought Clarke some Team Canada swag.

"I never thought I'd see the day," Walsh said, laughing. "I told Joel to go over there and get a medal. I just didn't say which colour."

Contact Frank Seravalli on Twitter: @frank_seravalli
What's a playoff game without controversy?
Matt Shoemaker started. He threw 3 very good innings, 2 soft hit singles with 2 strikeouts. He was cruising.
And they take him out of the game.
I'm a fan of leaving in the pitcher who is doing well. Shoemaker was at 35 pitches. I figured they would give him up to 60ish pitches.
I understand it is a fine line, leave a guy in while he is pitching well, but you never know when that will end, but I figure Matt had another inning in him (at least).
In comes Bob Rae (yeah I know Robbie Ray).
Of course he gives up a triple to the first batter he sees. I say triple but I don't understand why our outfielders refuse to cutoff a ball before it gets to the wall. I get that it is easier to follow the ball to the wall and pick it up, but that should have been a double. Next year, if we want playoffs again, we need our outfielders making these plays.
After a strikeout, Ray bounced one in the dirt, it went through Danny Jansen and the Rays had a run. I did think that Danny should have blocked it. With a runner on first, you have to do all you can to block pitches in the dirt.
After that, Ray was terrific. 3 innings, just that one hit (the triple), 1 walk, and 5 strikeouts. A terrific outing.
And, if you want to be fair about pulling Shoemaker early, the Jays got 6 innings of 1 run ball from Shoemaker and Ray, you can't hope for better than that. This was the plan and it went well.
Unfortunately A.J. Cole wasn't terrific. He gave up up a walk and a home run, while getting just one out. Ryan Borucki got the last two outs of the inning.
Thomas Hatch pitched a quick eighth.
---
On the offensive side, we had a lot of trouble with Rays starter Blake Snell. He went 5.2, giving up 1 hit, 2 walks and 9 strikeouts. We didn't get our first hit until Alejandro Kirk singled to lead off the sixth.
We finally got a run in the eight. Rowdy Tellez, pinch-hitting, after missing time on the IL, flared a single into center. Cavan Biggio followed with a double. Rowdy scored on a Bo Bichette sac fly (good thing it was hit deep, Rowdy wasn't running well). Unfortunately that's where the scoring ended.
We had a shot in the ninth. Vlad had a long at bat but struck out on a checked swing that when just too far. Lourdes followed with a double, bringing the tying run to the plate. Teoscar went to a 3-1 count, then chased above the strike zone and watched strike three down the middle. Joe Panik followed. He watched a wild pitch, moving the runner to third, but then sliced one not quite hard enough to get over the infield.
We had some good at bats, and some hard hit balls, but they all seemed to find gloves. We have to figure a way to score more than 1 run in the next two games.
Jay of the Day: Shoemaker (.155 WPA)
Source:- Bluebird Banter
Five takeaways from Toronto Blue Jays' Game 1 loss to Tampa Bay Rays
1. Shoemaker yanked early but pitching plan worked
Much was made of the Toronto Blue Jays' decision to push ace Hyun-Jin Ryu to Game 2 and go with Matt Shoemaker as the Game 1 starter.
It was clear Shoemaker would be limited to some sort of pitch count and on a very short leash if things went awry, but the 34-year-old was brilliant across three frames, throwing 27 of 35 pitches for strikes, allowing just two hits, and keeping the baseball away from the barrel of Tampa Bay Rays hitters.
But three innings would be all Shoemaker would get before he'd be given the hook, throwing 19  fewer than he did in his return from a lat injury on Sept. 21, so it wasn't a pitch count issue.
To lead off the fourth inning, manager Charlie Montoyo and the front office computers brought in lefty Robbie Ray to face right-handed hitter Randy Arozarena, who came in batting .400 with four home runs in just 20 at-bats against southpaws this season.
Arozarena promptly tripled and would later score on a Ray wild pitch, giving the Rays an early 1-0 lead.
After the game, Montoyo said they didn't consider leaving Shoemaker in and the reason was Ray has been one of their best pitchers lately.
It was the only hit Ray would allow, but considering the lefty has allowed a 1.012 OPS to righties this season, bringing him in to face Arozarena when Shoemaker was dealing was a curious decision.
Shoemaker seemed to be unhappy in the dugout, and while Montoyo said that the original plan for his starter was one trip through the Rays' batting order and two innings, the veteran right-hander expressed his competitive disappointment with the early hook, saying he thought he'd go four or five innings, but wasn't really sure.
"It's playoff baseball," Shoemaker said. "Physically, I felt great. I wanted to go seven, eight, nine innings. That's just how we internally compete. Of course, I wanted to keep going, but I had an idea of the plan, somewhat, going into it."
Despite that, an overall line of six one-run innings and just three hits allowed from Shoemaker and Ray makes the decision to push Ryu to Wednesday look like a smart one in the grand scheme of things.
2. Bats go cold
While the pitching decision got all of the attention pre-game and most of it early on in-game, as well, it was far from the reason the Jays are in a one-game hole and facing elimination.
The bats, however, were a different story.
Coming into the series, the Jays had quietly put together the seventh-best offence in baseball this season, scoring 5.03 runs per game, one year after finishing 23rd in baseball.
Against Blake Snell, it took until the sixth inning to get a hit, a leadoff single off the bat of 21-year-old DH Alejandro Kirk.
They'd threaten in the eighth inning, but ended up leaving six men on base on the night and could never really solve Snell.
When the Jays' bats were hot this year, they weren't chasing as many pitches out of the zone, but that's exactly what they did Tuesday.
Montoyo's club struck out 12 times and could only muster one extra-base hit, an eighth-inning double by Cavan Biggio.
3. Snell completely dominant
The 2018 Cy Young winner ended up only going 5.2 innings, but those frames were completely dominant as he carried a no-hitter through five innings.
Coming into the game with a career 2.81 ERA across 13 starts against the Jays, everyone knew it was a tough assignment, but Snell had four pitches working and ended up getting 18 whiffs from Toronto hitters on just 82 pitches.
Snell's curveball was swung through eight times on just 27 pitches, while the lefty's four-seam fastball got five whiffs, the changeup got three and his slider got two more.
The 27-year-old didn't even have his peak velocity, but he could still dial it up close to 97 mph when he needed it.
One of the clear separators between these two AL East teams is the rotation, and what a luxury it is for Rays manager Kevin Cash to be able to follow Snell with 6-foot-8 flamethrower Tyler Glasnow in Game 2 on Wednesday.
It's not getting any easier for the Jays.
4. Ryu now needed to stave off elimination
When the Jays hatched their plan to have their ace sandwiched between two games that are expected to be heavy bullpen days, they obviously envisioned Ryu taking the mound with a chance to sweep the series in Game 2.
But that won't be the case, so the Jays will send their $80 million southpaw to the mound to help them try to stave off elimination and force a Game 3 on Thursday at Tropicana Field.
After the season the 33-year-old just put together, the Jays are expecting — and will need — another ace-like performance from Ryu, who posted a 2.69 ERA this season, the lowest single-season mark for a qualified starting pitcher that spent a full season with the Jays since Roy Halladay's 2.79 mark back in 2009.
Ryu was hands down the club's MVP this season, accumulating 1.9 fWAR, the most of any player regardless of position, and the Jays went 9-3 in his 12 starts.
Without him, the Jays are not a postseason team.
And if he doesn't perform Wednesday, the Jays won't be a postseason team any longer.
5. Wild-card roster features handful of surprises
Through all of the injuries the Jays had to endure this season, the biggest loss in the end may be Jordan Romano's freak finger injury in late August.
The Jays thought the 27-year-old Markham, Ont., product had a chance to make it back for the postseason, but he was left off Tuesday's wild-card roster when it was announced.
GM Ross Atkins said Romano is closing in on a return, but the fact he hasn't pitched in a game since Aug. 29 made them hesitant to throw him into the postseason fire.
If the Jays advance, Romano will likely be available, but that doesn't help Montoyo match up with the Rays' power bullpen in this series.
One surprise addition to the wild-card roster was first baseman Rowdy Tellez, who was able to do enough in live BP sessions over the past couple of days to convince Jays' decision-makers he was ready, and then went out Tuesday in Game 1 and dumped a pinch-hit single into centre field.
With Alejandro Kirk giving Montoyo a DH and pinch-hit option with some pop from the right side, Tellez gives the Jays one from the left side.
One not-so-surprising omission from the roster was veteran right-hander Tanner Roark, who despite a 6.80 ERA this season is still owed $12 million in the final year of the two-year, $24-million deal the Jays gave him last winter.
Source:- TSN
Blue Jays' Game 1 loss hinges on lifeless offence, not pitching moves – Sportsnet.ca
TORONTO – Keep debating the merits of the Toronto Blue Jays' pitching strategy all you like, but for Game 1, at least, it worked. Matt Shoemaker and Robbie Ray combined for six innings of relatively uneventful one-run ball, and if ace Hyun-Jin Ryu pitches similarly with his team's season on the line Wednesday everyone will be thrilled.
That isn't what cost them their first post-season game since 2016, and it won't be what costs them the series.
Livestream Toronto Blue Jays games all season with Sportsnet NOW. Plus, watch marquee MLB matchups, the post-season and World Series.
The more glaring concern coming out of Tuesday's 3-1 loss to the Tampa Bay Rays is the way lefty Blake Snell overpowered Toronto with a fastball that averaged 95.3 mph, and mixed in his secondary weapons to induce 15 swings out of the zone that led to a foul ball or a miss.
Relievers Diego Castillo, Nick Anderson and Pete Fairbanks also got the Blue Jays to chase, and the departure from the more-disciplined approach is something they'll need to address before stepping in against Tyler Glasnow with win-or-go-home stakes.
Shoemaker, pitching for the first time since throwing three strong innings against the New York Yankees on Sept. 21, shoved right out of the gate, and was so in control that he needed only 35 pitches to skip through three innings on two weak hits.
That's why he had to be calmed in the dugout when pitching coach Pete Walker and manager Charlie Montoyo told him he was done. He eventually calmed, perhaps when reminded that this is certainly what looked like the club's predetermined plan, and Ray took over.
The first batter he faced, Randy Arozarena, ripped a leadoff triple, and after a Nate Lowe strikeout, Ray ripped off a full-count slider to Willy Adames for ball four that just barely squirted through catcher Danny Jansen's legs as he slid over to block it.
The ball rolled away just far enough for Arozarena to scamper home for a 1-0 lead.
Ray settled in from there with two shutout innings and the Rays were held quiet until the seventh, when Joey Wendle worked a one-out walk off A.J. Cole, who served up a middle-middle cutter that Manuel Margot lined over the wall in left.
The Rays got creative with their pitching deployment, too, pulling Snell with two outs in the sixth despite him allowing only one hit and a walk while striking out nine.
Alejandro Kirk led off the sixth with a single, but was stranded by Castillo, who put on a pair with one out in the seventh. That's when the Rays turned to Anderson, who got Teoscar Hernandez and pinch-hitter Joe Panik to end the threat.
Toronto finally broke through in the eighth, as pinch-hitter Rowdy Tellez – a surprise addition to the post-season roster – singled, Cavan Biggio doubled and Bo Bichette brought Tellez home with a sacrifice fly. Randal Grichuk followed with a liner to Adames at short, placed well by the Rays, for the final out.
Fairbanks triple-digit fastballed his way around a Lourdes Gurriel Jr. double in the ninth to close things out.
The decision to go with the Shoemaker/Ray tandem over Ryu in Game 1 is among the most polarizing in recent Blue Jays playoff history. A good comparable came in Game 4 of the 2015 AL Division Series, when then-manager John Gibbons pulled R.A. Dickey with two out in the fifth and a 7-1 lead over the Texas Rangers, bringing in David Price in a call that locked in Marcus Stroman as the starter in the decisive fifth game.
While few understood that call, before that game Gibbons watched the Kansas City Royals rally from a 6-2 deficit to stave off elimination with a 9-6 win over the Houston Astros, and was determined to not give the Rangers any life.
This time, the Blue Jays were dealing with vastly different circumstances, facing an opponent eight games better than them in the standings and deeper on a number of levels. That prompted the club to holistically examine how to attack a three-game series – a first for Major League Baseball – and they determined that "in this scenario, Game 1 seemed much less significant than in a traditional scenario, significantly different," Atkins said.
"We viewed the advantage (in) being able to put our most consistent piece in the middle of those potentially 27-plus innings, as we thought through our strategy, with the added benefit of getting an extra day rest for Hyun-Jin Ryu, an extra day of rest for Taijuan Walker, and then giving our bullpen the chance to be its strongest on Game 1 and Game 3."
That bucks conventional thinking, fuelling the debate. Since the wild-card era began in 1995, teams that win Game 1 are 126-49 in the series, regardless of round or length, which is why Ryu seemed like an automatic, if he didn't physically need an extra day.
The Blue Jays and Ryu both said that wasn't the case, but part of their calculations was that an inability to bring the Game 1 starter back again in a best-of-three – as opposed to making two starts in a longer series – minimized some of the incentive. Another factor was that pitching in Game 2 would still allow Ryu to pitch the opener of the division series, should they get that far.
Also, the Blue Jays felt that if the Rays stacked their lineup with left-handed bats against Shoemaker, putting in Ray would force them to surrender platoon advantage against the lefty, or the righty relievers to follow him later.
Cleverly, Rays manager Kevin Cash countered that by only stacking left-handed batters – Yoshi Tsutsugo and Brandon Lowe – in the first two spots of the order, alternating righties and lefties from there. They only made one move during Ray's three innings – hitting Hunter Renfroe for Tsutsugo in the fifth.
These types of machinations are part of why the Blue Jays hired Montoyo, after first pursuing his staff-mate on the Rays in Rocco Baldelli, who instead opted for the Minnesota Twins' managerial opening.
Montoyo brought with him a window into the Rays' highly respected methodology, so perhaps it shouldn't be surprising that the Blue Jays sought to emulate it.
"That's one thing I got in every interview I did, it was about the opener and the Rays and the things that they did," Montoyo said. "So it wasn't only Ross, it was also with the other teams that (I) interviewed with because credit to the Rays, they're so creative and what they do is different. At first it looks like, 'What are they doing?' But they're not afraid to take a chance. And that's what we're doing here. We're trying to be creative playing one of the best teams in baseball. That's why we're doing what we're doing."
In terms of giving themselves a chance, it worked, but in the way it really matters, the final result, there's going to be little solace in that for the Blue Jays.