JR's Gigantic New Installation in Hong Kong, Unveiled Ahead of Art Basel, Has Worried the City's Feng Shui Masters. Here's Why
The French artist JR has created a monumental outdoor installation for Hong Kong to celebrate the city's art month this month. But the installation, which depicts a high jumper, has drawn criticisms from several feng shui consultants and fortune tellers, who argued that the work looks like a person who fell off from a building from afar, and hence projecting a bad omen. Titled Giants: Rising Up, the installation was unveiled this week ahead of next week's Art Basel Hong Kong, which has its VIP days beginning March 21. Commissioned by the shopping mall Harbour City and on view until April 23 at the Ocean Terminal Deck in Tsim Sha Tsui, Kowloon, the work, which measures nearly 40-feet-tall and 40-feet-wide (12 meters high and 12 meters wide), is the famed artist's first offering in Asia from his ongoing "Giants" series. "The gigantic art installation depicts a larger-than-life high jumper floating in mid-air adjacent to Hong Kong's iconic Victoria Harbour, with her body bending gracefully and her head back facing the fabulous skyline," the press release wrote. "The high-jumping athlete appears to jump off the ground and enjoys the sensation of free fall," the press statement continued, adding that the athlete's move represented "take off," referencing to a "Giants" installation on view at the 2016 Rio de Janeiro Olympics. JR also added "a touch of Hong Kong" by fusing the image with a bamboo scaffolding, a construction technique regarded as "safer than steel" that has been listed as the city's intangible cultural heritage.
But JR's artistic creation failed to appeal to some feng shui consultants, as well as practitioners and believers in the traditional art of Chinese metaphysics and divination. "Doesn't it look like someone who fell off from a building landing on a bamboo scaffolding, and the body is pierced through by the bamboos?" asked feng shui master Po Sin in a recent video on his YouTube channel. Po Sin's view was echoed by a recent Facebook post penned by feng shui practitioner Steve Lee, who also shared a similar impression of the work. Their views were also echod by some internet users. Feng shui is understood as the ancient Chinese study of arranging one's surroundings in order to facilitate the positive flow of energy or bring fortune, and is widely adopted in interior design and architecture in Hong Kong. Some non-believers, however, criticized it as mere superstition. Po Sin, nevertheless, went on saying that although bamboo scaffolding was distinctively from Hong Kong, and it could be aesthetically pleasing, the depiction in this JR work was not appealing. "You can have people climbing on a bamboo scaffolding, but not having someone landing on it on a person's back," the master said, adding that the out-of-context jump looked like the jumper was diving into the sea, which has a bad connotation in the local cultural and lingual context. Artnet News has reached out to Harbour City for comment, but did not hear back by publishing time.
Lee, the feng shui practitioner, also compared the bad omen projected by JR's new work with that of American artist Kaws's Kaws:Holiday public installation in Hong Kong that was on view in March 2019. The installation saw the gigantic, crossed-eye inflatable sculpture of Companion lying flat on its back floating on Victoria Harbour, which Lee interpreted as the "fortune basin" of Hong Kong. "Call me superstitious, but placing a 'floating dead body' in the middle of Victoria Harbour, the sight is unbearable," Lee wrote in a post in March 2019. Lee then followed up with another post in October 2019, when the city was rocked by pro-democracy protests that had tipped off in June, sparked by the anti-extradition law movement. "The artwork 'dead body in Victoria Harbour' was merely a prophecy," he wrote, predicting that the city will continue to suffer in subsequent years, affecting all local citizens regardless of age and political orientation. Whether or not Kaws's installation could be read as an omen, in reality, the city was nearly cut off from the rest of the world for almost three years under stringent Covid restrictions. The authorities continue to crackdown political dissents since the implementation of national security law in 2020 and the revival of the use of colonial-era sedition law, which saw hundreds of activists, pro-democracy politicians, and journalists arrested. The city's stock market index, Hang Seng Index, plunged from its high note at over 30,000 in May 2019 to 14,863 in October 2022, its lowest since 2009. Is JR's new artwork really a bad omen? Benson Wong, a former Hong Kong Baptist University political science professor-turned astrologer and psychic, noted that in this case, the meaning of the work is defined by viewers. If the work is associated with negative meanings, the work is seen as "a projection or manifestation of such negativity and unlucky energies," Wong told Artnet News. "It is a reflection of collective consciousness."
Artists slam Duke Nukem 1+2 Remaster art & claim it's "AI generated" – Dexerto
Fans of the long-dormant Duke Nukem series were elated to see a remaster of the first 2 games getting announced, but that excitement has been dampened by people calling out the game's key art for being "AI generated".
AI has been rapidly developing as of late, getting implemented in an increasing number of ways for people to generate images and text by feeding certain AI programs a prompt to work from.
AI art has become just as controversial as it has been prominent, and people are increasingly wary of AI-generated images replacing the work of real artists.
Article continues after ad
When the promotional art for the Duke Nukem 1 + 2 Remasters released, the joy of many fans was traded out for disdain, with many claiming that the art wasn't created by an actual artist. To prove their point, several artists put together a detailed analysis of the image to try and explain why they think the artist that was hired didn't do all his work by hand.
Duke Nukem 1+2 Remaster under fire for "AI generated" art
When AI art first started taking the internet by storm, it was pretty easy to discern what was and wasn't real. Though some images were more convincing than others, things like hands, facial expressions, and other small details didn't quite line up with what a human artist would produce.
Article continues after ad
However, as the technology rapidly advances, it's getting harder and harder to tell the difference. For instance, the cover art for a book by the name of Bob the Wizard was exposed as being AI generated after it won a cover art contest, with the author of the book now working with a different artist to replace it.
Subscribe to our newsletter for the latest updates on Esports, Gaming and more.
Now, Duke Nukem fans and artists are calling out Oskar Manuel, claiming that he used AI to generate the cover for the Duke Nukem 1+2 Remaster under the nose of Evercade, the company promoting the remaster.
Article continues after ad
It hasn't been confirmed by the artist or Evercade whether or not Manuel used AI in the production of art for the title, but several artists and gamers have swarmed the account, claiming that art from Manuel's portfolio seems to be AI-generated.
One artist went out of their way to mark the places in which they think the art most clearly shows its faults and other examples of art from Manuel's portfolio that includes things like clocks with no hands and characters with 6 fingers.
Article continues after ad
Neither Evercade nor Manuel have commented further on the matter at the time of writing, and the story is still developing.
Global BC sponsors Vancouver Art Gallery: Fashion Fictions – GlobalNews Events – Global News
On now until October 9
Vancouver Art Gallery
Head to the Vancouver Art Gallery for Fashion Fictions,
This exhibition explores the increasing influence of research-based, materially driven practices on the global fashion scene, and surveys experimental design practices pushing the boundaries of the art form.
Proudly sponsored by Global BC.
Details at VanArtGallery.bc.ca
Poland's quest to retrieve priceless Nazi-looted art – BBC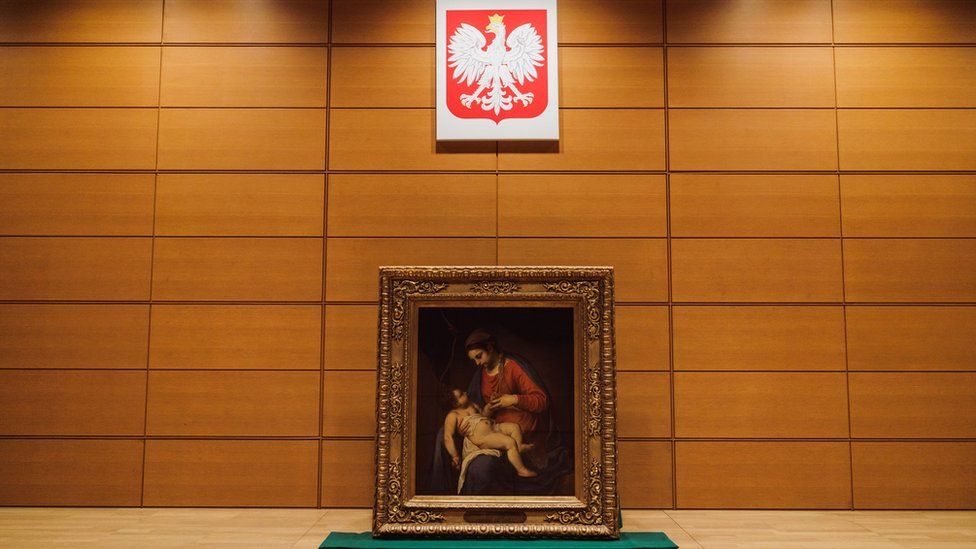 When the Nazis occupied Poland in World War Two, many of the country's priceless pieces of art were stolen.
One of those was Madonna with Child, a 16th Century painting attributed to Italian Alessandro Turchi. A Nazi official who oversaw the looting of art included the painting on a list of hundreds taken from occupied Poland.
It is one of 600 looted artworks that Poland has managed to successfully bring home, but more than 66,000 so-called war losses are yet to be recovered.
Poland recently launched a campaign seeking the return of hundreds of thousands artworks and other cultural items still missing after German and Soviet occupations in World War Two. It is also seeking $1.3 trillion in reparations from Germany for damage incurred by occupying Nazis.
Experts believe more art will be discovered with the passage of time as heirs to looted artwork attempt to sell pieces without being aware of their history.
Madonna with Child is thought to have been transferred to Germany in 1940 during the Nazi occupation of Poland. The Nazis often looted art belonging to Jewish families before killing them.
The painting was included on a list of 521 artworks in occupied Poland compiled by Kajetan Mühlmann, a Nazi official who oversaw the looting of art.
The painting reappeared in the 1990s, when it was sold at a New York auction.
It was due to be auctioned in January last year, but the sale was halted after Polish authorities spotted the piece. Once it was proven to be the looted painting, the auction house and the painting's owner agreed to return it to Poland. An official handing-over ceremony took place in Tokyo on Wednesday.
Polish art historian Natalia Cetera said the return of masterpieces like Madonna with Child help restore pride in the country's art heritage.
Poland had Rembrandt and Raphael pieces stolen, as well as internationally recognised Polish masterpieces, she said.
"So whenever there is this situation where the artworks come back to Polish collections, you feel proud because it shows the importance of Polish collections that is sometimes forgotten," Ms Cetera told the BBC.
"It means we have some strong focus on remembering our heritage, our collections and the strength we used to have in art, because this is something we tried to rebuild after the war and this is a long process to be recognised again."
Ms Cetera says she believes there has been a shift in recent years in cultural heritage "being seen as a common good".
Christopher Marinello, founder of Art Recovery International, has spent more than 30 years finding missing masterpieces. He believes that more pieces could start showing up as looted artwork gets handed down to the next generation, with the new heirs unaware of their history.
"We're talking about a generation ago now and these looted objects are being left to their heirs when the possessors pass away and the children don't necessarily know the history and they decide to sell it," Mr Marinello said.
Polish authorities have recorded stolen pieces of artwork on Interpol and other private and government databases.
"There's also a great number of art historians out there who are doing research of looted artworks from Poland and they're spotting them too," Mr Marinello said.
"The more that tech improves and auction houses start to post everything online, there's more eyes looking for the objects that have been looted."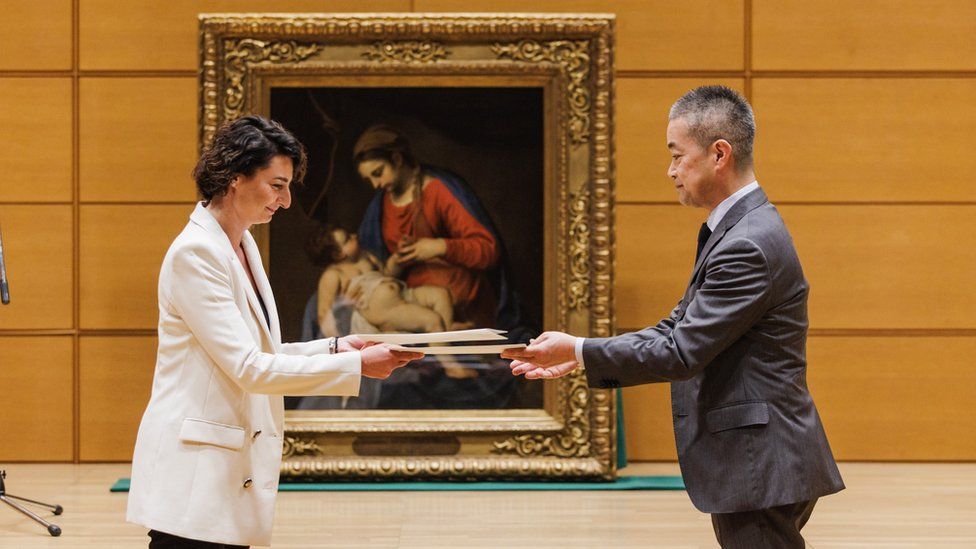 Mr Marinello believes there is also a "generational shift" in attitudes to stolen masterpieces. He's currently working on a case where a man in Chicago contacted him about a piece he believed his grandfather stole from a German museum in World War Two.
"They'd had it for an entire generation and now they realise that they can't sell it and that they would rather give it back than have any more trouble over the issue."
But the law varies from country to country, and sometimes a stolen piece can only be returned with the goodwill of the current owner.
Japan, where Madonna with Child was found, "is not a great country to recover stolen art from", Mr Marinello says.
"It's really up to the possessor in many cases to do the right thing… to understand that something was looted or stolen and that it should be returned, because you can't rely on a lawsuit under Japanese law," he said.
Ms Cetera said that the successful retrieval of Madonna with Child was a source of pride, but is unsure whether the passion for bringing stolen artwork back to Poland will continue with future generations.
"The question is whether it is important to the next generation – Gen Z and younger generations, do they really care? From what I observe, this might not be the case," she said.
Digitised art collections might mean people losing interest in the physical form, she said.
"At some point maybe we won't have to retrieve artworks… because we will have it in the Cloud and we will be able to reach it any time anywhere, no matter who has it.
"This digitisation and tech that is coming might at some point suppress the need of retrieving physical artworks."
You may also be interested in: