Judge refuses to dismiss media charges in Pell trial – CTV News
MELBOURNE, AUSTRALIA —
A Supreme Court judge in Australia's Victoria state on Friday dismissed submissions from news media organizations and journalists that there is no case to answer on charges they breached a gag order on reporting about Cardinal George Pell's sex abuse convictions in 2018.
More charges were tossed out in the case against Australian media outlets prosecuted over reporting of Pell's abuse convictions. But the judge refused to throw out the bulk of the 87 charges of contempt of court for stories published after the cardinal's guilty verdict.
His child sexual abuse convictions were overturned by Australia's High Court earlier this year and the cardinal is back in Rome.
More than two dozen media organizations, reporters and editors were charged with breaching of suppression orders and other reporting rules in the days following the guilty verdicts.
In a mid-trial ruling on Friday, Justice John Dixon dismissed eight contempt charges against Nationwide News, Sydney radio station 2GB, Queensland Newspapers and the Nine Entertainment-owned Fairfax Media.
But he rejected arguments by 27 media outlets, journalists and editors that they had no case to answer for the remaining 79 charges.
Prosecutors last month dropped 13 charges against News Corp. staff and publications. The trial is scheduled to resume on Jan. 28.
Such suppression orders are common in the Australian and British judicial systems. But the enormous international interest in an Australian criminal trial with global ramifications highlighted the difficulty in enforcing such orders in the digital age.
Pell was convicted on Dec. 11, 2018 of sexually abusing two choirboys in a Melbourne cathedral when he was the city's archbishop in the late 1990s.
The trial of Pope Francis' former finance minister and the most senior Catholic to be charged with child sex abuse was not reported in the news media because of the suppression order that forbade publication of details in any format that could be accessed from Australia.
Details were suppressed to prevent prejudicing jurors in a second child abuse trial that Pell was to face three months later.
That second trial was cancelled due to a lack of evidence, and Australia's High Court in April overturned all convictions after Pell had spent 13 months in prison.
No foreign news organization has been charged with breaching the suppression order. The U.S. Constitution's First Amendment would prevent such censorship in the United States, so attempting to extradite an American for breaching an Australian suppression order would be futile.
How To Harness The Hot New Social Media App Clubhouse To Build Your Brand – Forbes
At age 27, Jessica Williamson already has established a six-figure business, Ete Swimwear. While running her company, she also coaches other female e-commerce entrepreneurs on how to scale and grow their businesses. Recently, Williamson received an invitation to join Clubhouse, one of the newest social media platforms.
After learning that Clubhouse can connect you with some of the world's most prominent business and industry leaders via live voice interaction, Williamson decided to give it a try. She quickly discovered that the app indeed enabled her to speak directly with numerous movers and shakers. So, she jumped in fully. In just two days, she already had gained hundreds of new followers – not just on Clubhouse, but on other social media platforms, as well.
Here is what Williamson has learned about Clubhouse so far.
1. Clubhouse is an authentic way to interact with famous people.
Everyone is on Clubhouse to give value. When I first joined, I entered a "room" dedicated to business growth. On the "stage" were Grant Cardone, Tiffany Haddish, Jim Kwik and several USA Shark Tank investors – people with millions of followers! Then, I asked and was granted access to the "stage" with them.
Because Clubhouse links directly to your Twitter and Instagram accounts, there are no DM functions or chat functions, comments or likes. The only way to interact with people through Clubhouse is via voice. That means you get to ask questions, seek advice, and tell people exactly what you have to offer.
Within minutes on the app, I got to speak directly to famous people, and it was all completely live. It was like a normal phone call. It was insane! I was speaking with the biggest business leaders in the world. I was blown away. Hearing people's real voices definitely helps to build connection.
2. Clubhouse helps potential followers understand the value you can offer.
In order to soak up the value you can get from the platform, put yourself out there as much as you can. Because of my experience in podcasting and doing Instagram live, I'm more than comfortable putting my hand up and hoping to be invited onto the "stage." And I have been. It has proven a great opportunity to share my business insights. Just being on stage got me 60 new followers. Even Tiffany Haddish followed me! (I doubled checked; it's not a fake account.)
Since the Clubhouse app links directly to Instagram, it quickly builds your follower count. In fact, I gained 200 new Instagram followers after just two days on Clubhouse. I also got about 50 new direct messages (DMs). In the past, I'd be lucky to get one or two DMs each month from people I don't follow. DMs are usually a more meaningful way to connect with followers, as they ask serious questions and genuinely want your expertise.
3. Getting in early means more opportunities.
There's so much opportunity on this app right now because you have to be invited by someone who is already on Clubhouse. Each person currently receives only a few invites, so it's still super exclusive. However, it is growing exponentially.
As a first mover, it feels very meaningful to me to be on Clubhouse, so I am making the most of it. I'm certain that as time goes on, we may not be able to access the featured speakers as easily as we can now, because the rooms will become crowded. This will mean fewer opportunities to get on to the stage and speak to the celebrities. I've therefore been spending a lot of time on the app to make sure I'm getting the most out of it.
4. You can learn how to use Clubhouse by listening in on different "rooms."
Honestly, I had absolutely no idea what I was doing or how the app worked when I joined. However, upon jumping into a few groups and putting myself out there, I got the hang of it very quickly. In several groups, people were chatting about all the functions of the app and how Clubhouse actually works, so that was really handy.
5. Quick tips on how to use Clubhouse.
· Round table discussions work best – not a hierarchy of someone speaking. When people can join in and speak, they stick around!
· Have as many moderators as possible to create a larger room.
· Raise your hand to ask moderators to let you speak. You can leave a room any time by "peacing out."
· Your bio shows up as SEO, so it is key to communicate what value can you offer in the first three lines.
· Showing up and actually participating in groups is vital. I asked one question and gained five to ten followers.
· Co-hosting groups is critical, as well. Partner with people to host rooms on a certain topic.
· You need to reset the room a few times for all the new people that have joined.
· A good length for a program is 60 to 90 minutes.
· Ask people to DM you a word. For example, "DM me for freebie" or whatever so you can send them the link to your resources.
Bernie Sanders' inauguration meme gets social media attention from sports world – Sporting News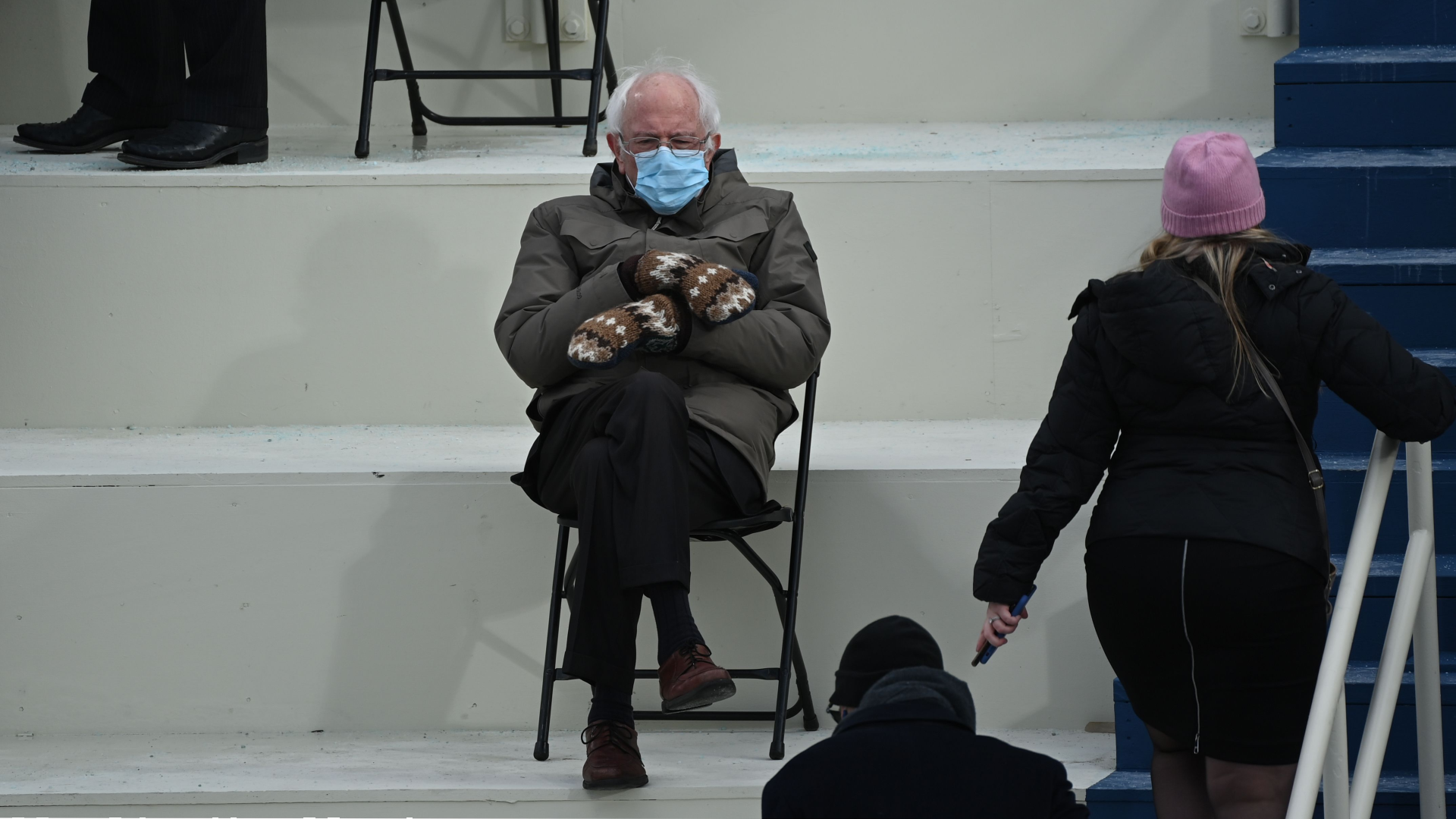 Bernie Sanders has a knack for online stardom.
The senator from Vermont is already the subject of one well-known meme — we'll get to that in a second — and on Wednesday, thanks to his inauguration outfit, socially-distanced spot and demeanor at the Capitol, he earned another one.
First off, props to Sanders who was sporting the same jacket from the original "I am once again asking" meme. If the jacket still fits and is in good shape from 2019, why not keep wearing it?
So aside from the coat, he's got a new meme thanks to a photo that popped up of the 79-year-old senator sitting in a folding chair socially distanced from everyone. He sat in said coat, with his arms crossed and warm mittens on his hands and his legs crossed — and, of course, he had on a mask.
Following COVID-19 protocols, Sanders became a social media sensation once again and the sports world was quick to follow suit as well.
Media Beat: January 21, 2021 – FYI Music News
TPX now representing AdLarge Media's cabana portfolio in Canada
The Podcast Exchange (TPX), Canadian's top podcast ad agency, expanded its brand dominance this week with an exclusive agreement to represent US-based AdLarge Media's cabana portfolio for exclusive Canadian ad sales representation.
"We are simply delighted to be cabana podcasts' strategic partner in Canada," said TPX's President and Chief Executive Officer Jean-Marie Heimrath. "cabana is our latest international signing and supports our business strategy to work with global publishers in partnership with advertisers to harness the full potential of the Canadian podcast audience."
TPX was co-founded by Jean-Marie Heimrath and Jeff Ulster to offer consulting and co-production to ad sales and IP licensing to media and in particular the fast-growing podcast industry here in Canada. The privately held company took a quantum leap in Q1 2020 when Montreal music and media tech firm Stingray acquired a 30% interest in the firm.
For the purposes of the 2021 Maclean's Power List (below), we canvassed the landscape for Canadians with qualities we think represent power in a time of transformative change. By dint of their actions, words or character, they force us to watch, listen and learn. They are moving the needle in their chosen fields, and in many cases the wider world. Importantly, they are good-faith actors. History may judge them wrong, but they act in the belief that doing so will result in a better world.
You may notice therefore a shortage of power brokers in the conventional mould—bank CEOs, cabinet ministers, scions, high-powered lobbyists. For this list, warming a seat in the establishment doesn't cut it. Nor does preserving the status quo. Nor, certainly, does exercising power for the mere sake of disruption. (Peddlers of conspiracy and disinformation could be thought of as influential; you will not find them in this ranking.)
Executive Director Daniel Bernhard, Chair of the Board Aritha van Herk, and Vice-Chair Raymonde Lavoie present at the CRTC Hearings regarding the CBC license renewal, January 18, 2021.
[embedded content]
Google and Facebook received a growing share of the federal government's advertising budget after the Trudeau Liberals took power, as Ottawa quadrupled how much it spent each year on ads from the American web giants between 2015 and 2019.
Responding to the figures, New Democrat MP Charlie Angus said that, "at the very least," Ottawa should ensure sales tax is charged on advertisements purchased from Google and Facebook. – Alex Balllingall, The Star
Canada is ushering in some new blood too with François-Philippe Champagne replacing Navdeep Bains as minister of Innovation, Science and Economic Development (ISED), thanks to a recent cabinet shuffle by Prime Minister Justin Trudeau. As the new minister responsible for the telecom file, Champagne may bring a difference in tone and possibly direction.
We canvassed some Canadian telecom industry watchers we like about these developments. Here's a summary of what they expect on both sides of the border over the next few years. – Peter Nowak, TekSavvy blog
Netflix reported that its paid streaming subscribers rose to 203.7 million at the end of the fourth quarter, up 23% from a year ago.
The streamer said the new season of The Crown drew more than 100 million households in its first 28 days, exceeding the total for its prior seasons.
The Midnight Sky, starring and directed by George Clooney was Netflix's biggest movie in the quarter with 72 million households watching in its first four weeks. The film Over the Moon attracted 43-million-member households and Netflix projected that We Can Be Heroes will reach 53 million households in its first four weeks. – Jon Lafayette, Broadcast + Cable