Labour proposes 'new deal for jobs' to transform UK economy – BBC News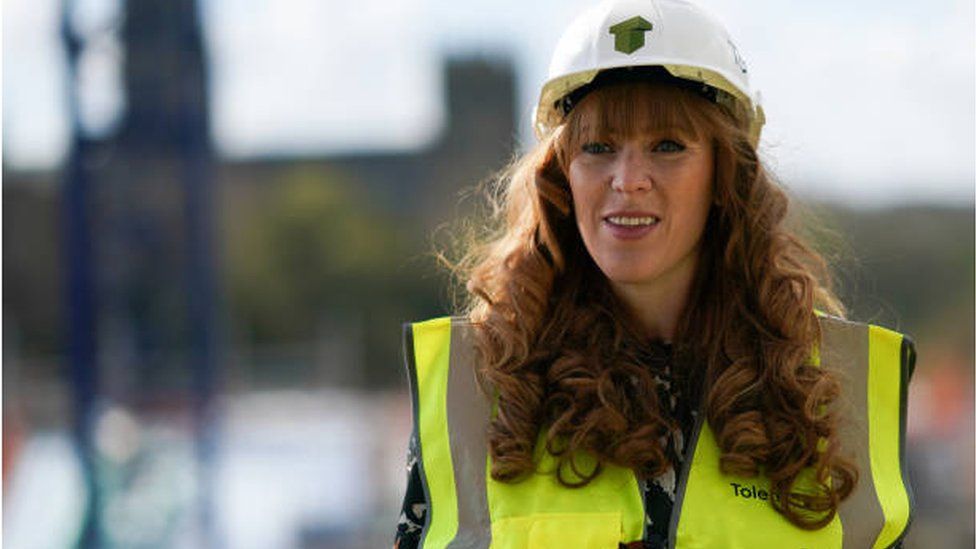 Labour says it will "fundamentally change our economy" with a "new deal" for post-pandemic Britain.
Shadow secretary of state for the future of work Angela Rayner will kick off a summer of campaigning with a visit to a social enterprise project in London on Monday.
She says the party wants "good quality jobs" that pay a "proper wage that people can raise a family on".
The lifting of Covid restrictions has sparked a debate about inequality and the future of work in the UK.
Research conducted by the TUC found one in nine workers – 3.6 million people – had no pay or job security and three quarters of those on zero-hours contracts lost shifts during the pandemic.
Labour leader Sir Keir Starmer has said the pandemic revealed that "millions of workers don't have the dignity and security they deserve from their job".
After the party's poor results in the English local elections in May, Ms Rayner was appointed to the newly created future-of-work role, saying it was time for a "new deal" as people adjusted to the "new normal".
She will be joined by Mr Starmer and and other members of the shadow cabinet over the summer on a campaigning tour to set out Labour's vision.
It is based on five principles:
Security at work – outlawing fire and rehire, a new right to work flexibly and strengthened trade unions
Quality jobs – buy, make and sell more in Britain and invest in well-paid, high quality "green" jobs
A fairer economy – a level playing field on tax between the multinational giants and local businesses and tackling harassment and discrimination at work
Opportunity for all – A jobs-promise for young people with a guarantee of quality education, training or employment; creating tens of thousands of apprenticeships
Work that pays – real living wage of at least £10 an hour and more workers covered by collectively agreed deals that boost pay.
Ms Rayner said Britain was "at a fork in the road" as it rebuilt from the pandemic.
She said: "Under the Conservatives we have a broken economic model defined by insecure work, low wages and in-work poverty and a lack of opportunity for people who want to get on and find good work to support themselves and their families."
She said Labour would "fundamentally change our economy to make it work for working people" and create jobs that were a source of "pride, security and dignity".
Amanda Milling MP, co-chairman of the Conservative Party, said the Tory government had brought in an "unprecedented" furlough scheme which had paid the wages of 10 million workers during the pandemic; in addition to rising the National Living Wage and "taking millions of the lowest paid out of paying income tax".
She added: "While Labour carp from the sidelines, we're continuing to support business while taking the tough decisions needed to rebuild from the pandemic and protect people's jobs and livelihoods."
Earlier this month, the prime minister set out what he called the "skeleton" of a plan to "level up" the country by spreading power and opportunity more evenly.
Ministers say it involves investing in transport, skills and businesses to address regional disparities, with more details expected in September.
Germany's next leader could make or break the economy – CNBC
Supporters of the German Social Democrats (SPD) party, attend at an election campaign rally on August 27, 2021 in Berlin, Germany.
Maja Hitij | Getty Images News | Getty Images
With Chancellor Angela Merkel due to leave office after Germany's upcoming federal election on Sunday, the country's priorities could change dramatically, particularly as power could soon be shared among newer (and more unpredictable) political forces.
It's practically certain that the next government (like the current one) will be a coalition, but what's far less certain is which parties will create or dominate a governing alliance.
What form the next coalition takes will undoubtedly have a big impact on Germany's economy which is Europe's largest and, arguably, its most important.
In 2019, almost a quarter of the EU's gross domestic product (24.7%) was generated by Germany, according to Eurostat, and so how the country is governed — at a time of transition in terms of global trade and consumer trends — matters.
The election is still wide open with the latest voter poll on Monday showing that while the left-leaning Social Democratic Party remains in the lead and is seen with 25% of the vote, the ruling conservative alliance of the CDU-CSU (the Christian Democratic Union and Christian Social Union) has closed the gap, and currently stands to gain 22% of the vote. The Green Party, meanwhile, trails with 15% of the vote, according to the Insa poll for the Bild newspaper.
A new coalition will have to be formed after the vote and German economists say certain alliances could have "massive consequences" on the country's economy.
'Massive consequences'
Germany's respected Ifo Institute and newspaper Frankfurter Allgemeine Zeitung surveyed 153 economists at German universities, asking them how different coalition formations could affect Germany's economic growth, unemployment, public debt, and income inequality.
For each of these measures, respondents were asked under which coalition the highest and lowest levels could be expected at the end of the next legislative period.
The survey results, published Tuesday, found that 83% of the German economists polled believed that the lowest economic growth rate would be the product of a so-called "Red/Red/Green" coalition of the SPD, the Left Party (Die Linke) and the Greens.
Such a coalition of leftist parties "would represent a sea change in policy direction, which would translate into a different economic policy with higher taxes and more government transfers," Ifo Researcher and Professor Niklas Potrafke noted of the survey results Tuesday, adding "that would also have massive consequences for the real economy."
A total of 77% of the economists said they expected that, in addition to delivering the lowest economic growth, a "Red/Red/Green" coalition would lead to the highest unemployment rate and 86% believed they would have the highest national debt. However, 55% of the economists also believe that such a leftist alliance would achieve the greatest net reduction in income inequality.
The devil you know
Perhaps unsurprisingly, 44% of the economists believed that a coalition of the ruling CDU-CSU alliance and the pro-business FDP (a "Black/Yellow" coalition) would achieve the highest growth rate for Germany, although this grouping lacks a majority when it comes to current polls.
A "Black/Yellow" coalition would achieve the lowest unemployment rate, according to 43%, and the lowest public debt ratio, according to 73% of the economists.
This prosperity could come at a price to many with 70% of economists believing that such a coalition would lead to the highest net income inequality and 56% seeing it as leading to the highest carbon emissions of all the alliances.
The cokery plant of German industrial conglomerate ThyssenKrupp on Rhine river in Duisburg, western Germany in 2019.
INA FASSBENDER | AFP | Getty Images
In joint second place, 18% of the economists believed that the highest economic growth could come out of a coalition of the SPD, Greens, and FDP (widely called a "traffic light" coalition) and 18% felt the same about an alliance of the CDU-CSU, Greens, and FDP (known as a "Jamaica" coalition).
"Should either a so-called traffic light or a Jamaica coalition be formed, respondents believe the effects on growth, inequality, the public debt ratio, the unemployment rate, and carbon emissions would be more restrained," Potrafke noted.
Polls wide open
Currently, there are a variety of possible coalition options, with most facing stumbling blocks to formation, meaning that there are likely to be protracted negotiations after the election due to policy differences between the parties in areas ranging from economics to climate targets.
"Coalition formation might take some time," macro analysts from Teneo Intelligence said in a note Monday.
"Less than one week ahead of the 26 September federal election, the Social Democrats continue to lead in the polls. However, the Christian alliance appears to have recovered some ground. But even if the SPD wins, this does not necessarily mean that Finance Minister Olaf Scholz will become the next chancellor; CDU/CSU candidate Armin Laschet could still try to outmaneuver Scholz, for instance by trying to form an alternative government with the Greens and the center-right Liberals (the FDP)."
Journalists and party members watch on a screen from the press centre (L-R) Olaf Scholz, German Finance Minister, Vice-Chancellor and the Social Democrats (SPD) candidate for Chancellor and Armin Laschet, North Rhine-Westphalia's State Premier and the Christian Democratic Union (CDU) candidate for Chancellor as they attend an election TV debate in Berlin on September 12.
JOHN MACDOUGALL | AFP | Getty Images
The CDU-CSU is used to being in power, but that could all change after next Sunday's vote; both the SPD and Greens' candidates for chancellor, Olaf Scholz and Annalena Baerbock, have suggested that neither of them has much appetite for a coalition with the CDU-CSU.
"I think that, after 16 years, many voters would like for the CDU to finally go into opposition again," Scholz said during the last TV debate between the main contenders for the chancellery on Sunday.
Canadian dollar, TSX slide ahead of uncertain election outcome
The Canadian dollar fell to a one-month low against its U.S. counterpart on Monday and the Toronto stock market posted its biggest decline since January as Canadians headed to the polls and worries about China roiled global financial markets.
The loonie was trading 0.3% lower at 1.2810 to the greenback, or 78.06 U.S. cents, after touching its weakest intraday level since Aug. 20 at 1.2895.
Prime Minister Justin Trudeau may cling to power after the dust has settled from Monday's election, but he is likely to lose his bid for a parliamentary majority.
Foreign investors have worried that the election could result in a deadlock that hampers Ottawa's response to the COVID-19 pandemic and further slows the economic recovery from the crisis.
"No matter the result of the Canadian election, the winner may soon have to face the prospect of a sharp slowdown in China," said Adam Button, chief currency analyst at ForexLive.
World stocks skidded and oil, one of Canada's major exports, settled 2.3% lower, as troubles at property group China Evergrande sparked concerns about spillover risks to the economy.
"It's a very confusing time and that's impacting the marketplace," said Irwin Michael, portfolio manager at ABC Funds in Toronto.
Investors in equities are casting a nervous eye over some of the campaign promises made by Canadian political parties, including Trudeau's vow to raise corporate taxes on the most profitable banks and insurers.
The Toronto Stock Exchange's S&P/TSX composite index ended down 335.82 points, or 1.6%, at 20,154.54, its lowest closing level since July 22.
Financials, which account for about 30% of the TSX's valuation, fell 1.8%, while energy was down 2.8%.
Canadian government bond yields were lower across a flatter curve, tracking the move in U.S. Treasuries. The 10-year fell 6.6 basis points to 1.216%.
(Reporting by Fergal Smith; Additional reporting by Gertrude Chavez-Dreyfuss in New York and Sagarika Jaisinghani and Medha Singh in Bengaluru; Editing by Peter Cooney)
Gas price surge, just one more headwind for world economy – The Globe and Mail
Soaring gas prices that threaten to push up winter fuel bills, hurt consumption and exacerbate a near-term spike in inflation are another blow to a world economy just getting back on its feet after the coronavirus shock.
The gas market chaos, which has driven prices 280 per cent higher in Europe this year and led to a 100-per-cent-plus surge in the United States, is being blamed on a range of factors from low storage levels to carbon prices to reduced Russian supplies.
So high are tensions that several European Parliament lawmakers have demanded an investigation into what they said could be market manipulation by Russia's Gazprom.
Whatever the causes, the surge carries major market implications:
GROWTH
Analysts say it's too early to downgrade economic growth forecasts but a hit to economic activity looks inevitable.
Morgan Stanley reckons the impact in the United States, the world's biggest economy, should be small. While more than a third of U.S. energy consumption in 2020 was supplied by natural gas, users were predominantly industrial, it notes.
Overall though, higher gas prices raise the risk of stagflation – high inflation, low growth.
"It is quite clear there is a growing sense of unease about the economic outlook as a growing number of companies look ahead to the prospect of rising costs," said Michael Hewson, chief market analyst at CMC Markets.
INFLATION
Euro zone wholesale power prices are at record highs, potentially exacerbating inflation pressures inflicted by COVID-related supply bottlenecks. In Germany, 310,000 households face an 11.5 per cent increase in gas bills, data showed on Monday.
Noting German factory gate prices were already the highest since 1974, Citi analysts predicted 5 per cent hikes for electricity and gas prices in January, adding 0.25 percentage points to consumer inflation next year.
Higher food costs are another side effect, given a shortage of carbon dioxide which is used in slaughterhouses and to prolong the shelf-life of food. Cuts in fertilizer production could also lift food prices.
Goldman Sachs predicts higher oil demand, with a US$5-per-barrel upside risk to its fourth-quarter 2021 Brent price forecast of US$80 a barrel. Brent is trading at about US$74 currently.
CENTRAL BANKS
Central banks are sticking with the line that the spike in inflation is temporary – European Central Bank board member Isabel Schnabel said on Monday she was happy with the broad-based rise in inflation.
But as market- and consumer-based measures of inflation expectations rise, gas prices will be on central banks' radar.
"If we have higher inflation, transitory or structural, and have slower growth – it will be a very tricky situation for markets and central banks to assess, navigate and communicate," said Piet Haines Christiansen, chief strategist at Danske Bank.
This week's central bank meetings could test policy makers' resolve. The Bank of England meeting on Thursday is in particular focus, given U.K. inflation has just hit a nine-year high.
With U.K. producer price inflation soaring, shipping costs showing little sign of cooling, commodity prices higher up and job vacancies tipping one million, there is a growing chance that higher prices will stick around for longer, said Susannah Streeter, senior analyst at Hargreaves Lansdown.
"If they do, more [BoE] members may move quickly to vote for a rate rise sooner than expected next year, but it would be an unpopular course of action with looming tax rises already hard to digest for many consumers," she said.
STATE BAILOUTS
Britain is considering offering state-backed loans to energy firms after big suppliers requested support to cover the cost of taking on customers from companies that went bust under the impact of gas prices. One firm, Bulb, is reportedly seeking a bailout.
France meanwhile plans one-off €100 (US$118) payments to millions of households to help with energy bills.
"The story emerging from the U.K. energy sector will soon be more relevant to the European market than Evergrande," said Althea Spinozzi, senior fixed income Strategist at Saxo Bank.
And in a week packed with central bank meetings, she added that markets were "right to fret."
COMPANIES
Spain shocked the utility sector last week by redirecting billions of euros in energy companies' profits to consumers and capping increases in gas prices. Revenue hits at Iberdrola and Endesa were estimated by RBC at €1-billion and shares in the companies sold off heavily.
Since the move, investors have fretted about contagion to other countries, Morgan Stanley said. While seeing those fears as overdone, the bank acknowledged there was a risk of margin squeezes at European utilities in coming months.
Sector shares are down for the third week straight
Be smart with your money. Get the latest investing insights delivered right to your inbox three times a week, with the Globe Investor newsletter. Sign up today.