LACKIE: Real estate market stewing in anticipation of what's to come – Toronto Sun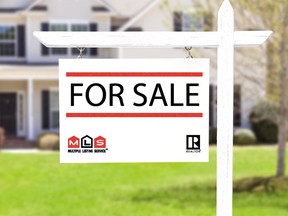 Article content
To a casual observer, the real estate market punditry probably inspires whiplash.
Article content
And possibly fury.
For months upon months, years upon years, we have witnessed almost breathless coverage of the Toronto real estate market and its mind-bending run. Average sale prices climbing steadily, inventory levels getting tighter and tighter, and market conditions for first-time buyers going from inhospitable to almost entirely impenetrable.
Loads of coverage of how the escalating prices and record-level unaffordability is unsustainable. How historically low interest rates, even in stereo with the much-maligned "stress test," are emboldening people to get in way over their heads and fueling rampant speculation. How eventually the party would end, it was only a matter of when. The why and the how were up for debate.
Article content
The almost universal conclusion: something's gotta give.
Cut to the present when we are now having a moment. Interest rates are on the rise and the market is clearly responding. As buyers bow out and some of that upward pressure on prices and inventory dissipates, the holding pattern we have been in for much of the pandemic seems to be easing.
And here we now find ourselves, surrounded by uncertainty while deluged by sledgehammer analysis.
Some of the same pundits who screeched supply, supply, supply as the only mechanism available to make a dent in the prices are now shifting to alarmist shrieks about interest rate hikes, inflation, and economic uncertainty signifying the end of days.
And while I get that it can feel that way, why, oh, why are we treating it like a forgone conclusion when so much of what's to come remains squarely in the realm of hypothesis and conjecture?
Article content
In the last few weeks I have read countless articles dedicated to exploring how the rate hikes that have not yet been announced, in increments that have not yet been decided, will cripple the average Canadian homeowner. The ones that make me want to scream are the ones that lay it out as if it's a universally applicable scientific equation. You know, if CanadianCottageGuy416 has a mortgage of x and that mortgage payment increases by y, his financial ruin will be complete in xy number of months.
Messaging like that isn't helpful. Not because we should all be burying our heads in the sand, but because it's not helping us understand the nuances of what's at play right now.
Our market has been on a tear. Prices have risen higher than even imaginable two years ago. Canadians are divided into a few camps: those who own homes and are thrilled by the gains and those who don't and now feel functionally blocked from ever owning anything. Of course, there's a third group that got in while they could and did so by taking on more debt than they could ever feel good about during their 3 a.m. thinks.
Article content
Is it hugely annoying and problematic that Tiff Macklem, governor of the Bank of Canada, essentially drove that bus when he declared that rates would stay low? Yes, yes it is.
"If you've got a mortgage or if you're considering making a major purchase, or you're a business and you're considering making an investment, you can be confident rates will be low for a long time," Macklem said back in July 2020.
But of course, "long time" is a subjective term. And in the face of rampant inflation, interest rates are an essential tool to keep our economy humming.
So now they are on the rise, as we knew they one day would be. Which is why we have a stress test in the first place. And, even though rates are still below pre-pandemic levels, we are seeing resultant uncertainty out there on the ground.
Article content
I know this because I am experiencing this with my clients.
Yes, there are people now priced out of the market, which is brutal. But is that what's causing the slowdown after a bump of just 50 basis points?
Or is it more likely that there are people who are now, in anticipation of what's to come, taking stock of the situation and deciding now is not the time to make a move with so much up in the air.
We like to draw parallels to the 2008 and 2017 market crashes, but if you look to those moments, so much of what was behind them was buyer sentiment. People looked around and saw what was happening and what others were doing and decided that caution was prudent. Which is why the "recovery" in 2017 began with nothing much happening — the market just woke itself back up again.
So yes, the market is having a moment as it stews in anticipation of what's to come. My suspicion is that we are on the cusp of a real transition with prices softening and a slow summer ahead as we all come to grips with higher borrowing costs.
Some markets will have a sharp correction and others will simply hover. And some people will feel it harder than others.
But has the sky fallen? No. Will it? Probably not. But freaking everyone out with conjecture masquerading as fact is clickbait pure and simple.
Calgary retains commercial real estate team to revive new arena – CTV News Calgary
The City of Calgary has recruited three people from the commercial real-estate sector in an effort to get a new event centre to replace the aging Scotiabank Saddledome.
CBRE executive vice-president John Fisher, director of strategic initiatives with NAIOP Calgary Guy Huntingford and Ayrshire Group executive chairman Phil Swift have been retained to engage both the city and the and Calgary Sports and Entertainment Corporation (CSEC) to reach a new deal.
At Wednesday's meeting, the city's planning and development manager Stuart Dalgleish told committee members the group has already begun their work.
"We are at a stage where our third party is having discussions with both the Calgary Sports and Entertainment Corporation and the City of Calgary, with a view to determining whether there is interest in discussions toward a new event centre, and a new deal towards the new event centre," Dalgleish said.
Mayor Jyoti Gondek is optimistic the team will be able to break the impasse between the city and CSEC.
"Today's news is good news, and we need to be patient with what comes following this," she said.
Ward 1 Coun. Sonya Sharp, who chairs the event centre committee, says naming a third party to assist in negotiations is a big step to seeing a new arena rise from the ashes of the failed deal.
"I'm very satisfied. There's been a lot of work been put into this to get to where we are today," she said. "Everybody wants an event centre built."
However, sports economist Moshe Lander says it might not be such a great deal for most Calgary taxpayers.
"The issue about who should pay for it is something that goes on in every city, more or less, anytime there's an arena or stadium discussion," he said.
"In almost every single case, the public sector blinks first and ends up throwing money at a project that's not going to recoup its costs."
"Really, it's just an issue at this point of how much money does the City of Calgary want to throw at this project, understanding that it's not going to get it back? How much does it want to sell to the taxpayers that this is what you're going to be on the hook for, even though the vast majority of residents in the city are not going to use that arena in any capacity?"
CTV reached out to CSEC on Wednesday to ask if the owners still had any interest in reviving the deal. There was no response by publishing deadline.
The original agreement was signed in December 2019. In it, the city and CSEC agreed to split the cost of the $550 million project. When the price tag jumped to over $630 million, the Flames ownership group balked and cancelled the deal. It officially expired New Year's Eve 2021.
Earlier this month, NHL commissioner Gary Bettman met with CSEC to discuss the arena, among other topics. At the time, he told reporters he remained hopeful a deal could be struck.
"I'm always optimistic," said Bettman. "There's nothing going on right this second to report that would indicate there is going to be a solution immediately, but my hope is that everybody can figure this out."
Bettman also warned without a new arena or an updated Saddledome, Calgary would miss out on significant NHL events such as All-Star games.
The Saddledome is the second-oldest NHL arena behind only New York's Madison Square Garden.
Commercial Real Estate Report (Canada 2022) – RE/MAX Canada – RE/MAX News
<![CDATA[<![CDATA[<![CDATA[<![CDATA[]]]]]]]]>]]]]]]>]]]]>]]>
<![CDATA[<![CDATA[<![CDATA[<![CDATA[]]]]]]]]>]]]]]]>]]]]>]]>
<![CDATA[<![CDATA[<![CDATA[<![CDATA[]]]]]]]]>]]]]]]>]]]]>]]>
Calgary recruits commercial real estate expertise to revive new arena – Sportsnet.ca
CALGARY — The city of Calgary has recruited citizens from the commercial real-estate sector to help get a new event centre and home for the Calgary Flames back on track.
When an agreement between the city and Calgary Sports and Entertainment Corporation, which owns the Flames, collapsed late last year, city council voted in January to get a third party involved.
John Fisher, Guy Huntingford and Phil Swift are tasked with determining whether the Flames still want to build an arena with the city, or if the city will have to look for other potential partners to build an event centre.
Fisher is executive vice-president of CBRE, Huntingford is director of strategic initiatives with NAIOP Calgary, and Swift is executive chairman of the Ayrshire Group investment firm.
"This team brings considerable expertise from the commercial real-estate industry including experience in larger development," the city's planning and development manager Stuart Dalgleish said Wednesday in an event centre committee meeting.
"The third party has spent considerable time understanding the items and interests behind the terminated agreement and the current landscape. These items have become clarified.
"Based on a meeting with both the city and CSEC, the next step is for the third party to make recommendations on a possible path forward."
Dalgleish said there is no definitive commitment or timeline for a new agreement.
The city and the Flames agreed on an arena deal over two years ago with the initial estimate of $550 million split between the two.
Shovels were scheduled to hit the ground in 2022 for a 19,000-seat arena and concert venue replacing the Saddledome, which has been the home of the Flames for 39 years.
The cost estimate for the project rose to $634 million, however.
Since the two sides agreed to an amended deal last July, the city added an additional $19 million in roadwork and climate mitigation to the project, and wanted the Flames to pay for $10 million of that.
CSEC president John Bean said in December that the Flames were withdrawing from the agreement because of an accumulation of issues and increased financial risk.
"While CSEC was prepared to move forward in the face of escalating construction costs, and assume the unknown future construction cost risk, CSEC was not prepared to fund the infrastructure and climate costs that were introduced by the city following our July agreement … and are not included in the current cost estimate of $634 million," Bean said then.
So the Flames remain in the Saddledome, which is the second-oldest NHL arena behind New York's Madison Square Garden.
CSEC also owns the Western Hockey League's Hitmen, Canadian Football League's Stampeders and National Lacrosse League's Roughnecks.
The Flames recently announced they will move their American Hockey League affiliate from Stockton, Calif., to Calgary for the 2022-23 season.