LaSalle portfolio acquisition executes on Canadian strategy | RENX – Real Estate News EXchange
The diversity of LaSalle Investment Management Canada's very active LaSalle Canada Property Fund (LCPF) has been shown again with this week's acquisitions of interests in three major properties from Ivanhoé Cambridge.
The three acquisitions included Ivanhoé's 50 per cent stake in the high-profile Maison Manuvie in Montreal. Ivanhoé, the real estate subsidiary of the Caisse de dépôt et placement du Québec, and Manulife had been equal ownership partners in the 27-storey, 485,000-square-foot, class-AAA downtown office building. Manulife has its Quebec headquarters in the tower.
The LCPF also acquired a 50 per cent stake in Ivanhoé's Guildford Town Centre, a super-regional mall with more than 200 stores in Surrey, B.C., as well as in Ivanhoé's 18-acre development site directly north of the shopping centre.
The price of the portfolio wasn't disclosed.
"For Ivanhoé Cambridge, the sale of 50 per cent ownership of Guildford Town Centre and 50 per cent ownership of Maison Manuvie is yet another milestone in the acceleration of our major portfolio pivot," Ivanhoé principal advisor of public affairs and communications Gabrielle Meloche said in an email to RENX.
"In strategic deployment since the beginning of 2020, the pivot consists of reducing our footprint in overweight asset classes in order to increase our investments and presence in growth sectors, such as logistics, to create value for our depositors."
Although the deal included existing office and retail properties, LaSalle Canada chief executive officer John McKinlay told RENX the multifamily development component at the Guildford Town Centre was a key to the overall transaction.
"We've been targeting this type of strategy for a while, in terms of using our significant underweight retail to source best-in-class multifamily residential density," McKinlay said in an interview.
The deal took quite a while to come together, according to McKinlay, who noted RBC and CBRE were involved in establishing the relationship between LaSalle and Ivanhoé. He added that LaSalle has an established relationship with Manulife and the partnership in Maison Manuvie is "kicking off on the right foot."
LaSalle's new acquisitions
Maison Manuvie is 97 per cent leased with a 13.7-year average weighted lease term. It has direct access to amenities and underground connections to the McGill and Peel Metro stations.
It also has LEED Gold CS, Energy Star and BOMA BEST Platinum certifications, which was important to LaSalle because of the priority it places on environmental, social and governance criteria.
It was valued at $220 million upon completion in 2017.
Guildford Town Centre is 95.5 per cent leased. It was built in 1966 in the Vancouver suburb of Surrey and has experienced eight renovations during the past 55 years.
It underwent $280 million in capital improvements in 2013 and is LEED Gold and BOMA BEST Level 3-certified.
"Guildford is absolutely a top-notch, best-in-class asset," said McKinlay. "Ivanhoé is a top-notch institutional partner that has spent a lot of capital in terms of keeping Guildford up to speed, current and renovated."
The 18 acres north of the mall is in the process of being zoned for additional residential density, which LaSalle covets.
In addition to having Guildford Town Centre next door, McKinlay said there's also a school, a community centre and public transit nearby, which adds to its allure for a high-density residential-focused mixed-use site.
McKinlay said the new partners are still figuring out building sizes and unit counts, and mapping out development phases over several years. The multifamily residences will primarily be rental, with the potential to also include a condominium element along with ancillary uses.
"Vancouver is the hardest market to access in Canada," McKinlay said, "and new multifamily rental is pretty much the hardest asset class in Canada to access."
LaSalle already has office and multiresidential properties in Montreal and Vancouver under management and is looking to add more — some of which is already in its acquisition pipeline, according to McKinlay.
The LCPF and its acquisition pipeline
LaSalle is focused on deals similar to the one with Ivanhoé, which McKinlay described as relationship-driven, off-market, programmatic and involving synergies in what his company can deliver and what its potential partners are trying to execute.
The LCPF has now acquired $1.8 billion in assets, with a 42 per cent allocation in office and 19 per cent in retail. The LCPF's industrial allocation is 18.6 per cent, which McKinlay would like to increase to the 25 to 30 per cent range while lowering the office allocation percentage to the low-30s.
"We're focused on a couple of transactions in a space that's primarily industrial right now, with urban repurposing and mid- to long-term development of industrial," said McKinlay. "We will always be looking to move that allocation for the near-term.
"We like these types of mixed-use deals in multiple asset types so we can keep our overall weightings within a band as we acquire so we're not going yo-yo — up in one asset class so the next transaction has to be in another asset class.
"We like to maintain flexibility as much as possible to buy the best deals and assets that we're targeting and structuring."
Despite the 50 per cent acquisition of Maison Manuvie, McKinlay said the Ivanhoé Cambridge deal decreases the LCPF's office weighting while increasing the quality of the portfolio due to the other elements in the deal.
The fund has been active on the acquisitions front for the past several months.
The LCPF acquired a newly constructed, three-building class-A logistics portfolio comprising more than 600,000 square feet in the Greater Toronto Area from Carttera in August.
In March, it acquired a 527,568-square-foot, fully leased distribution centre in Brantford, Ont., west of Hamilton, as well as a 47.5-per cent stake in the Rideau & Chapel multifamily development in Ottawa.
The players in these new partnerships
LaSalle Canada has executed more than $7 billion in real estate transactions since 2000. The LCPF launched in 2017 as an open-ended fund targeting commitments from Canadian and global institutional investors to acquire core properties in major Canadian markets.
LaSalle Investment Management managed approximately $73 billion US worth of assets in private and public real estate property and debt investments at the end of 2020.
Through subsidiaries and partnerships, Ivanhoé Cambridge holds interests in more than 1,100 buildings — primarily in the industrial and logistics, office, residential and retail sectors. It held $60,4 billion in real estate assets at the end of 2020.
Manulife is a Toronto-headquartered insurance company and financial services provider with more than 37,000 employees serving approximately 30 million customers in Canada, the United States and Asia.
It had $1.3 trillion in assets under management and administration as of March 31, 2021.
US real estate heir Robert Durst convicted of murdering friend – Al Jazeera English
A California jury has found multimillionaire real estate heir Robert Durst guilty of murdering his longtime friend Susan Berman in 2000, the first homicide conviction for a man suspected of killing three people in three states over the past 39 years.
Durst, 78 and frail, will likely die in prison as the jury also found him guilty on Friday of the special circumstances of lying in wait and killing a witness, which carry a mandatory life sentence. Superior Court Judge Mark Windham, who oversaw the trial, set a sentencing hearing for October 18.
The trial came six years after Durst's apparent confession was aired in the HBO television documentary series The Jinx, in which Durst was caught on a hot microphone in the toilet saying to himself, "What the hell did I do? … Killed them all, of course."
The nine-woman, three-man jury had deliberated for seven and a half hours over three days for Friday's decision. Durst, who has been in jail for the duration of the trial, was not present for the reading of the verdict because he was in isolation after having been exposed to somebody with COVID-19.
Windham decided to have the verdict read in Durst's absence. Speaking to lawyers for both sides later, he called the case "the most extraordinary trial that I've ever seen or even heard about".
Lead prosecutor John Lewin, who had pursued Durst for years, credited The Jinx filmmakers Andrew Jarecki and Marc Smerling for their revealing interviews with Durst, telling reporters after the verdict: "Without them having conducted the interviews, we wouldn't be where we are."
In closing arguments, Lewin called Durst a "narcissistic psychopath" who killed Berman in an attempt to cover up the disappearance of his wife, Kathleen McCormack Durst, in New York in 1982.
Durst was only on trial for killing Berman in California, but prosecutors argued he murdered three people: his missing wife, Berman and a neighbour in Texas who discovered his identity when Durst was hiding from the law.
Despite long being a suspect in the disappearance of his wife, a 29-year-old medical student, Durst was never charged. Prosecutors said he killed her, then decided to kill Berman 18 years later because she had told others that she helped Durst cover up the crime. Berman, 55, was shot in the back of her head inside her Beverly Hills home.
Shortly after the verdict, the McCormack family issued a statement urging prosecutors in Westchester County, New York, to prosecute Durst.
"The justice system in Los Angeles has finally served the Berman family. It is now time for Westchester to do the same for the McCormack family," the statement said.
Westchester County District Attorney Mimi Rocah reopened the case in May, shortly after taking office.
Her office issued a statement on Friday commending those involved in securing the conviction, but a spokesperson said the Westchester investigation "remains ongoing and we will have no further comment at this time".
'Sick old man'
Defence lawyers portrayed Durst, a cancer survivor who testified from a wheelchair wearing a baggy jail uniform, as a "sick old man". But he withstood 15 days as a witness, nine of them under cross-examination.
During a 58-day trial spread over a year and a half, including a one-year delay due to the coronavirus pandemic, Durst testified that he discovered Berman's murdered body when he went to visit her but did not call the police.
The prosecution also delved into the 2001 death and dismemberment of Morris Black, who was Durst's neighbour in Galveston, Texas. A Galveston jury acquitted Durst of murder, even though Durst admitted he chopped up Black's body and dumped it in Galveston Bay.
Durst said Black pulled a gun on him and was shot accidentally when the two men wrestled over the firearm.
Black's death marked the second time Durst had a dead body at his feet, according to his testimony.
In both cases, Durst said he at first tried to call the 911 emergency number, but later decided against it, fearing nobody would believe he was not guilty.
Besides The Jinx audio, two other pieces of evidence appeared to damage Durst's defence. One was the recorded 2017 testimony of Nick Chavin, a mutual friend who said Durst admitted to him in 2014 that he had killed Berman.
"It was her or me. I had no choice," Chavin recounted Durst telling him.
Durst also admitted he authored a handwritten letter to Beverly Hills police with the word "cadaver" and Berman's address, directing them to her undiscovered body. Durst had denied writing the note for 20 years.
Durst is the grandson of the founder of The Durst Organization, one of New York City's premier real estate companies.
He long ago left the company, now run by his estranged brother Douglas Durst, who testified at trial and said of his sibling: "He'd like to murder me."
Detached home in Toronto is attainable for $700,000 says real estate agent – NOW Toronto
The two-bedroom listing at 15 Beechwood is appealing to renovators and first-time home buyers
---
A detached home listed for just under $700,000 sounds too good to be true in the Toronto real estate market. The average price for a home in the city is at $1,000,008, the lowest it's been since February, according to the Toronto Regional Real Estate Board (TRREB). Meanwhile the average for detached homes in the city is still hovering around $1.7 million, a full six figures more than the listed $699,900 price for 15 Beechwood in the Jane and Eglinton area.
According to WE Realty broker of record Odeen Eccleston that price may actually be attainable, even though similar lots on the street sold between $865,000 and $880,000 over the summer.
"We don't have enough information yet about the condition inside the home," says Eccleston. She adds that any potential buyers should consider booking a home inspector, especially since the listing is marketed to investors and renovators along with first-time buyers without providing any photos of the interior.
Listing agent Lino Arci of Re/MAX Hallmark Lino Arci Group Realty told NOW that the home is currently being rented, which is why photos of the interior have not been made available. He understands that the tenants will be moving out in a couple of weeks. He also adds that the house has been priced fairly, and is not purposefully priced hundreds of thousands below its value to spark a bidding war, a practice that buyers have been wary of in this heated market.
"If we get the asking price, they'll probably sell it," says Arci. "I always like to price it right on the money so we sell it quickly."
The two-bedroom bungalow with a mutual driveway was already listed earlier in the summer, sitting on the market for 48 days before being taken off the market, which Eccleston says bodes well for buyers. Arci explains that the sellers were not happy with their previous real estate agent.
"These are older people," says Arci. "Sometime a seller expects their agent to be there when they call them and take them through step-by-step. We're a small team. We can do that."
Eccleston adds that the bungalow resembles other common listings on the Toronto real estate market, where a home that has been in the family for nearly a century is finally being sold by the family or estate.
Several listings in the Toronto real estate market appeal to builders to tear down old dwellings and build modern new homes. But Eccleston warns buyers to do their math before considering such a venture. Building prices have risen to between $250 to $350 per square foot. On the lower end of the spectrum, a 2,000-square-foot home could cost $500,000 plus soft costs such as municipal permits, surveys and architectural plans, which could add up to upwards of $1.2 million when you add the purchase price. For comparison's sake, a newly renovated home on the street sold in 2020 for $1.1 million.
But Eccleston says this house could appeal to buyers who have no interest to tear down and build anew, and instead just choose to buy the property cheaply and spend less to renovate the interior.
"Some people are paying more than that for 600-square-foot condos," says Eccleston. "So they may be willing to put up the money to renovate a detached home that frees them up from paying condo fees."
"Anyone thinking of getting into the marketplace, they should," says Arci. "Rates are good. Just jump in."
Special Feature: Safety net invaluable in current real estate market – Canadian Lawyer Magazine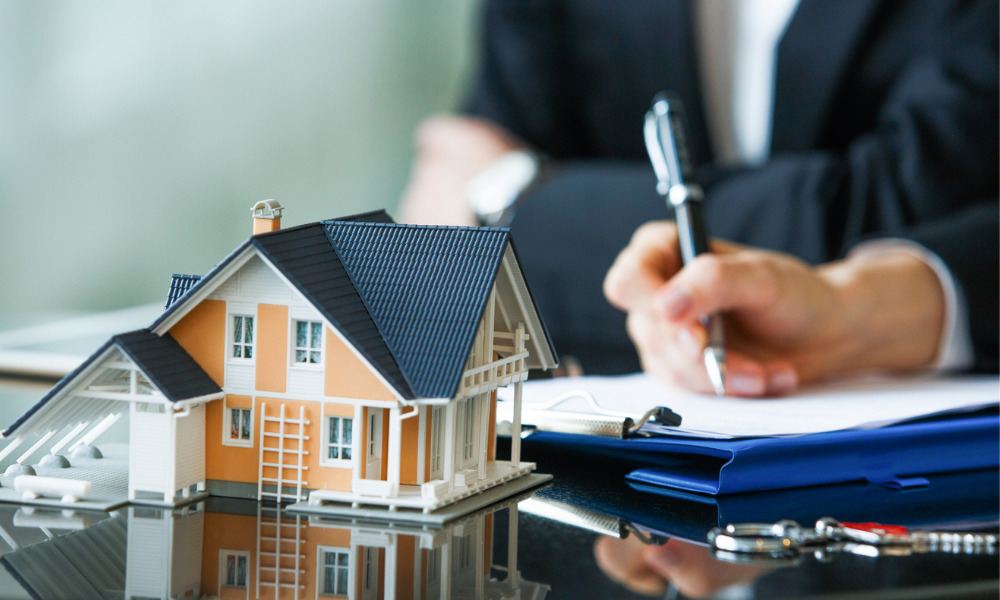 Real estate has always been considered a high-risk area of practice, and in 2020, real estate reached its highest recorded portion of claims in the market. Running a successful law practice that deals in real estate comes with unique challenges and competition.
Lawyers must ensure that all internal processes are properly adhered to, but it's not uncommon for experienced lawyers to accidentally overlook details.
This special feature from FCT highlights the benefits of E&O products in real estate practice.