Leading Experts Weigh In On Growing Canada's Economy In 2021 – Forbes
The Covid-19 pandemic and the emergence of the second wave have significantly impacted the Canadian economy. Last December, the OECD published its latest economic update that showed Canada's economy contracting by 5.4% in 2020 — worse than the United States, which saw a 3.7% reduction in economic growth. The OECD forecasts that Canada's economy will grow by 3.5% in 2021 and perform better than the United States, which is expected to see a 3.2% growth next year. However, despite the positive recovery signals, the fallout from the Covid-19 crisis has negatively impacted Canada's fiscal balance and employment figures. In December, Canada's Fall Economic Statement 2020 reported that the federal government's deficit is expected to reach C$381.6 billion in 2020-21 — the largest deficit in dollar terms on record — with the federal debt-to-GDP ratio rising from 31.2% in 2019-20 to 50.7% in 2020-21.
Meanwhile, Statistics Canada's latest monthly update shows the unemployment rate steadily declining to 8.5% in November 2020, down from a peak of 13.7% in May 2020 — but comparatively, Canada's current unemployment rate still lags behind the OECD and G7 averages that stand at 7.1% and 6.1%, respectively. As part of the economic recovery, Canada has introduced programmes to support individuals, families and businesses facing hardship due to the Covid-19 downturn. The economic recovery measures have helped shore up short-term stability. However, given the continued uncertainty and structural economic changes caused by Covid-19, leading experts are recommending that the government continue to support small businesses to adopt new technologies, help upskill the workforce, and promote a green recovery by enabling cleantech companies to scale up.
Support SME digitisation to advance economic recovery measures
Canada's small and medium-sized enterprises (SMEs) have had to endure a difficult past year. According to the Canadian Federation of Independent Business index — which measures confidence among small firms — the sentiment among Canada's SMEs dropped to its lowest in five months after a resurgence of Covid-19 cases prompted another round of closures and containment measures in October 2020. As SMEs account for 60% of total employment and contribute more than 50% to Canada's GDP, regenerating confidence and enabling SMEs to scale up will be critical in driving future growth. Based on a new report from the Public Policy Forum, Canadian SMEs incorporating digital technologies would adapt better to the "new normal" and be in a position to scale their business in the coming years. In an interview, Nick Van Weerdenburg, Founder and CEO at Rangle.io, stated that "using digital technologies has become necessary for SMEs to succeed in today's economy". He mentioned that from now on, "SMEs leveraging digital solutions would benefit from productivity gains that would allow them to improve their products and services to grow in the future".
For SMEs to take advantage of digitalisation, Mr Van Weerdenburg suggested that "policy measures that help SMEs integrate technology into their business will be important steps". He recommends that the government make "grants, tax credits and interest-free loans available for SMEs" to adopt digital technologies into their business. Through these measures, he pointed out that SMEs would reduce their upfront costs and invest in long-term solutions that would drive business growth. For Canada's economy, the steps to support SMEs digitalisation could also have broader benefits because it could enable more SMEs to integrate with global markets and global value chains (GVCs). The OECD's SME and Entrepreneurship Outlook 2019 highlighted that digitalisation helps SMEs reduce size disadvantages in international trade and capitalise on growth opportunities abroad. Because trade plays a vital role in Canada's economy — representing 66% of GDP and with one in every five Canadian jobs being directly linked to exports — the adoption of digital technology among SMEs could enable more firms to export their products and promote long-term economic growth in Canada.
Provide equal access to skills training for inclusive growth
According to the OECD's latest report on Canada's economy, the adoption of digital solutions across sectors in response to economic challenges will likely continue to accelerate post-Covid-19. Although the shift to integrate new technologies offers firms the opportunity to boost productivity, it also creates segments in the workforce that become vulnerable to the changes. This results in jobs changing over time, requiring the workforce to access upskilling opportunities to remain employable. Simultaneously, firms need the talent to grow, and having a productive workforce is vital to their success. In the Business Development Bank of Canada's latest survey, 67% of the firms surveyed indicated challenges to recruiting now that was not necessarily an issue before the pandemic, with specialised workers being the most challenging hiring category. Given the pace of technological change, Canada will need to help firms leverage technology and help workers access skills training to generate productivity growth. To prepare the workforce for the changes in the economy, Pedro Barata, Executive Director at Future Skills Centre, stated in an interview that "strong collaboration among governments, academic institutions and businesses will be necessary to develop and deliver programmes that allow workers to acquire the skills needed in their region and industry".
As technology is playing an increasingly important role in today's economy, Mr Barata pointed out that "the focus of skills training has to shift so that learning and upskilling become a permanent feature of any job". Given the diverse nature of Canada's economy, with multiple sectors playing a critical role in certain parts of the country, providing equal access to ongoing skills training will be vital in promoting inclusive growth. One way to deliver skills training programmes at-scale is through online education. In Canada, high-speed broadband coverage lags behind in rural regions where it is often needed the most, especially among youth, Indigenous and senior populations. JP Gladu, former President and CEO of the Canadian Council for Aboriginal Business, said in an interview that "high-speed internet infrastructure is an essential component to ensure reskilling and upskilling opportunities reach rural and Indigenous communities". Through improvements in broadband infrastructure and access to skills training in the region, Mr Gladu underscored that these initiatives would "promote economic development and enable more people, especially the Indigenous communities, to build innovative businesses and contribute to the Canadian economy". This could go a long way towards meeting the goal of equal access to skills training for inclusive growth.
Improve demand for cleantech products through structural changes
Mark Carney, former Governor of the Bank of Canada and England, recently said that the transition to net-zero "is creating the greatest commercial opportunity of our age". As a signatory of the Paris Climate Agreement, Canada has taken steps to achieve net-zero emissions by supporting clean energy technologies through various programmes that promote green growth and seize growth opportunities both at home and abroad. In Canada's economic strategy, the federal government set a target for the cleantech sector to reach C$20 billion in annual exports and become one of Canada's top five exporting industries by 2025. For Canada to achieve these goals, cleantech companies will need to overcome the challenges and barriers of scaling up to capture a sizeable portion of the US$2.5 trillion in the global cleantech market. Nicholas Parker, former Chairman and Co-Founder of the Cleantech Group, who coined the term "cleantech" in 2002, said in an interview that "Canada's cleantech sector has made great progress in recent years, but to scale up, the government needs to incentivise an increased demand for cleantech products among consumers". To achieve this, Mr Parker suggested that reforming critical areas that "strengthen building codes and fuel standards, incentivise large pension funds to divest from fossil fuels and level the playing field by phasing out fossil fuel subsidies" will be essential steps from now on.
By adopting these reforms, Mr Parker projects that the "demand for clean energy products will increase and help cleantech companies to scale up". For Canadian cleantech companies to compete in global markets, Mr Parker recommends that companies look to "build niche cleantech products" that leverage Canada's existing expertise in "artificial intelligence, manufacturing and high-tech engineering". He referred to the upgrading of Ford's assembly plant in Oakville as an excellent example, noting that Canada's established history in automaking enables it to be well-positioned to lead in electric vehicle production. But in Mr Parker's opinion, the most critical component for cleantech companies to scale up lies in "integrating their high-tech solutions with existing industries to facilitate broader decarbonisation efforts". He highlighted that Canada needs to improve corporate reporting on climate change to help cleantech companies integrate their solutions with businesses and industries. Through greater visibility into climate-related data and information, Mr Parker said that "cleantech companies would be able to develop tailored products for businesses, especially in heavy industry sectors, to decarbonise large parts of the economy and promote a green recovery".
Special thanks to Sara MacIntyre, CEO at VUCA-SERA and Peter McArthur, Chair of the Ontario Clean Technology Industry Association for their time in providing me with an overview of Canada's economy.
The Back Rent Problem Won't Hurt The Economy – Forbes
Ten million renters are behind on their payments, according to the Census Bureau's Housing Pulse Survey. The total back rent owed could be $70 billion, though nobody has a precise figure. John Kilpatrick has a good summary of the bank rent problem, presenting a variety of estimates. Renter assistance was included in the December 2020 stimulus bill to the extent of $25 billion, with another $30 billion proposed by President-elect Biden.
Being behind on rent is certainly a big problem for tenants when evictions resume. And not receiving rent is a big problem for landlords, especially those with mortgage payments due on the properties. But it's not a big problem for the economy as a whole, despite the scary numbers.
Over ten percent of apartment renters failed to pay rent in December 2020, which sounds bad. But the prior December, before the pandemic and during a great job market, nearly eight percent didn't pay rent. What's different this time around: Bans on eviction have enabled people to continually not pay rent without having to move out. The arrears grow and grow.
For perspective, remember that the U.S. economy totals $21 trillion of GDP. If back rent totals $70 billion, that's about one-third of one percent. So the back rent problem is only a little larger than a rounding error for the entire economy.
Small problems can sometimes snowball into big problems. The landlords who are not receiving rent have their own bills to pay, which frequently include mortgages and always include property taxes and maintenance. Property owners with much more debt than equity may default on their mortgages. The mortgage holder, which could be a bank, insurance company or an investment fund, might have insufficient equity to survive the loss of regular payments. That would be unusual, however. Banks and insurance companies are generally well enough capitalized that they would survive, and investment funds often have no debt themselves. So the lack of rent is unlikely to trigger many failures in the capital markets. That's not to say that lenders won't be damaged, just that a chain reaction of bankruptcies is unlikely.
The chain of finance illustrates, however, the economic costs of rent deferral. Real people are hurt by it. Some may be landlords directly, while others have real estate investments in IRAs or 401(k) accounts, sometimes without even knowing it. Nonetheless, these losses won't be enough to hurt the overall economy.
Evictions will eventually resume. Some of the people—probably most of them—won't have the means to make back payments. Some may offer to resume payments if the back rent is forgiven. Because that back rent is uncollectable, some landlords will go for it. Others will accept partial payment of the arrears if the current rent is paid on time. Still other landlords will want to rid their properties of those tenants.
The evictees will have difficulty finding new landlords. Many apartment owners believe that an empty unit is better than a deadbeat tenant. That's why credit checks are common. Although tough standards by landlords could trigger some increase in homelessness, most people will be able to make do, either by paying high rent to a landlord willing to accept some credit risk, or by sharing an apartment with someone who has good credit.
Evictions will certainly trigger more problems, but again the magnitude will be small relative to the overall economy.
The back rent problem is real but not huge. Various individuals will have genuine difficulty, but the overall economy will roll along nearly as if there were no back rent problem at all.
Investor Optimism Over German Economy Rises Despite Restrictions – Bloomberg

Germany risks severe economic consequences if it fails to contain the pandemic, according to one of the country's leading economists.
"I believe we massively underestimate the economic risks of the second wave," Marcel Fratzscher, president of the German Institute for Economic Research, or DIW, told journalists. "Many companies are over-indebted and have exhausted their reserves. I'm afraid we're too optimistic about getting out of this crisis quickly."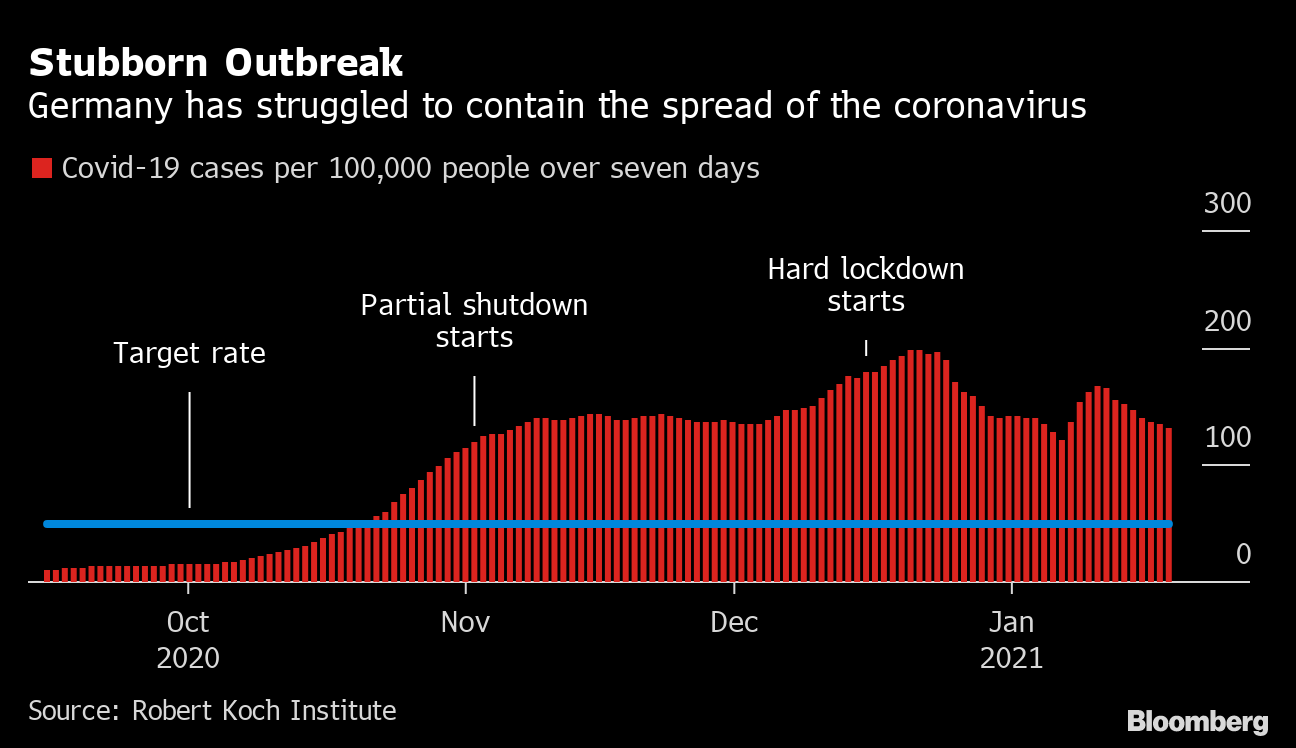 Fratzscher's warnings sharply contrast with a report published earlier on Tuesday showing investors grew more confident in Germany's outlook at the start of the year, betting that a nascent global recovery would bolster exports.
The German economy probably avoided a contraction in the fourth quarter, thanks in part to generous government support and a strong manufacturing sector that isn't as directly affected by virus curbs that have hit restaurants and the travel sector.
Prospects for the first quarter are dire though. Chancellor Angela Merkel and state premiers are likely to extend already tough restrictions until at least mid-February and may impose yet more stringent contact rules as well as nighttime curfews and curbs on the number of people going to the office.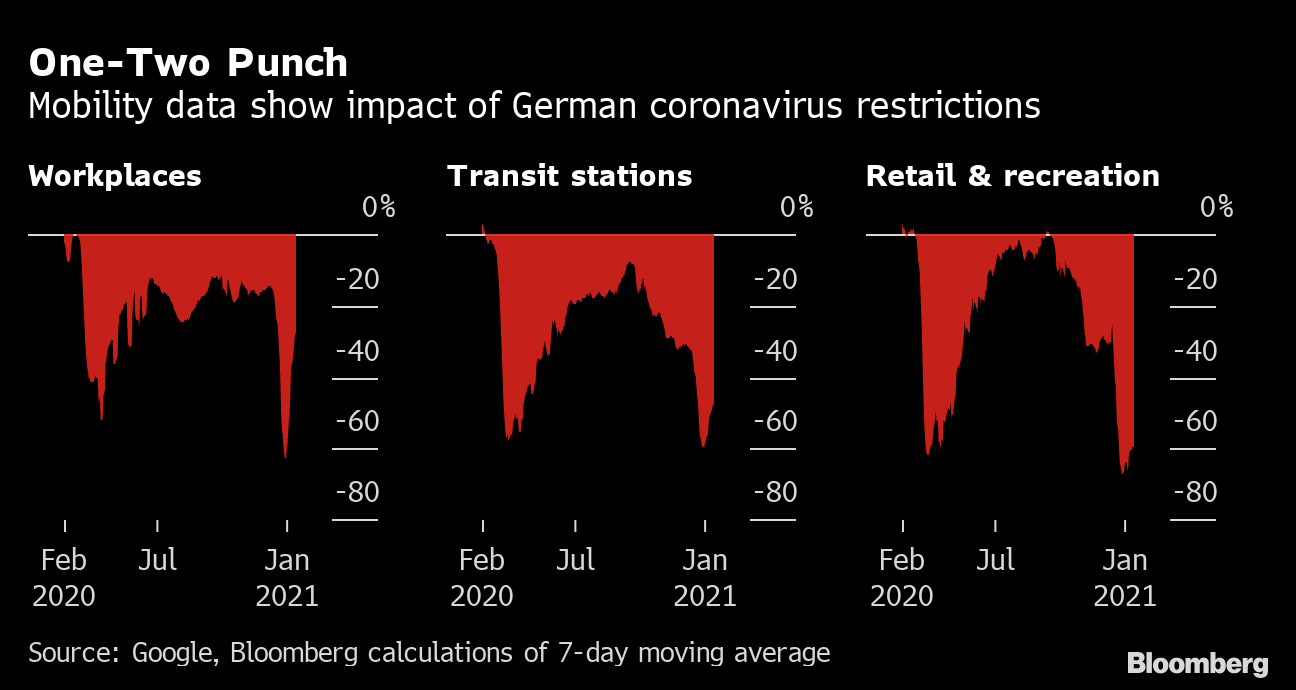 Even if the lockdown ended at the end of January as currently planned, output in the first quarter would shrink some 2%, Fratzscher said.
The country won't see an "economic reboot" until the third quarter at the earliest, he added — contingent on completing vaccinations and reaching herd immunity.
"Politicians must be prepared for and make people aware that if the second wave can't be contained, the consequences will be enormous," Fratzscher said.
The economy contracted 5% in 2020, the most since the global financial crisis, and most forecasts indicate it will take until 2022 to recover the ground lost.
— With assistance by Harumi Ichikura, and Kristian Siedenburg
China Says Its Economy, Recovering From The Pandemic, Grew 2.3% Last Year – NPR
Just over a year after the world's first coronavirus cases were identified in China, the country's economy has bounced back from the ravages of the pandemic.
China's economy grew by 2.3% last year, according to data published Monday by the country's National Bureau of Statistics. The steady economic recovery was largely expected, and puts China on a track that other countries haven't achieved.
"It's likely that China could be the only major economy that has significant positive economic growth in 2020," Nicholas Lardy, a China specialist at the Peterson Institute of International Economics, told NPR in May. "The U.S. is clearly going to be negative. Europe is negative. Japan is going to be negative."
When the pandemic first hit, however, China's economic outlook was a lot less sunny.
Thanks to sweeping and strictly enforced lockdowns, the country's year-on-year GDP for the first three months of 2020 shrank 6.8%, its biggest drop in decades. And as the economy constricted and unemployment rates rose, officials in the spring took the unprecedented move of scrapping their annual economic growth targets.
As the year progressed and the pandemic receded in China, the country saw an economic upturn helped largely by an increase in consumer spending. Its GDP went up by 3.2% in the second quarter, 4.9% percent in the third quarter and 6.5% for the fourth quarter.
China also reported a record $75.4 billion surplus in November, after exports to the rest of the world jumped $21.1% compared to the previous year. As NPR's Scott Horsley reported, much of that increase was accounted for by exports to the United States, despite the tariffs imposed by President Trump.
Still, an English translation of the statistics bureau report noted that "the changing epidemic dynamics and external environment pose a multitude of uncertainties and the foundation for economic recovery is yet to be consolidated."
As NPR's Emily Feng has reported, Chinese policymakers have pledged to continue policies that support private businesses and consumer demand, but will scale back certain credit-boosting policies in the months ahead.
The country has largely managed to bring the pandemic under control, allowing many businesses to reopen at pre-pandemic levels, according to Feng. And it still imposes strict lockdowns in regions with an uptick in cases: As of mid-January, a cluster of more than 600 cases in Hebei province has prompted the lockdown of some 11 million people.