Life under virus quarantine: Boxing, chalk art and waiting – Yorkton This Week
RIVERSIDE, Calif. — There's Zumba and boxing classes, lectures on business and taxes, and chalk art outside for the children.
While it might sound like a local recreation centre's offerings, it's actually part of daily life for 195 American citizens quarantined on a military base after being evacuated from the heart of a new virus outbreak in China.
The cluster of American consular officials, businesspeople and families with children were whisked out of the city of Wuhan on a U.S.-chartered plane last week. Since then, they have formed their own community while waiting to be released from a 14-day federal quarantine order designed to limit the virus' spread.
They hold a daily "town hall" meeting to receive updates from officials with the Centers for Disease Control and Prevention and discuss travel plans. There is an early morning jogging group and some who run stairs to stay in shape at March Air Reserve Base, said Matthew McCoy, a theme park designer and one of the evacuees.
Last weekend, there was a pizza party for the Super Bowl with two television screens outside the two-story building where they're being housed in modest hotel-style rooms. They're planning a flag football game and another party before evacuees scatter to Atlanta, New York and other cities to reunite with family.
"It's not a cruise ship, you know, but we're trying to make it as an overall team," McCoy said in an interview over Skype. "That's what we're hoping the other camps do. We're still humans."
The group was the first placed under federal quarantine order because of the new strain of coronavirus, which has sickened more than 20,000 people and killed nearly 500, virtually all in China.
Two more planes carrying about 350 Americans arrived Wednesday at other California military bases and two more are expected Thursday at bases in Nebraska and Texas. All passengers will be quarantined for 14 days.
At March Air Reserve Base east of Los Angeles, meals are catered, including breakfast burritos and noodles and chicken. There's baby food and kid-friendly options like chicken nuggets, and soda and water, McCoy said.
A non-profit group brought toys for the children and toiletries to make it feel more like home, he said.
"Real soap, not hotel soap. We're talking Irish Spring and Zest," he said.
They also brought in a coffee machine, where McCoy bumps into other evacuees on middle-of-the-night runs. Many are still working remotely in China, which has a 16-hour time difference.
These furnishings and support from federal and local officials, he said, have helped the group band together to make the most of the highly unusual circumstance of being whisked out of a shut-down city and placed under the first federal quarantine order in the United States in more than 50 years.
The Americans who arrived Wednesday flew on two U.S.-chartered jets and landed at Travis Air Force Base, located in Northern California between San Francisco and Sacramento. About half are being housed there and the others were flown to Marine Corps Air Station Miramar just outside San Diego. Miramar is the former home of the Navy flight school that inspired the film "Top Gun."
At Travis, they will live in a base hotel. There is a large outdoor area and common spaces in addition to individual rooms. At a Miramar, some are staying at the Consolidated Bachelor Quarters. Images provided by the military show a communal dining area with large dispensers of breakfast cereal, a laundry room and an auditorium, playground and lecture hall. Others are staying at an inn on the base.
Dr. Christopher Braden, the CDC's lead representative at Miramar, said the roughly 170 passengers were of all ages, including infants. He said they were in "a difficult situation."
"They're allowed 70 pounds of luggage to carry on board with them, Braden said, "So there's not very much they have in the way of personal belongings, and so we need to do what we can to make sure that they're well cared for."
They are free to roam their quarantined areas and will have phone and internet access.
The CDC isn't recommending face masks or other protective gear but suggests that everyone keep a distance of about 6 feet (1.8 metres).
Anyone who exhibits coronavirus symptoms will be isolated in a medical facility. Three adults and a child at Miramar were found to have fever or a cough and brought to local hospitals Wednesday evening, the CDC said.
In Riverside County, some evacuees still wear face masks and keep their distance, but people are friendly to each other, said Jarred Evans, a former University of Cincinnati quarterback now playing professionally in China .
"Everything has been pretty chill," Evans said.
But many face also challenges such as family stuck in China and business disruptions. McCoy said much of his work has slowed and he's been seeking help to keep supporting his son.
Kimmy McDaniel, co-founder of the non-profit Project Strong One, said she was moved to try to help the evacuees, noting many work for the State Department.
Her group furnished bikes and games for the kids, hair conditioner, diapers, and "anything and everything that would help make this transition more palatable and a positive experience," she said.
There is also a round-the-clock mobile health clinic. One child was sent to the hospital with a fever, accompanied by a parent, but returned to the base after testing negative for the virus, said Jose Arballo Jr., a spokesman for the county's public health agency.
For this first group, the quarantine will end Tuesday. But those arriving on later flights are just beginning their journey. "The American spirit provides," McCoy said. "Everybody's nice to everybody. I think that's going to happen in all the other places."
___
Associated Press writers Elliot Spagat and Julie Watson in San Diego, Christopher Weber in Los Angeles, Carla K. Johnson in Seattle and Terry Chea in Fairfield, California, contributed to this report.
Colborne art gallery celebrates 25 years of creativity success in the Northumberland community – Northumberland News
University of Exeter at heart of rock art discoveries – BBC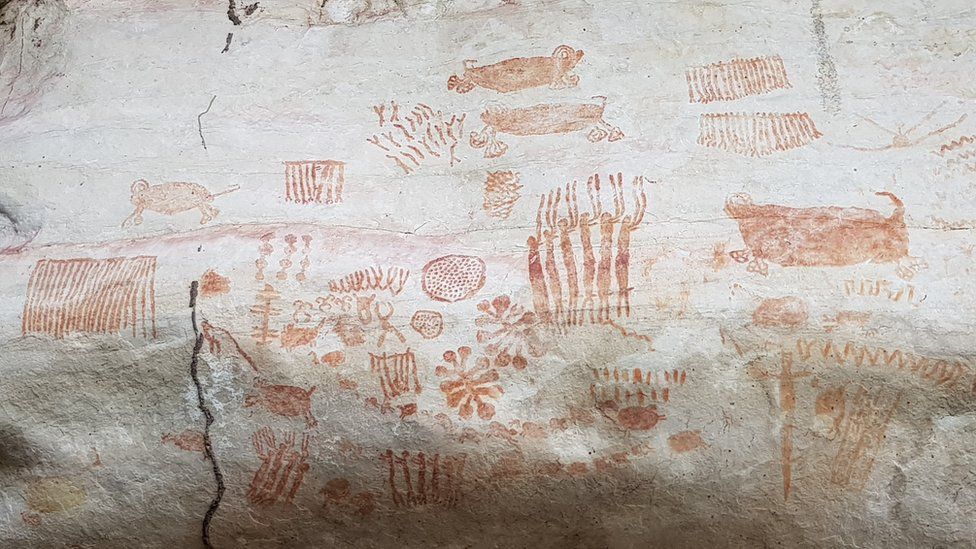 Archaeologists at the University of Exeter are at the heart of a global event to showcase ancient rock art.
The Painted Forest event in Colombia will show works thought to be from the first humans to enter the Amazon.
The discoveries have been unearthed by Lastjourney, a Colombian-English research collaboration, in which the university has taken a central role.
The symposium will bring international experts together with representatives of indigenous peoples and artists.
Prof José Iriarte from the University of Exeter said: "What we have discovered here in Colombia is an incredible insight into one of the most momentous demographic dispersals of our species into the diverse environments of north west South America."
Prof Iriarte said the rock art showed "a fascinating glimpse into the earliest artistic expressions of humans around the world".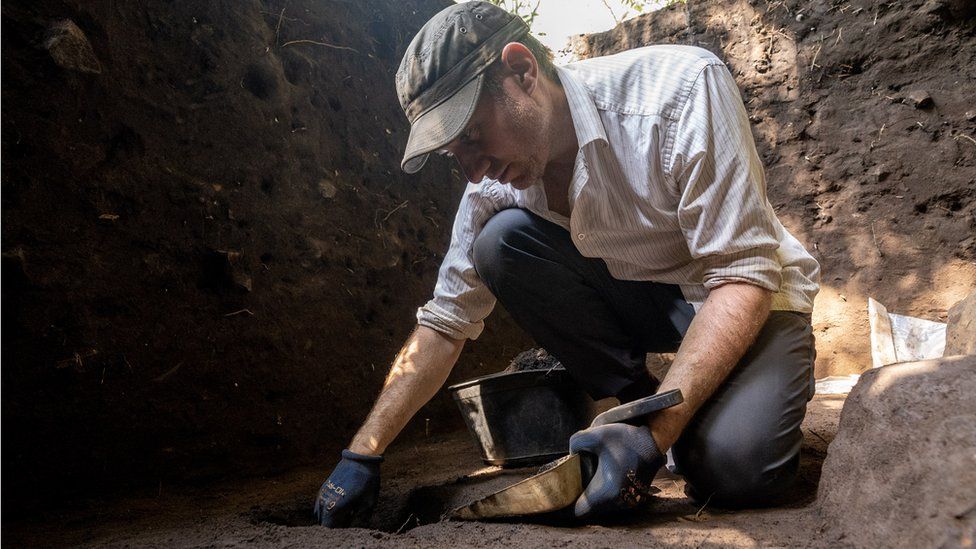 The artwork documents the arrival of the first humans in the north-western Amazon area almost 13,000 years ago, and the impact they had upon the landscape.
It will be on display in the Colombian city of San Jose de Guaviare, where delegates at the five-day symposium from 29 August to 2 September will sample rock painting and indigenous cooking and visit famous rock art sites of Cerro Azul, Raudal and Nuevo Tolima.
Project leaders from Lastjourney – which include the National University of Colombia, the University of Antioquia and the University of Exeter – will present a new bilingual (English/Spanish) guidebook for a layman's audience, also titled The Painted Forest.

Related Internet Links
The BBC is not responsible for the content of external sites.
Remembering Dori Klaaren and her art – Niagara Frontier Publications
Sat, Aug 13th 2022 07:00 am
Story and photos by Alice Gerard
Terry and Dori Klaaren were exploring Morocco after having traveled through Europe for approximately eight months. They were a young couple in the early 1970s, and Dori had suggested the trip, explaining that it would be a good time to do it " 'Because we're free; because we've got no careers. We have no kids, no debts. We will never be this free again for the rest of our lives. We need to travel,' " Terry said to a group at the Grand Island Memorial Library, where he spoke about Dori's artwork on Aug. 1.
The couple met in Grand Island High School in 1969, where they both took art classes and belonged to the art club. Dori had grown up on Grand Island, and Terry moved there as a high school student.
"I landed on Grand Island. Everyone was happy. I felt at home, and I started dating. I had three girlfriends before I met Dori, and that was the end of my dating career," Terry recalled.
Morocco was a different world altogether for the couple who had married in 1973.
"It was a cultural jump to go to Europe in the first place," Terry said. "We took six to eight months doing it. Our last stop was Morocco. We wanted to jump down and go to Africa. We were told not to stay in Tangier, but to go to the interior and see the real Morocco. We hitched a ride with a man from Australia, who just wanted to drive around.
"We went into a place one day in the Atlas Mountains. We're in a big field surrounded by these tents and there's all these kinds of horses. They have muskets. They charge down the field and shoot off their guns. It's this celebration. We're walking around, the three of us. We get to this big tent full of pillows and these guys invite us in. We're just kind of gesturing. We had the tea, and we were going to say thank you, so we said that. We were about to leave, and he poses for a picture and says something, and the other man says, 'He wants to buy your wife.' He offered camels for her. I don't think so. It really happened."
Terry described the entire European adventure as being life-changing for both Dori and him.
"We were there for a year," he said. "We rode on bicycles. We hitchhiked. We took a couple of trains that we couldn't afford, but we were there for the better part of the year, from Norway to Morocco. We camped in people's yards. We camped everywhere, stayed in the occasional hotel. We went to Stonehenge on the Solstice. She planned all this, so it happened. We came back from Europe alive and happy. Dori carried a 45-pound backpack, bicycled every mile.
"We came back young, strong and confident. So, we went back to Grand Island and lived with her folks for about a year. I worked downtown at LL Berger as a window dresser. She worked for the PennySaver, right here, for Skip Mazenauer. With our new nest egg, we went back to Florida and created a child. He is 42 years old now. He is Jason, and he's great."
Terry and Dori Klaaren both painted a lighthouse in their own styles.
••••••••
Back in Florida, Terry and Dori found a new way to create art.
"We get into carrousel horse painting," he said. We had friends who bought full carrousels, restored them, and put them into malls. They hired us to paint the horses. After a while, we got good at it. I was a wood carver, so we went on our own. We went to auctions, and we'd get commissions from people. We'd fix up the horses. We did that for some years. We weren't making much money, but we loved the work.
"This job got me the opportunity to work in Orlando for a prop shop to paint a big, fake carrousel horse. I see that they're working on Disney projects. There's a paint shop. So, I got a job there. Very interesting work. I learned my chops. I learned how to paint big."
At the same time, however, Dori lost her work opportunities. Terry explained, "She was a calligrapher and a sign painter and a graphic artist and a freelancer for ad agencies. It all went to computers. She said, 'I'm dead in the water. I have no work.'
"I was in Orlando, with Disney in my portfolio. I want to paint murals. So, she became my agent. Within a year, we tripled our income. Suddenly, I was in hot demand. We got into our business, and we started doing murals and paintings, and she was my manager, the quartermaster, the brains behind the artist. At this point, her art disappeared from the picture. We were being very successful in the mural business. I made a lot of money, but didn't spend much.
"We were told that we had to spend a lot of money on our business or we'd have to return it in the form of taxes. So, she developed 'have brush, must travel.' She planned a trip that would last six to eight weeks, either in Europe or out west in national parks, and then she'd tell my clients, 'If you'd like a painting done on site anywhere you want, the commission is $200, and he'll make this painting for you.' We got a dozen or so commissions, and we went out and did the trip. This is what we spent 20 years doing. It was fun. I'd paint the painting that was commissioned.'
"My painting started to change. Essentially, I was doing acrylics. Dori started off not knowing what to do. She wasn't a painter. She was a textile person. I suggested that she paint like doing embroidery by doing dots. She was trying to figure out her style. You'll notice that it changed and got better and better until she made magnificent pieces with nothing but beautiful dots. Then she developed an essential tremor, and she could no longer control her dots. It took her way too long to finish her paintings. There are unfinished paintings, where she just ran out of steam. I suggested that she change her format and just do black and white. This is a woman who was working with a tremor. She could barely write her name, but she could produce artwork. I am here to show you all the things that Dori never got to be known for."
During the presentation, Terry acknowledged three teachers, who were influences on both Dori and him. They were Lyn Laman, who died May 31, 2019 (three months after Dori); Neil Hoffman, who now lives and works out west; and Lenore Tetkowski, who was in the audience.
"Nothing here is for sale. However, these are reproductions of her work, and they are up for donations. I am going to garner anything that I make from her work and use it for an art incentive award for the high school. No prices. Just donations," Terry said.
"I ended up by having a beautiful life, doing exactly what I wanted to do," he added. "I'd never dreamed of being an artist for a living. It never occurred to me. It was always fun. Work was supposed to be not fun. So, the fact that this all happened, and I'm looking back on it now, is a miracle to me. The downside is that I lost her too soon. But we had almost to the day 50 years together.
"We went to see Mount Saint Helens 30 years after the fact, and we hiked for 15 miles into that barren place with nothing but dead trees. We hiked up to the top of that ridge and got the shot of the mountain, the volcano.
"We had 50 of the best years. I lost her too soon, but we had a concentrated 50 years."
Terry Klaaren, with a painting of his late wife, Dori, who died in 2019.