Listen: Just whose art is it anyway? – News-Decoder
In this episode of "The Kids Are Alright" podcast, American and Jordanian reporters examine how the art world is protecting culture and heritage.
By Isabella DeMarco
In this episode of the The Kids Are Alright podcast, American and Jordanian students learn more about what the art world is doing to preserve the cultural origins of pieces of art and artifacts.
Students Yoanna Gammoh, Tara Tarawneh and Masa Masri from King's Academy in Jordan and News-Decoder's Alexandra Grey report for this episode.
You'll hear from the owner of an art gallery in Jordan, the president of a major international art auction house, a Smithsonian museum curator and two art historians.
Listeners will learn about how museums create interesting spaces to view art from abroad as well as the steps buyer, sellers and auction houses must follow to ensure transparent and fair sales.
Podcast Transcript
Amber: Welcome to The Kids Are Alright, the podcast that explores big, global issues from a young and fresh perspective. I'm Amber Miller.
Gareth: And I'm Gareth Lewis. The Kids Are Alright was produced by a team of students interested in learning more about the biggest issues facing the global community.
Amber: Art history students are often shocked to learn that a great deal of art and artifacts are permanently housed or on display long-term outside the countries they come from. This is easy to see here in London where many museums are grappling with repatriation claims.
Gareth: There are always new cases popping up about antiquities being returned to their countries of origin. And while there are cultural property laws, international treaties and intergovernmental organizations in place to address these cases, this episode delves into the motivations and challenges of bringing art and artifacts together from different regions of the world.
Amber: Four art enthusiasts sat down with leading experts and top students in the art world to learn more about what institutions are doing to promote culture abroad while preserving its origins and ethnic ties.
---
Alexandra: Hi there! I'm Alexandra and I studied art history at the American University of Paris. I have long been curious about what goes on behind the scenes to organize global auctions and exhibitions. Today, I'll be speaking with a curator at one of the Smithsonian museums in the United States and the president of a major international auction house. Would you mind introducing yourselves?
Caroline: Hello, my name is Caroline O'Connell, and I am a curatorial assistant at Cooper Hewitt, Smithsonian Design Museum. I've been at the museum for about three and a half years and previously I held another position in the Drawings, Prints and Graphic Design department. I have a master's in decorative arts, design history and material culture.
Dirk: My name is Dirk Boll. I'm the President of Christie's in charge of a region we call EMEA that stands for Europe, Middle East and Africa. I have been working with Christie's for 21 years. I was trained as a lawyer and did a postgraduate study in art management.
Alexandra: Caroline, how has the Cooper Hewitt, Smithsonian Design Museum built up its collection of works from 84 different countries?
Caroline: Cooper Hewitt, Smithsonian Design Museum is unique, I think, especially in the United States. We are one of not very many design museums in the U.S., but we're part of the Smithsonian, so we're part of the largest research institute in the world. I believe there are 19 Smithsonian units, so we're one of those. So I think we occupy an exciting and slightly unusual position. We're not an enormous institution in terms of size, collection, personnel. We have just about 210,000 objects in our collection.
So, we were actually founded in 1896, which is right around the time when a lot of U.S. museums were being formed. And we were actually originally a part of the Cooper Union Art School, which is in downtown Manhattan, and the collection was founded, really, as a teaching collection. And it was heavily rooted in European art. And it was kind of modeled actually — this will be fun for you, Alexandra — after the Musée des Arts Décoratifs in Paris, so meant to provide budding American designers, American makers, American crafts people with inspiration from Europe so that perhaps their training didn't necessarily mean having to go abroad. And the U.S. at this time, you know, is still really a nascent country, so there was quite a lot of anxiety about whether we were performing culturally at the same level as other countries.
So, at the end of the 19th century, the U.S. was financially really making a big dent in global markets and certainly geopolitically, but there was anxiety that culturally we were still lacking, so museums and the founding of art schools were really all tied into this mission to try to engender some homegrown creativity. So fast forwarding, you know, this last hundred years, I think, in some ways, we've come back around towards our original mission. We became part of the Smithsonian in the '60s, and we moved uptown to our current location, and I think over time one of the exciting things is the institution has really shifted in its priorities a little bit.
So, our collections now, you know, we really aim to collect with a more global vision in mind, and I think we want to think more expansively about where, how, why we're collecting these things so it's not just to inspire budding designers. Of course, that's always an exciting part of our mission, but I think now we want to make sure we're presenting more narrative.
Alexandra: Dirk, could you walk us through Christie's due diligence process prior to an international art sale?
Dirk: We have a detailed process at Christie's covering the necessary due diligence, and that includes the ownership of an item, so the title. It includes the condition of the item; the authenticity of the artwork; the attribution, in case there is one, and, of course, the provenance. This is a process that continuously evolves and develops and also includes material research, academic advances, scientific research and other developments.
We put out items into the public sphere, and this is very important because otherwise that would be an illegitimate market because things are traded, and therefore we need to have a legitimate forum where everybody respects due diligence and the legal framework of a trade. So, at Christie's we use all external research resources such as UNESCO, Interpol. Every item we trade, every catalog is submitted to the Art Loss Register to make sure that we are working within the legal framework. And we think that space within the legal framework is extremely important to have that legitimate market for works of the art of the ancient world in which we actually have participated in since 1766.
Alexandra: How have you worked across borders to organize an exhibition or sale?
Caroline: So, probably the best example I can give is the one of the most recent shows I worked on which was our Triennial, which was organized around the theme of nature. So, our Triennials are every threes years, of course. This is the sixth in the series, and this is the first time we had done something like this in that we had international, active international collaborators on the organizational side. And that was a really new and exciting challenge for us.
So, to give you a little more context, we actually co-organized this triennial with Cube Design Museum in Kerkrade in the Netherlands. So, what it meant is that we were asking designers — really we were trying to create two parallel shows — so in a lot of cases we were showing almost the same or as close as we could, projects and each institution. So, that was exciting, and, you know, the thinking was that it would really increase the kind of, as you say, global reach of this type of an exhibition.
These Triennials tend to be on really broad themes, and they're meant to, kind of, provide a window into the pulse of, you know, kind of take the pulse of contemporary design threads, you know, trends, we're seeing, things we're excited about, and kind of look at it from a broad thematic perspective. So, because one of the missions is to be emphatically international in terms of designers and types of projects and the ways that they're being integrated, it made a lot of sense to have an international partner. Now what that meant from a kind of organizational and administrative standpoint, was, you know, a lot more, kind of, back and forth, which was exciting and certainly challenging. So, as I mentioned, you know, because the triennial is, is emphatically contemporary, and a lot of the pieces we show are not just new from the last three years but they actually might be brand new just for this exhibition, it meant that we asked a lot of our designers too, and that was something new as well. So, if they were creating new work for the exhibition, we were essentially saying, "Great, is there any way you could create two of these so that we could show them at our at Cube as well as at Cooper Hewitt?"
So, this is, as I said, this is the first time we have done something like that, and, you know, we've been really happy with the results. It's exciting. The exhibitions, of course, don't look exactly the same, even though there are a lot of similar projects. The exhibition design varies a little bit, and I always joke there's a kind of irony there. Here we are in this historic Gilded Age building, and Cube Design Museum is very much a white cube. So, they're kind of environmental factors, the architecture, even things like regulations with how to hang things, all of that — very, very different between the two institutions.
Dirk: The due diligence process is the same no matter what type of item we are selling or we are offering. So, the due diligence process is irrespective of the content of the sale, so we do everything in the same way for every kind of item. And then you have particular items where you need a special due diligence, so for example you need to do CITES (Eds: The Convention on International Trade in Endangered Species of Wild Fauna and Flora) checks. For example, whether your item contains protected materials like ivory, rosewood or other flora and fauna. The CITES is closely connected to import and export regulations because some materials are not allowed to be moved or to be traded. And, of course, there are a wide range of other export regulations such as the protection of cultural heritage. The granting of an export license is part of the due diligence process, and it's the export from the country of location prior to sale. Then we have a due diligence process on the seller, either the person or the company, and the same due diligence process on registered bidders. And this you can imagine as a "know your client" process, a KYC process a bank would do for when you would open an account.
Alexandra: It would appear that even with proper due diligence and international cooperation, auction houses and museums today are still quite self-conscious about the origin of their foreign artwork, whether the objects come from archaeological sites, previously colonized countries or warn-torn environments. How can institutions strike the right balance when showcasing works from around the world?
Dirk: Well, I think that observation is accurate, actually, and as we all know, these items were exported from countries of origin since the 16th-17th century, so they are all over the world, and therefore it is very important to create a, as I call it, a legitimate forum for that, be it a marketplace, be it a place to exhibit and discuss these items. I think it is important to have that out in the public sphere rather than behind closed curtains, and therefore the legal framework is incredibly important market where we move collectors items from one generation of collectors to the next, but also for institutions and museums exhibiting these items.
Caroline: Hmm, that's a great question. No, I think I would just say that one of the things that's exciting is that I think more and more museums are working on exhibitions that are collaborative, and I think that extends in a number of ways. They're collaborative with other institutions, and that's not a new thing. They're collaborative with other peoples or with other countries, and I think that really gets to the heart of the role of cultural institutions. We can be these connectors. And I see that as one of the most exciting but also the most challenging parts of the job. So, whether that's the nitty gritty, for example, of international shipping and creating costs — a huge part of a budgetary consideration for an international exhibition, and sometimes one that is prohibitive. But it's also, I think, from these kinds of problems, questions, design concerns that we get some of the most rewarding creative work, and that we're able to tell the most, as I say, relevant stories because we are interconnected these days on a number of levels.
Gareth: After her interviews with Caroline and Dirk, Alexandra touched based with her fellow reporters, Yoanna, Tara and Masa, in the Middle East. Based in Madaba, Jordan, they wondered about the Middle Eastern art that has ended up in the United States and Europe and how the cultural context of a piece changes its identity. They asked an owner of an art gallery and two historians for their thoughts.
Ghassan Gammoh: Hi my name is Ghassan Gammoh. I am an Art History teacher at King's Academy, and I studied art in university. I think that all art takes on a new identity and a new meaning based on the context, right? So, depending on the audience that is viewing an art piece, it will gain new meaning. So, if you have, for example, the Lamassu that were from Iraq and they're placed in New York City at the Met Museum and someone from the United States or someone from Canada comes and sees this piece, they might appreciate it as a Western audience for reasons other than what Iraqis might've appreciated it for, and that might be due to people's different, you know, interests and understandings of style and visual elements. I think that all art really gains its meaning and gains its function from how people internalize it and how people and audiences react to it.
So, I think in all contexts the art does change meaning and does change function. I think that a nice strategy for museum curators and artists is that art be, you know, art take a tour around the world— that pieces move from place to place just like people do, because artworks are a testament of human stories, I think they can help a lot in us understanding our place in this larger world of globalization.
Something that seems fair, to me, is that art moves, that art should be able to move and take on — as we started this interview — taking on new life and new meanings wherever it goes. But I think that just as the West has benefited so much from, you know, the art of other cultures — right now I'm thinking about how so many Western art movements of the 19th and 20th centuries were inspired by like African objects from Ghana and from Nigeria and from Benin and from all these different places, I think that those places deserve to be inspired, to be recognized but then also to, you know, see the impact and understand the impact they have had on the West. So, Western art, there needs to be a recognition of that and an homage being paid, and I don't see anything wrong with Western art being shared with those different countries and those different continents that haven't necessarily had access to them because we can learn from all kinds of art from all cultures, and it comes with a story and it comes with an identity.
Majdoline Al-Ghezawi Al-Ghoul: My name is Ms. Majdoline Al-Ghezawi Al-Ghoul. I've been having Dar Al-And gallery for more than 22 years. I appreciated art all my life, and me and my husband are collectors of Middle Eastern art. There is a lot of foreign art, valuable artworks, like in Egypt. The Egyptians were among the cultured, upper class art-appreciating families of Egypt. They were buying, so there's a lot of Monets, Picassos, Gauguins, I mean you name it, you would find it. And lucky enough, they are aware of these things, so many of the old palaces through, when it was a kingdom, turned into public galleries, sorry, museums, and they are showing these valuable pieces. Unfortunately, we lack the funding and sponsoring of getting these things in, and the insurance is very high, handling is very high. It's a big responsibility, but we're getting there. But again, like, for in Jordan, as in Jordan, its limited resources — we're very new but there's a lot of activities. But, unfortunately, the absence of the Minister of Culture, and like there's no, no organizations that would sponsor such things, and again we're lacking funds as well. But globalization is very important because I do believe, these are like — heritage, culture, art — it's an international language, even if you don't speak a language of — any like, we don't know the foreign language that we're talking or we don't know like hieroglyphics — but when you go there, you would feel that this is a foreign, like, thing but everybody from all over the world would come and see this civilization, and there you know, like temples, and all that.
John: I think one of the things about this century is of course the digitization of everything. You really could stay home and see art from around the world today. However, it does not replace seeing it for real and seeing it in context with other people. I was just in Japan, and I found out the Japanese love going to art shows, both of Japanese art and Western art. And I also learned you are not to talk as you look at the art. You're supposed to just be silent, so of course I chatted to somebody, wanted to talk about the art, and was told, "That's not how we do things." What I think was wonderful was that the Japanese were trying to figure out how the Western art fit into what they know about art, and I think it's very healthy and exciting to see art of somebody else's society. However, the whole thing of just saying: "Well ,I am the only one who can maintain this and we have better funding," is not going to help create better spaces.
---
Gareth: Art historian John Lesitler makes an interesting closing point: There's a fine line between protecting art for future generations and acting as a cultural guardian. Our top priority is to protect and preserve art — keep it safe and present it in a legitimate, legal forum so that generations to come can appreciate pieces of our common heritage and ancestry. But the owners and context in which works of art are presented do matter.
Amber: It's worth considering how an exhibition space alters viewers' understanding of past civilizations, while still upholding the collaborative spirit of the international art world. There seems to be no one answer to the big question, "Where does art belong?" but there are exciting and innovative solutions out there that allow people to appreciate the artwork of foreign cultures.
Gareth: You've been listening to an episode of The Kids Are Alright, brought to you by Podium.me and News-Decoder. We hope you tune in for our next episode on democracy in South Africa.
Revealing show cleverly pairs two female Impressionists – The Globe and Mail
In a new Impressionism show at the Art Gallery of Ontario in Toronto, there's a moment parents will recognize. In an 1897 painting, by the American expat artist Mary Cassatt, a mother lies in bed with a baby. Front and centre, the plump toddler sits upright, rosy-cheeked and bright-eyed, while the mother gazes sleepily up from her pillow. There's a tea cup nearby and the child seems to be holding some bread: The title, Breakfast in Bed, is saccharine enough to suggest a tender maternal scene of the kind prized by Victorian audiences. Look closer at the mother's expression, however, and you'll perceive her reality: a 6 a.m. wake-up when she would rather sleep.
This clever exhibition is stuffed with such telling moments, achieved by juxtaposing Cassatt's work with that of the Canadian Impressionist Helen McNicoll. On the surface, the combo, entitled Cassatt – McNicoll: Impressionists Between Worlds, might seem opportunistic or merely convenient. Cassatt was an American living in France and part of the original circle dubbed Impressionist; McNicoll, 35 years younger, was a Canadian working in England under the general influence of the new styles. Throw together two female artists who belong to different generations and never met, and see if some of Cassatt's wider fame can rub off on McNicoll's work, not particularly well known even to Canadians. However, the execution, by AGO curator Caroline Shields, offers so many smart observations drawn from this pairing that the show swiftly banishes these doubts.
Shields argues that Cassatt and McNicoll, who both criss-crossed the Atlantic in the age of the steam liner, were figures who inhabited liminal spaces as they travelled between Europe and North America and negotiated professional restrictions placed on women. They could not venture unaccompanied into the city streets or cabarets so beloved by the French Impressionists, and convention encouraged them to concentrate on domestic subjects, although both were unmarried and childless.
Shields makes this point with two paintings near the start: Cassatt's Young Girl at a Window shows a woman looking inwardly rather than out at a Parisian view; McNicoll's The Open Door shows a country woman in an interior, perhaps seeking light to tie a knot in her sewing, but with her back turned to the great outdoors. So, both women are placed at the threshold of places where they do not venture.
Next, the exhibition matches Cassatt's Woman Bathing of 1890-91, one of her familiar drypoint prints heavily influenced by Japanese ukiyo-e, with Interior (1910) by McNicoll, a view of an empty bedroom. By placing the familiar image of a woman at her toilette beside Interior, Fields makes the point that McNicoll has deliberately removed a nude from her scene.
The AGO has also provided a brief video in which the painting is animated as though we were watching the room through the day in time-lapse photography, revealing McNicoll's use of a shaft of light to enliven her composition. Compared to the pointless animation in the so-called immersive shows devoted to such artists as Vincent Van Gogh or Claude Monet, this small educational intervention by AGO interpretive planner Gillian McIntryre is an astute way of asking viewers to stop and look closer.
Looking closer and thinking again is what this show is all about. Cassatt's pictures of women and babies are often ambivalent – Maternal Caress and The Child's Caress seem to show women suffering babies batting at their faces – while McNicoll painted children alone, without mothers supervising them.
One exception is In the Shadow of the Tree from 1910, which shows a young caregiver on a summer day reading a book with a pram beside her, one hand touching it as if to rock the baby. That painting, along with several showing women under parasols or tents at a beach, are testament to McNicoll's masterful painting of light. Dappled or filtered light on a summer day is perhaps her most magnificent subject.
McNicoll was primarily known for outdoor scenes but around 1913, she began a series of ambitious canvases featuring women in interiors, including two of a figure wearing a massive white crinoline. As the drive to women's suffrage reached its peak, these confining dresses were now seen as outmoded: McNicoll calls both paintings The Victorian Dress. What would have happened next? McNicoll died of diabetes at age 35 in 1915, so sadly we will never know.
It's not a contest, but she often comes across as the stronger artist here, her brushwork more impressive in its impressionistic effects; her figures more graceful. In a section about labour, Cassatt is represented by Young Women Picking Fruit, an oddly emphatic painting from 1891 in which a well-dressed receiver looks adoringly up at the picker, as a symbol of women passing knowledge to each other. About 20 years later, McNicoll is painting working class women picking apples or carrying hay in more convincing depictions of empowerment.
This weighting probably has more to do with available loans than the reality of the two careers. The AGO has assembled 27 of McNicoll's paintings from its own collection (which also includes all her sketchbooks, many on display) and from museums in Ontario, Quebec and New Brunswick, as well as private collections. Cassatt is represented by only 13 paintings and her best known pieces, works such as The Child's Bath at the Art Institute of Chicago, are not included. Instead, Chicago has lent the more fussy female figure On a Balcony. The biggest hits are a pair of deliciously sophisticated female portraits, Portrait of Madame J from the Maryland State Archives and The Cup of Tea from New York's Metropolitan Museum.
There are no Cassatt paintings in Canadian collections, but luckily the National Gallery of Canada does hold an edition of the 10 drypoint prints devoted to women at their toilette, riding a bus or bathing children. It's impressive to see the full series at the AGO, to recognize Cassatt's meticulous printmaking and her commitment to making women seen in art rather than merely objectified.
More than a century separates us from Cassatt and McNicoll and it's easy to assume that all is sweetness and light in their paintings of elegant ladies, chubby babies and vigorous farm girls. By pairing the two, Cassatt – McNicoll slyly reveals the many subtleties in the work of two female artists carving out careers in what was, in their day, a man's profession.
Cassatt/McNicoll continues to Sept. 2023 at the Art Gallery of Ontario in Toronto.
Hannah Gadsby's Picasso exhibit roasted by art critics – The A.V. Club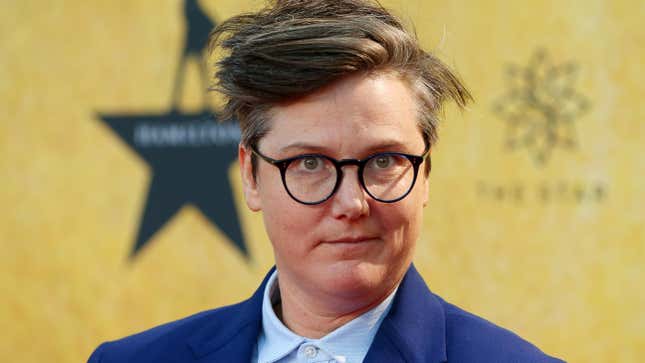 "It's Pablo-matic: Picasso According to Hannah Gadsby" has been Pablo-matic from the start. The comedian was criticized for launching an exhibit at the Brooklyn Museum, where Elizabeth A. Sackler (of Purdue Pharma infamy) apparently sits on the board of trustees. "Doesn't matter what cultural institution you work with in America, you're going to be working with billionaires and there's not a billionaire on this planet that is not fucked up. It is just morally reprehensible," Gadsby lamented to Variety, nevertheless moving forward with the exhibit.
John Hughes says the director called his Ferris Bueller performance "boring"
After having criticized Picasso in their lauded Netflix special Nanette, Gadsby was tapped to co-curate an exhibition to mark the 50th anniversary of the artist's death. The show examines Picasso's "complicated legacy through a critical, contemporary, and feminist lens, even as it acknowledges his work's transformative power and lasting influence." The exhibit consists of Picasso's work with the work of female artists, with the addition of Gadsby's commentary.
Reviews of the show (which opens on Friday) are, shall we say, not kind. Gadsby's quips tacked to Picasso's art "function a bit like bathroom graffiti, or maybe Instagram captions," writes New York Times reviewer Jason Farago, who dismisses Gadsby's commentary as "juvenile." ARTnews' Alex Greenberger observes that Gadsby's quotes are "larded with the language of Twitter," highlighting the label above a minotaur print: "Don't you hate it when you look like you belong in a Dickens novel but end up in a mosh pit at Burning Man? #MeToo."
There is no debate about Picasso's misogyny or any of the more unsavory (and well-documented) aspects of his character. Instead, it's the apparently facile way Gadsby (with co-curators Catherine Morris and Lisa Small) has chosen to frame the show. The female artists featured do not include female Cubists, women inspired by Picasso, or the female artists Picasso was actually involved with in his life. Instead, their work "[seems] to have been selected more or less at random" writes Farago, while Greenberger notes that many of these pieces from female artists "have almost nothing in common, beside the fact that they are all owned by the Brooklyn Museum."
The scathing criticism of the exhibit has been met with some schadenfreude online, particularly with the subset of folks for whom Nanette didn't land. "Still thinking about that perfect @jsf piece on Hannah Gadsby's Picasso show. Such a sharp evisceration of the corrosive effect a certain strain of meme-y social justice has had on culture and criticism. If people's receptiveness means we can finally move past that, I'm thrilled," The New Republic's Natalie Shure wrote on Twitter. And of course, some people just like a good, well-written take down: "So so so happy that Hannah Gadsby made the Pablo-matic (lmfao) exhibit because the reviews of it have been the best most fun culture writing in a while imo!!!!!," tweeted writer Sophia Benoit.
Agree or disagree (and perhaps you'll have to visit the Brooklyn Museum to decide), the criticism of Gadsby's criticism is lethally sharp. "Not long ago, it would have been embarrassing for adults to admit that they found avant-garde painting too difficult and preferred the comforts of story time. What Gadsby did was give the audience permission—moral permission—to turn their backs on what challenged them, and to ennoble a preference for comfort and kitsch," Farago writes of Nanette, later adding, "The function of a public museum (or at least it should be) is to present to all of us these women's full aesthetic achievements; there is also room for story hour, in the children's wing." You can read the full piece here.
Crochet Heart Bomb Project comes together June 3
Handmade hearts will line the chain link fences between the Autumn Grove Seniors Lodge and the hospital in Innisfail, Alta., on Saturday.
It's called the Crochet Heart Bomb Project.
Local entrepreneur and artist Karen Scarlett started working on the initiative this past January, in partnership with the Innisfail Welcoming and Inclusive Community Committee as well as the Innisfail Art Club.
"Wouldn't it be nice if a few people joined in on sharing some love and joy with the seniors at the Autumn Grove Lodge and hospital?" Scarlett said was her line of thinking at the time.
The community is welcome to swing by and lend a hand. Also, to help care for the hearts after they're up.
Turns out she wasn't alone — others thought it would indeed be nice.
"Our free pattern has been downloaded hundreds of times from locations around the globe and now thousands of hearts are arriving in time for our install party," said Wilma Watson, Innisfail Art Club president.
A release to media explains the hearts "consist of handcrafted crochet, knit, quilted, macramé and all manner of hand-stitched items," and "will be installed on June 3 from 10 a.m. to 3 p.m."
The community is welcome to swing by and lend a hand.
Also, to help care for the hearts after they're up.
Local entrepreneur and artist Karen Scarlett started working on the initiative this past January.
"I will be leaning on the community to help," Scarlett said.
"If the community keeps an eye out for damaged hearts and continues to care for the fence and ask for new hearts to be made, we may have a love-filled fence for years — maybe decades — to come."
She says she's doing this for Grandma.
Ethel Scarlett was a founding member of the original art club and toward the end of her life, a resident at the original seniors lodge where she was still known for a creative endeavour or two.
"I feel like she would be pretty thrilled with this project," Karen Scarlett said.
More information is available at innisfailartclub.org/crochet.
A release to media explains the hearts 'consist of handcrafted crochet, knit, quilted, macramé and all manner of hand-stitched items,' and 'will be installed on June 3 from 10 a.m. to 3 p.m.'