Local builders still busy as real estate market takes a break – Times Colonist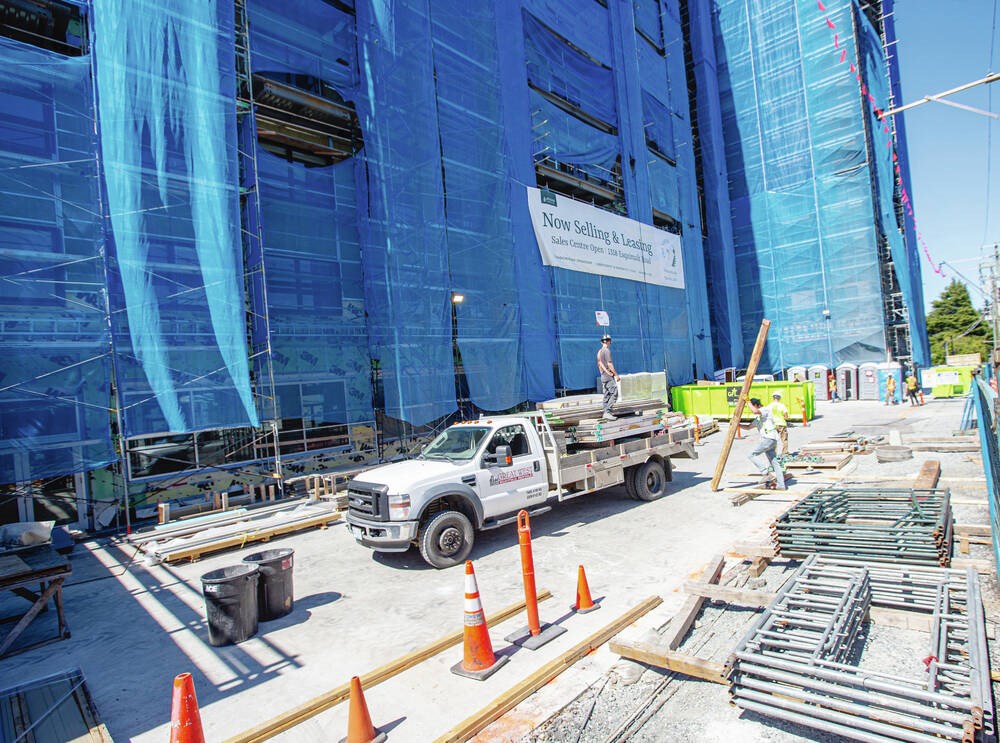 The real estate market may be taking a breather, but there has been no such break for homebuilders in the region judging by new housing start figures from the Canada Mortgage and Housing Corporation.
The numbers, released Tuesday, show 2,681 new homes were started through the first seven months of this year in Greater Victoria, ahead of last year's pace when 2,500 new units were started.
It's a tale of multi-family projects in two parts of the region, said Casey Edge, executive director of the Victoria Residential Builders Association.
Edge said Victoria and Langford are once again doing all of the heavy lifting.
"There are a bunch of municipalities that just fly under the radar every year, like Oak Bay that still doesn't have zoning for duplex housing," he said noting Oak Bay has built just 19 new homes this year, while North Saanich has started 16.
"And people question why do we have a housing affordability problem," he said.
"Well, you have just a handful of municipalities that are really carrying the weight for 13 municipalities."
The lion's share has been done by Victoria so far this year.
With a focus on condo and rental apartments, the city has seen 1,219 homes started, well ahead of last year's 696. Langford has started 663 so far this year, off last year's pace of 862 through the end of July.
Edge said what's missing is the missing middle housing — townhomes and houseplexes, rather than the usual condos and single-family homes — that can suit small families and provide more housing options in all parts of the region.
The fact builders in at least two of the region's centres are busy may help the market catch up a bit, as the number of property sales has slowed considerably. The B.C. Real Estate Association released numbers on Tuesday showing Victoria's sales dropped 37.5 per cent in July compared with the same time last year, while the Island saw a 40 per cent drop and the province fell 42 per cent.
"High mortgage rates continued to lower sales activity in July," said BCREA chief economist Brendon Ogmundson.
"Many regions around the province have seen sales slip to levels well below normal for this time of year."
At the same time, provincial active listings rose 28 per cent year-over-year.
Inventories remain quite low, but the slow pace of sales has tipped some markets into ­balanced or even buyers' market territory, the association noted.
Year-to-date, residential unit sales were down 29.3 per cent to 56,801 units, while the average residential price was up 13.2 per cent to $1.03 million.
aduffy@timescolonist.com
>>> To comment on this article, write a letter to the editor: letters@timescolonist.com
Sale of real estate shares by non-Mexican residents – International Tax Review
According to the Mexican Income Tax Law (MITL), the transfer of shares by foreign residents triggers Mexican source income when more than 50% of their accounting value derives directly or indirectly from immovable property located in Mexico. These types of shares are commonly referred to as 'real estate shares'.
This implies that from a domestic tax perspective, whenever a non-Mexican entity transfers shares issued by another non-Mexican resident which, in turn, holds assets or participation in a Mexican resident company, two concepts have to be taken into account to determine if there is taxation in Mexico: (i) the value of the shares that are being transferred; and (ii) the value of the immovable property located in Mexico.
Although in principle these calculations may seem simple to compute, there have been many doubts from a practical perspective that have led to different interpretations.
As it relates to the accounting value of the shares, neither the MITL nor any other legal provisions provide with a definition of such concept; nevertheless, pursuant to the Mexican Financial Reporting Standards, the accounting value could be interpreted as the value at which a right or obligation is recorded under accounting records (i.e., the 'book value'). Accordingly, the book value of an entity is the stockholders' equity, which is computed by subtracting total liabilities from total assets.
Article 13 of the Model Tax Convention on Income and on Capital of the Organisation for Economic Cooperation and Development (OECD Model Convention) does not make reference to the accounting value of the shares, but only to 'the value' of such goods. The same applies with Mexican double taxation treaties. This may lead to different interpretations regarding the value that should be used (i.e., the accounting value or the market value, both of which may vary considerably from one to another).
Additionally, the fact that the shares being transferred are not issued by a Mexican resident, the accounting principles applicable under the issuer's jurisdiction may differ from the Mexican Financial Reporting Standards.
If the entity that is being transferred holds the Mexican assets directly, no distortion should exist as both the shares' and immovable property's accounting value would be registered under the same accounting principles.
Conversely, if the entity that is being sold holds shares or participation in a Mexican company, distortions may exist as the latter may be registering the immovable property under different accounting principles. The shares' value of the company that is being transferred (as registered by the transferor) may not reflect the value of the immovable property in Mexico consistently.
In addition, if the entity that is being transferred directly or the Mexican entity indirectly has debt, the immovable property value could exceed the accounting value of the shares. To clarify this scenario, commentaries on Article 13 of the OECD Model Convention provide that the computation will be normally done by dividing the immovable property's value (numerator) by the value of all assets owned by the entity (denominator) without taking into account debts or other liabilities.
As it relates to the 'immovable property's value', the Mexican tax laws are silent; however, under the OECD Model Convention and its commentaries it could be interpreted that the 'book value' shall be applicable, as opposed to the fair market value or the actual value of the transaction.
If an entity that is being transferred holds a participation in different entities that are resident in different foreign countries, the determination of the immovable property's value could be even more complex due to differences in domestic provisions (e.g. differences in depreciation rates).
In addition to the doubts that exist about the correct approach to determine these values, categorising an asset as immovable property is also a common issue that many taxpayers face on these types of transactions.
Under the OECD Model Convention, 'immovable property' has the meaning which it has under the law of the contracting state in which the property in question is situated. From a Mexican legal perspective, immovable assets are, among others, land and constructions attached to it; docks and constructions that, even when floating, are intended to remain at a fixed point of a river, lake or coast; as well as everything that is attached to an immovable asset in a way that it cannot be separated without deterioration (i.e., gas pipeline).
In terms of the MITL regulations, examples of assets that are considered to be 'attached' to the land, are houses, buildings, industrial and electrical plants, warehouses, highways, bridges, railways or dams.
In order to avoid some risks of possible conflicts between domestic law and a tax treaty, the OECD Model Convention also clarifies that the term 'immovable property' shall, in any case, include property accessory to immovable property, livestock and equipment used in agriculture and forestry, rights to which the provisions of general law respecting landed property apply and usufruct of immovable property and rights to variable or fixed payments as consideration for the working of, or the right to work, mineral deposits, sources and other natural resources.
At the time of writing, there are no court precedents or guidance from Mexican or international tax authorities to clarify these issues. Thus, when transferring participation in a non-Mexican resident entity that owns directly or indirectly immovable property in Mexico, non-Mexican tax residents have to be careful in their analysis as to whether Mexican source income exists and have evidence on the computations and position taken.
Priced out of Toronto's housing market? Alberta wants you to turn your eyes west – CBC.ca
If you've been priced out of Toronto's real estate market, Alberta hopes its latest ploy will have you looking west to achieve your white-picket-fence dreams.
In a move to lure fed-up prospective home buyers, the province has unveiled the second phase of its campaign dubbed "Alberta is Calling."
"We've got Canada's lowest taxes and the lowest cost of living, plus the highest wages and incomes and lots of big opportunity," Alberta Premier Jason Kenney said in a video on Twitter.
The campaign touts slightly higher weekly earnings in Alberta over those in Ontario, averaging $1,245 to $1,186, respectively.
While the average income is comparable, there's a significant difference when it comes to real estate. According to Kenney, the average cost for a detached home is $490,000 in Edmonton and $700,000 in Calgary — in Toronto it's $1.4 million.
Hey <a href="https://twitter.com/hashtag/YYZ?src=hash&amp;ref_src=twsrc%5Etfw">#YYZ</a> and <a href="https://twitter.com/hashtag/YVR?src=hash&amp;ref_src=twsrc%5Etfw">#YVR</a>…<br><br>Alberta is calling. Will you answer? <a href="https://t.co/DmtogKz7Fh">pic.twitter.com/DmtogKz7Fh</a>

&mdash;@jkenney
Figures like those are what enticed Yash Chauhan to uproot his life in Toronto.
"I moved to Canada three years ago, and given the extremely high rents in Toronto and then how real estate prices moved up during the pandemic — obviously everyone wants to own a house — Calgary seemed like a good idea," he told CBC Toronto.
In February, after pre-purchasing a home in Calgary, Chauhan packed up his Toronto apartment, put all his belongings into his car, and drove west.
"Initially I moved here as an experiment," he said. "It was an impulse move."
But after just a few days, Chauhan said he knew he wanted to stay.
Ontario offers more job variety, experts say
In return for the "many cost-of-living, career and lifestyle advantages of life in Alberta," the province hopes people like Chauhan will fill some of its 100,000 job vacancies — a shortage it says is restricting 78 per cent of Alberta businesses from meeting demand.
Despite that shortage, the province says it has still seen the largest employment growth in the country so far in 2022. Between December 2021 and August 2022, employment in Alberta increased by 61,700 compared with an increase of 28,600 in Ontario, despite it having a larger population.
But some experts say finding work in lesser populated cities like Calgary and Edmonton isn't so simple.
"Some of the other factors that are much bigger than the housing costs are job opportunities," said Rotman School of Management professor emeritus Anil Verma.
Verma argues that Alberta's economy — and therefore job opportunities — is largely restricted to oil, gas and other extractive industries like mining.
"Ontario has much of the same but it's much more broad in scope," she said.
"So for dual career couples or families, there's a greater chance you'd find something in the GTA than in Alberta."
'It's just easier here'
As for Chauhan, his move out west has worked out so far.
"It's just easier here because I'm paying the same amount — my mortgage is basically the same as my rent in Toronto," he said.
"So I'm building equity, I'm not just paying all that money in rent."
Alberta's nature, Chauhan says, is just an added perk.
"When I get out of my home … I can see the mountains in two minutes," he said.
"What I imagined — it turned out to be way more beautiful than that."
He's encouraging others to follow in his footsteps.
"If you want to live a rich life and maybe die poor and if you want to live poor and die rich, you should probably stay in Toronto."
UrbanToronto Launches Partnership with Canadian Real Estate Show – Urban Toronto
September was an important month for UrbanToronto as we launched an exciting new partnership that will continue to guide our mission of adapting to become a stronger, and more extensive provider of data in the field of development. Reaping the benefits of a longstanding professional relationship, UrbanToronto is the newest sponsor of the Canadian Real Estate Show.
Looking north at Toronto Skyline from Toronto Island Ferry, image by UT Forum contributor Riseth
In the midst of their third successful year of weekly podcasting, the Canadian Real Estate Show has become a go-to source for analysis on Canadian real estate issues through honest, casual discussions with experts in the industry. The show's hosts, Darryl Frankfort and T.K. Butler, bring a light hearted tone to each episode, but the show is built on a deep foundation of experience in different corners of the industry with a strong desire to learn more, and share their findings on the way.
Frankfort has orbited the business of real estate for 24 years. Managing construction crews and finishing crews, custom home building and marketing, and brokering real estate transactions are just a few of the ways he has learned the ins and outs. His partner, Butler, is a second generation realtor who works throughout the GTA as a Senior Partner at Frank & Leo Associates. Together, the hosts take on questions, concerns, and even conspiracy theories that surround the Canadian real estate scene, always maintaining their easy-going style that makes these topics digestible to everyone.
Both Frankfort and Butler have been users of UrbanToronto resources throughout their careers. "Their forums and their reports are the highest level of education I can have to help my clients navigate the market and development landscape of the city," Butler explained. In this way, they see the partnership as a way to connect like-minded people with a resource they may not have known was out there. By drawing attention to the depth of information available through UrbanToronto's subscription service, UTPro, more Canadians will be able to access the information that they need quickly.
[embedded content]
For UrbanToronto, the partnership reflects the drive to continue expanding further into new markets and deliver services through UTPro that are both exclusive and effective in the field of urban development. Reflecting on the partnership, UrbanToronto Co-Founder Edward Skira said, "We're approaching our 20th anniversary and as an organization we are expanding our reach. UTPro has provided us with a lot of data on development within the GTHA. Partnering with the Canadian Real Estate show is a natural step forward."
Stay tuned to the Canadian Real Estate Show to see monthly guest appearances with UrbanToronto Economist Ash Navabi, and to learn more about this new and exciting partnership.