Local real estate agents talk home 'barkitecture' – Mountain Xpress
Sona Merlin has seen a lot during her 21 years in Asheville real estate. But one house in the Peach Knob Meadows neighborhood near Town Mountain Road stands out above the rest due to a bathroom.
Why? It included a miniature shower built for a dog. "They used nicer tile than my home shower has!" Merlin, a broker for Appalachian Realty Associates, recalls with a laugh.
Yet as a dog mom herself, she understands the desire to simplify bathing muddy pups. And as a broker, Merlin continues, "it warms my heart" when buyers have their beloved pets in mind when house hunting.
Dog-sized showers aren't a common amenity in Asheville homes. But they exemplify the home design trend of pet architecture — cheekily called "barkitecture" — that incorporates practical enhancements for furry family members.
Although there isn't solid local data about the popularity of barkitecture, Asheville real estate agents anecdotally say they've seen such amenities on the rise. Homebuyers are as serious about making their home a good fit for a pet as they would be about making it a good fit for children, Merlin says.
'Luxury dog rooms'
According to a global analysis of search data for Pinterest, a visual-based social media site, searches for the phrase "luxury dog room" increased 115% from October 2019 to September 2021. Searches for "luxury cat room" and "catify your home" also increased by three and four times, respectively, during that period.
A scroll through Pinterest searching for "luxury dog rooms" shows a miniature Murphy bed that pulls out of the wall to become a dog bed, as well as dog showers like the one Merlin described. Molly de Mattos, a broker for The Matt & Molly Team at Keller Williams Realty in Asheville, says she's seen several local homes with more modest dog bathing stations. One memorable example, she recalls, was a tiled, 3-foot tall shower with a handheld shower head built inside a garage.
De Mattos also says she's seen pet door flaps on sliding glass doors at homes several times, which she attributes to the number of Western North Carolina abodes with mountain views. Dog beds built into cabinets or under a kitchen island are another common barkitecture feature. Merlin has seen dog beds built underneath a flight of stairs, Harry Potter-style. And de Mattos laughs while describing one dog-sized bunk bed she saw: It had a large dog bed underneath and a small bed on top — for a chihuahua, of course.
Feline features
Cats are also enjoying pet architecture features, most notably patios for cats, or "catios." A catio can be as simple as a "very well-enforced, screened-in patio," de Mattos says. Such a space may not seem particularly special for someone who has indoor-only cats, but it allows felines to enjoy the outdoors without putting backyard wildlife at risk.
Merlin tells Xpress about selling a house to a woman in Kenilworth who constructed a catio "bigger than my bathroom." She estimates the homeowner spent about $1,200 on screening in her patio.
On the more elaborate end, de Mattos has seen a catio decked out as what she calls "the Taj Ma-kitty-hal," featuring cat trees built out of the walls and television sets for the cats. "They had a TV out there playing birds," she says. "Not the movie 'The Birds,' but footage of birds flying around."
Laila Johnston, donor relations coordinator for the Asheville Humane Society, says the animal rescue has a longtime supporter "who has a massive custom catio and also turned her wine room into a custom cat bathroom and feeding area, so each cat has their own cubby for getting their food."
Meanwhile, on the more practical end, de Mattos describes what she calls "really discreet cat box rooms," with litter boxes tucked into the wall.
Burden or asset?
Barkitecture may sound frivolous to the petless, but for those with animals, a home with amenities for pets can be an advantage. "Some people see a swimming pool, and they go, 'Yes!'" de Mattos offers as a comparison. "And some people see a swimming pool, and they go, 'No!' It's completely buyer-dependent."
De Mattos says she hasn't seen barkitecture in homes built prior to 2010 in WNC, suggesting the trend, such as it exists locally, is newer. Amenities like on-site dog parks are also increasingly being designed into area apartment complexes. She cites The Retreat at Weaverville, an apartment complex built in 2021 that includes a communal dog bathing station as an amenity.
Yet despite the trend's rising popularity, de Mattos adds, homeowning pet lovers seeking to sell their properties might consider simplifying or removing barkitecture features to appeal to more buyers. "I would advise [homeowners] to do what's going to make their home enjoyable for them and their pets, but do something that won't be a burden to undo — which can help with their resellability in the long term," she says.
She recalls a seller showing off carpet-lined, custom-built shelves called "cat crawlers," which let kitties explore the walls. De Mattos recommended the seller remove the cat crawlers before putting the home on the market, lest it turn off a potential buyer.
On the fence
Many pet lovers may only fantasize about their dream dog decor unless a casting director for a home makeover show comes calling. However, there are some options that are more affordable and realistic — and as de Mattos suggests, aren't difficult to disassemble.
Inspiration might come from local spaces where someone else has done the barkitecture work. Wagbar, a dog playground/park and bar in Weaverville, has an outdoor dog bathing station for use by guests. Owner Kendal Kulp explains that the tub is an old stainless-steel photo developing tray with legs welded on, hooked up to the plumbing in Wagbar's restrooms.
Wagbar has several shade sails attached to its concession area and a small gazebo for humans and dogs to sit under, Kulp says. The bar also landscaped with tumble-safe mulch typically used on playgrounds because it doesn't cause splinters, create mud puddles or retain that memorable dog urine scent, he explains.
Both Kulp and Sophie Silcox of Down Dog AVL, a yoga studio with a dog-friendly bar attached, tout a double-gates system as crucial safety features for their establishments. Explains Silcox, "You come in the front door and you can shut the door behind you and then there's another gate, so the dogs that are in the facility already can't go and escape through the door when it opens."
Back on the homefront, many buyers want a fenced-in backyard for dogs, real estate agents tell Xpress. Merlin has seen fencing with windows or eye holes at a dog's eye level, which are installed for dogs who bark at sounds and smells they can't see behind the fence. "It really is smart," she laughs.
Kulp from Wagbar says his brother installed a bubble window in his home fence. But Wagbar uses hog wire fencing, which allows dogs to look through and is also known for its durability, he says.
Yet amid the customized, animal-focused design making its way into local homes, Johnston from Asheville Humane Society doesn't want pet parents to lose sight of what their fur babies really need. "While I know our animals love their amenities, the most important things they need are love, patience and attention," she says. "Our love will always be their favorite, even over bunk beds of their very own."
5 Recent Western Canada Commercial Real Estate Deals You May Have Missed – Storeys
After the usual summer dip, Western Canada saw quite a few commercial real estate transactions in September. Here are a few notable deals that may have flown under the radar.
2M Sq. Ft Industrial Portfolio (Alberta)
Value: $309M
Seller: Unconfirmed
Buyer: Skyline Industrial REIT
Skyline Industrial REIT announced in early September that it had completed its largest-ever transaction, comprising of 16 industrial buildings on 129.5 acres of land across four industrial parks in Calgary and Edmonton, which are 97.7% occupied and total to over 2M sq. ft of industrial space.
The deal is shrouded in a little mystery, however, as the seller has not been publicly named, with Skyline only saying that it purchased the portfolio from "a major Canadian pension plan."
However, Skyline did list the properties it acquired, one of which was the Rampart Business Park on 157th Avenue NW in Edmonton, and development information for one of the buildings at Rampart Business Park listed on the Province of Alberta website named the developers as LaSalle Investment Management, a Chicago-based real estate investment management firm that has previously acquired large amounts of industrial space in Alberta.
72,088 Sq. Ft Industrial Building (Edmonton)
Value: $15.8M
Seller: Unknown.
Buyer: BTB REIT
BTB REIT, another real estate investment management firm, purchased one of the buildings within McIntyre Industrial Park in early September, which is leased to a single tenant: Redco Equipment Sales, which makes tools for the oil industry. The building is located on 8743 50th Avenue and was originally built in 1998.
READ: "A Perfect Storm": Why BC Industrial Real Estate Demand is Migrating to Alberta
220 Prior Street (Vancouver)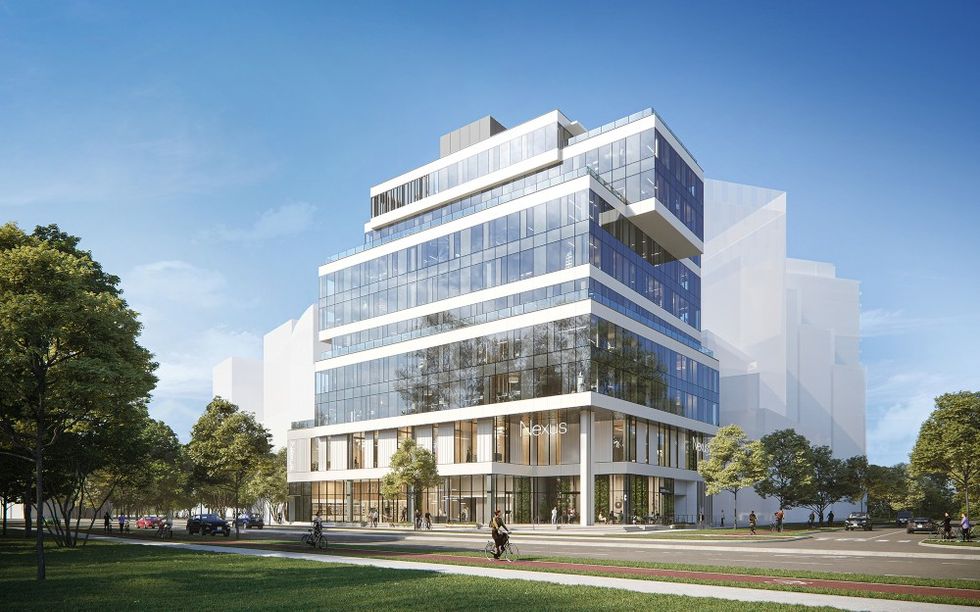 Value: $123M
Seller/Developer: Keltic Canada Development Co. Ltd.
Buyer: Masimo Corp.
This upcoming building was originally going to be developed and leased, like most office space is. However, Keltic eventually decided to sell the building, now owned by California-based company Masimo, which makes a variety of personal and professional heath-tracking devices. The building is in the False Creek Flats area near the site of the also-upcoming St. Paul's Hospital.
The building is set to be 100,000 sq. ft, meaning the deal works out to approximately $1,200 psf. The site was previously a warehouse, which Keltic purchased in 2019 for $25M. Ground broke officially on August 30 and is set to complete construction in 2024.
Gastown Heritage Building Commercial Strata Units (Vancouver)
Value: $3.34M
Seller: Unknown
Buyer: Unknown
This isn't a deal with any particularly eye-catching numbers, but it is nonetheless noteworthy because it involves two commercial strata units in a Gastown heritage building, now called the Koret Lofts, that was built in 1906. The two units — on 57 and 63 East Cordova Street — total to approximately 2,807 sq. ft of space.
READ: Heritage Building Next To Vancouver Gastown Steam Clock To Become Hotel
The Hamlets Senior Housing Portfolio (BC & Alberta)
Value: $300M
Seller: H&H Total Care Services Inc.
Buyer: Axium Infrastructure & Optima Living
The Deal:
This $300M commercial real estate deal is for an eight-property portfolio, together known as the Hamlets, of senior housing communities spread out across Western Canada. Three are in Alberta — two in Red Deer and one in Airdrie — and five in British Columbia, in Vernon, Duncan, Penticton, Kamloops, and Surrey. In total, the deal includes 1,092 suites.
"The portfolio features a balanced mix of assisted living and independent living suites and funded long-term care and complex care beds and private pay complex care beds," said the Newmark Group, who brokered the deal, in a press release. "The portfolio is relatively new, with an average building age of 10 years and three residences opened since 2019. In addition, three of the assets provide the new ownership with over 360 units of development/expansion opportunities. The properties are each positioned well within their respective markets and spread across some of Canada's most desirable retirement communities."
Howard is a Staff Writer at STOREYS. He is based in Vancouver, British Columbia, and has also written about media for One Zero and international politics for WhoWhatWhy. Before STOREYS, he was also the Deputy Editor of 604 Now.
Winnipeg Real Estate Market Favours Sellers – RE/MAX News
The Winnipeg real estate market continues to be a seller's market in 2022, but as new listings rise, could that be changing?
It appears that the Winnipeg real estate market may have peaked in May, as month-to-month prices fall, even though year-to-year prices have risen. According to data from the Winnipeg Regional Real Estate Board, the year-to-date average single-family home selling price is $431,158, up from the 2021 average of $379,844.
Month-to-month data shows a cooling off of the market—the average single-family home sold for $400,000 in July, compared to over $454,000 in May. Rising interest rates are a critical factor in the decline, but there is more to the story.
Another key factor is the rising choice of homes. There were 3,700 active listings available at the end of July compared to half that amount in the first four months of 2022. There were 2,359 new listings in July, an increase of nine per cent over July 2021.
"We are seeing once very tight market conditions loosening up in the second half of 2022," says Akash Bedi, president of the Winnipeg Regional Real Estate Board, "above list price sales for both single-family homes and condominiums are trending down from what they were earlier in the year."
Though July 2022 was not up to the peak pricing of earlier in the pandemic, it is still one of the best Julys on record. When you remove the 2020 and 2021 data, July 2022 outperforms any other July and ranks as the third-best July on record. So, we are not exactly experiencing a full-on market correction just yet.
Who's Driving Demand for Winnipeg Real Estate?
Like many other cities across the country, move-over buyers drove much of the rising demand during the first two years of the pandemic. This population increase has had a significant impact on the local economy and the real estate market. It's no surprise that people wanted to move to the city; it is one of the most affordable in Canada. Families can purchase a detached house below the national average price.
Our 2022 Housing Affordability Report ranked Winnipeg at number 10 on the list based on where homebuyers can own a home for the lowest price. If you are in Vancouver or Toronto, these numbers may make you realize why people have been relocating:
Average Home Price (January 1 – June 30, 2022): $437,460.00
20% Down Payment: $87,492.00
Mortgage Amount: $349,968.00
Monthly Mortgage Payment: $2,104.00
Average Monthly Income: $65,381.25
% of Monthly Income Allocated to Mortgage: 39.10%
First-time homebuyers in Winnipeg are typically young couples looking for single-detached homes. These properties range in price from $300,00 to $400,00. Bidding wars have continued to impact both first-time homebuyers as well as move-up buyers from entering the market.
Move-up buyers in the Winnipeg housing market are typically families, and many have decided to wait on entering the market if their current home continues to meet their needs. This results in a lack of urgency to move.
The condominium market in Winnipeg is most popular with single homebuyers and young couples, with the average price for a condominium in Winnipeg being $271,901. The current condo market in Winnipeg is better than it has been in a while but is still slower than the detached home market.
Winnipeg New-Home Construction
According to Canada Mortgage and Housing Corporation (CMHC), new housing construction activity has increased slightly this month. Housing starts increased six per cent month-over-month to 471 units in July.
What Does the Future Hold for the Winnipeg Real Estate Market?
Industry professionals concede that the Winnipeg real estate market, as well as the broader housing sector in Manitoba, is tilted toward sellers, mainly because of tight inventory levels.
The gap between buyers and sellers is not as vast as in other markets such as Toronto and Vancouver. Considering the current values and pricing forecasts for the Winnipeg real estate market this year, it remains one of the most affordable cities in Canada.
Finally, with the Bank of Canada (BoC) raising interest rates, the conditions in the Canadian real estate market could be rebalancing. Though Winnipeg is unlikely to sustain its pandemic-level growth, it is doubtful that it will return to pre-pandemic prices. Time will tell what the happy median will be.
Chilliwack real estate prices dropping as inventory increases – Hope Standard – Hope Standard
Year to year real estate sales in Chilliwack continue to be way down compared to 2021.
The Chilliwack and District Real Estate Board (CADREB) released numbers for September showing a total of 151 units sold. That's a 53 per cent decline from the same point last year, when there were 324 sales.
Sales were 43.4 per cent below the five-year average and 41.9 per cent below the 10-year average for September.
"Home sales came in below typical levels for this time of year as buyers and sellers continue to re-evaluate their stance on pricing in an evolving interest rate environment," said CADREB president Daryl Moniz.
If interest rates are the main factor, increased supply is a close second. There were 1,247 listings on the market at the end of the month, compared to 394 at the end of September, 2021.
Inventory hit an all-time low of 264 in December, 2021.
"Some good news on the supply side is that new listings are still holding up very well, which has added a considerable amount of inventory back onto the market since we bottomed out at the end of 2021," Moniz noted. "Once interest rates stabilize, we're likely to see more buyers return to the market, at which point they will be facing conditions that are much more hospitable than those from yesteryear."
Single-family homes stayed on the market an average of 41.4 days in September and sold for an average value of $835,451, dropping 9.07 per cent from August.
Condominiums took an average of 33.3 days to sell for an average of $339,943, a 15.80 per cent decline from August.
Townhouses stuck around for an average of 39.8 days, but their average value went up by 6.44 per cent, from $571,873 in August to $608,691 in September.
The average value of all residential properties was $671,783, lowest it's been since it hit $632,495 in January of 2021.
In terms of big sellers, Chilliwack did not see a home go for over $2 million in September. There were 17 sales over $1 million and the highest number of sales happened in the $750,000 to $800,000 bracket.
CADREB is an association of 365 realtors serving Chilliwack, Agassiz, Hope, Boston Bar and Harrison.
---
@ProgressSports
eric.welsh@theprogress.com
Like us on Facebook and follow us on Twitter.