Look up tonight to see the peak of the Leonid Meteor Shower – The Weather Network US
If your skies are clear tonight, take an hour off to head outside, find a nice place to stargaze from, and sit back to watch the peak of the Leonid meteor shower.
Each year, throughout much of November, Earth passes through a stream of icy debris left behind by a comet known as 55P/Tempel-Tuttle. As the atmosphere sweeps up bits of dust and ice from the comet trail, these meteoroids flash through the air as bright meteors.
On or around the 17th of November, we pass through the highest debris concentration in the stream. This results in perhaps a dozen or so of these bright meteors streaking through the night sky every hour. This is the peak of the Leonid meteor shower.
The debris stream of Comet 55P/Tempel-Tuttle, orbiting the Sun in relation to the planets of the inner solar system. Earth and Earth's orbit are shown in light blue. Credit: Meteorshowers.org
The Leonids aren't usually a very strong meteor shower. The best of the year — the January Quadrantids, the August Perseids, and the December Geminids — all produce around 100 meteors per hour. In contrast, if you find a dark sky site, far from any light pollution, and you have a clear, moonless night, you may see around 15 Leonid meteors each hour.
Some years, dozens and sometimes hundreds of Leonids can streak across the sky. This is especially true right after Comet Tempel-Tuttle has made its most recent pass around the Sun. The last time this happened was right after the comet's 1998 perihelion (its closest point to the Sun in its orbit). In the years that followed, several outbursts were recorded by astronomers, including nearly 100 meteors during the peak of 2008.
Back in 1833, the Leonids even produced a famous meteor storm. One report from the time estimated that over 240,000 meteors were spotted throughout the night. At the same time, another said that the rate was over 100,000 meteors per hour for the 9-hour storm.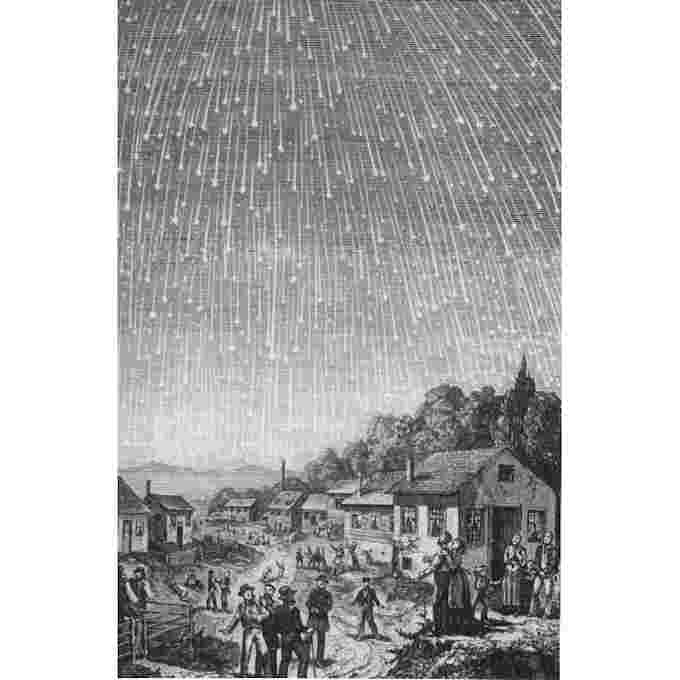 This wood engraving, from Adolf Vollmy's Bible Readings for the Home Circle, depicts the 1833 Leonids meteor storm.
We haven't seen anything like this storm in recent times. Also, more outbursts aren't expected from this shower until at least 2031. Still, this is a shower worthy of our attention, though.
One remarkable thing about Leonid meteors, though — they're exceptionally fast. Travelling at over 70 kilometres per second through the sky, they flash very brightly and, at times, show up multi-coloured! They are also known to produce a lingering phenomenon known as persistent trains.
A persistent train forms when a meteoroid travels so fast that it strips away electrons from the air molecules in its path. These ionized air molecules linger along the meteoroid's path, and each one emits a brief burst of light when it picks up a replacement electron to neutralize that ionization. This shows up as a wispy, dimly-glowing ribbon in the sky. Trains are known to persist for some time after the meteor has gone out — from minutes to hours!
Watch below: Rare persistent train meteor captured by Gemini Observatory over Mauna Kea
(Hat-tip to astronomer Daniel Moser for the video.)
Of the Fall meteor showers, the Leonids are the most well-known for producing persistent trains.
TIPS FOR STARGAZING & METEOR WATCHING
First, some honest truth: Many people who want to watch a meteor shower end up missing out on the experience, unnecessarily.
Since the Moon and most planets are so bright in the night sky, it's easy to fall into the expectation that watching a meteor shower will be just as easy. It takes a bit of travel and effort to get the most out of a meteor shower, but it is well worth it!
First off, there's no need to have a telescope or binoculars to watch a meteor shower. They'll actually make it harder to see the event because they restrict your field of view.
Here are the three 'best practices' for watching meteor showers:
Check the weather,
Get away from light pollution, and
Be patient.
Clear skies are very important for meteor-spotting. Even a few hours of cloudy skies can ruin an attempt to see a meteor shower. So, be sure to check The Weather Network on TV, on our website, or from our app, and look for my articles on our Space News page, just to be sure that you have the most up-to-date sky forecast.
Next, you need to get away from city light pollution. If you look up into the sky, are the only bright lights you see street lights or signs, the Moon, maybe a planet or two, and passing airliners? If so, your sky is just not dark enough for you to see any meteors. You might catch a bright fireball, but there's no guarantee, and those are typically few and far between. So, get out of the city, and the farther away you can get, the better!
Watch: What light pollution is doing to city views of the Milky Way
For most regions of Canada, getting out from under light pollution is simply a matter of driving outside of your city, town or village until a multitude of stars is visible above your head. In some areas, such as in southwestern and central Ontario and along the St. Lawrence River, the concentration of light pollution is too high. Unfortunately, getting far enough outside of one city to escape its light pollution tends to put you under the light pollution dome of the next city over.
In these areas of concentrated light pollution, there are dark sky preserves. However, a skywatcher's best bet for dark skies is usually to drive north and seek out the various Ontario provincial parks or Quebec provincial parks. Even if you're confined to the parking lot after hours, these are usually excellent locations from which to watch (and you don't run the risk of trespassing on someone's property).
Sometimes, based on the timing, the Moon is also a source of light pollution, and it can wash out all but the brightest meteors. We can't get away from the Moon, so we can just make do as best we can in these situations.
Once you've verified you have clear skies and you've gotten away from light pollution, this is where having patience comes in.
For best viewing, you must give your eyes time to adapt to the dark. Give yourself at least 20 minutes, but the longer, the better. A fair warning: if you skip this step, you will likely miss out on a lot of the action.
During this adjustment time, avoid all bright light sources — overhead lights, car headlights and interior lights, and cellphone and tablet screens. Any exposure to bright light during this period will cancel out some or all the progress you've made, forcing you to start over. Shield your eyes from light sources. If you need to use your cellphone during this time, set the display to reduce the amount of blue light it gives off and reduce the screen's brightness as much as possible. It may also be worth finding an app that puts your phone into 'night mode', which will shift the screen colours into the red end of the light spectrum, which has less of an impact on your night vision.
You can certainly look up into the starry sky while you are letting your eyes adjust. You may even see a few brighter meteors as your eyes become accustomed to the dark. If the Moon is shining brightly, turn so that it is out of your personal field of view.
Once you're all set, just look straight up!
New species of crested dinosaur identified in Mexico
A team of palaeontologists in Mexico have identified a new species of dinosaur after finding its 72 million-year-old fossilized remains almost a decade ago, Mexico's National Institute of Anthropology and History (INAH) said on Thursday.
The new species, named Tlatolophus galorum, was identified as a crested dinosaur after 80% of its skull was recovered, allowing experts to compare it to other dinosaurs of that type, INAH said.
The investigation, which also included specialists from the National Autonomous University of Mexico, began in 2013 with the discovery of an articulated tail in the north-central Mexican state of Coahuila, where other discoveries have been made.
"Once we recovered the tail, we continued digging below where it was located. The surprise was that we began to find bones such as the femur, the scapula and other elements," said Alejandro Ramírez, a scientist involved in the discovery.
Later, the scientists were able to collect, clean and analyze other bone fragments from the front part of the dinosaur's body.
The palaeontologists had in their possession the crest of the dinosaur, which was 1.32 meters long, as well as other parts of the skull: lower and upper jaws, palate and even a part known as the neurocranium, where the brain was housed, INAH said.
The Mexican anthropology body also explained the meaning of the name – Tlatolophus galorum – for the new species of dinosaur.
Tlatolophus is a mixture of two words, putting together a term from the indigenous Mexican language of Nahuatl that means "word" with the Greek term meaning "crest". Galorum refers to the people linked to the research, INAH said.
(Reporting by Abraham Gonzalez; Writing by Drazen Jorgic; Editing by Ana Nicolaci da Costa)
Alberta family searches for answers in teen's sudden death after COVID exposure, negative tests – CBC.ca
A southern Alberta mother and father are grappling with the sudden, unexplained death of their 17-year-old daughter, and with few answers, they're left wondering if she could be the province's youngest victim of COVID-19.
Sarah Strate — a healthy, active Grade 12 student at Magrath High School who loved singing, dancing and being outdoors — died on Monday, less than a week after being notified she'd been exposed to COVID-19.
While two tests came back negative, her parents say other signs point to the coronavirus, and they're waiting for more answers.
"It was so fast. It's all still such a shock," said Sarah's mother, Kristine Strate. "She never even coughed. She had a sore throat and her ears were sore for a while, and [she had] swollen neck glands."
Kristine said Sarah developed mild symptoms shortly after her older sister — who later tested positive for COVID-19 — visited from Lethbridge, one of Alberta's current hot spots for the virus.
The family went into isolation at their home in Magrath on Tuesday, April 20. They were swabbed the next day and the results were negative.
'Everything went south, super-fast'
By Friday night, Sarah had developed fever and chills. On Saturday, she started vomiting and Kristine, a public health nurse, tried to keep her hydrated.
"She woke up feeling a bit more off on Monday morning," Kristine said. "And everything went south, super-fast."
Sarah had grown very weak and her parents decided to call 911 when she appeared to become delirious.
"She had her blanket on and I was talking to her and, in an instant, she was unresponsive," said Kristine, who immediately started performing CPR on her daughter.
When paramedics arrived 20 minutes later, they were able to restore a heartbeat and rushed Sarah to hospital in Lethbridge, where she died.
"I thought there was hope once we got her heart rate back. I really did," recalled Sarah's father, Ron.
"He was praying for a miracle, and sometimes miracles don't come," said Kristine.
Searching for answers
At the hospital, the family was told Sarah's lungs were severely infected and that she may have ended up with blood clots in both her heart and lungs, a condition that can be a complication of COVID-19.
But a second test at the hospital came back negative for COVID-19.
"There really is no other answer," Ron said. "When a healthy 17-year-old girl, who was sitting up in her bed and was able to talk, and within 10 minutes is unconscious on our floor — there was no reason [for it]."
The province currently has no record of any Albertans under the age of 20 who have died of COVID-19.
According to the Strate family, the medical examiner is running additional blood and tissue tests, in an effort to uncover the cause of Sarah's death.
'Unusual but not impossible'
University of Alberta infectious disease specialist Dr. Lynora Saxinger, who was not involved in Sarah's treatment, says it is conceivable that further testing could uncover evidence of a COVID-19 infection, despite two negative test results.
However, she hasn't seen a similar case in Alberta.
"It would be unusual but not impossible because no test is perfect. We have had cases where an initial test is negative and then if you keep on thinking it's COVID and you re-test, you then can find COVID," she said.
According to Saxinger, the rate of false negatives is believed to be very low. But it can happen if there are problems with the testing or specimen collection.
She says people are more likely to test positive after symptoms develop.
"The best sensitivity of the test is around day four or five of having symptoms," she said. "So you can miss things if you test very, very early. And with new development of symptoms, it's always a good time to re-test because then the likelihood of getting a positive test is a little higher. But again, no test is perfect."
Sarah deteriorated so quickly — dying five days after she first developed symptoms — she didn't live long enough to make it to her follow-up COVID-19 test. Instead, it was done at the hospital.
'An amazing kid'
The Strate family now faces an agonizing wait for answers — one that will likely take months — about what caused Sarah's death.
But Ron, who teaches at the school where Sarah attended Grade 12, wants his daughter to be remembered for the life she lived, not her death.
Sarah was one of five children. Ron says she was strong, active and vibrant and had plans to become a massage therapist after graduating from high school.
She played several sports and loved to sing and dance as part of a show choir. She was a leader in the school's suicide prevention group and would stand up for other students who were facing bullying.
"She's one of the leaders in our Hope Squad … which goes out and helps kids to not be scared," he father said.
"She's an amazing kid."
Sarah would often spend hours helping struggling classmates, and her parents hope her kindness is not forgotten.
"She'd done so many good things. Honestly, I've got so many messages from parents saying, 'You have no idea how much your daughter helped our kid,'" said Ron.
"This 17-year-old girl probably lived more of a life in 17 years than most adults will live in their whole lives. She was so special. I love her so much."
China launches key module of space station planned for 2022
BEIJING (Reuters) -China launched an unmanned module on Thursday containing what will become living quarters for three crew on a permanent space station that it plans to complete by the end of 2022, state media reported.
The module, named "Tianhe", or "Harmony of the Heavens", was launched on the Long March 5B, China's largest carrier rocket, at 11:23 a.m. (0323 GMT) from the Wenchang Space Launch Centre on the southern island of Hainan.
Tianhe is one of three main components of what would be China's first self-developed space station, rivalling the only other station in service – the International Space Station (ISS).
The ISS is backed by the United States, Russia, Europe, Japan and Canada. China was barred from participating by the United States.
"(Tianhe) is an important pilot project in the building of a powerful nation in both technology and in space," state media quoted President Xi Jinping as saying in a congratulatory speech.
Tianhe forms the main living quarters for three crew members in the Chinese space station, which will have a life span of at least 10 years.
The Tianhe launch was the first of 11 missions needed to complete the space station, which will orbit Earth at an altitude of 340 to 450 km (211-280 miles).
In the later missions, China will launch the two other core modules, four manned spacecraft and four cargo spacecraft.
Work on the space station programme began a decade ago with the launch of a space lab Tiangong-1 in 2011, and later, Tiangong-2 in 2016.
Both helped China test the programme's space rendezvous and docking capabilities.
China aims to become a major space power by 2030. It has ramped up its space programme with visits to the moon, the launch of an uncrewed probe to Mars and the construction of its own space station.
In contrast, the fate of the ageing ISS – in orbit for more than two decades – remains uncertain.
The project is set to expire in 2024, barring funding from its partners. Russia said this month that it would quit the project from 2025.
Russia is deepening ties with China in space as tensions with Washington rise.
Moscow has slammed the U.S.-led Artemis moon exploration programme and instead chosen to join Beijing in setting up a lunar research outpost in the coming years.
(Reporting by Ryan Woo and Liangping Gao; Editing by Christian Schmollinger, Simon Cameron-Moore and Lincoln Feast.)