Lyft suspends service in California over employment row – BBC News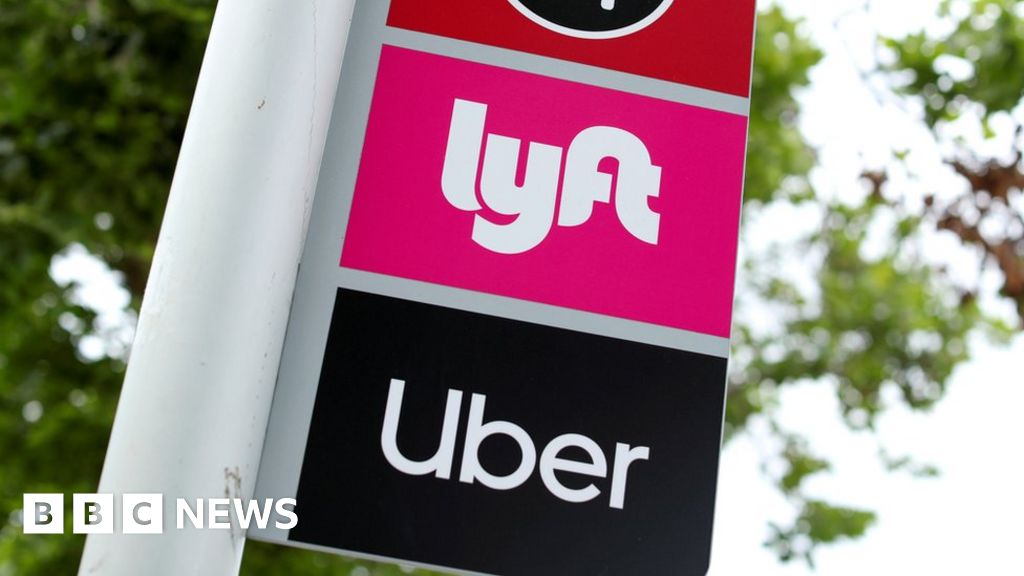 Ride-hailing firm Lyft says it is suspending operations in California after a judge ordered it to treat drivers as employees.
Both Lyft and Uber were told they must classify their drivers as employees and not contractors by Friday.
Lyft has now said its services in California will stop at 23:59 local time on Thursday (06:59 GMT on Friday).
Uber has warned it will have to do the same if a stay is not granted by an appeals court before the deadline.
But Uber has yet to make any formal announcement.
"This is not something we wanted to do, as we know millions of Californians depend on Lyft for daily, essential trips," Lyft said in a statement posted online.
What happened?
Both firms have always argued their drivers are self-employed contractors.
But a California law that came into effect earlier this year, known as AB5, extended classification as an employee to workers in the "gig economy".
The judge's ruling that the law applied to both Uber and Lyft means the firms need to provide drivers with extra benefits, such as unemployment protection.
Both companies filed an appeal to the judgement – and asked for a stay on its enforcement while the courts dealt with the appeal.
Unless the stay was granted, both companies had 10 days to undertake what they saw as a significant overhaul of their business in California.
They both warned that they could be forced to pull services from the state after 23:59 local time Thursday.
What did the firms say?
Lyft claims that four out of five of its drivers do not want to be classified as employees. Both argue that flexibility is valued by those who choose to work for them.
The two firms had been emailing customers and sending app push notifications to try to drum up support for their side of the argument.
Uber chief executive Dara Khosrowshahi, meanwhile, wrote an opinion piece for the New York Times, arguing that his firm was not truly against paying the costs of things like health insurance.
Instead, he argued that the choice between being a full-time employee and a "gig" worker was a problem itself, and laws needed to be changed. He argued for a system where companies pay benefits based on a rate per hour worked.
But he has also said that the company can only offer full jobs to a tiny fraction of its workforce. In a podcast interview with Vox Media, he summed up the problem as: "We can't go out and hire 50,000 people overnight."
Lyft echoed that sentiment, telling the court that it "cannot make the changes the injunction requires at the flip of a switch".
The companies do have some outside support.
Some drivers do not want to be classed as employees, and the mayors of San Diego and San Jose – one Democrat and one Republican – joined forces to warn that shutting down the services "virtually overnight" would hurt one million residents in the state.
What happens next?
There is a potential way out for the ride-sharing firms in the coming months.
A ballot that will be put to vote in November, at the same time as the US presidential election, would grant Uber and Lyft an exemption from the law. It is known as proposition 22.
"Your voice can help," Lyft wrote in its blog post about suspending services.
"Prop 22, proposes the necessary changes to give drivers benefits and flexibility, while maintaining the rideshare model that helps you get where you need to go," it said.
Both companies, along with other supporters such as food delivery app DoorDash, are reported to have spent millions of dollars in lobbying and campaigning for the law.
Labour groups, meanwhile, are set firmly against it, arguing it will save the companies vast sums of money at the expense of drivers.
It is possible that a shutdown of services could last until at least November, when the issue may be decided by the outcome of proposition 22.
Nova Scotia company waiting on Health Canada approval for rapid antigen test for COVID-19 – CTV News Atlantic
HALIFAX —
The Sona Nanotech lab in Dartmouth is making history by developing a rapid antigen test for COVID-19.
"There was a moment of tremendous pride for the entire team, as Canadians, when our evaluation results came back from both third-party laboratories and in-field trials and it showed how strongly our test preformed," said CEO David Regan.
Here's a simple breakdown of how the test works: After a nasal pharyngeal swab is administered, the swab is placed in a tube of solution for a few moments. Then, a sample of that is placed on a lateral flow test, like a pregnancy test. The results appear within 15 minutes.
"The Sona Nanotech test is like a pregnancy test. It's a lateral flow test and those pregnancy tests detect the existence of a hormone, our test detects the presence of the coronavirus," said Regan.
Sona Nanotech is the only company in Canada to come up with this technology.
"The four antigen tests that have been approved in the U.S. so far are from billion dollar companies, multi-billion dollar companies, with vast resources," said Regan.
"This test at Sona Nanotech has been developed in the lab, here at the bays in Dartmouth based on research that was started at St. Francis Xavier University in the chemistry lab there and brought to fruition over the last nine months."
Regan says the test could help triage people faster and free up the health-care system.
"A rapid test for COVID would be a great idea," said Dr. Todd Hatchette, the Chief of Microbiology with the Nova Scotia Health Authority. "Having the ability to provide results within 15 or 20 minutes can be helpful in many different situations. But again, it comes back to primary concern, are these tests accurate, and are they sensitive to pick up the infection."
Regan says it is.
"This is a screening device that can be used widespread to pick up not only the virus of those people that have symptoms but importantly, before people have symptoms," he said. "At that stage, positives can be sent to the labs for confirmation but that will be result in much shorter turnaround times."
Right now, it's a waiting game for the lab as they seek approval from Health Canada.
In the meantime, the company is also working on a saliva at-home test, which is considered in the early stages of development.
Another Billion-Dollar Oil Merger Is On The Horizon – OilPrice.com
By Ag Metal Miner – Sep 28, 2020, 10:30 AM CDT
We may be coming out of the first pandemic lockdown and business does, broadly, appear to be picking up; however, but some sections of manufacturing, including U.K. car manufacturing, are still suffering badly.
U.K. car industry, supply chain face challenges
An article in the Financial Times starkly outlines the continued pain the U.K. car industry is experiencing and, by extension its extended supply chain.
U.K. car manufacturing fell 44% last month compared with a year earlier. Domestic orders and exports remain severely depressed. Last month's performance marked the sector's second-worst since car plants restarted after lockdown.
The Financial Times went on to advise that just 51,039 cars rolled off British production lines. The total fell from 92,153 in August 2019. Meanwhile, August output for U.K. buyers fell 58% to just 7,795 vehicles. The number of cars made for export fell 41% to 73,443 cars.
To be fair, several plants working during summer 2019 boosted August 2019 performance. Summer output followed a three-week closedown in the spring to prepare for the expected Brexit in 2019, which in the end did not transpire.
So, looking at the first half of each year gives a fairer comparison. Yet, even in that view, the decline remains dramatic.
Between January and August, the U.K. produced 40.2% fewer cars than in the same months a year earlier. The period included several weeks of complete stoppages during the first lockdown in March and April.
Year-to-date production is now down by 348,821 units worth more than £9.5 billion to U.K. carmakers, according to the Society of Motor Manufacturers and Traders (SMMT). Furthermore, projections suggest U.K. car manufacturers are now on track to produce just below 885,000 cars this year – down 34% on 2019.
Job losses in the sector
The SMMT reported at least 13,500 jobs have been cut across the U.K. automotive sector this year. The body warned up to one in six positions may be at risk in the future.
Manufacturers are hoping the government's latest job retention scheme will help employers keep skilled workers. Skilled workers will be needed if, or when, demand comes back, but many of them are currently facing redundancy.
Rising coronavirus cases, tightening restrictions, and Brexit
Yet with virus cases increasing in the U.K. and containment measures ramping up, the SMMT is if anything more pessimistic now than it was in the early summer.
Related: The World's Most Expensive Crudes Get Expensive Again
The SMMT says business restrictions look set to make the industry's attempts to restart even more challenging, with the prospect of Britain's exit from the European Union also now just 100 days away.
The industry is not in a good state to handle the country's imminent exit from Europe on Jan. 1. In addition, the automotive industry has been at the forefront of demanding a free trade deal between the U.K. and the E.U., saying last week that "no deal" would cost the pan-European automotive industry some £100 billion in lost trade over the next five years.
Europe, though, is proving very unwilling to retain the open-door, free-trade environment for electric vehicles – which it sees as the future – as it currently does for internal combustion engine (ICE) vehicles.
The future of U.K.-E.U. auto trade
The Financial Times recently reported E.U. diplomats said the European Commission is wary of agreeing to U.K. car manufacturers being allowed to source a large number of components from other countries while still exporting electric vehicles tariff-free to the E.U.
Four out of five cars made in the U.K. are exported. Of those exports, more than half goes to the E.U. British car plants owned by Nissan, Toyota and PSA are all reliant on European sales for more than half of their business.
Last year, Nissan sold more than 30,000 U.K.-built Leaf electric cars to Europe. Toyota exported close to 120,000 hybrid models across the channel. Europe is keen to keep the U.K. as a market for components and finished vehicles but not so keen on allowing these plants to sell into the E.U. tariff-free after Brexit.
Coming on top of already challenging times this year, some foreign owners of U.K. car plants may begin to wonder whether continuing to invest in the U.K. is as desirable as it once was.
By AG Metal Miner
More Top Reads From Oilprice.com:
Ag Metal Miner
MetalMiner is the largest metals-related media site in the US according to third party ranking sites. With a preemptive global perspective on the issues, trends,…
Some Ontario casinos open as province reports COVID-19 surge – CP24 Toronto's Breaking News
TORONTO – Several Ontario casinos reopened on Monday as the province reported a surge in new cases of COVID-19.
Great Canadian Gaming Corporation says it reopened 11 of its properties, including Casino Woodbine in Toronto and Casino Ajax.
Ontario allowed casinos to reopen as parts of the province moved into Stage Three of their pandemic response this summer.
The province has, however, prohibited table games at the establishments.
Great Canadian Gaming said it will have a limit of 50 guests indoors at its casinos and is focused on reopening safely.
Ontario reported 700 new cases of COVID-19 on Monday, the highest daily increase recorded since the start of the pandemic.
This report by The Canadian Press was first published Sept. 28, 2020.
This story was produced with the financial assistance of the Facebook and Canadian Press News Fellowship.