MacBooks with M1 is a leap forward for PCs. Now bring on the 5G
This story is part of Apple Event, our full coverage of the latest news from Apple headquarters.
Apple on Tuesday spent 45 minutes breathlessly describing the benefits of the custom-designed chip, the M1, powering its newest Macs. Craig Federighi, senior vice president of software engineering, talked up the power-saving benefits, which allow for the longest battery life ever for the MacBook Air and MacBook Pro. He also talked up how quickly the computers would boot up and run programs, such as on the Mac Mini.
Yet it's what Apple spent no time on that could hold the most promise for this new line of Apple silicon-based Macs: 5G.
Cellular-connected laptops have been around for years, but they've largely been a niche category serving corporate road warriors. Then along came the coronavirus, which has changed, like so many other things, the way we've seen connectivity and how we all work. Pair that with a 5G network that's starting to mature, promising higher speeds and better coverage in the coming years, and the idea of a constantly connected MacBook Air or Pro sounds attractive.
"Given that remote work is going to be a permanent fixture in enterprise in one way, shape or form, 5G notebooks could become an enterprise mainstay," IDC analyst Linn Huang said.
Because Apple's chips are based on the Arm architecture of mobile processors that power all smartphones and tablets, they're already extremely comfortable with cellular radios. Specifically, these types of processors know how to balance the power management issues that come with a persistent cellular connection, so adding these radios is a snap.
So why no 5G MacBook yet?
This marks the first generation of Macs running on Apple silicon, and the company likely didn't want to take a flyer on relatively new technology since it had so many other fundamentals to take care of, like processor speed, app compatibility and power management. The hardware and feature set are identical to previous Macs, so Apple wasn't taking any chances.
An Apple spokesman wasn't immediately available for comment.
Adding 5G — a feature that customers aren't clamoring for yet — makes little sense at this point.
"Apple's stellar Mac results last quarter certainly suggest that the lack of cellular connectivity is not holding Apple back," said Avi Greengart, an analyst at Techsponential.
The company's sales of Macs accounted for 7.7% of the total market for PCs, a notch up from a year ago, according to Gartner.
Apple also just finished unveiling its family of iPhone 12 handsets, where 5G plays a marquee role. The company was more than a year and a half behind the competition when it came to putting out a 5G phone, so it likely isn't in a rush to add it into yet another category of devices.
With 5G networks still in their nascent stage — nationwide coverage is disappointingly slow and the super-high speeds are only found in small pockets of major population centers — the immediate tangible benefits of connectivity are still pretty limited.
But analysts believe 5G will play an increasingly important role in laptops at some point — think one or two generations from now. Carriers will be keen to offer yet another product they can connect to their networks. And while you may loathe the idea of yet another addition to your wireless bill, it could be an option for your employer outfitting you with a connected laptop.
The idea of opening up your laptop virtually anywhere and getting a connection without searching for a Wi-Fi hotspot, after all, is pretty appealing.
While Apple uses Qualcomm modems for its iPhones, the company has been quietly working on its own modems. The company, after all, spent $1 billion to acquire Intel's cellular radio business and talent.
Your IT manager probably likes the idea too. A 5G connection is more secure than a public Wi-Fi network. Paying for 5G service on a Mac is a lot cleaner than trying to figure out how much a company should chip in for your home broadband connection, Huang noted. With the coronavirus lockdown forcing companies to rethink how and where their employees work and as being remote becomes an enduring norm, 5G could offer your corporate IT a lifeline.
Apple's event to show off the new Macs is its third big product unveiling in as many months. Going that route, rather than announcing them in a press release or quiet briefing with the media, shows the company thinks these Macs, and where it wants to drive their evolution using Apple silicon, are a big deal.
There's a strong likelihood that evolution will take a path that finds its way to 5G in the coming years.
Source: – CNET
Samsung reportedly begins efforts to reduce market share of the Galaxy Note series – PhoneArena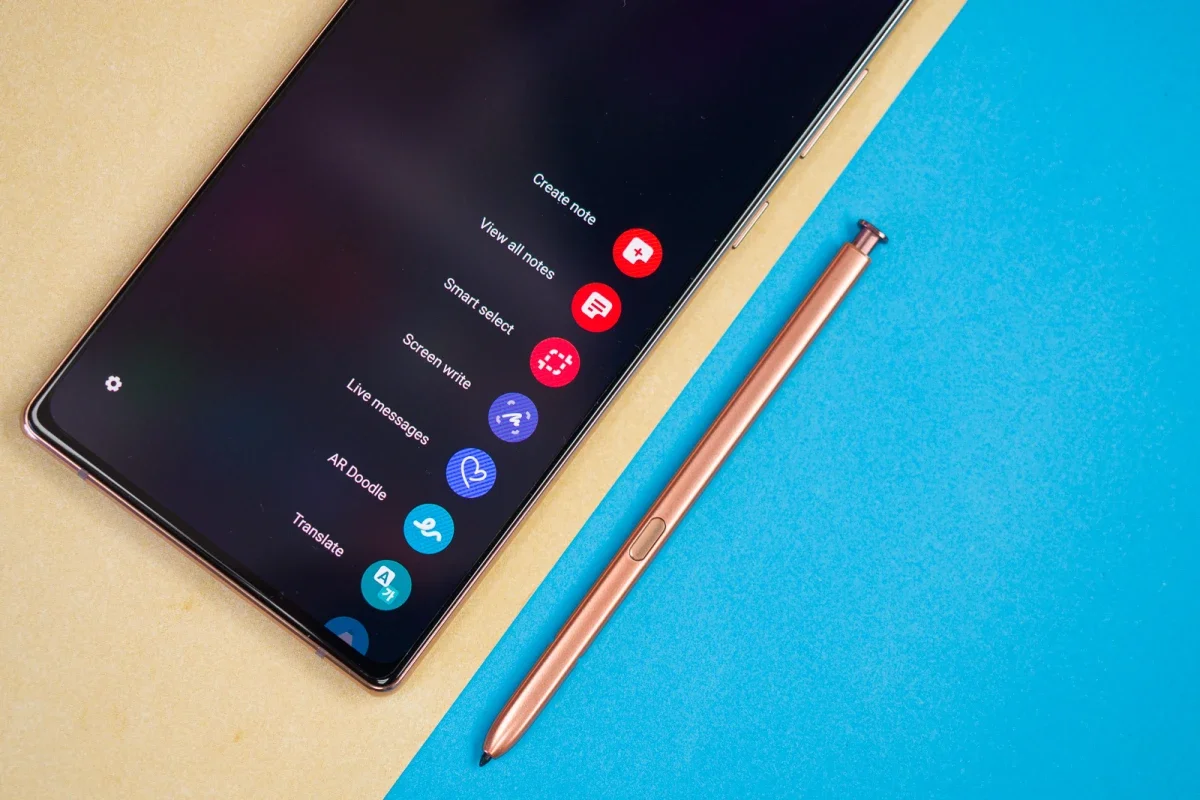 A report fresh out of South Korea has reiterated rumors that the Galaxy S21 will be released in January, and the highest-end model will support the S Pen stylus.
ET News (
translated here
) says (via leaker
cozyplanes
) that Samsung has ordered digitizers for the Galaxy S21 Ultra and mass production is set to begin soon. Digitizers are sensors that are placed beneath the display of a device to ensure stylus compatibility.
The South Korean giant is seemingly in a rush to launch the next S series flagships earlier than usual to counter Apple's first
5G-enabled
smartphone, the
iPhone 12
. The chaebol also wants to take advantage of the sanctions imposed by the US on Huawei, which has severely impacted its
capability to meet consumer demand
for its smartphones.
2021 could be the beginning of the end of the Samsung Note series
Today's report also corroborates an
earlier rumor
that said Samsung will start laying the groundwork for the replacement of the Note series with Galaxy S and Z smartphones this year. Earlier leaks had hinted that Samsung would nix the Galaxy Note lineup in 2021, but that doesn't seem to be the case.
Samsung is reportedly planning to release five foldable smartphones in 2021 and at least two of them are expected to offer
S Pen integration
. The company is reportedly considering a
new digitizer technology
for the Galaxy Z Fold 3 and is also going to increase the thickness of its display so that it's able to withstand the pressure from the stylus.
The Galaxy Note 21 will supposedly be unveiled alongside the Z Fold 3 in June. The foldable phone will likely take the center stage, and Samsung will only release one variant of the Note 21.
The idea is apparently to de-emphasize the next Note handset during the summer Unpacked event and migrate existing Note users to the Galaxy S and Z flagships. If this strategy works as intended, Samsung will likely discontinue the Galaxy Note lineup in 2022.
Cyber Monday Couch Deals: The Best Discounts To Get Right Now – Forbes
As retailers launch their Cyber Monday sales, we're seeing some amazing deals on furniture, with couches chief among them. Now is the best time to shop for a new couch to anchor your living room, whether you're looking for a major piece for the den or a pretty sofa to use as an accent piece in your home office.
Tip: Bookmark this page for the best Cyber Monday couch deals. We'll be updating it frequently as new deals go live.
In terms of savings, on average we're seeing sales hovering around 25-30% off. There are also some sites going even deeper, offering 40% off or more. And some sites are still running extended Black Friday sales to take advantage of, so you'll find those listed below as well.
Allform Couch Deals
Allform is still running their Black Friday sale. Save 20% off with the code BLACKFRIDAY20 on custom furniture, which includes sofas and sectionals, made in the USA. If you love their stuff and don't want to miss out on potential Cyber Monday couch sales, bookmark this page, as we're continually updating info as new deals hit.
---
AllModern Cyber Monday Couch Deals
There's a good selection of sofas to choose from during AllModern's Cyber Monday sale at up to 50% off. Also, Flash Deals are happening on select items for additional savings.
---
Amazon Cyber Monday Couch Deals
Amazon's Cyber Monday sale is on—and there are more sofas deals than there were for Black Friday, including this gorgeous cream leather chesterfield for a steal at $730.
---
Anthropologie Couch Deals
Anthropologie is extending their 30% off sitewide sale, so don't miss out on scoring one of their posh sofas for a discount. And, you're in luck if there's a sale item you like, because it'll be an extra 50% off.
---
Apt2B Couch Deals
Apt2B has extended their Buy More Save More Black Friday Sale. Get 20% off storewide, and online, save 25% off orders of $2,499 or more, 30% off for spending $3,999 or more, and 35% off totals of $4,999 or more. The sale includes some new items, too, like this pretty sofa.
---
Article Couch Deals
Article's extended Black Friday sale is 50% off sitewide, though just a handful of sofas are part of the sale. Their white modular Solae sofa is one of them.
---
Ballard Designs Couch Deals
Ballard isn't running any Cyber Monday deals at the moment, but their Black Friday sale is still going, with up 40% off sofas and other furniture.
---
Burrow Couch Deals
Burrow is running even better deals than they were on Black Friday—with double the discounts. Add the code DOUBLE at checkout to take advantage of savings of up to $1,000 off purchases of $5,000 or more on their custom couches.
---
Hayneedle Couch Deals
You can still get up to 50% off plus an extra 10% with the code THANKFUL at Hayneedle.
---
Inside Weather Couch Deals
Savings continue at Inside Weather, which is still running their is still offering sales across the site, which include discounts on well priced custom sofas. Get 15% off your entire purchase, plus save 20% if you spend $1,000 or more and 25% off totals of $2,000 or more.
---
Joss & Main Cyber Monday Couch Deals
There's a great selection of sofas for Joss & Main's Cyber Monday sale. Save up to 50% plus get an additional 25% off with the code SAVE25.
---
Joybird Couch Deals
Don't miss the end of Joybird's furniture sale—you can still save 35% off, but hurry as the sale ends on tonight at midnight. The Chelsea Apartment Sofa is one of their bestsellers.
---
Lulu & Georgia's Couch Deals
You can still save 25% off a good selection of attractive sofas during Lulu & Georgia's sale, with the code THANKFUL at checkout.
---
Macy's Cyber Monday Couch Deals
Macy's has launched in Cyber Specials sale across the site, and it includes a decent selection of couches with fairly deep discounts.
---
Pottery Barn Couch Deals
If you love Pottery Barn and want a new couch, today is your last chance to save up to 40% off on furniture. The Big Sur Square Arm Leather Sofa is one of their bestsellers.
---
Target Cyber Monday Couch Deals
For attractive sofas at prices that won't break the bank, Target is a go-to. Their Cyber Monday sale is live, with savings across the site, with up to 50% off furniture.
---
Wayfair Cyber Monday Couch Deals
Snag savings of up to 70% off on seating for Wayfair's Cyber Monday sale.
---
West Elm Couch Deals
West Elm is continuing their 15% off furniture sale, which includes sofas, There's also free shipping on orders over $79 with the code SAVEBIG.
---
When do Cyber Monday couch deals end?
Some retailers have special promotions and sales that end on Saturday, November 28, but others are extending sales through Cyber Monday, which falls on November 30.
Should I buy a couch now or wait until after Christmas?
Well-priced, popular items are often the first to go out of stock, so if you see something you like or if you've had your eye on a particular piece, your best bet is to buy it now. You may save a few more dollars by waiting, as prices can fluctuate on some sites, but then you run the risk of missing out.
What's considered a good deal on couches during Cyber Monday sales?
The average discount is around 25-30% off, so anything near or above that percentage is definitely a discount to take advantage of as soon as possible.
---
Black Friday and Cyber Monday Retailer Guide
Interested in shopping more Black Friday deals? Here are quick links to some of the best Black Friday sales at popular retailers right now:
Samsung's amazing Black Friday deal on the Galaxy S20 FE continues, with prices starting at just $140 – XDA Developers
If you would have told me that you could pick up the new Samsung Galaxy S20 FE for just $140, this close to its release, I wouldn't have believed you for a second. Black Friday or not, that's a huge discount on the already affordable flagship, and retailers aren't going to cut things that deep for the sake of a sale.
But, well, here we are. You can get the Galaxy S20 FE for as low as $140. How do you do that? With an eligible trade-in! Basically right now, you get extra trade-in credit with any device trade-in, which is what makes this low price possible. As to be expected, though, getting the maximum discount requires specific phones for the trade-in.
In order to knock the S20 FE all the way down to $140, you'll need to trade in either the Galaxy Note 10 Plus or the Galaxy Note 10 5G. That's not the biggest selection for the maximum discount, but at least you're more likely to have a Note 10 over some other models. A lot of Google, Samsung, and Apple models also get you really great discounts too. You can also trade in literally any iOS or Android phone (that's in good condition) for $50 off. And really, are you going to even use the old phone after grabbing the S20 FE?
The Samsung Store is also the only place that you can get the S20 FE in all six colors, including the online-only Cloud White and Cloud Orange colors! Orange is probably my favorite of the bunch, and it's pretty hard to find that one outside of the Samsung Store. But the beauty of the phone is that there's a nice color for everyone!
Looking for more Galaxy S20 FE deals? Check out what other retailers have to offer, or head over to our Black Friday phone deals round-up to see what other devices are on sale!