Massillon area real estate transfers Feb. 19-25 – Massillon Independent
Bethlehem Township
Dennison Todd from Moore John, parcel 10000942 Zebra Strip Ave SW, $5,000.
Tarwater Susan A from Tepe Renae, 182 D St Nav Vil, $32,000.
Canal Fulton
2254 Locust Street Holdings LLC from Goodwill Industries of Greater Cleveland, 2254 Locust St S, $477,500.
Burroughs Jerry D from Hunter Scott D & Sandra L, 644 Longview Ave, $180,000.
Hart Christine Elizabeth from Hatfield Michael D & Deanna N, 766 Beverly Ave, $158,000.
NVR Inc., A Virginia Corporation, DBA from Schalmo Properties Inc, parcel 10013938 Bonita Cir SE, $29,500.
Patterson Aaron Matthew & Danielle from NVR Inc., A Virginia Corporation, DBA, 3032 Bonita Cir SE, $266,905.
Jackson Township
Anders Derek T & Toth Shannon J from Horner Terry & Joanne, 9756 Strausser St NW, $246,000.
Armstrong Ashley Elizabeth & Eiden from Mandeville Jamie, 9251 Hunters Chase St NW, $600,000.
Bartuseck Mark J from Scott Mary F, 5468 Peninsula Dr NW, $375,000.
Bates Timothy P & Hannah R from Miller Joseph P, 8451 Scenicridge Ave NW, $275,000.
Evans Mario & Hubbard Danielle from Kinsinger Gregory E Trustee, 8760 Camden Rd NW, $1,030,000.
Gasper-Hulvat Marie E from Gasper-Hulvat Marie E, 5766 Lakemere Cir NW, $277,500.
Gasper-Hulvat Marie E from Reusser Mark A & Joan L Trustees, 5766 Lakemere Cir NW, $277,500.
George v Ciorba & Rodica Ciorba 2017 from Berkshire Farms LLC, parcel 10013507 Greenview Ave NW, $149,100.
George v Ciorba & Rodica Ciorba 2017 from Berkshire Farms LLC, parcel 10013508 Greenview Ave NW, $155,100.
George v Ciorba & Rodica Ciorba 2017 from Berkshire Farms LLC, parcel 10013509 Greenview Ave NW, $193,900.
Jacob Douglas from Moore Barbara, 3663 Barrington PL NW, $165,000.
Locke Charles Thomas III & from Maycon Zev R & Angela M, 6089 Kinloch Court Cir NW, $455,000.
Morley Larry R & Janet L from Hinkel Nancy A, 6730 Harbor Dr NW, $359,900.
Post Laura S from Rausch Beverly K, 5439 East BLVD NW, $500,000.
Regal Construction Co from Contrel Corporation, 5860 Walbrook St NW, $11,500.
Smith Jacob T from Brothers Ann M Trustee of the Ann M Brothers Revocable Trust, 7066 Oriole Ave NW, $80,000.
Smith Jacob T from Brothers Ann M Trustee of the Ann M Brothers Revocable Trust, 7080 Oriole Ave NW, $80,000.
Smith Sarah G & Ogden Taylor E from Brewer John E & Karen R, 9444 Strausser St NW, $289,900.
Suttles Shivonne N from Anian Venture LLC, 7617 Champaign Ave NW, $81,000.
Wharton Douglas E & Loralynn from Morehart Rebecca A & Jacob, 5881 Kerry Cir NW, $275,000.
Young Brook from Boron Kelly A Trustee of the Kelly A Bor, 6269 Irvine Cir NW, $170,000.
Lawrence Township
Manos Abigail & Michael from Middlecoop Paul M & Brenda M Co Trustees, 6438 Erie Ave, $470,000.
Noble Kevin & Kathleen from Monea Paul A, 6515 Milhaven Ave NW, $470,600.
Whims Chadwick Payne from Suderow Janet M, 8070 Leaver Ave NW, $215,000.
Massillon
Blackhawk Investments LLC from Kelly Linda & Keith, 426 Albright St SE, $30,000.
Collins Emily & Matthew from Lloyd Sheila A, 707 8th St SW, $150,000.
Cunningham Nichole L from Klotz Christian F & Strunk Kristyn N, 856 Cherry Rd NW, $84,000.
D&S Properties Unlimited LLC from Borders Jimmie L, 1318 3rd St SE, $52,000.
Domer Joanne M from Mutchler Paul S Jr & Linda L, 711 Cherry Rd NE, $103,000.
Hazzard Devin from Wise Timothy & Heather, 2035 Oak Ave SE, $120,000.
Hca Model Fund 2016-9 West LLC from K. Hovnanian at Country View Estates LLC, 1160 23rd St SW, $356,700.
Hughes Lauren Lecount from Wilson Marjorie L, 21 Rolling Park Dr N, $1,000.
Jones Michael D & Kelly D from Turskey Ruth A & Steven D Co Trustees of, 2834 Poplar St NW, $220,000.
Marshall Brandon L from Hilton Capital Investments LLC, 418 Korman Ave NE, $130,000.
Mega Rentals LLC from Colosimo Beth A, 513 7th St NE, $35,000.
Sand Corin from Sand Corin & Singleton Gayla, 808 Medill Ave NE, $65,850.
Sayles Christohper M & Stephanie A from Briggs Richard K & Peggy J, 828 9th St SW, $125,000.
Snackhouse Portofolio Property LLC from Shearer's Food Inc, parcel 701739 Millennium BLVD SE, $34,504,379.
Woodland William O & Linette B Trustees from Gordon Joseph III, 18 5th St NE, $87,500.
Yoho Caroline A from Woolweaver Ryan, 430 Carver St NW, $130,000.
Zanin Richard II from Girt Terry G & Shad T, 308 5th St SW, $100,000.
Zanin Richard II from Girt Terry G & Shad T, 310 5th St SW, $100,000.
Perry Township
Amos Darla R from Humrighouse Nathanael M, 4613 7th St NW, $135,000.
Buckeye Communities Homes LLC from Scherer Todd E, 3454 Hilton St NW Lot 7, $7,500.
Donaldson Lori A from Miller Abigail, 511 Delford Ave NW, $185,000.
Frahm Arthur from Kline Karen E, 1320 Dunkeith Dr NW, $159,500.
Genetin Thomas from Genetin Gregory J Etal, 1155 Louisa Marie Ave NW, $260,000.
Gill Shawn M from Kistler Wanedith I, 4928 2nd St NW, $147,000.
Krug William J from Crescenze Steve Joseph &, 2634 Sundale St NW, $157,500.
Mallette Leeroy M & Nicole A from Hamilton Nicholas S Beckett Diana R, 6436 Richville Dr SW, $245,000.
Merry Adam L & John E Co-Trustees from Rode Nicholas, 4671 Shepler Church Rd SW, $163,175.
Pand Properties LLC from Wankewycz Cheryl A & Efanti Gary J, 1623 Whipple Ave NW, $85,000.
Renner Jason D & Kelsey from Paul Rachel T, 222 Genoa Ave SW, $97,000.
Richards John P & Steffenie C from Moore Katy E Trustee of the Wilson Famil, 4692 Stevie Ave SW, $322,500.
Riordan Devin E & Kristen from Stark Vincent S, 7253 Crusader St SW, $290,000.
Rosenberry Curtis L & Julia Suzanne from Scheatzle Stacy R Ttee, 824 Overdale Ave NW, $365,900.
Schumacher Jason E from Weaver Bertha B, 4441 Eddie Ave SW, $89,900.
Warrington Melissa A from Florea Deana & Dennis M, 4401 Pioneer Cir SW, $314,900.
Sugarcreek Township
Big D Real Estate LLC from Frailly Bernadine, 221 Harmon Ave NE, $30,100.
Cottrell Raymond from Mckernan Megan Lynn, 8021 Manchester Ave SW #30, $1,000.
Mast Sylanus E & Sarah A from Grass Daphna I, 10415 Navarre Rd SW, $225,750.
Skelly Leslie F & Mary D from Mankin Darrell L, 551 Main St W, $77,500.
Snackhouse Portofolio Property LLC from Shearer Foods Inc, 692 N Wabash Ave, $8,675,956.
Snackhouse Portofolio Property LLC from Shearer's Food Inc, 692 N Wabash Ave, $8,675,956.
Snackhouse Portofolio Property LLC from Shearer's Food Inc, parcel 7001540 Wabash Ave N, $8,675,956.
Snackhouse Portofolio Property LLC from Shearer's Foods Inc, 692 N Wabash Ave, $8,675,956.
Snackhouse Portofolio Property LLC from Shearer's Foods Inc, parcel 7001772 Elton St SW, $8,675,956.
Tuscarawas Township
Chapman Eric from Kalsek Nathan J & Jenna M, 1250 Kenyon Rd SW, $325,000.
Top 10 real estate sales in North and West Vancouver 2022 – North Shore News
Wine room? Check. Heated driveway? Check. Infinity pool, boat lift, putting green? Check, check, check.
While the real estate market took a cooler, even icy, turn in the last six months of 2022, that doesn't mean that sales of luxury real estate vanished on the North Shore.
Au contraire!
In fact, those for whom the mortgage "stress test" isn't a worry were still flexing a certain amount of buying power. Buyers at the high end of the market favoured large mansions – most clocking in at around 10,000 square feet – along with large lots, waterfront or expansive water views. Finishing touches like outdoor fire places, movie theatres, gyms, spa rooms and hot tubs didn't hurt either.
Here's a look at the top 10 real estate sales of 2022 on the North Shore.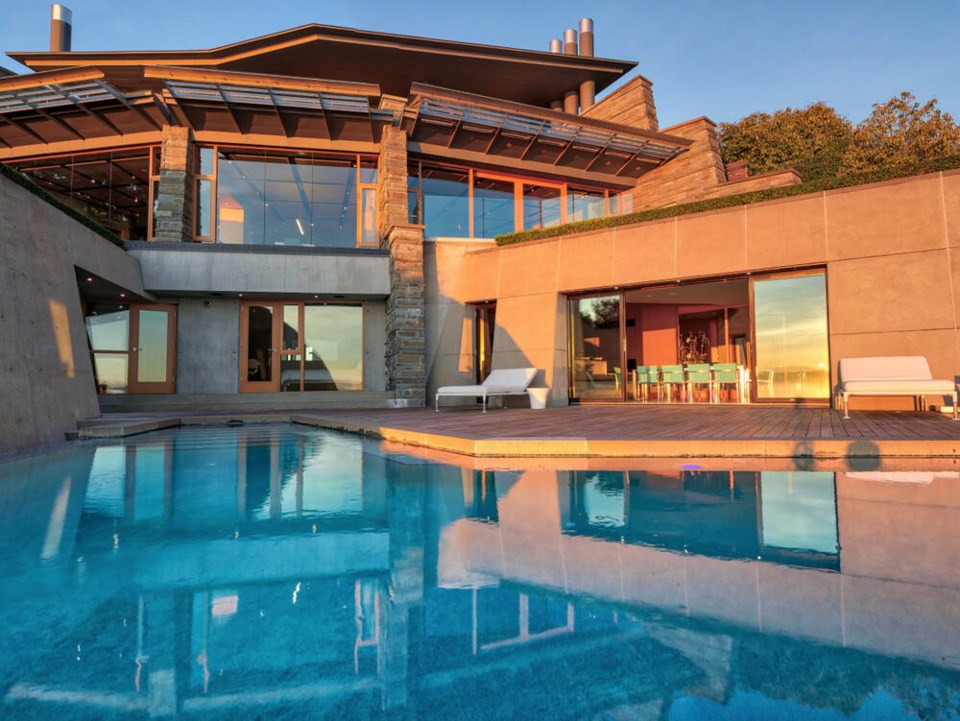 1. 2910 Park Lane
According to public real estate records, the top sale on the North Shore last year was an iconic five-bedroom, seven-bathroom luxury estate at 2910 Park Ln. on the Altamont waterfront which sold for $21.5 million on Aug. 10.
The 14-year-old, 9,400-square-foot home sits on a lot of almost half an acre of high-bank waterfront, including 98 feet of shoreline.
The home was built in 2008 by its former owner Mossadiq Medaly, a former chair of BC Hydro and a leader in the renewable energy industry, on the site of an apple orchard formerly owned by a member of Vancouver's Woodward family.
Designed by architect Peter Grant, the home features luxuries like an elevator, indoor-outdoor speaker sound system, in-floor heating system, heated driveway, five fireplaces, infinity pool, floor-to-ceiling windows and a professional music room.
The luxury home, assessed at $14 million, was originally listed for sale at about $30 million.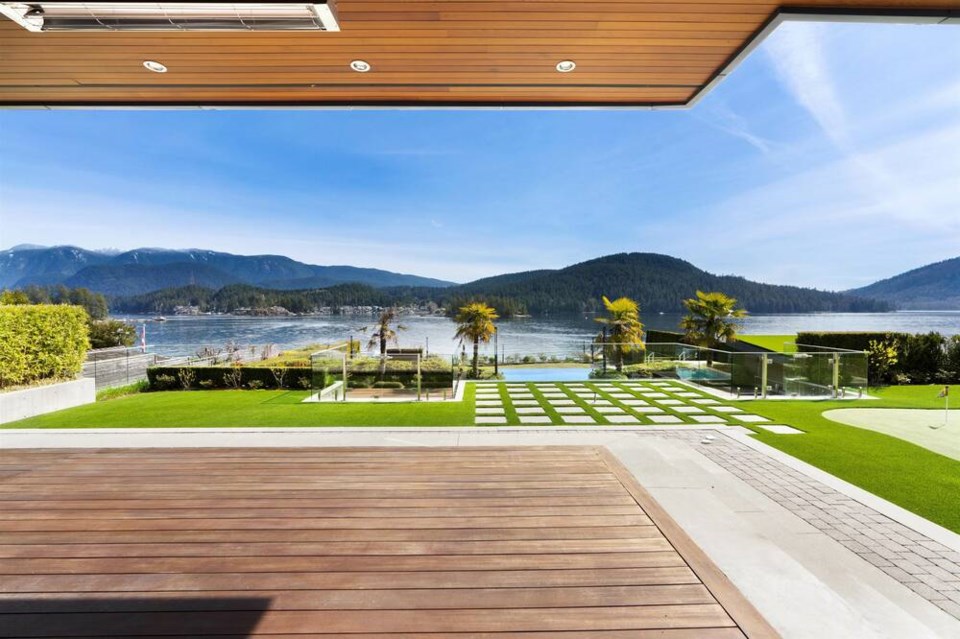 2. 754 Beachview Drive
A deluxe six-bedroom, eight-bathroom home at 754 Beachview Dr. was the only home in North Vancouver to make the Top 10 sales list. The luxury home on three-quarters of an acre was assessed at just under $12.55 million this year. The 8,850-square-foot home sold in September for $14.9 million.
Features of the oceanfront mansion include an infinity pool, 10-person hot tub (now that's a party!), golf putting green, dock with boat lift, four-jet-ski slip and private ramp. Inside features double height ceilings, Miele appliances, movie theatre, billiard area, gym, sauna, steam room and wine room.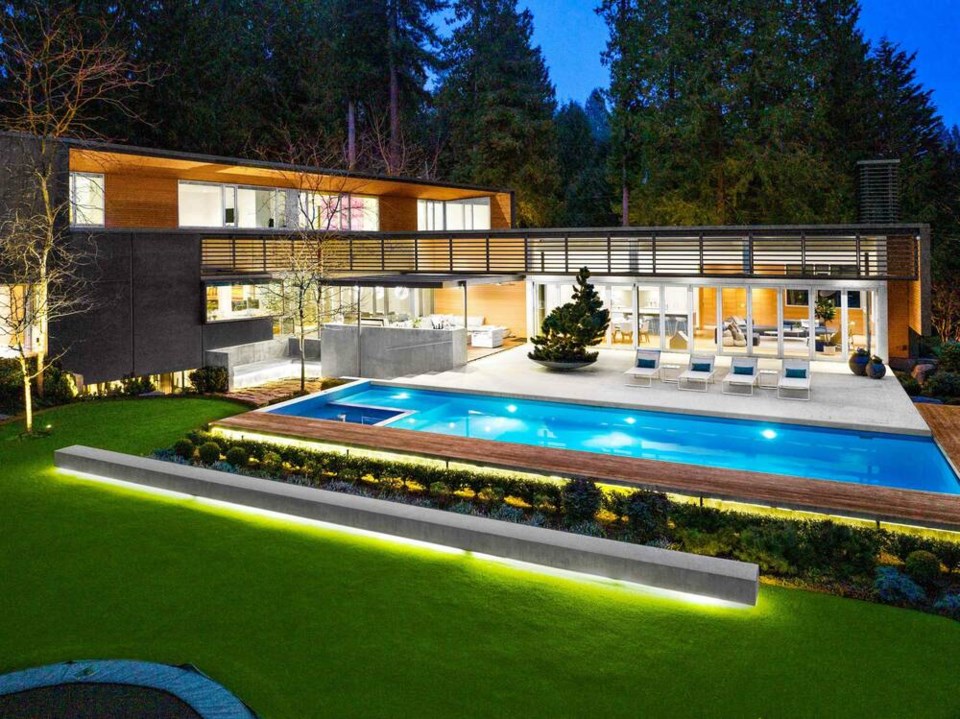 3. 2975 Palmerston Avenue
Located in West Vancouver's sought after Altamont neighbourhood, this distinctly modern mansion by architectural firm Battersby Howat sold for $14.75 million in February after just 24 days on the market. The six-year-old, 10,000-square-foot three-storey house on a landscaped half-acre lot sold for close to its asking price of $14.88 million. The home features floor-to-ceiling windows and glass doors that create a dramatic open feel leading to spectacular garden views. Outside, a hot tub and pool beckon. The home also boasts an array of technology for controlling lighting, a private elevator, security system, air conditioning and garage parking for five vehicles.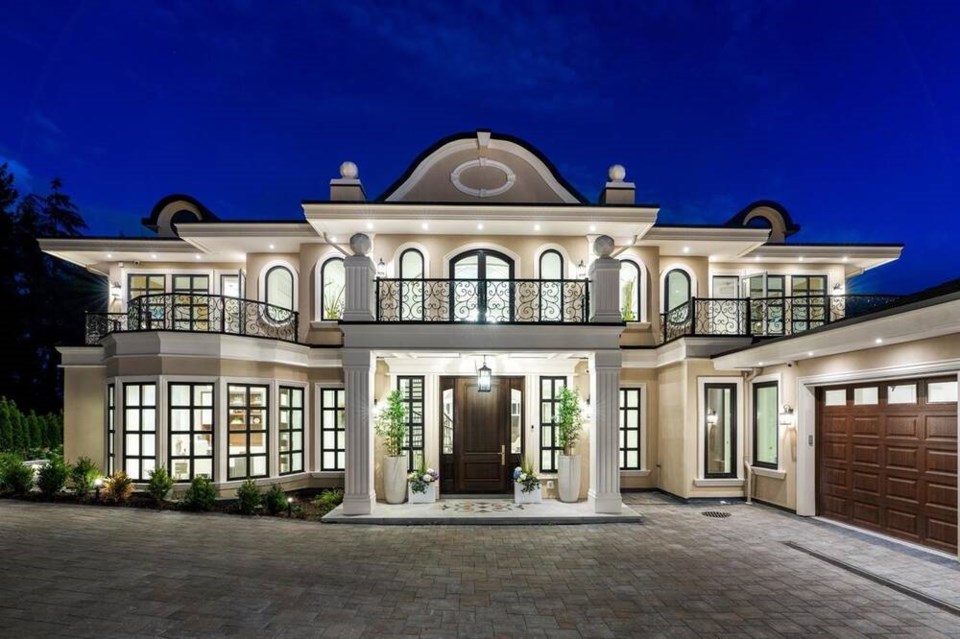 4. 1335 Chartwell Drive
Homes in the British Properties are among those often sought out in the higher echelons of the real-estate market. It's all about the views up here, and showing off luxury details. The fourth-highest sale on the North Shore, at 1335 Chartwell Dr., which sold for $12.8 million July 23 after just 15 days on the market, ticks those boxes. A one-year-old custom build, the six-bedroom, eight-bathroom 10,000-square-foot house features a "grand foyer" with a 20-foot hand-painted dome ceiling rising above a crystal chandelier. Italian tile, Miele and Wolf appliances, four marble gas fireplaces and a wine cellar, theatre, sauna, gym, pool, hot tub and heated driveway complement the bling.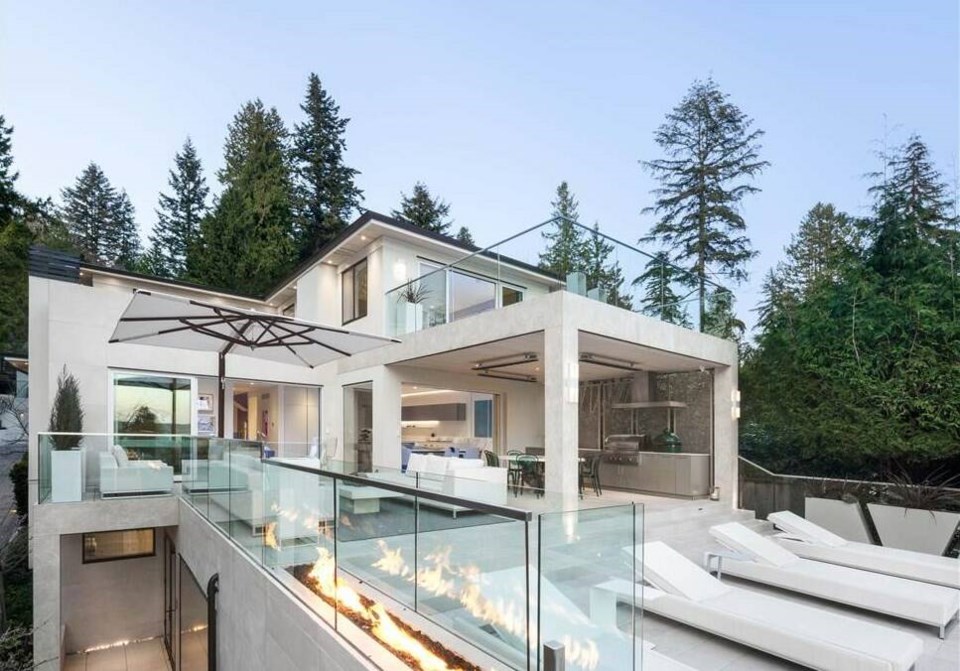 5. 2919 Mathers Avenue
A "health and wellness wing" including a massage room, separate "staff quarters," "butler's pantry" and a 27-foot, 11,000-litre tropical aquarium are among the unique features of the fifth-highest property sale on the North Shore in 2022 at 2919 Mathers Ave. The seven-bedroom, 11-bathroom 8,000-square-foot Mediterranean-inspired home on almost a half acre in Altamont sold for $11.8 million on April 11 after 55 days on the market. That's significantly less that the original asking price of $14.3 million. An integrated Band & Olufsen audio visual system, fitness room, infinity pool and jacuzzi complete the package.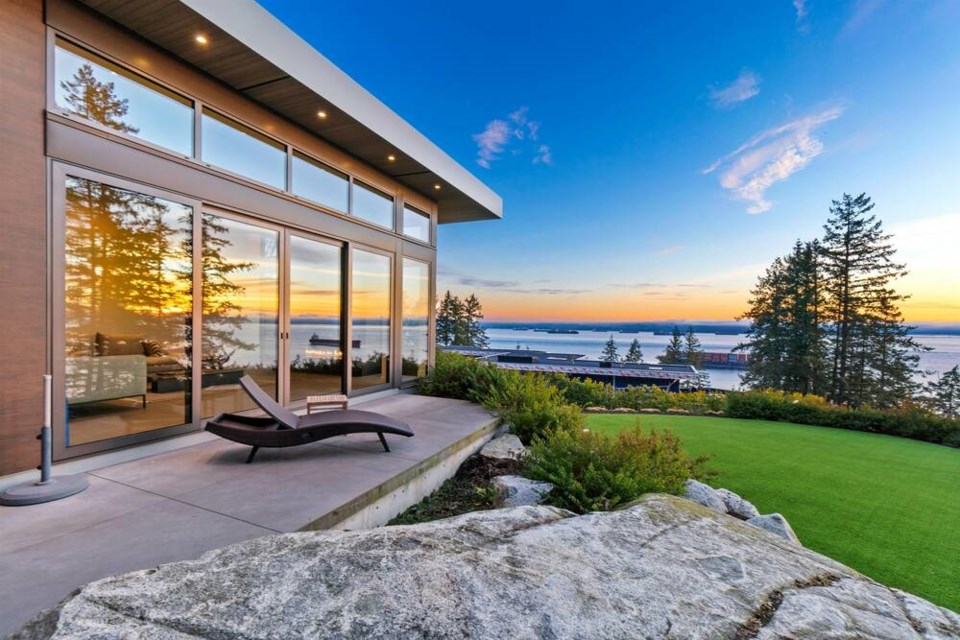 6. 3704 McKechnie Avenue
A contemporary custom-built home, nestled among trees on a "trophy property" backing on to McKechnie Park, this three-year-old 5,300-square-foot home at 3704 McKechnie Ave. sold for $11 million on Feb. 18, 2022 – less than the asking price of $12.8 million.
The five-bedroom, six-bathroom home on a third of an acre in Westmount features an open floor plan drenched in light with all rooms offering sweeping ocean views.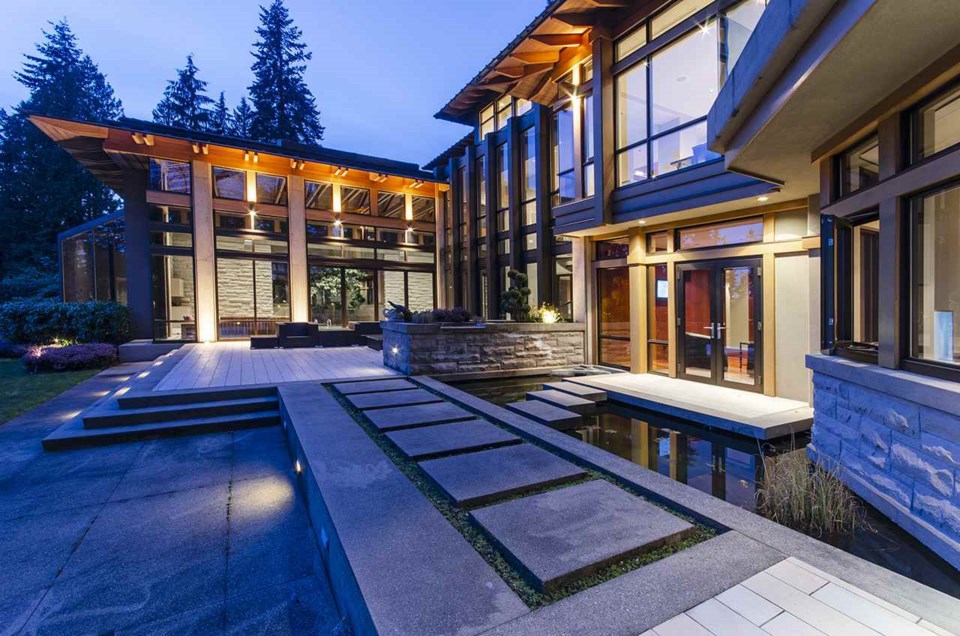 7. 2860 Mathers Avenue
A 17-year-old 12,000 square-foot home on Altamont's "Golden Mile" was the seventh highest real estate sale on the North Shore last year. The three-storey, seven-bath, six-bedroom home at 2860 Mathers Ave. sold for $10.7 million, considerably below the $14 million asking price, on April 20, after 75 days on the market. The modern concrete home features a wine room, gym and indoor swimming pool and has geothermal heating and cooling. There are also solar panels for hot water, a rainwater reclamation system and a heated driveway.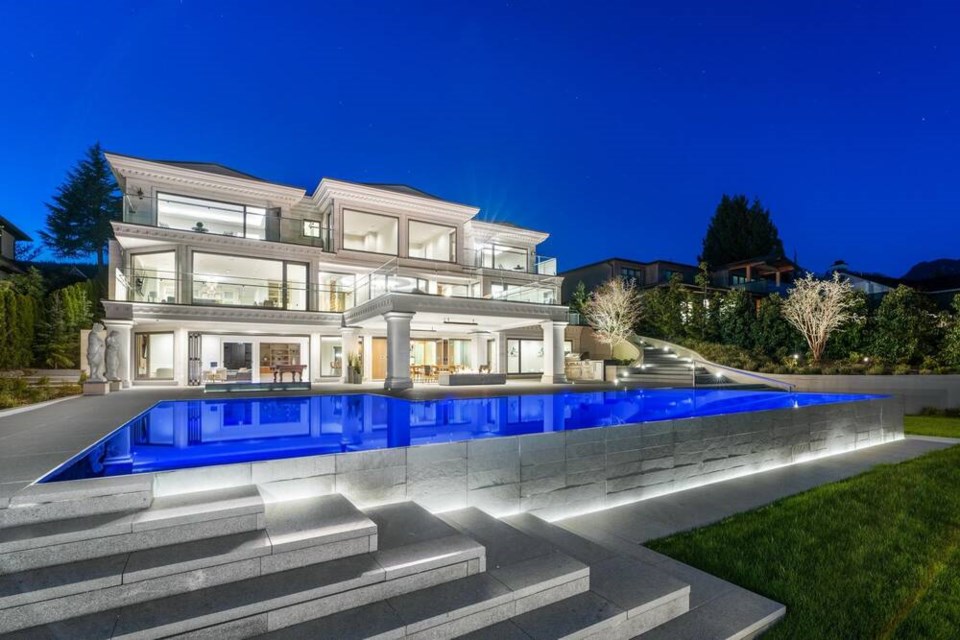 8. 1022 Eyremount Drive
If a mini golf course and elevator are among the luxurious touches you expect in home, this one-year-old British Properties mansion fits the bill.
The almost 10,000-square-foot home at 1022 Eyremount Dr. features gasp-worthy views of the ocean, city and Lions Gate Bridge. The five-bedroom, eight-bathroom mansion is billed as having "every imaginable luxury" including a walk-in wine cellar/cigar room, billiard area, home theatre and sauna, as well as five fireplaces. It sold for $10.5 million Sept. 18, after 69 days on the market, a relative bargain compared to the asking price of $16 million.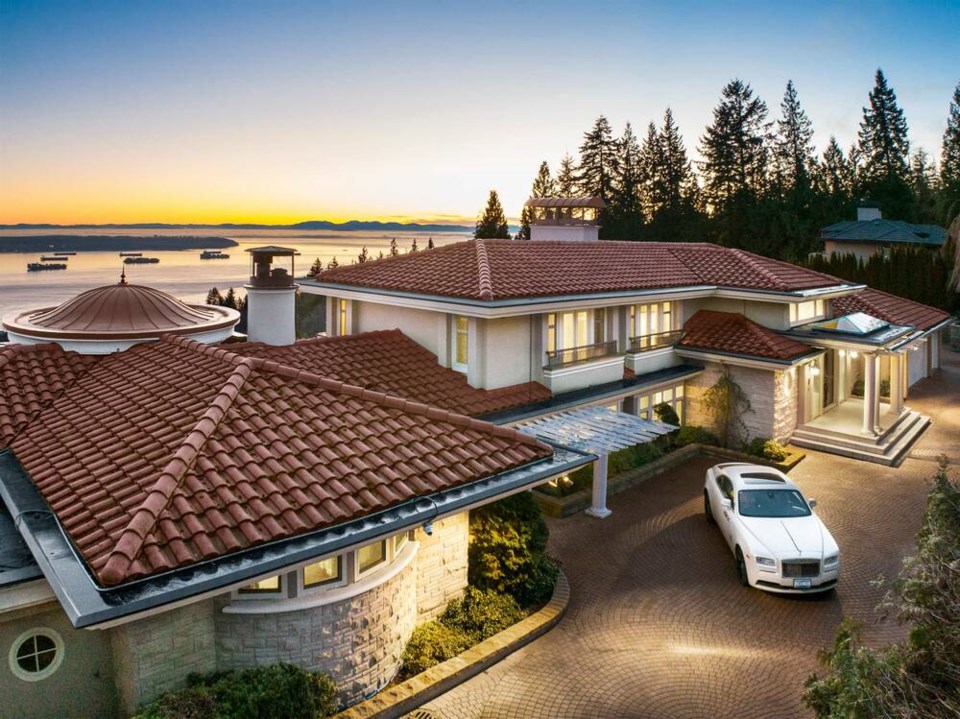 9. 1578 Chippendale Road
Amazing views from the British Properties are the key feature of this 9,700-square-foot 23-year-old home on a huge flat lot at 1578 Chippendale Rd. The three-storey, six-bed, five-bathroom mansion sold April 15 for just under $10.3 million. Almost 300 feet of frontage allows for a "massive street presence." A library, sauna and media room are also among the features of the home.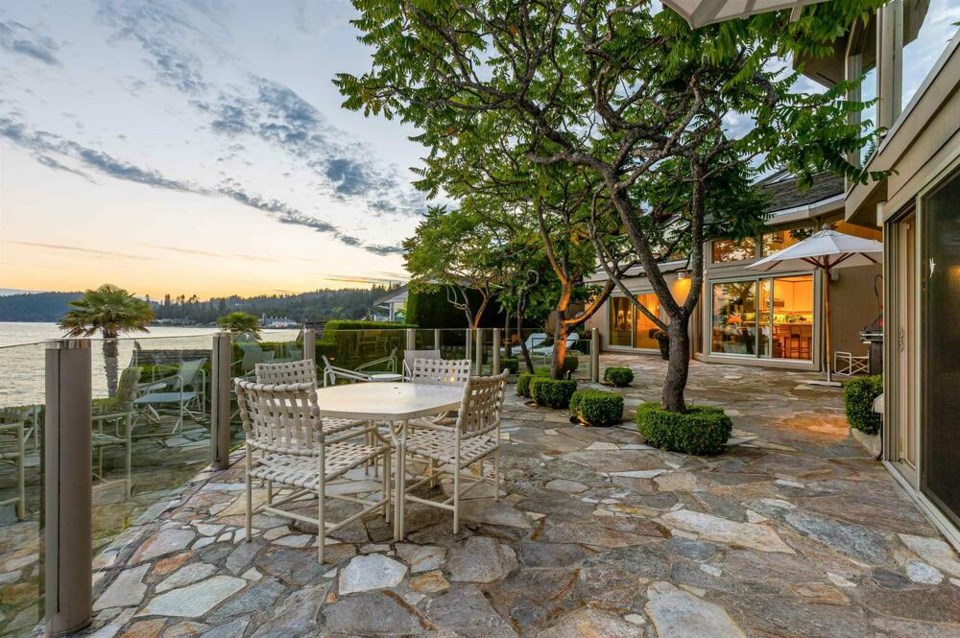 10. 3874 Marine Drive
This two-storey, four-bedroom four-bathroom home on the waterfront in West Bay at 3874 Marine Dr. is the smallest of the top ten homes to sell last year at 3,700 square feet. It's also the oldest at 73 years. But what it lacks in sheer size it makes up for in gorgeous west coast character on a spectacular 17,600-square-foot property that slopes gently to the water's edge. Tiered patios, a waterside pool and boathouse lead down to about 80 feet of natural shoreline. There's also tranquil gardens a pond and gazebo. Inside features large rooms with stunning views, all in a comfortable home.
This home was the only one on the North Shore's top ten sales that sold for under $10 million last year, fetching $9.8 million on Sept. 17, after just 17 days on the market.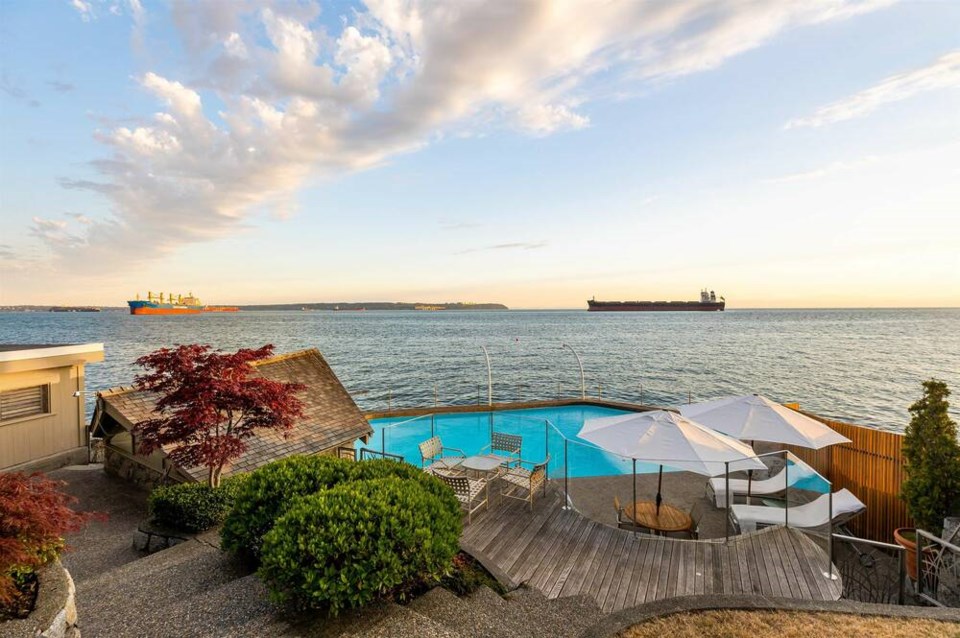 Housing market: Jason Oppenheim warns of an 'armageddon' in the real estate industry – Yahoo Finance
The real estate industry could soon be upended, says star broker Jason Oppenheim.
Oppenheim – who leads a team of glamorous agents on Netflix (NFLX) reality series "Selling Sunset" – recently sat down with Yahoo Finance to talk about the current state of the U.S. real estate market. During the far-ranging conversation, he warned that the industry's commission structure could soon change forever.
"To be specific about real estate agents, we've got federal regulators and a couple of lawsuits coming down the pipeline that at worst case could be an armageddon for real estate agents," he said. "You might see regulators uncouple the commission structure where the seller is now essentially paying for the buyers' and agents' commission."
In 2019, two home-sellers filed a lawsuit [Sitzer et al v. National Association of Realtors (NAR)], alleging that several NAR rules violate the Sherman Antitrust Act, an 1890 law which prohibits activities that restrict interstate commerce and competition.
One of the NAR rules in question requires listing brokers to offer buyer brokers a commission to list a property. The lawsuit alleges that this practice inflates sellers' costs and, therefore, is anticompetitive.
Traditionally, it takes two agents to sell a house: a buyer's agent and a seller's agent. However, if NAR loses the suit, the real estate industry would effectively see buyers' agents removed from the equation. That means the number of real estate agents in the U.S. (there are 1.5 million right now, according to NAR), could drop precipitously .
"You could see hundreds of thousands of real estate agents leaving the profession, and major brokerages go out of business," said Oppenheim. "We're on the precipice of an armageddon that nobody talks about."
There's hope for a settlement with regulators or an appeal process, but there's a high likelihood the marketplace for real estate agents is about to get majorly overhauled, said Oppenheim. He added that we could see the U.S. ultimately turn towards a model with lower total commissions, as is the case in Australia.
"I think there are too many real estate agents anyway, so I don't think that's part of the problem," he said. "I think the problem is that if we remove the buyer's agent's commission, you'll see the listing agent representing the buyer in 90% of transactions. It's called dual agency," said Oppenheim. "I don't think that's healthy for the consumer, because I think that the buyer should have their own representation. It would be no different than going into a courtroom and you have one lawyer, representing both sides."
This could create a situation where the agent would have a fiduciary duty to one side, the seller, Oppenheim added.
In 2022, a federal court ruled that a private real estate listing service could sue the NAR over anti-competitive practices. Earlier this month, the U.S. Supreme Court rejected the trade association's attempt to challenge the ruling.
"It's something that's not talked about that much, and it could be difficult, probably more in 2024, but it's coming," Oppenheim said.
Dylan Croll is a reporter and researcher at Yahoo Finance. Follow him on Twitter at @CrollonPatrol.
Click here for the latest trending stock tickers of the Yahoo Finance platform.
Read the latest financial and business news from Yahoo Finance.
Download the Yahoo Finance app for Apple or Android.
Follow Yahoo Finance on Twitter, Facebook, Instagram, LinkedIn, and YouTube.
Real estate agents say they can't imagine working without ChatGPT now – CNN
If you came across a four bedroom, 3.5 bathroom home listed for sale recently on a quiet cul-de-sac in Cedar Rapids, Iowa, you might not think twice about the online listing. It included typical real estate descriptions like "ideal for entertaining" and "ample space for relaxation."
But JJ Johannes, the realtor for the home, created the description in less than five seconds by typing a few keywords into ChatGPT, a viral new AI chatbot tool that can generate elaborate responses to user prompts. It's a task, he said, that would otherwise have taken him an hour or more to write on his own.
"It saved me so much time," Johannes told CNN, noting he made a few tweaks and edits to ChatGPT's work before publishing it. "It's not perfect but it was a great starting point. My background is in technology and writing something eloquent takes time. This made it so much easier."
Johannes is among the real estate agents experimenting with ChatGPT since it was released publicly in late November. Some residential and commercial agents told CNN it has already changed the way they work, from writing listings and social media posts to drafting legal documents. It could also be used to automate repetitive tasks such as answering frequently asked questions and doing complex calculations.
ChatGPT is trained on vast amounts of online data in order to generate responses to user prompts. It has written original essays, stories, song lyrics and research paper abstracts that fooled some scientists. Some CEOs have used it to write emails or do accounting work. It even passed an exam at an Ivy League school. (It has, however, raised concerns among some for its potential to enable cheating and for its inaccuracies.)
In less than two months, ChatGPT has sparked discussions around its potential to disrupt various industries, from publishing to law. But it's already having a tangible impact on how a number of real estate agents around the country do their jobs – where much of the written work can be formulaic and time consuming – to the extent that some can no longer imagine working without it.
"I've been using it for more than a month, and I can't remember the last time something has wowed me this much," said Andres Asion, a broker from the Miami Real Estate Group.
'As soon as I tried it out, I was sold"

Recently, a client reached out to Asion with a problem: the woman had moved into a pre-construction home and couldn't open her windows. She had attempted to contact the developer for months with no response. Asion ran a copy of one of her emails through ChatGPT, asking it to rewrite it with an emphasis on the liability implications.
"ChatGPT wrote it as a legal issue and all of a sudden, the developer showed up at her house," he said.
Asion has also used the tool to draft legally binding addendums and other documents, and sent them to lawyers for approval. "I fine-tune all kinds of drafts with ChatGPT," he said. "Sometimes I'll tell it to make it shorter or funnier, and it gives you so many samples to pick and edit from."
ChatGPT is free for now, but OpenAI, the company behind it, is reportedly considering a monthly charge of $42. Asion said "it's not even a question" he would pay for access. "I would easily pay $100 or $200 a year for something like this," he said. "I'd be crazy not to."
Frank Trelles, a commercial real estate agent at State Street Realty in Miami, said he'd also pay to keep using the tool, which has already impacted the way he does business. "As soon as I tried it out, I was sold," he said. "I went to sign up for a package, thinking it would be at least $100 a month, and was blown away that it was free. Nothing in this world is free though – and that made me a bit nervous."
Trelles said he uses ChatGPT to look up the permitted uses for certain land and zones in Miami-Dade County, and calculate what mortgage payments or return on investment might be for a client, which typically involve formulas and mortgage calculators.
"I can be in a car with a client when they ask me what their mortgage payments might be," said Trelles. "I can ask ChatGPT what a mortgage payment would be on a $14 million purchase at a 7.2% interest rate amortized over 25 years with two origination points at closing, and in two seconds, it gives me that information. It also explains how it got the answer. It's amazing."
Lots of potential, and some limitations

There are some limitations, however. The tool has, for example, struggled with some basic math before. Trelles said it's helpful for approximations on the go, not for exact numbers.
Serge Reda, a commercial real estate executive and adjunct professor at the Fordham Real Estate Institute, said some use cases for ChatGPT are better than others. ChatGPT may help save brokers time when writing listings or responses, but automating client responses may not be the best tactic because generating leads and closing transactions typically requires a personalized approach.
"It's accessible to everyone right now because it's free and they can get a taste of how this powerful tool can work. But there are definitely significant limitations," he said.
While ChatGPT has generated a wave of interest among realtors, incorporating artificial intelligence in the real estate market isn't entirely new. Listing site Zillow, for example, has used AI for 3D mapping, creating automatic floor plans and for its Zestimate tool, which can scan pictures to see if a home has hardwood floors or stainless steel appliances so its price estimation better reflects market conditions. Earlier this week, Zillow rolled out an AI-feature that lets potential buyers conduct searches in a more natural language (something that's long been mastered by Google).
Matt Kreamer, a spokesperson for Zillow, said the real estate industry has been slower to innovate, but "I think we'll be seeing much bigger strides very soon." He said Zillow sees no clear concerns with agents using ChatGPT to help streamline the work they already do and save time.
"We aren't promoting or wary of ChatGPT but are interested in how it's being used and watching it," he said.
Although it's too early to say if the tool will become a mainstay in real estate, realtor Johannes believes AI in general will transform his industry and others.
"It may not be with ChatGPT," he said, "but I believe some form of artificial intelligence like this will become a big part of how we work and live our lives."