McDavid, Oilers hand Sutter first loss with Flames – TSN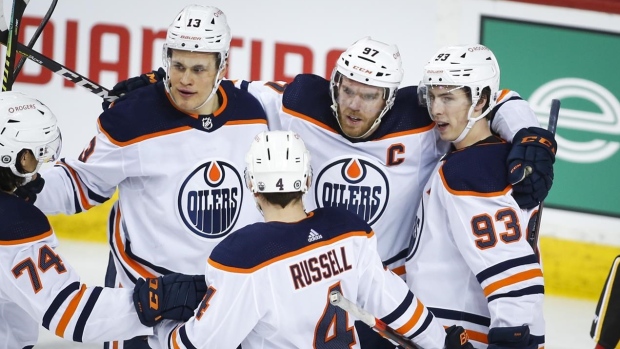 CALGARY — The NHL's top two scorers helped unleash the Edmonton Oilers' firepower in a 7-3 romp Wednesday over the host Calgary Flames.
Oilers captain Connor McDavid had a goal and two assists, and Leon Draisaitl assisted on three goals for Edmonton (19-13-0).
McDavid tops the league's scoring race with 56 points followed by teammate Draisaitl with 49.
Ryan Nugent-Hopkins, Jesse Puljujarvi, Dominik Kahun, Darnell Nurse, Zack Kassian and Alex Chiasson also scored for the Oilers, who avoided a third straight loss.
Defenceman Tyson Barrie had a career-high four assists, and Mike Smith made 30 saves for the win.
"It's pretty incredible the skill we have on this team," Barrie said. "It's world-class, as good as it gets."
Elias Lindholm, Mikael Backlund and Johnny Gaudreau replied for the Flames (14-13-3), who lost their first game under Darryl Sutter since he took over as head coach.
Geoff Ward was fired March 4. The Flames won three in a row with Sutter behind the bench, but the wheels fell off Wednesday when Calgary trailed 7-1 midway through the third period.
Jacob Markstrom turned away 23-of-30 shots in the loss. Sutter said he never considered pulling his starter for David Rittich.
"Not for one shift, second, minute, anything," Sutter said. "Every team I've ever coached, I do not pull the goalie.
"I believe they fight their way out of it just like everybody else. It's basically a trust thing because I think he's an awesome goalie. But he has to be able to battle too."
Edmonton ranks third in the North Division, and leads the season series against Calgary 4-2 with four games remaining.
The Flames were three points back of the Montreal Canadiens, which held down the fourth and final playoff spot.
Calgary trailed in a game for the first time under Sutter. The Oilers scored three consecutive goals before the Flames responded.
The Oilers poured four goals into Calgary's net in a span of just under seven minutes to start the third period.
Calgary hadn't allowed a power-play goal in five straight games, but gave up three Wednesday.
"It's three-one going into the third and we feel like we have a chance," Flames captain Mark Giordano said.
"We take two penalties and they score on both and it's five-one. They're sitting back and waiting for us to get through them. You can't play open against a team like that, that has that much skill."
Gaudreau scored a power-play goal and Backlund also scored late in the third period to make the score less lopsided.
Kassian played his first game since breaking his hand in a fight Feb. 8 and produced Edmonton's seventh goal at 8:38.
"It's crazy how momentum swings once the big guys take over," Kassian said. "It just trickles down the lineup. From top to bottom, we were solid tonight from Smitty on out."
McDavid rushed the puck deep into Calgary's zone and fed Nurse for the defenceman to beat Markstrom glove side at 5:55.
Chiasson tipped a Nugent-Hopkins shot home at 3:44. Barrie at the point passed to McDavid, whose quick -release wrist shot beat Markstrom between the pads at 1:50.
"When you're playing against Connor McDavid, especially when you're trailing, when you chase the game and you give chances, and play that run-and-gun style, he's sniffing for blood," Flames forward Matthew Tkachuk said.
Tkachuk circling from behind the net sent a goal-mouth pass across to Lindholm to finish at 9:04 of the second period. Kahun roofed a between-the-legs pass from Draisaitl 25 seconds earlier.
The visitors led 2-0 on Puljujarvi's power-play goal at 7:22 of the first period. He redirected a Barrie shot from the point between Markstrom's pads.
McDavid turned a Milan Lucic defensive-zone turnover into a goal at 4:39 of the first period. McDavid dished the puck across to Nugent-Hopkins to shovel over a diving Markstrom.
The Oilers have a quick turnaround facing the Winnipeg Jets at home on Thursday. The Flames head to Toronto for back-to-back games against the division-topping Maple Leafs starting Friday.
Notes: Draisaitl extended his point streak to eight games with seven goals, eight assists in that span . . . McDavid stretched his streak to seven games with four goals, 12 assists . . .Edmonton forward Jujhar Khaira didn't dress Wednesday because of an upper-body injury sustained in a fight Monday with Calgary's Brett Ritchie.
This report by The Canadian Press was first published March 17, 2021.
Jones scores four TDs as Packers bounce back to beat Lions – TSN
GREEN BAY, Wis. (AP) — Aaron Jones caught three of Aaron Rodgers' four touchdown passes and rushed for a fourth score, and the Green Bay Packers had a welcome return to normal after an embarrassing opening-week loss, beating the Detroit Lions 35-17 on Monday night.
Green Bay (1-1) won its ninth straight home opener. The Packers, who got thumped 38-3 by the New Orleans Saints in Week 1, looked more like the team that went 13-3 in each of coach Matt LaFleur's first two seasons.
Rodgers went 22 of 27 for 255 yards and surpassed John Elway for 10th all-time in passing yards with 51,633. Rodgers has followed up each of the Packers' last five regular-season losses by throwing four touchdown passes and no interceptions in his next game.
Jones became the first Packers running back to catch three touchdown passes in a game since Andy Uram against the Chicago Cardinals in 1942. He had 17 carries for 67 yards and six catches for 48 yards.
Detroit's Jared Goff completed 13 of his first 14 passes but struggled the rest of the way as the Lions (0-2) blew a 17-14 halftime lead. Goff finished 26 of 36 for 246 yards. He connected on touchdown passes to Quintez Cephus and T.J. Hockenson but also threw an interception and lost a fumble.
Green Bay scored touchdowns on its first three second-half possessions to seize control.
The Packers faced third-and-12 on their opening series of the second half when Rodgers threw a 50-yard completion to Davante Adams, who ended the night with eight catches for 121 yards.
Lions rookie cornerback Ifeatu Melifonwu injured his thigh on the play, further weakening a secondary that already lost cornerback Jeff Okudah to a ruptured Achilles tendon in Detroit's season-opening loss to the San Francisco 49ers.
Green Bay dominated the rest of the way.
Rodgers capped that drive with a 22-yard touchdown pass to Robert Tonyan. Detroit's next series ended when Goff threw an incompletion on fourth-and-1 from the Green Bay 25.
Rodgers threw an 11-yard touchdown pass to Jones to extend the Packers' lead to 28-17.
Green Bay's Krys Barnes recovered Goff's fumble at the Detroit 23 on the Lions' next snap. Jones scored on a 1-yard run and that was that.
INJURIES
Lions: WR Tyrell Williams missed the game with a concussion. … Melifonwu did not return after the thigh injury.
Packers: TE Josiah Deguara was out with a concussion.
ST. BROWN VS. ST. BROWN
The Packers activated wide receiver Equanimeous St. Brown from the practice squad, giving him the chance to play against his younger brother. The Lions selected receiver Amon-Ra St. Brown out of Southern California in the fourth round of this year's draft. Amon-Ra had the better stat line with three receptions for 18 yards, while Equanimeous had one catch for no gain.
PACKERS' LINE CHANGE
Green Bay's Lucas Patrick, who started at left guard against New Orleans, was active after getting out of concussion protocol. But he wasn't on the field for the opening series.
Jon Runyan Jr. was at left guard instead in the 2020 sixth-round pick's first career start. Runyan's father was an All-Pro tackle who went on to represent New Jersey in Congress from 2011-15.
IN MEMORIAM
The Packers wore a helmet decal to honor Ted Thompson, who worked as the team's general manager from 2005-17 and died Jan. 20 at the age of 68. The Packers also honored Thompson during a halftime ceremony.
UP NEXT
Lions: Host Baltimore (1-1) on Sunday. The Ravens are coming off a Sunday night victory over the Kansas City Chiefs.
Packers: At San Francisco (2-0) on Sunday night. This will be the fourth time in the last three seasons the Packers have played at San Francisco. They won 34-17 last season. Two years ago, the Packers lost 37-8 to the 49ers in the regular season and 37-20 in the NFC championship game.
___
Josh Donaldson swapping jerseys with Vlad Guerrero a Blue Jays moment that won't be forgotten – Toronto Star
It was a moment Blue Jays fans won't soon forget, and one they will hope eventually represents a passing of the torch from one American League most valuable player to another.
Josh Donaldson, Toronto's 2015 MVP now with the Minnesota Twins, signing and exchanging jerseys with Vladimir Guerrero Jr., who is vying for his first MVP nod this season, following a three-game series between the two teams.
The pair set up the jersey exchange on Saturday and it caused quite a stir of emotion a day later, the end of an already emotional weekend with Donaldson's return and the Jays back in a wild-card spot.
There they were — the man who last led the Jays' World Series hopes and the man fans hope can take Toronto one step further by clinching the top prize.
"He just told me after, 'Stay focused and keep working hard until the end,'" Guerrero Jr. said post-game of his interaction with Donaldson.
Donaldson, 35, is no stranger to hearing fans at Rogers Centre shout "MVP, MVP" during an at-bat. This time around he received a standing ovation during his first plate appearance of the series but the kinds of cheers he once received were now directed at the 22-year-old Guerrero.
The veteran was all for it. When asked on Saturday if he thought Guerrero deserved to join him and 1987 winner George Bell as Blue Jays MVPs, Donaldson's answer was clear.
"It should happen," Donaldson said. "He's put up (an) astronomical season from the offensive side and he's contributing on the defensive side. The guy's got a 1.000 OPS at 22 years old, being a huge contributor."
Guerrero's stiffest competition in the race for AL MVP is Los Angeles Angels two-way player Shohei Ohtani, who many believe is a lock for the award as his team's staff ace and most productive hitter — he is doing something that has never before been seen in Major League Baseball. But Guerrero, who is vying for the Triple Crown as the league leader in home runs, batting average and runs batted in, is mounting a late season challenge for the award as Ohtani navigates some late season troubles.
The Angels star's numbers at the plate have dipped in the second half of the season and there has been talk of him being shut down from pitching in the final portion of the season because of arm soreness. And then there's the age-old question: can a player be the most valuable if his team is not headed to the playoffs? Guerrero and the Jays could very well be; Ohtani and the Angels are not in post-season contention.
To Donaldson, there are holes in the argument for Ohtani: he didn't start every fifth day, the recent injury could cause him to miss most of September on the mound and, as a designated hitter, he doesn't impact both sides of the game. Guerrero, on the other hand, strikes fear in opposing lineups unlike any other player this season, Donaldson said.
And if the Jays make the playoffs, Donaldson said, that should tip the scales in Guerrero's favour.
"If you take Vlad out of that lineup, this isn't the same team," Donaldson said. "Not that this isn't a good lineup, because it is. But what Vlad's doing is … he's that security blanket for the rest of that lineup (with) what he's producing. He takes pressure off of everybody else."
Hearing that kind of praise from Donaldson, who spent the weekend at the ballpark happily reuniting with familiar faces he knew from his four years in Toronto and touting Guerrero's MVP worthiness to anyone who would listen, left Guerrero nearly speechless but maybe not surprised. Guerrero, who was signed by the Jays the same year Donaldson won the MVP in 2015, said Donaldson has long been supportive of his career.
"Coming from Josh, it's unbelievable what he said. Especially coming from someone that already won the MVP," Guerrero said. "Since I was in the minors when he was here, he was always giving me advice, especially in spring training. When I was playing third, helping me out, taking ground balls with him. He's always been great to me and I really appreciate his comments."
JOIN THE CONVERSATION
Conversations are opinions of our readers and are subject to the
Code of Conduct
. The Star does not endorse these opinions.
Patriots owner Robert Kraft shocked a gay flag football team by showing up to support it – Yahoo Canada Sports
Imagine coming off the field from your neighborhood flag football game, dripping in weekend-warrior sweat, and there stands the owner of the New England Patriots.
Naturally, you might be curious why Robert Kraft — a man said to have a net worth north of $8 billion — is, you know, there. Just hanging out.
Was Kraft watching a relative or close friend play? Did he happen to be nearby and just wander over? Did his driver get lost?
No, it turns out that Kraft was simply there to support a Massachusetts gay flag football team.
There was no press release. No attention drawing needed. Just your average billionaire NFL franchise owner supporting a gay flag football team and a great local charity.
As one of the flag football team members, Alex Reimer of Outsports.com, noted in his blog about the event, Kraft just swung by to watch the action — one day before the Patriots took on the New York Jets on the road.
What's the big deal, you ask? Well, it's a sign that Kraft doesn't just support the group — FLAG Flag Football Boston — with financial backing. He also comes to watch them play. That's a personal touch money can't buy.
There also was a charitable component to the weekend. The flag football team helped raise donations of 25,000 items for Hope & Comfort, a local charity that helps with hygiene insecurity for needy youths and families in the area. The Patriots helped support the cause, and the owner was on hand for it.
Kudos to Kraft, who has been a big supporter of the LGBTQ community for years (even before it was popular to do so) and who appears to go above and beyond mere check writing and ribbon cutting.
This is the kind of outreach we'd love to see more of in the NFL community, and Kraft's above-and-beyond effort shows that even the world's wealthiest people can donate something that carries even more value than donations.
Their time.