Media Beat: September 28, 2020 | FYIMusicNews – FYI Music News
There was a time, not that long ago, when advertisers could reach just about everyone pretty easily. All it took was a lot of money, and a simple media buy on a handful of TV, radio, and print outlets. Back then, harnessing the power of mass media was not a guarantee of success, but it was almost always a key component.
It helped create enormous brands like McDonald's, Coke, Pepsi, Nike, Apple, Ford, Chevy, AT&T, Tide, Crest, Bank of America, Visa, MasterCard, Toyota, Tylenol, Kleenex, Budweiser… OK, I'll stop.
Things are a lot more complicated these days. Media has fractionalized into much smaller entities while media consumption has increased significantly. It is not nearly as easy as it once was to reach mass audiences. While you once only had to choose among 3 or 4 video (TV) options, today you have hundreds. While you once had a few dozen print options to analyze, today there are literally millions of websites serving a similar function. A media strategist's job is far more daunting.
One of the results of this change in media reality has been a change in media strategy. Whereas brand builders once believed that wide reach was essential to building a dominant brand, this belief has gone out of fashion. It has been replaced by the belief that the most effective use of media is one-to-one, personalized messages.
I would like to offer, for your consideration, an alternative point of view.
It is beyond question that it is much harder for brand builders to reach mass audiences these days. But I would like to question the presumption that because reaching mass audiences has become more difficult, pivoting to a personalized, one-to-one media strategy is the correct response.
In other words, have we recognized the disease but prescribed the wrong medication? The fact that online media technology now allows us to tailor messages to individuals, doesn't necessarily mean it's a better idea. The fact that it's more convenient doesn't necessarily make it more suited to the job of building brands.
And the fact that mass reach is much harder to achieve does not mean that it is a bad strategy. It just means that it takes more work and perhaps it takes a more sophisticated strategy – and more sophisticated strategists – to execute properly.
Sadly, we have taken media strategy in the opposite direction. Despite the extraordinary complexity of the digital media ecosystem we have substantially tethered our media strategists to the most crude and unsophisticated aspirations — high click rates and low CPMs. You can sit in media meetings for months listening to highfalutin' jargon, you can suffer endless data analyses, you can scrutinize this-ographics and that-ographics, but in the end when the reports come in and the chips are on the table, most likely it's going to come down to the crudest, least sophisticated and least challenging of outcomes — clicks and CPMs.
This is evidence that the principles of brand building have been subsumed by the practices of the direct marketing industry. – Continue reading The Ad Contrarian Bob Hoffman's blog feature here
Conspiracy theorists would have you believe that 5G spreads Covid-19, causes cancer, kills birds, and ruins your soufflé. It doesn't, but let's clear up some of the nerdy sciency stuff on how it works.
A quick history lesson first. The first iPhone was 2G (as in the second generation), it was slick but it primarily did voice calls. Then came texts, sexts, and other greater smartphone functionality. So, developers focused more on the data side of phone usage and 3G was born. Data hungry customers wanted more and more of it and they wanted it faster and faster than ever – leading us to where we are today, 4G / LTE.
Now with 5G is more than just data speed. A 5G cell tower can handle up to 100 times the users of a 4G tower and if the provider is operating in the upper end of the frequencies, there will be lightning speeds available for users. So yes – it's faster. No – it doesn't give you Coronavirus. And being connected is everything today.
The same could be said for radio. And now more than ever.
Listeners are not seeking out your brand anymore for their most beloved Pearl Jam song, or the new Sia hit. They can access their favourites in seconds in seconds on Spotify, Apple Music, YouTube or a myriad of other digital music providers. Radio's primary function has shifted. This pivot was unavoidable with the tide of change driven by the technology shifts of the last few years as well as the ubiquity of abundant music platforms. But it's been Covid-19 that was the catalyst for a greater, wholesale change to both listening habits and audience needs.
Music is no longer the principal audience magnet.
It's still important to get it right, but the playlist's role now is to set the tone of the party. It's no longer the whole party. Now, the content between the songs is the glue – some of it is the brand value of the imaging and promotions but most importantly it's the human connections, that compelling in-the-moment content, and the memorability of your on-air teams that will define your success and pave our future. Today is the day for radio, as an industry, to double down on talent. It's time to revisit strict song counts and relax inflexible time constraints on handcuffed talent. We should be ready to experiment with adding voices – more callers in music shifts and more multi-person shows beyond just breakfast.
Talent has always been the difference-maker but now they are our only point of difference. 2G or 5G, text, or voice. People need people. So, let's deliver! – Ronnie Stanton Media
As one of a handful of hosts at Apple Music Hits, Stroumboulopoulos says the "Hockey Night" gig led him to reevaluate his professional choices. "Once you do 'The NewMusic,' your own talk show and hockey, you've sort of finished the game as a host in Canada." – Jonathan Dekel, The Star
Rogers Communications Inc. says it will spend $3 billion in Quebec over the next five years if it emerges victorious in its bid for the Canadian assets of Cogeco Inc., but the Montreal-based cable company and takeover target remains unswayed. – Geoff Zochodne, Financial Post
One-third of Sunday night's three-hour Emmy telecast on ABC was devoted to a TV show, "Schitt$ Creek," that averaged just 375,000 total viewers per first-run episode in its sixth and final season earlier this year.
According to trade press reports on Monday, "The 72nd Emmy Awards" on ABC Sunday night drew only 5.11 million total viewers from 8 p.m. to 11 p.m. Eastern — down from the 6.9 million the show attracted a year earlier.
The highlight of the show was watching "Schitt$ Creek" win all of the first seven categories announced during the Emmys' first hour.
It was possibly the first and only time this had ever happened… – Adam Buckman, TVBlog
Online music listening is trending away from radio to other platforms, in-home radio ownership amongst topline music format listeners is weak, and YouTube continues to be the dominant discovery home for most all music fans.
Just days after Penske Media Corp. and MRC announced they were entering a joint venture to bring their Hollywood magazines under one roof, news is out that Penske paid about $225 million to control 80% of the new company, called PMRC.
MRC will own the other 20% or so, according to the New York Post, which first reported the news.
PMC will bring Variety, Rolling Stone and Music Business Worldwide together with MRC's The Hollywood Reporter, Billboard and Vibe under PMRC. Its day-to-day operations will be led by PMC. – Sara Guaglione, Media Post Weekend
Citing the First Amendment, US Magistrate Judge Laurel Beeler blocked an order that would have forced app stores to stop offering the Chinese-owned messaging app WeChat.
Beeler said in a 22-page ruling issued Saturday that WeChat "is irreplaceable for its users in the U.S., particularly in the Chinese-speaking and Chinese-American community" and added that the government had not shown that banning the app was necessary to address the potential security concerns. – Wendy Davis, MediaPost
Two years after Russian state media began radio broadcasts in Washington D.C, Radio Sputnik has made its way to Kansas City. Sputnik officials are negotiating to start broadcasting in other cities. – Chris Haxel, NPR
Rolling Stone founder Jann Wenner may stay affiliated with the magazine after his initial three-year deal with Penske Media that kept him on board finishes at the end of the year. The deal kept him on board as "editorial director" of the magazine, although it was a largely honorary title.
Wenner, who co-founded the mag in 1967, is in negotiations with CEO Jay Penske for a contract extension, sources close to the company tell Media Ink. – Keith J. Kelly, New York Post
RIP
Harold Evans, the Brit journalist who uncovered Bloody Sunday, the Thalidomide scandal and a KGB spy at the heart of Britain's Secret Service, died Sept. 23. He was 92. – Niall O'Dowd, Irish Central
QYOU Media: At The Forefront Of The Influencer Marketing Trend – The Deep Dive
The influencer marketplace is something to behold. On Instagram alone, the market size, as per a recent Statista report, is estimated as being US$2.3 billion in 2020, which is a significant gain from the $0.7 billion figure from 2017. A Business Insider Intelligence report published last December meanwhile estimates that the market will grow to US$15 billion across all social media platforms by just 2022.
The rise in demand from such marketing has lead to the inevitable – publicly traded companies are now becoming involved. The latest being that of BroadbandTV, operating under BBTV Holdings (TSX: BBTV) whom just this past week announced the pricing of their IPO with the the company aiming to raise $172.4 million through the sale of just 12.4% of the company. While they own one of the largest creator networks currently, they are not to be the only publicly traded firm operating in this niche.
Although BroadbandTV will be the latest to market, they are certainly not the first. Canadian small cap company QYOU Media (TSXV: QYOU) has actually been slugging it out in the space for quite some time, with the company also focused on developing its India-based entertainment platform known as The Q India through the use of influencers and social media stars.
QYOU's approach to influencers is actually two-fold. The first method in which influencers are utilized is for its entertainment brand, The Q India. Here, the company utilizes influencers and digital creators to create original content in which it distributes on its platform in the form of both traditional (linear) television, and that of video on demand, as well as "over-the-top" (think Roku) and mobile platforms.
The second method, is that the company utilizes its network of influencers to conduct social media marketing. In this arena, the company will assist its clients with creative strategy, influencer deals, in-house production, media amplification and channel management.
With the influencer marketing division predominantly focused on the US market, the company largely provides marketing services for third party brands. The company traditionally has been primarily engaged with major studios to promote theatrical releases for motion pictures.
With the advent of COVID-19, that has now changed slightly.
Given the lack of operational theatres, the company has had to slightly refocus on its target market for this influencer marketing. As a result, the company announced this past week that it has begun focusing on a slightly different market for motion pictures. Rather than solely focus on theatrical releases, the company has now found demand for its influencer marketing services in three segments for motion picture markets.
Theatrical and Premium Video On Demand – Major motion pictures slated to be released directly to consumers at high purchase prices.
Subscription On Demand – Direct to consumer content that is consumed by platforms such as Netflix, Hulu, HBO, etc.
Advertiser Video On Demand – Free to consumer offerings that are supported by advertisements on platforms such as Roku, Pluto, Tubi and Peacock.
And with this, the company announced that is has secured US$710,000 in new contracts for influencer marketing services over the course of September and October.
To get a sense of how effective QYOU is at influencer marketing, lets look at a project the company took on earlier this year. As a result of the pandemic, Dreamworks Universal decided to release Trolls World Tour via direct to consumer, rather than taking the theatrical release approach. While unusual for a film of this magnitude, the company was left with little option due to the state of theatres across North America.
The Q influencer team had initially been hired by Dreamworks to promote the theatrical release, but was asked to pivot the campaign as a result of the change in release plans. QYOU worked with 19 influencers for the project, generating over 57 million organic video views and achieving a 17% engagement rate. The custom TikTok channel created for the film also managed to acquire 314,000 subscribers as well.
The end result is that Trols World Tour became the largest direct to video success in history, with the film generating over $100 million in revenue. It also proved just how effective influencer marketing campaigns can be.
Looking forward, QYOU has identified a number of new potential growth areas that can aide in further scaling the influencer marketing division. Opportunities such as media placements, merchandising, talent management, channel management for brands, production services, and original IP development present new avenues for further growth for the firm.
Audiences have changed the way in which they consume their content. Rather than the traditional methods of television, consumers now utilize a number of sources such as YouTube, TikTok, Instagram, and more to obtain their entertainment. From this, valuable opportunities exist for marketing, branding, and more as businesses look to sell their products to the world. Naturally, agencies at the forefront of this trend will ultimately benefit the most.
QYOU Media last traded at $0.065 on the TSX Venture.
---
FULL DISCLOSURE: QYOU Media is a client of Canacom Group, the parent company of The Deep Dive. The author has been compensated to cover QYOU Media on The Deep Dive, with The Deep Dive having full editorial control. Additionally, the author personally holds shares of the company. Not a recommendation to buy or sell. Always do additional research and consult a professional before purchasing a security.
As the founder of The Deep Dive, Jay is focused on all aspects of the firm. This includes operations, as well as acting as the primary writer for The Deep Dive's stock analysis. In addition to The Deep Dive, Jay performs freelance writing for a number of firms and has been published on Stockhouse.com and CannaInvestor Magazine among others.
#EndSARS: How Nigerians harness social media against police abuse – Al Jazeera English
Port Harcourt, Nigeria – For two weeks, thousands of young people across Nigeria and abroad this month took to the streets to call for the dissolution of Special Anti-Robbery Squad (SARS), an infamous police unit accused of extortion, extrajudicial killings, rape and torture.
This was far from the first time Nigerians had made such a demand. It was, however, by far, the first time their calls garnered such widespread support and international media coverage – thanks, largely, to the prominent role of social media in spreading the word.
Peaceful protests against police brutality began on October 8 after a video allegedly showing a SARS operative killing a man was widely shared online.
The #EndSARS hashtag swiftly started trending, boosted in part by Nigerian celebrities and high-profile personalities with large followings. As the hashtag also spread beyond the country's borders, a number of Nigerian Twitter users announced they would help cover the phone bills of others so they could afford to keep tweeting and maintain momentum.
Encouraged by the first protest held in Lagos, Nigeria's commercial capital, Uloma Nwoke and her friends decided to also organise one in the Lekki area of the city. They shared a flyer detailing the time and location of the protest on various social media platforms – and on the morning of October 10, they were surprised to see that nearly 1,000 people had descended on the site.
"A lot of celebrities and influential people showed up," Nwoke said.
Meanwhile, thousands of kilometres away, Omolara Oriye, a human rights lawyer, was organising a protest via WhatsApp in South Africa's capital, Pretoria. She said a video of Nigerian police officers manhandling demonstrators circulating on Twitter prompted her to action.
"I contacted the Nigerian Student Association in Pretoria who put me in touch with Nigerian students," said 32-year-old Oriye. "We met at the [Nigerian] embassy."
On October 15, the protest movement got an extra push from Twitter's CEO, Jack Dorsey, who used the #EndSARS hashtag as he posted a donation link associated with the Feminist Coalition, one of the most prominent groups supporting protesters on the ground.
Donate via #Bitcoin to help #EndSARS 🇳🇬 https://t.co/kf305SFXze

— jack (@jack) October 14, 2020
While the amplification of the protest by celebrities and social media influencers bridged the information gap left by local news outlets, protesters resisted attempts by government officials to single out influential personalities as spokespeople via invitations to join newly instituted panels on police reforms.
Having witnessed other movements fizzle out following closed-door meetings between lionised protest leaders and government representatives, many activists cautioned against such appointments.
Nwoke, 25, decried the tendency of celebrities to monopolise the microphone at protest venues, depriving those most affected by SARS of the opportunity to share their experiences.
"It was one of the biggest challenges for me," she said, of celebrity worship and narcissism. "Most of them just want to always be in front. We had to start profiling [speakers]."
It's a sentiment also shared by Oriye.
"Celebrities are great for amplification, but they are not movement leaders," she said, arguing that many are ill-informed and have, in the past, diverted attention away from knowledgeable activists.
We're still on job. There have been quite a few medical/hospital bill requests lately and still normal requests from outside Lagos. And the mental health lines are running for anyone who's struggling. We're working with @MentallyAwareNG & @StandtoEndRape

cc:@EndSarsResponse pic.twitter.com/p2U3kCeuqS

— FK. (@fkabudu) October 22, 2020
Apart from raising awareness about police brutality and coordinating protests on the ground, various #EndSARS organisers used social media to connect with volunteers, accept donations from other parts of the world and publish accounts of disbursed funds through frequent updates.
Information about emergency helplines and ways to circumvent a potential internet shutdown also spread freely and widely.
Essentially, observers say, social media democratised the #EndSARS movement, allowing users with varying numbers of followers to pitch, improve or reject ideas, solicit donations or start food banks to feed protesters.
"This entire movement was born, bred and salvaged online," said Chioma Agwuegbo, communications lead for Not Too Young to Run, an advocacy group dedicated to getting young Nigerians into public office. "There was a constant reminder that there was no leader, [which] helped strengthen people's voices and close any avenue for compromise."
On the news front, web-based publications largely run by and geared towards millennials kept the protest in the fore alongside witnesses armed with smartphones, as most traditional media outlets – perhaps wary of running afoul of the Nigerian Broadcasting Corporation's directive to be cautious with user-generated content and to not "embarrass" the government – kept off.
Their reticence left protesters such as Nwoke disappointed.
"It hurt me personally that people were dropping dead on the street and news channels were showing a cooking show or talking about some irrelevant subject," she said.
As the peaceful protests grew in size after entering their second week, gangs attacked protesters in various cities, including Lagos and the capital, Abuja. Thugs also vandalised public buildings, burned private businesses and stormed prison facilities to help inmates escape, prompting state governors to impose curfews to curb the escalating unrest.
On Friday, President Muhammadu Buhari said 51 civilians were killed and 37 injured since demonstrations began, blaming the violence on "hooliganism." He added that 11 policemen and seven soldiers had been killed by "rioters".
Buhari's statement came two days after Amnesty International put the death toll at 56, with about 38 killed on October 20, the same day security forces opened fire on unarmed demonstrators in Lekki, in an attack that was livestreamed on Instagram by a witness and caused widespread outrage.
Amnesty said its on-the-ground investigation by Amnesty International confirmed that the army and police killed at least 12 peaceful protesters in Lekki and Alausa, another area of Lagos where #EndSARS protests were being held. The army has denied the involvement of their men in the shooting.
Oriye expressed admiration for the dynamism of social media-savvy Nigerians.
"The Nigerian press refused to cover the issue initially, so it forced us to rely on social media to record information to preserve the truth and possible evidence," she said.
Still, some Nigerians remain unconvinced by the video evidence. In a now-deleted tweet, an actress with more than one million followers seemingly cast doubt on the Lekki shooting, requesting the bereaved to "speak out".
Others, however, are urging those with proof to store it in the cloud, away from potential government interference.
And despite the brutal clampdown, many see a silver lining.
"One of the things that would help us [gain political power] is community engagement," said Nwoke. "That was something we tried to implement during the protest, educating people about the issues."
For her part, Agwuegbo believes the events of the past two weeks have transformed Nigerian youth into a force to be reckoned with in the general elections less than three years from now.
"I think 2023 will be interesting for the future of the country because there's rage," she said. "But there's also the realisation that if we come together and plan towards something, we can make it."
COMMENTARY: How comics can teach media literacy and help identify fake news – Global News
At this point, most of us know the drill when it comes to COVID-19: proper hand hygiene, mask wearing and social distancing.
But does setting fire to cell towers make your list? Probably not. A conspiracy theory linking 5G mobile technology to the COVID-19 outbreak has ignited fears worldwide, prompting just this response from a few individuals in Québec, who set ablaze seven mobile towers.
READ MORE: Trump duped by fake news story of Twitter going down to protect Biden
Although such destructive responses are rare, thousands of digital consumers have absorbed aspects of this falsehood, pushing fringe beliefs into the mainstream despite refutations from the World Health Organization and multiple agencies in Canada and the United States. What started as a conspiracy turned into a real crisis for the people who immediately believed what they'd heard.
My research focuses on critical media studies and ideological representations in news and popular culture. I regularly offer workshops to schools and community groups that engage the public in contemporary media literacy issues. My book, Won't Get Fooled Again: A Graphic Guide To Fake News, helps readers identify the underlying purpose of the messages they receive and learn how to do basic research before accepting the validity of what's being presented to them.

2:07


New study suggests social media feeds source of COVID-19 fake news



Dealing with fake news
Fake news is an increasingly pressing problem. In fact, a 2019 poll found 90 per cent of Canadians reported falling for false information online.
As consumers, we need to learn how to filter content and become our own educators, editors and fact-checkers to ensure the information we act upon is trustworthy. In a constantly changing informational and political environment, it's no wonder we often struggle to separate fact from fiction.
Research indicates people create misinformation for two primary reasons: money and ideology.
Articles, videos and other forms of content can generate large amounts of money for the websites that host these pieces. Most of their income comes from clicks on advertisements, so the more people who visit their sites, the better chances they have of boosting ad revenue. This feedback loop has led many publishers to lean on false information to drive traffic.
The threshold for making believable fake news has fallen as well. A conspiracy theorist, for example, can create a web page using a professional template with high-quality photos in just a few clicks. Once the content has been added, sharing it on Facebook, Twitter, Instagram and other platforms requires even less effort.
These misinformation and fake-news campaigns amplify and circulate through false digital accounts using automated programs known as bots that use certain keywords to influence and impact conversations among like-minded clusters of people. The results can foment discord on hot-button Canadian policy issues — like immigration and refugees — possibly disrupting election outcomes.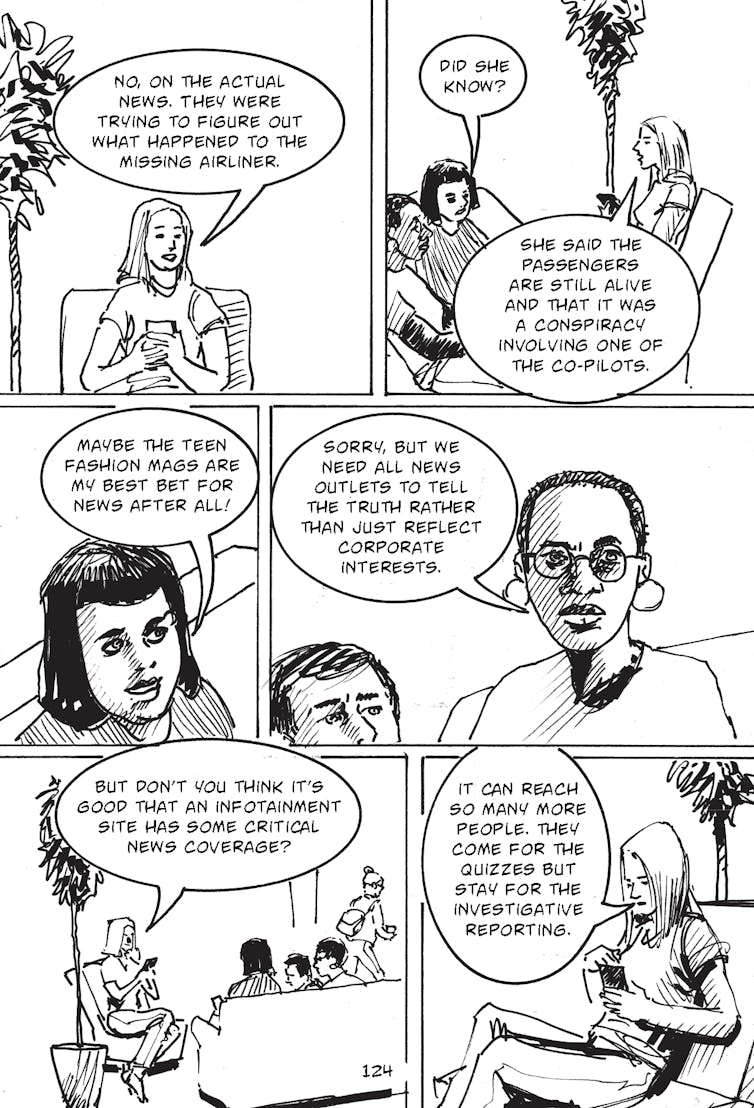 Generating anxiety and undermining truth
Canadians are expressing anxiety about the social impact of fake news, with 70 per cent fearing it could affect the outcome of a federal election. The Pew Research Center warns that fake news may even influence the core functions of the democratic system and contribute to "truth decay."
Dubious and inflammatory content can undermine the quality of public debate, promote misconceptions, foster greater hostility toward political opponents and corrode trust in government and journalism.
The effects of misinformation have been evident throughout the COVID-19 epidemic, with many citizens confused as to whether a mask will decrease the chances of spreading the infection. Similar tactics are being levelled against Black Lives Matter protesters, such as labelling them all as rioters when videos and photos show most behaving peacefully.
Conspiracy theories about the "Chinese virus," amplified by politicians in Canada and the U.S., have fanned the flames of anti-Asian sentiments following the spread of COVID-19. Data from law enforcement and Chinese-Canadian groups has shown an increase in anti-Asian hate incidents in Canada since the start of the COVID-19 pandemic.
READ MORE: How to teach kids to hunt out fake news? With dinosaurs, of course
Who and how to trust
Aside from a few social media platforms that identify misleading content and provide a brief explanation, most information online or in print can appear factual. So how can we figure out which sources to trust?
As a sociologist who focuses on critical media studies, I formed focus groups and collected input from my students to create a resources to guide readers through identifying fake news. While regulation and legislation are part of the solution, experts agree we must take swift action to teach students how to seek verification before acting on fake news.
In my findings, students identified several reasons why media outlets post or re-publish fake news, including making mistakes, being short-staffed, not fact-checking and actively seeking greater viewership by posting fake news.
The students pointed to holistic media literacy and critical thinking training as the best responses. This finding runs counter to the tactics currently used by publishers and tech companies to label or "fact-check" disputed news.
One student summarized this mindset best: "As citizens and consumers, we have a responsibility to be critical. Don't accept stories blindly. Hold those in power responsible for their actions!"
Getting multiple perspectives is a great way to expand our digest of viewpoints. Once we can see a story from more than one angle, separating truth from falsehood becomes much simpler.
At this point, I transitioned from recording perceptions of fake news to determining how to identify it. Providing students with information about the nature and agendas of fake news, in an immersive format, seemed to be a key step in engaging and cultivating their critical literacy capabilities. Information delivery was a key consideration.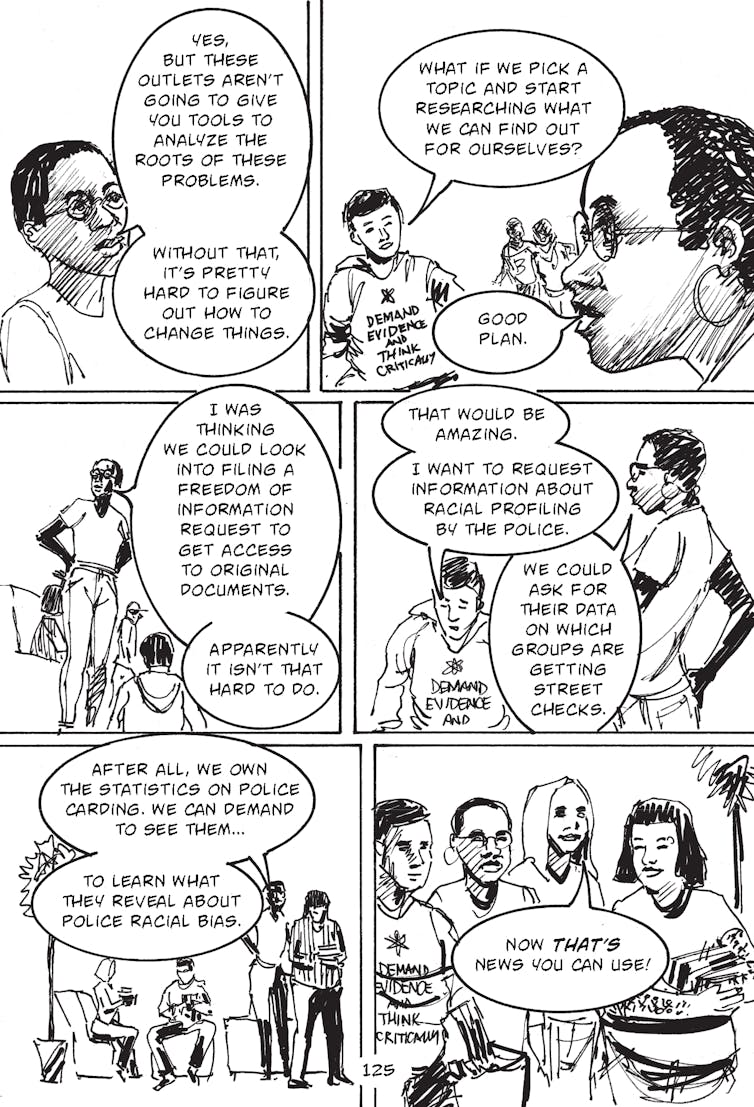 Illustrating the narratives
Researchers have shown graphic narratives can accelerate cognition by focusing the reader's attention on crucial information. Images clarify complex content, especially for visual learners. Comic books require readers to create meaning using multiple factors that helps develop a complex, multi-modal literacy.
A major goal of my book involves unpacking the motivations behind the news we consume. Consider why a particular person was interviewed: Who do they represent? What do they want us to believe? Is another point of view missing?
Won't Get Fooled Again: A Graphic Guide to Fake News is the culmination of my research and the insights drawn from media literacy scholarship. This guide helps readers understand what fake news is, where it comes from, and how to check its accuracy.
If there's one habit my students and I hope everyone will develop, it's this: pause before sharing news on social media. Double-check anything that immediately sparks anger or frustration and, remember, fake news creators want a reaction, not thoughtful reflection.

Erin Steuter, professor of sociology, Mount Allison University
This article is republished from The Conversation under a Creative Commons licence. Read the original article.