Media Release – April 25, 2022 – Guelph Police – Guelph Police Service
Business owners charged with arson
Part-owners of a Guelph business destroyed by fire late last year have been charged with arson and attempted fraud.
Shortly after 8 p.m. December 30, 2021, emergency services were called to a fire at a business on Woolwich Street near Woodlawn Road East. The Guelph Fire Department extinguished the blaze, which caused approximately $450,000 in damage.
Investigation revealed the owners of the business had nearly doubled the value of their content insurance approximately three weeks before the fire.
Following a lengthy investigation by investigators for the Guelph Fire Department, Guelph Police Service and an engineering firm hired by the insurance company, a 48-year-old Mississauga male and a 44-year-old Mississauga male have been arrested by the Guelph Police Service.
They have both been charged with arson and attempted fraud over $5,000. They will appear in a Guelph court June 7, 2022.
Cambridge male arrested in double stabbing
A Cambridge male faces charges in connection with an incident in Guelph earlier this month that left two males with stab wounds.
Approximately 2 a.m. April 16, emergency personnel were called to the area of Macdonell Street and Wyndham Street North where they located two adult males with stab wounds. They were transported to hospital for treatment and subsequently released.
On Friday evening police received a call from staff of a downtown business indicating one of the involved males was present.
A 20-year-old Cambridge male is charged with aggravated assault, assault with a weapon and possessing a weapon for a dangerous purpose. He will appear in a Guelph court June 3, 2022.
Male arrested after stolen vehicle found
A Kitchener male was arrested on the weekend after a vehicle was stolen from a Guelph business late last month.
On April 1 the Guelph Police Service was called to a parking lot on Hadati Road, where a resident had located a vehicle stolen a day earlier from their business. A male was seen exiting the vehicle and walking away.
The male was identified through investigation and on Saturday was arrested by police in another jurisdiction and returned to Guelph.
A 35-year-old Kitchener male is charged with possessing stolen property over $5,000 and possessing stolen property under $5,000. He will appear in a Guelph bail court Monday.
Garage entered while homeowner away
The Guelph Police Service is investigating after several items were stolen from the garage at a home while the owners were away.
On Sunday afternoon, police were called to a residence in the area of Gordon Street and Forbes Avenue. The owner had returned home to find a detached garage had been entered by forcing open a window.
A bicycle, golf clubs, a crossbow and other items with a combined total value of more than $5,000 were stolen. It is believed the garage was entered late Friday or early Saturday.
The incident remains under investigation. Anyone with information is asked to call Constable Samuel Johnston at 519-824-1212, ext. 7214, email him at sjohnston@guelphpolice.ca, leave an anonymous message for Crime Stoppers at 1-800-222-8477 (TIPS) or leave an anonymous tip online at www.csgw.tips.
Two drivers charged with street racing
Two motorists watched their cars leave on the back of tow trucks after they were caught street racing Sunday afternoon.
Approximately 12:45 p.m., a member of the Guelph Police Service Traffic Unit was patrolling on Watson Parkway North in the area of Shackleton Drive when he observed two vehicles speeding towards him. The vehicles were clocked at 109 km/h in a posted 50 km/h zone.
Two Guelph males were charged with speeding and stunt driving. They each had their licences suspended for 30 days and their vehicles impounded for 14 days.
Total calls for service in the last 72 hours – 628
How marketers can work with diverse media suppliers – Smartbrief
(Image credit: The Gender Spectrum Collection)
Marketers need to be able to reach diverse, multicultural audiences with authentic, relevant messaging — while demonstrating to customers they're walking the walk by championing diversity within their own organizations.
One way brands can achieve both is by working with diverse media suppliers.
A new set of guidelines on working with diverse media suppliers was published this week by the Association of National Advertisers, its Alliance for Inclusive and Multicultural Marketing, and the American Association of Advertising Agencies.
America's multicultural population "will be the majority in the not-too-distant future," the report states, citing 2020 US Census Bureau data. The multicultural population rose to just over 42% in 2020, up from 36% in 2010.
The guide also lists more than a handful of business benefits from working with a diverse supplier base.
There's a wealth of information in the guidelines, but we've highlighted some key information and advice:
How to find diverse media suppliers
The report offers several resources to help marketers get in touch with diverse media suppliers – those that are owned by ethnic minorities, women or the LGBTQ community. They are:
Diverse media requires different metrics
The guidelines recommend that marketers consider using alternative metrics when measuring diverse media performance.
This is because highly targeted audiences come with less scale and higher CPMs. Alternatives or additional metrics could include brand awareness, intent, favorable opinion, shares, video completion rates and click-thru rates.
The importance of diverse creators
The guidelines also offer resources to help marketers find diverse content creators, such as influencers, agencies, production companies and directors.
Involving diverse teams in the creation of content from the start can prevent brand missteps — such as this recent Samsung campaign, which missed the mark with women.
Cindy Gallop, consultant and founder and CEO of MakeLoveNotPorn, told SmartBrief in response to that Samsung campaign:
"Every brand and client — like Samsung — should mandate that their ads are overseen by women, created by women, approved by women, cast by women, directed by women, photographed by women, and announce that they will not give their business to any agency where the leadership team, the creatives and the creative decision-makers are all male."
That example, which arose from a lack of female involvement in the creative, could apply to any campaign that hasn't involved members of the audience it targets.
The right creative messaging
The guidelines therefore recommend that creative teams include diverse voices to ensure creative messaging is relatable.
"A lot of the time what we think works, and what works for a general market audience might not necessarily work for a multicultural audience," said Paula Castro, multicultural creative business partner at Google, during an IAB NewFronts panel.
The importance of cultural nuance and heritage when engaging with Black audiences was recently explored by Numerator's Amanda Schoenbauer, with a study by her company highlighting the levels of diverse thought and behavior within that community.
"A full picture view of this — or any — group of shoppers requires additional consumer context and segmentations," Schoenbauer wrote.
Marketers can look to diverse suppliers to help deliver that context and culturally appropriate messaging. As one diverse supplier says in the report from the 4A's, ANA and AIMM:
"There is much more value we can provide to connect through culture, heritage, emotion, nostalgia, etc."
For more insights like this, subscribe to our free newsletter.
Taylor Swift is now a Doctor
New York, United States of America- New York University (NYU), yesterday awarded global pop icon, Taylor Swift, with an Honorary Doctorate of Fine Arts at the Yankee Stadium.
The 32-year-old Grammy Award winner acknowledged that although she never attended college, she understood the input that fellow graduates had put especially in the midst of the current COVID-19 pandemic.
"I would like to thank NYU for making me technically, on paper at least, a Doctor. I imagine the idea of a normal college experience was all you wanted but in this case, you and I both learned that you don't always get all the things in the bag that you selected from the menu in the delivery service, that is life!
Life can be heavy, especially if you try to carry it all at once. Part of growing up and moving into new chapters of your life is about to catch and release. What I mean by that is, knowing what things to keep, and what things to release.
You can't carry all things, all grudges, all updates on your ex, all enviable promotions your school bully got at the hedge fund his uncle started. Decide what is yours to hold and let the rest go.
In your life, you will inevitably misspeak, trust the wrong people, under-react, overreact, hurt the people who didn't deserve it, overthink, not think at all, self-sabotage, create a reality where only your experience exists, ruin perfectly good moments for yourself and others, deny any wrongdoing, not take the steps to make it right and feel very guilty. Let the guilt eat at you, hit rock bottom, finally address the pain you caused, try to do better next time, rinse, repeat.
A lot of the time when we lose things, we gain things too. We are led by our gut instincts, our intuition, our desires and fears, our scars and our dreams. Hard things will happen to us. We will recover. We will learn from it. We will grow more resilient because of it," said Dr. Swift.
Social media post at DP Todd sparks police investigation – My PG Now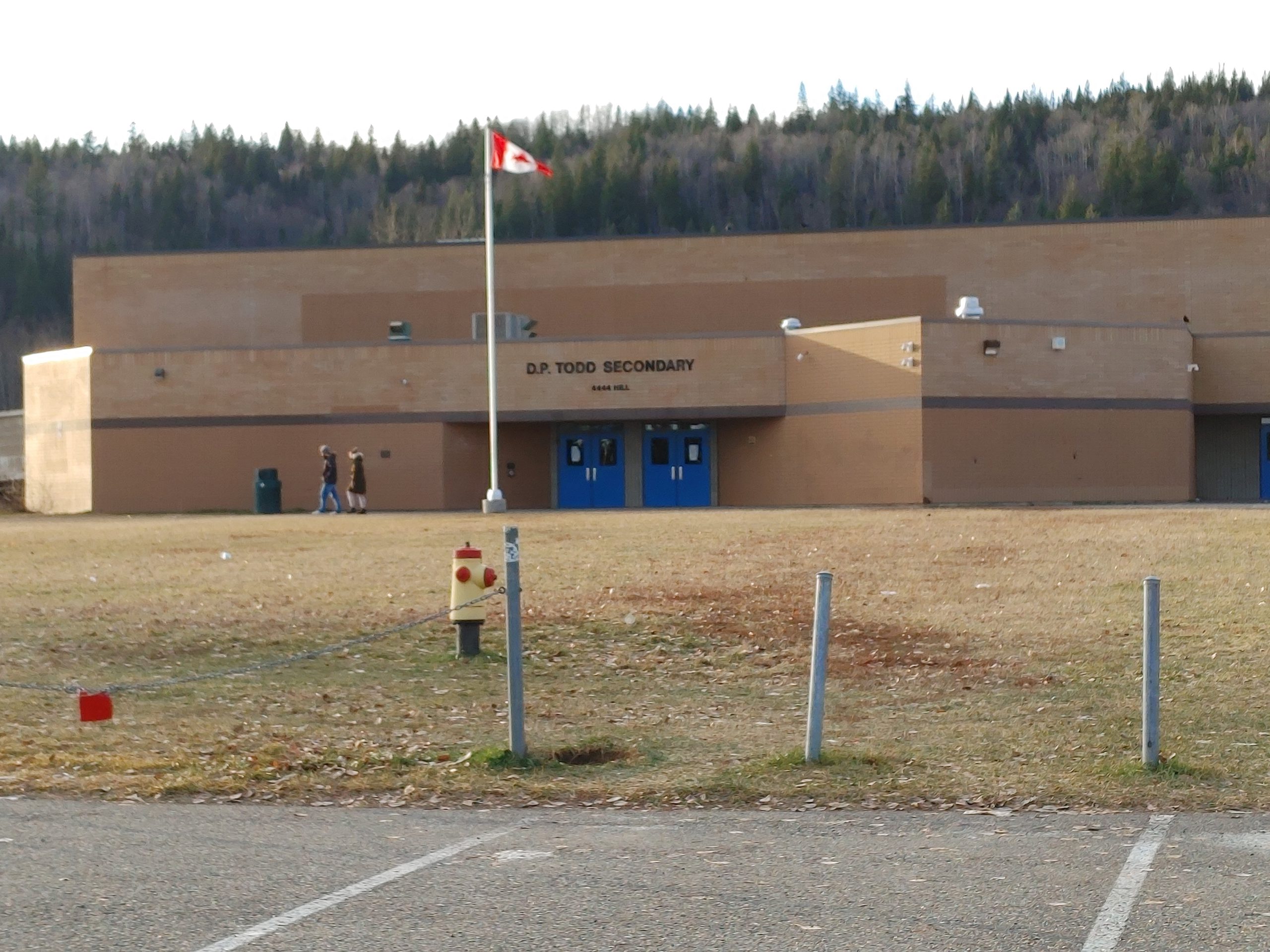 The Prince George RCMP is working with staff and students at DP Todd to investigate a social media post received by a student.
According to Cpl. Jennifer Cooper, the post was received by the student yesterday (Wednesday) morning.
"We are not sharing the content of the photo at the current time, we are just looking to find the original sender." Cooper said.
"Since it's a stock photo from the internet, it's possible the original sender thought it might be amusing, but it is of a bit of a graphic nature.
Police do not believe there is an increased risk to students or staff, and the hold-and-secure at DP Todd has been lifted.
The investigation will remain open until the original sender is located and spoken with.