Meet the Extremists and Social Media Influencers at the Centre of the Far-Right Siege of Ottawa – PressProgress
Ottawa is under siege, but who is really behind the occupation?
The siege began as a so-called "Freedom Convoy" of truckers disgruntled about public health rules for those crossing the US-Canada border.
Or so Canadians were told.
The fact remains 90% of Canadian truckers are vaccinated and the rules being protested only impact a small minority of truckers that do regular cross-border routes. Canada's trucking industry had been vocal in disavowing the convoy well before they arrived in Ottawa as the convoy's extremism became clear.
While some, like Conservative leadership candidate Pierre Poilievre, have sought to downplay extremist elements within the protests as just a few bad apples, many of the group's organizers and participants are drawn from the same old cast of characters.
In many cases, participants are the same people who've opposed public health measures throughout the pandemic and, more recently, stalked Justin Trudeau at campaign stops and protested at hospitals during last year's federal election.
Here's a run-down of a few of these extremists and social media influencers helping to amplify their messages who have been spotted in Ottawa:
The Extremists
The "Freedom Convoy" was originally organized by a group called Canada Unity, which was founded by a man named James Bauder who is linked to far-right "Yellow Vest" groups and has harassed picketing oil refinery workers.
Bauder is an author of the convoy's "memorandum of understanding" that calls for overthrowing Canada's democratic government and replacing it with an unelected junta consisting of convoy leaders, the Senate and the Governor General.
Other top organizers include Benjamin Dichter, a failed Conservative and People's Party candidate, who recently stated he welcomes the Confederate flag in Ottawa, as well as Pat King, a far-right figure who previously broadcasted rants about the "depopulation of the Caucasian race" and suggested the only way the convoy to Ottawa would be "solved is with bullets."
This is Pat King an organizer of the #OttawaOccupation #FreedomConvoyCanada2022 . Is this who @CPC_HQ think Trudeau should meet with? pic.twitter.com/S3GHaHMEQ9

— Peter Ladefoged (@Peterlad21) February 4, 2022
One of the most visible political figures during the siege has been Randy Hillier, an independent Ontario MPP who was kicked out of Doug Ford's party a few years ago — Hillier is getting ready to run under his newly created Ontario First Party in this spring's election.
Over the weekend, while standing on the steps of Parliament Hill, Hillier delivered a dangerous speech that likened the convoy's struggle to that of Canadian soldiers fighting at Vimy Ridge before telling his supporters: "This is the hill we die on."
This is very dangerous rhetoric:

While standing on the steps of Parliament Hill, former Ontario PC MPP Randy Hillier compares their struggle to Canadian soldiers fighting the Battle of Vimy Ridge then tells a crowd of supporters: "This is the hill we die on."#ottnews pic.twitter.com/vTWMIUpazP

— Luke LeBrun (@_llebrun) February 5, 2022
Hillier appears to be leveraging connections from No More Lockdowns, a group he founded in response to COVID-19 public health restrictions — the group's corporate documents list his daughter Chelsea Hillier, a failed People's Party candidate, as the for-profit company's sole proprietor.
In fact, Randy Hillier has played a key role communicating and coordinating with a network of drivers of large industrial and agricultural vehicles that have clogged-up Ottawa streets, often using encrypted social media apps like Telegram.
Other top organizers include individuals with police and military backgrounds, which may help explain their unusual strategies and tactics, including the establishment of elaborate bases and supply lines.
One such organizer, Tom Quiggin, is a former RCMP and intelligence officer and taught at the Royal Military College. Quiggin has spoken at events hosted by the right-wing Manning Centre, where he claimed a Québec City mosque targeted by a far-right terrorist was, itself, helping terrorists.
Others involved with the occupation have long ties to protests against various public health measures during the COVID-19 pandemic.
Henry Hildebrandt, a doomsday preacher from Aylmer, Ontario, is a close ally of Hillier and his No More Lockdowns group. In an interview with CTV's W5, the pastor of Aylmer's Church of God stated he believes COVID-19 and the support he is receiving opposing to public health measures are the fulfillment of an apocalyptic prophesy and a sign that "the end of coming."
Hildebrandt was filmed pleading with a police tactical unit that raided one of the protesters' illegal logistics camps set-up at Ottawa's baseball stadium.
Witnesses say before the police raid they saw a drone fly overhead surveilling them. Then dozens of officers came over the snow banks and surrounded them. Protestors prayed for police pic.twitter.com/1Ie7tFxFmY

— Judy Trinh (@judyatrinh) February 7, 2022
The Line was one of the first anti-public health groups that organized protests in opposition to COVID-19 measures in April 2020. That group's leader, Lamont Daigle, was filming videos inside his car in Ottawa. Vladislav Sobolev, whose anti-mask group Hugs Over Masks received media attention early in the pandemic, was also spotted on Parliament Hill.
Nadine Ness, the leader of a group with links to far-right conspiracies called Unified Grassroots, is also in Ottawa. Ness' group opposes vaccination policies and had a long phone call with Saskatchewan Premier Scott Moe in December.
Another figure spotted in Ottawa this weekend was an anti-vaccine activist named Chris Sky, who recently had a warrant issued for his arrest in connection to an incident where led an angry unmasked mob into a West Edmonton Mall toy store (Sky reportedly turned himself into police a few days later).
In Ottawa, Sky posted a TikTok video showing himself amid a hostile mob that was charging at police, forcing them to fall back from a position near Parliament Hill.
Wondering why there were no cops at the 100+ person street party with a DJ on a truck at Rideau and Sussex last night?

The protestors chased them off.

Here is video from one prominent protestor from last night #cdnpoli #ottnews #TruckerConvoy2022 https://t.co/W80MUSmYEF pic.twitter.com/7Jl9ttbeJ7

— Mackenzie Gray (@Gray_Mackenzie) February 5, 2022
Sky is not the only siege participant with a spotty criminal record.
The crowdsourcing website called Convoy Traitors caught former Conservative leader Andrew Scheer smiling for a photo with convoy member Christopher Scott in Ottawa.
Scott was handed a criminal conviction after his business violated public health rules and sentenced to 18 months probation in December.
Elements even further to the extreme far-right are also embedded in the convoy.
Several members of the so-called Plaid Army, a neo-fascist group that wishes to stage a violent revolution to establish a new "Diagolon" country joining the Canadian West with parts of the United States, have been spotted at the centre of the chaos in downtown Ottawa.
Four members of a group called Canada First were filmed at Ottawa City Hall this weekend harassing Ottawa residents.
Tyler Russel, the group's leader, was spotted with a man who was criminally charged with assaulting Prime Minister Justin Trudeau with a weapon at a campaign stop during the last federal election. On Sunday, Russell was spotted in a red "Canada First" hat yelling at police during a raid on the protesters' illegal command base established at Ottawa's city-owned baseball stadium.
Protestors yelling at contingent of Ottawa Police and OPP pic.twitter.com/9wVp3AAu4h

— Judy Trinh (@judyatrinh) February 7, 2022
A man named Chris Elston, an anti-trans activist who has been travelling the country staging protests outside of elementary schools, was spotted on the Rideau Canal. Sandra Solomon, a noted anti-Muslim activist, delivered a speech on Parliament Hill. Anti-vaccine conspiracy theorist Kelly Anne Farkas was reportedly heard encouraging protesters to use bathrooms at the Holiday Inn Downtown Ottawa.
The siege has also featured an appearances by Romana Didulo, the self-declared "Queen of Canada" who was arrested in December after threatening health workers— PressProgress spotted the Queen of Canada's RV camping out overnight in front of Finance Canada's headquarters in Ottawa.
The protests have also featured vehicles displaying signs promoting the sovereignist Maverick Party and Wexit, a far-right secessionist movement that seeks to break away Alberta, Saskatchewan and other western provinces from the rest of Canada.
Top convoy organizer Tamara Lich is a long-time Wexit activist and a founding member of the Maverick Party's governing council.
And then there's QAnon.
QAnon is a delusional online community that believes Donald Trump is waging a heroic battle against a secret cabal of Satanic pedophiles. They had a highly visible presence at the US Capitol during the January 6 insurrection.
A number of trucks associated with the Ottawa siege display slogans associated with QAnon.
Other signs make reference to "Nuremberg 2.0," an idea popular in QAnon circles that those responsible for public health restrictions will be tried and hung for treason in secret trials.
The sign reads Nuremberg Now. (Actually, it reads Nurenberg Now.) Nuremberg trials resulted in the hanging execution of Nazis. pic.twitter.com/e6MvsMoUfI

— Abigail Bimman (@AbigailBimman) February 2, 2022
The Social Media Influencers

The siege has also occupied the attention of Canada's right-wing media ecosystem.
All the usual characters are in Ottawa: Post Millennial, True North, Rebel Media — former Rebel Media personality Keean Bexte even hosted an online event with convoy organizer Benjamin Dichter and alt-right figure Lauren Southern.
The occupation has also brought out a number of social media influencers that have been a mainstay at anti-lockdown protests.
Former 700 Club host and People's Party candidate Laura Lynn-Tyler Thompson has been livestreaming from the streets of occupied Ottawa, as has another livestreamer named Selena Paley, a People's Party supporter who runs a page called Freedom Central.
Another character, Jim Kerr, has been a familiar face at anti-lockdown protests over the last two years, driving from town to town in a psychedelic school bus called the "Church of Bubbles." He was spotted at protests at PB's Peterburgers in Peterborough, Ontario as well as Hildebrandt's Church of God in Aylmer, Ontario.
Kerr, who has been a prolific livestreamer, was also spotted at a rave on the steps of Parliament Hill.
Other social media influencers have gotten in on the action too. Austin Hill, runs an Instagram account called ShotsByHill, previously an amateur photography account that has since become radicalized.
Hill has been creating videos wandering around downtown Ottawa handing out $20 bills directly to truckers in support of the occupation, funds which he obtained by requesting donations via PayPal.
---
With contributions from the Canadian Anti-Hate Network.
Help us protect Canadians by holding the powerful accountable.
Journalism is an important public service. That's why PressProgress is prioritizing stories aimed at keeping Canadians safe and holding the powerful accountable during the coronavirus pandemic.
Please consider supporting our award-winning non-profit news organization so we can keep making a positive impact for Canadians.
7 Tips to Grow Your Audience on Every Social Media Platform [Infographic] – Social Media Today
Are you looking for ways to get more social media followers? Want to grow your audience by sharing the right social media content?
The team from Giraffe Social Media share their tips to get more followers in this infographic.
Here's a quick summary:
Repackage and repurpose
Steal like an artist
Trends are your friend
FAQs can be content
Get social on social
Collaborate everywhere
You need a newsletter
Check out the infographic for more detail.
Links, News and Notes: HHOF Decisions, Growing the Game on Social Media, and Free Agency – Silver Seven
It's the Monday edition of Links, News and Notes!
If you buy something from an SB Nation link, Vox Media may earn a commission. See our ethics statement.
Share this story
Company buying Trump's social media app faces subpoenas – ABC News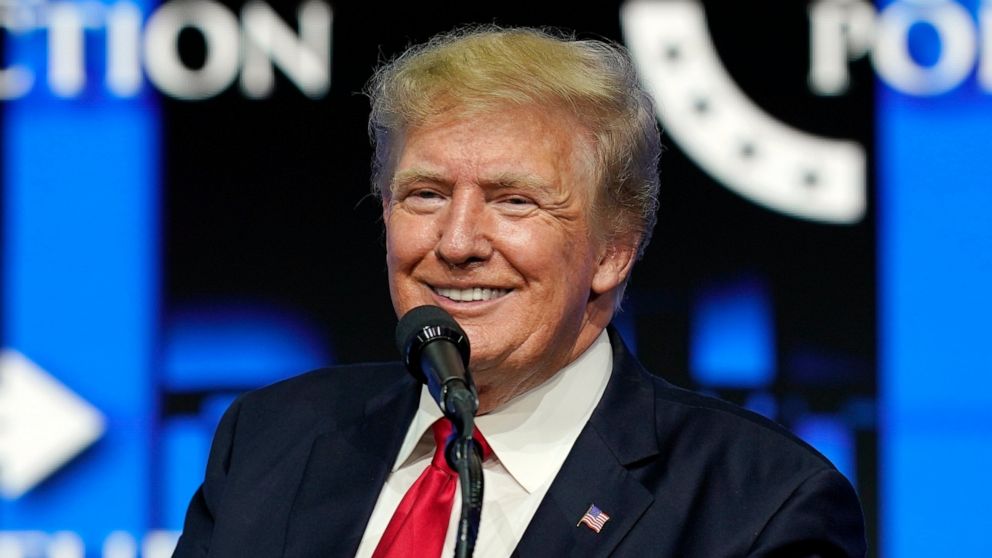 NEW YORK — Shares of Digital World Acquisition Corp. dropped 10% in morning trading Monday as the company reported that the subpoenas and a related investigation by the Department of Justice and the Securities and Exchange Commission could delay or even prevent its acquisition of the maker of Trump's Truth Social app.
The Justice Department subpoenas follow an ongoing probe by the SEC into whether Digital World broke rules by having substantial talks about buying Trump's company starting early last year before Digital World sold stock to the public for the first time in September, just weeks before its announcement that it would be buying Trump's company.
Trump's social media venture launched in February as he seeks a new digital stage to rally his supporters and fight Big Tech limits on speech, a year after he was banned from Twitter, Facebook and YouTube.
The Trump Media & Technology Group — which operates the app and was in the process of being acquired by "blank-check" firm Digital World — said in a statement that it will cooperate with "oversight that supports the SEC's important mission of protecting retail investors."
The new probe could make it more difficult for Trump to finance his social media company. The company last year got promises from dozens of investors to pump $1 billion into the company, but it can't get the cash until the Digital World acquisition is completed.
Stock in Digital World rocketed to more than $100 in October after its deal to buy Trump's company was announced. The stock traded at just around $25 in morning trading Monday.
Digital World is a special-purpose acquisition company, or SPAC, part of an investing phenomenon that exploded in popularity over the past two years.
Such blank check companies are empty corporate entities with no operations, only offering investors the promise they will buy a business in the future. As such they are allowed to sell stock to the public quickly without the usual regulatory disclosures and delays, but only if they haven't already lined up possible acquisition targets.
Digital World said in a regulatory filing Monday that each member of its board of directors has been subpoenaed by a grand jury in the Southern District of New York. Both the grand jury and the SEC are also seeking a number of documents tied to the company and others including a sponsor, ARC Global Investments, and Miami-based venture capital firm Rocket One Capital.
Some of the sought documents involve "due diligence" regarding Trump Media and other potential acquisition targets, as well as communications with Digital World's underwriter and financial adviser in its initial public offering, according to the SEC disclosure.
Digital World also Monday announced the resignation of one of its board members, Bruce Garelick, a chief strategy officer at Rocket One.