COVID-19 protests threaten border trade between Canada, US – ABC News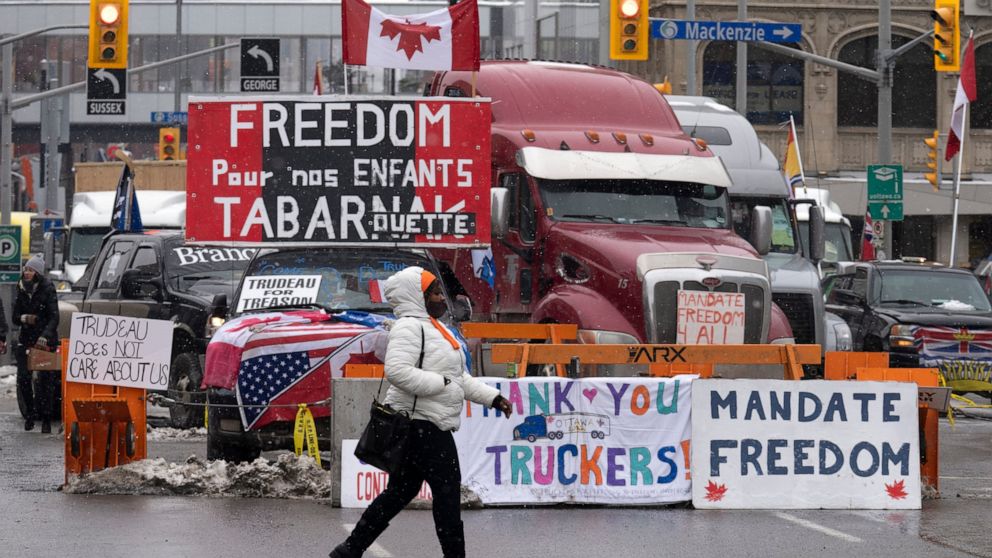 OTTAWA, Ontario — Canadian lawmakers expressed increasing worry Tuesday about the economic effects of disruptive demonstrations after the busiest border crossing between the U.S. and Canada became partially blocked by truckers protesting vaccine mandates and other COVID-19 restrictions.
The blockade at the Ambassador Bridge between Detroit and Windsor, Ontario, prevented traffic from entering Canada while some U.S.-bound traffic was still moving, Public Safety Minister Marco Mendicino said, calling the bridge "one of the most important border crossings in the world." It carries 25% of all trade between Canada and the United States.
Canadian Transport Minister Omar Alghabra said such blockades will have serious implications on the economy and supply chains. "I've already heard from automakers and food grocers. This is really a serious cause for concern," he said in Ottawa, the capital.
Added Mendicino: "Most Canadians understand there is a difference between being tired and fatigued with the pandemic and crossing into some other universe."
Speaking in an emergency debate late Monday in Parliament, Prime Minister Justin Trudeau said the protesters are "trying to blockade our economy, our democracy."
Auto parts and other goods were still flowing across the border Tuesday evening, despite the bridge delays. But trucks had to travel almost 70 miles north to the Blue Water Bridge connecting Sarnia, Ontario, to Port Huron, Michigan. Authorities at that bridge reported a nearly three-hour delay for trucks to cross. In total, the trip will take more than five hours longer than normal.
Flavio Volpe, president of the Canadian Auto Parts Manufacturers Association, said the protesters have no right to park vehicles in the middle of roads. He questioned how many of the protesters were truckers because trucker associations and large logistics companies have disavowed the blockades.
"It is really a collection of kind of anti-government provocateurs," he said.
The protests also threaten supplies of fresh produce, livestock and other food, Volpe said.
Even a five-hour delay can cause production disruptions because factories are running so lean on part supplies with an already fragile supply chain, said Jeff Schuster, president of the LMC Automotive consulting firm in Troy, Michigan.
"Everything is so 'just-in-time' these days," he said. "We're still dealing with parts shortages in general and supply chain issues. This is just another wrench in the industry that we're dealing with right now."
Protesters also closed another important U.S.-Canada border crossing in Coutts, Alberta.
The daily demonstrations staged by the so-called Freedom Truck Convoy are centered in Ottawa, where demonstrators have used hundreds of parked trucks to paralyze parts of the capital for more than 10 days. Protesters have said they will not leave until all vaccine mandates and COVID-19 restrictions are lifted.
Protest organizers have been calling for weeks for the removal of Trudeau's government, although most of the restrictive measures were put in place by provincial governments.
On Tuesday, the organizers withdrew an unlawful demand that the nation's governor general, the representative of Britain's Queen Elizabeth II as head of state, force federal and provincial governments to lift all COVID-19 restrictions, including vaccine mandates. They now say they support Canada's constitution and the democratic process.
François Laporte, the president of Teamsters Canada, which represents over 55,000 drivers, including 15,000 long-haul truckers, said the protests do not represent the industry in which 90% of drivers are vaccinated.
The Freedom Convoy "and the despicable display of hate led by the political Right and shamefully encouraged by elected conservative politicians does not reflect the values of Teamsters Canada, nor the vast majority of our members," Laporte said in a statement.
Canada's largest trucking company is virtually untouched by the vaccine mandate for truckers crossing the U.S.-Canada border, said Alain Bédard, chairman and CEO of TFI International Inc.
"Vaccination at TFI is not an issue at all," he said. The company's few unvaccinated drivers are kept in Canada.
The protests have also infuriated people who live around downtown Ottawa, including neighborhoods near Parliament Hill, the seat of the federal government.
Dave Weatherall, a federal civil servant, lives near the truckers' prime staging area in a city-owned parking lot outside of the downtown core. "They're using the lot to terrorize people," he said.
"It's the first time since having kids that I've seriously wondered about the world we brought them into. I always figured they could handle most things the world will throw at them, but this feels different," he added.
Ottawa's city manager said all tow-truck companies on contract with the city have refused to haul away the big rigs.
Joel Lightbound, a lawmaker for Trudeau's Liberal Party, rebuked his leader Tuesday for dividing Canadians and said his government needs to create a road map for when coronavirus measures should be lifted.
"It is time we stopped dividing people, to stop pitting one part of the population against each other," Lightbound said.
Trudeau said everyone is tired of COVID-19, and that the restrictions will not last forever. He noted that Canada has one of the highest vaccination rates in the world.
"This government has been focused every step of the way on following the best science, the best public health advice, to keep as many people as safe as possible. Frankly, it's worked," Trudeau said Tuesday.
Pandemic restrictions have been far stricter in Canada than in the U.S., but Canadians have largely supported the measures. Canada's death rate is one third that of its neighbor.
Meanwhile, the Canadian provinces of Saskatchewan, Quebec, Alberta and Prince Edward Island announced plans to lift some or all COVID-19 restrictions, with Alberta removing its vaccine passport almost immediately. A week ago, Alberta's premier said the vaccine passport could be eliminated by the end of March.
Quebec's plan doesn't include an end to mask mandates or the vaccine passport system.
Quebec Premier Francois Legault said the demonstrators who descended on Quebec City last weekend calling for an end to health measures didn't weigh on the government's decision to offer Quebecers a reopening plan.
"Now, if they (demonstrators) want to take credit for this, and then they don't come back in two weeks, I won't object to that,″ Legault said.
————
Gillies reported from Toronto. Associated Press Writer Tom Krisher in Detroit also contributed to this report.
ERs in Canada overwhelmed, face closures – CTV News
Hospitals overwhelmed by the pandemic's onslaught are still facing a number of challenges, causing unprecedented wait times in emergency rooms across the country.
Along with limited hospital beds and a backlog of surgeries, a primary cause for dysfunction has been a shortage of physicians and nurses.
Many of the problems facing hospitals are not new, but experts say that the pandemic has exacerbated the situation, leading to a crisis so dire that patients are now starting to see emergency department closures in hospitals near them.
A LONG, 'LONG WEEKEND' FOR EMERGENCY ROOMS
On Saturday, Perth and Smith Falls District Hospital (PSFDH) announced a shutdown of its emergency department until Thursday, citing a COVID-19 outbreak. However, its doctors say the real reason is an ongoing staff shortage.
"Yeah, COVID caused the closure of the emergency department, but the reality of it is that we had no built-in resilience of our nursing staff," Dr. Alan Drummond told CTV National News on Saturday.
Drummond said that PSFDH's emergency room dropped from 50 nurses down to five, leaving the unit exceptionally thin.
"Somebody needs to be held accountable for the fact that we lost 50 per cent of our nursing staff within several months, which set us up, basically, to fail," he said.
Drummond said the catchment area for the PSFDH is about 25,000 people in a large geographic area between Smiths Falls and Peterborough, meaning many patients travel long distances to get to the emergency department.
Patients needing urgent care will now have to drive 20 kilometres from Perth to Smiths Falls.
"I don't think it's fair for the people in this community," local resident John Hastings told CTV News on Saturday.
The Town of Clinton in Ontario was without an emergency room for the entire Canada Day long weekend, as the Clinton Public Hospital's emergency room announced a shutdown from July 1 to 5.
This marked the longest 24-hour closure of the Clinton Public Hospital's emergency room.
Physician and nurse shortages are to blame, according to Deborah Wiseman, the chief nursing executive with the Huron-Perth Health Alliance, who anticipates more service disruptions this summer.
"Not just this weekend, but what you'll see is more to come. I'm going to say for the next six months to several years, with our human health care shortages, both in the nursing and physician areas. We are really struggling to maintain services," Wiseman told CTV National News.
Wiseman said they are investigating everything to try to resolve the health-care worker shortage and keep their emergency rooms open, including using paramedics in emergency rooms.
Other provinces are experiencing similar issues. Six emergency departments in Quebec will be partially shuttered this summer owing to a staffing shortfall, the provincial government announced on Thursday.
Nova Scotia Health says people should expect long wait times in all four health zones because of high demand during the long weekend.
"Unfortunately, we're currently experiencing what we call 'bed block,' where we have a large number of admitted patients and nowhere to send them," Dr. Margaret Fraser, a physician at Cape Breton Regional Hospital in Sydney, N.S. told CTV National News on Saturday.
Bonnie Nunn, a resident from Trehern, Manitoba, told CTV National News on Saturday that her daughter recently needed emergency treatment and had to be taken to Portage la Prairie, about 45 minutes away, because the Trehern emergency department was closed due to a lack of staff.
"I'm really angry, angry at everything. I don't think enough thought went into this," she said.
"I'm not angry at nurses. They need time off too."
WHAT IS CAUSING THE STAFF SHORAGES?
Dr. Katharine Smart, president of the Canadian Medical Association, told CTV News Atlantic in May that the rate of physician and nurse burnout is double what it was pre-pandemic.
"Our health-care system is at a level of crisis we've never really seen, and the health workers are in a state of crisis we've never seen," said Smart.
A June survey released by Statistics Canada showed that 95 per cent of health workers feel that the pandemic has impacted their mental health and has added stress to their work-life balance.
During the pandemic, health workers have faced extended work hours, decreased vacation time, and changes in the method of delivering care.
In the fourth wave of the pandemic between September to November of 2021—the period in which the survey was conducted—many health workers were looking to leave or quit due to job stress or concerns around their mental health.
"How do we retain workers? Probably a raise," Halifax-based ICU nurse, Elinor Kelly told CTV News Atlantic in May.
"Probably a decent one. I think that's going to have to help. Especially for critical care nurses because critical care, we have a lot of people that we train and recruit, but after a year or so they can go work privately at triple the amount of money I'm making after 27 years."
Dr. Paul Saba, a family physician and president of the Council of Physicians at Hôpital de Lachine in Montreal, said he wants the government to make substantial changes.
"The health-care system has to be improved. And it can't just be a short-term electoral promise … for the next few years, but long-term," he told CTV National News on Saturday.
With files from Deena Zaidi and CTV News Atlantic
Missing 13-year-old Edmonton girl found alive in Oregon, 41-year-old man arrested
EDMONTON — Police say a 13-year-old Edmonton girl missing for more than a week has been found alive in the United States.
She was located following a week-long search that began when she was seen arriving at her junior high school but didn't show up for class.
Edmonton Police Insp. Brent Dahlseide says the girl, who was reported missing June 24, is currently in an Oregon hospital for a precautionary examination after being found safe in the state early Saturday morning.
Dahlseide says a 41-year-old Oregon man will be charged with child luring and is expected to face additional charges in Canada and the U.S.
He says Edmonton police received assistance from other agencies in Canada, as well as from the FBI and other police services in the U.S.
Dahlseide says it's believed the suspect came to Edmonton, but it's not yet clear how he initially made contact with the girl or how she crossed the U.S. border.
"We would be speculating to say they crossed the border together, but I do know that they were located together, again, in the U.S. once they gained entry," Dahlseide told reporters during an online news conference Saturday, noting he believed the two had been communicating online.
"I don't know how long they may have been in contact with one another. I do know that the reason we're going with a child-luring charge at this point is that it's one we can support because of some of the online history."
Photos of the girl have appeared on billboards and posters across Alberta this past week asking people to be on the lookout for her and contact police with tips.
Dahlseide said an Amber Alert was not issued because investigators lacked a description of a suspect or a suspect vehicle. He said police got that information on Friday and were drafting the alert that afternoon when they learned from Canada Border Services the suspect had crossed into the U.S.
At that point the suspect was no longer in Canadian jurisdiction, Dahlseide explained, which is another criteria for an Amber Alert. He said they made a deduction about where the suspect was going and alerted authorities on the U.S. side.
Dahlseide said he believed the arrest was made outside Gladstone, Oregon, just south of Portland, away from the suspect's residence. He said the suspect's name would not be released until charges are formally laid.
He said the girl's family were informed early Saturday she'd been found safe and they are making arrangements to bring her home.
"I'm sure we likely woke them up, showing up at their door so early," Dahlseide said.
Canadian investigators have not had a chance to speak with the girl or the suspect yet, Dahlseide said, and other questions remain.
He said investigators believe the suspect was in Mission, B.C. for three to four days, so they'll be asking RCMP there to speak to people who may have seen him or the girl during that time. The FBI will also be able to help supply bank or credit card information to piece together the suspect's movements, he said.
This report by The Canadian Press was first published July 2, 2022
Rob Drinkwater, The Canadian Press
People planning to attend AIDS conference in Montreal still struggling to get visas
MONTREAL — International AIDS organizations say people from Africa, South America and Asia who are planning to attend a major AIDS conference in Montreal are still struggling to get visas from the Canadian government.
The groups say a growing number of activists — including some who were scheduled to speak at the conference which begins at the end of the month — are having their visa applications denied, often on the grounds that the Canadian government doesn't believe they'll return home after the event.
Tinashe Rufurwadzo, the director of programs, management and governance at Y+ Global, an international organization of HIV+ youth, said the chair of his organization's board and another of its employees, who are based in Malawi and Kenya, are among the young activists who have been denied visas to attend the conference.
He said both have travelled extensively to speak at AIDS-related events.
"Personally, I'm sick and tired of seeing young people from Africa mostly portrayed on PowerPoint slides as pictures, as photos on banners, as footnotes on case studies. Why can we not have them at conferences to share their lived experiences of what exactly is happening?" he said in an interview Friday.
Rufurwadzo said representatives of populations most at risk of HIV — such as people who inject drugs, transgender women, sex workers and gay men — need to be able to participate, as do adolescent girls, who are increasingly affected by HIV.
If people from the most affected countries aren't able to attend, he said he doesn't know how realistic the learning at the conference will be.
While those whose applications are denied will be able to attend the conference virtually, Rufurwadzo said that won't allow the same level of participation. He also said young people, especially those from rural areas, may not have consistent access to the internet.
Last week, almost 250 organizations from around the world sent a joint letter to Immigration Minister Sean Fraser calling on him to take action to ensure participants can attend the International AIDS conference.
Aidan Strickland, a spokesman for Fraser, said in response to earlier questions from The Canadian Press that the department has been working closely with event organizers and that applications "have been assessed in a timely manner."
"While we cannot comment on the admissibility of any particular individual, we can say that, in general, all visitors to Canada must meet the requirements for temporary residence in Canada, as set out in Canada's Immigration and Refugee Protection Act," Strickland said in an email. "All applications from around the world are assessed equally against the same criteria."
Javier Bellocq, an Argentine who runs a community journalism project called the Key Correspondent Team which focuses on people living with HIV and high-risk groups, said from the stories he's heard, it seems like each Canadian consulate is applying different rules.
In some places, he said, applicants have been required to pay for medical examinations as part of the visa process.
"The conference, in theory, arranged with the Canadian government that there will not be medical examinations, but there are, there are many medical examinations."
Of a group of 40 Argentines, including Bellocq, who are planning to participate in pre-conference activities, only two have received visas so far, he said.
Tumie Komanyane, who runs programs for international NGO Frontline AIDS in South Africa, said groups she works with were planning to help more than a dozen young people attend the conference, but decided not to even bother applying for 10 visas after the first four applications were rejected.
Komanyane said she's aware of other young people from the region, including some who had scholarships to attend the conference funded by the Canadian government, who have had their visa applications denied.
"It's incoherent," she said in an interview Saturday. "With the strides that Africa is making in the HIV field, all the lessons and evidence that could be coming from the beneficiaries directly is going to be lost."
While she works with young people, she said, she doesn't want to speak for them.
"They have agency, they have voice, and they shouldn't be represented by people like me. They should be able to go and share what this work means for them," she said.
Bellocq said he's not worried about himself, noting the Argentine passport is relatively powerful and he's a professional who has been travelling internationally form more than 30 years. But he worries about people  from countries with less passport privilege and members of marginalized groups who are at high risk of HIV.
With pre-conference events starting in just over three weeks, he said, "time is not on our side."
This report by The Canadian Press was first published July 2, 2022.
Jacob Serebrin, The Canadian Press