MEGADETH Settles Lawsuit Over 'The Sick, The Dying… And The Dead!' Cover Art
According to The Hollywood Reporter, MEGADETH has settled a lawsuit over the cover artwork for the band's latest album, "The Sick, The Dying… And The Dead!".
Three months ago, New York-based illustrator and designer Brent Elliott White, who created the artwork for "The Sick, The Dying… And The Dead!", filed a lawsuit against the band, claiming he hadn't received pay or credit for his work.
Last Thursday (May 11),the parties filed a joint notice of settlement informing the court that "the parties have reached an agreement in principle for the resolution of this action." They intend to file a stipulation of dismissal within 30 days.
White's attorney Matthew Cave of Kibler Fowler & Cave on Friday (May 12) confirmed to The Hollywood Reporter "the matter has been resolved amicably."
In the lawsuit, which was filed on February 3 in the U.S. District Court for the Eastern District of New York, White, who had previously worked with TRIVIUM, JOB FOR A COWBOY, DEATH ANGEL and ARCH ENEMY, among others, said he was contacted in early 2020 about creating a design concept and artwork for an upcoming MEGADETH studio album, which would be the third MEGADETH LP he has been involved in designing and producing artwork for.
By mid-April 2021, MEGADETH had settled on the concept and artwork that would become the basis for the cover of their album now titled "The Sick, The Dying… And The Dead!" Around this time, White says he was asked to create cover art for an EP release, which he also worked on.
On June 22, 2022, 5B Artists + Media CEO (and MEGADETH manager) Bob Johnsen told White that MEGADETH had been working on costumes for an upcoming tour and required additional renderings of the artwork chosen for the album cover because the stage decorations for the tour would be based on the album cover art, the lawsuit states. By text, White reminded Johnsen that he still did not have a written contract with MEGADETH and had not been paid for his work, saying: "I know album release time is hectic but I have to mention that any send off, including album art, is contingent on compensation and contract. So we're going to have to sort that out soon." In response, Johnsen told White: "First song drops tmrw [sic]" but assured "No one intended to not have this papered by now" and he "would bring it up the right way."
On June 23, 2022, without a signed agreement with White in place and without paying White anything for his work, MEGADETH released White's artwork and — "shockingly to" White, according to the lawsuit — credited MEGADETH frontman Dave Mustaine for the album's "Art Concept."
The next day, White reached out to MEGADETH's record label, Universal Music Group, complaining, "I still don't have a contract or payment from UMG for The Sick The Dying and the Dead…Bob [Johnsen] reached out yesterday…and he said he left it with UMG… I assumed someone would reach out to me to have this done before the album went out. Now the art was released in conjunction with the single and album pre-sale on social, [MEGADETH] website, Rollingstone [Magazine]…None of it credits me, not a mention on social and no credit in the article. We don't have a contract or art release or usage agreement. Not trying to get legal here but since we don't have a rights transferred agreement copyright does reside with me."
After the artwork was released, MEGADETH "attempted to force" White to accept the same terms as for the first MEGADETH album he provided artwork for, according to the suit. White "never agreed to these terms and had expressly told" MEGADETH "before the album artwork was released that this arrangement would not be acceptable."
In late July 2021, White gave Johnsen a breakdown of the time he spent working on the album artwork to date, which totaled $21,500. Johnsen agreed to the amount, but only if it would be for a "total buyout" of White's intellectual property rights to his artwork. White refused, and when he gave MEGADETH a price for buying out his intellectual property rights, with carve-outs for ways in which White had previously told MEGADETH he expected to be able to continue to exploit his own work and profit from it. MEGADETH refused to agree to those terms, including White's buyout price. Still with no contract or usage agreement in place with White, MEGADETH released "The Sick, The Dying… And The Dead!" in September 2022.
White sued MEGADETH, Universal Music Group and others for copyright infringement and asked the court for an injunction that would stop MEGADETH and UMG from using the artwork. He also sought damages and disgorgement of profits.
Art therapy space gutted in 'terrible' Montreal heritage building fire – Montreal Gazette
Article content
The mission of Les Impatients, established in 1992, is to help people with mental health problems through the vehicle of artistic expression. The Monastère du Bon-Pasteur building, a multi-purpose building on Sherbrooke St. E., had been home to Les Impatients since 1999.
"A lot of people are in shock," Frédéric Palardy said of participants. "It's almost like a home for them. Some come twice a week."
They participate in art workshops and, as well, some are in music and dance workshops and a choir — all organized by Les Impatients.
"The main thing is that everyone is safe and no one was hurt," Palardy said. "My thoughts are for our neighbours."
The multi-purpose building housed a seniors' residence and a housing co-operative, Heritage Montreal, a daycare centre, condos and a chapel that served as a concert hall.
"I know a lot of people in the residence and the co-op," he said.
But the fire "is terrible for us, too."
Les Impatients was on the top floor and among the building's most severely affected by the blaze, said Palardy. Although it is not yet known for sure, the fire is believed to have started in the roof.
Article content
The space the organization occupied included its downtown workshop space, offices, gallery space and a boutique. Also lost in the fire were the organization's archives, its musical instruments and about 10 per cent of its artworks.
With about 30,000 works, Les Impatients has what is believed to be North America's largest collection of outsider art, Palardy said. The term describes art that has a naïve quality and was often produced by people without formal training as artists.
Les Impatients had insurance, but it was primarily for theft, Palardy said.
"We have to start from scratch," he said, adding that the organization is working on an appeal.
Meanwhile, Palardy said the organization has received countless emails and messages of support, including a text Sunday from deputy health minister Lionel Carmant and messages from representatives of the City of Montreal's culture department.
Article content
"A part of the soul of Les Impatients has gone up in smoke," the organization said in a communiqué. "The emotion and the sadness are vivid but the priority for the organization is to continue its mission, through this chaos, to serve its community well."

An interim location for Les Impatients administrative offices has been found, Palardy said Sunday, but the activities of the downtown section, which were held in the former monastery building, are suspended for now. That location normally serves about 130 people five days and three evenings every week through its workshops and the organization is already at work to find a new location, Palardy said.
The former monastery location is the largest and most well-established of Les Impatients' 25 locations elsewhere in Montreal and across Quebec which, together, serve more than 900 people. The other locations will continue to function, he said.
The Parle-moi d'Amour event, the biggest fundraiser of the year for Les Impatients, is set for September. Sadly, Palardy said, some of the works that were to be included were lost in the fire.
Remembering a pioneer of local Indigenous art – Sault Ste. Marie News – SooToday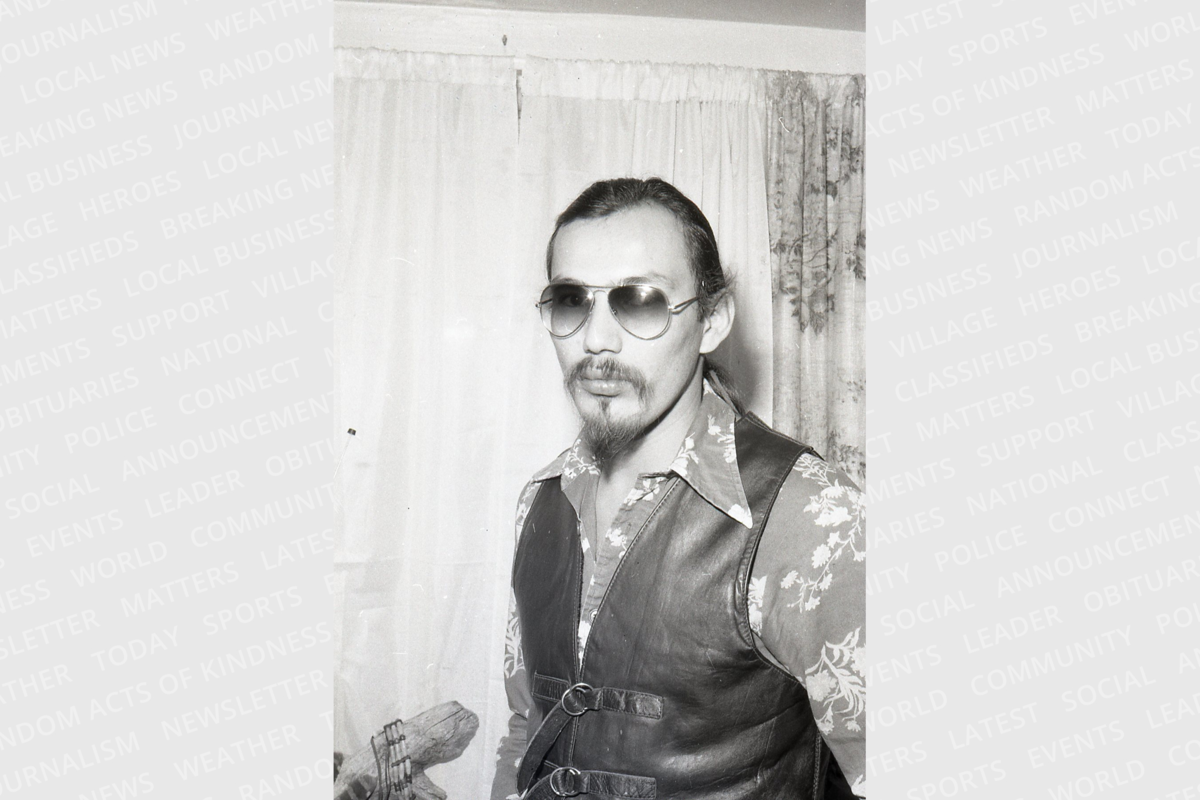 From the archives of the Sault Ste. Marie Public Library:
John Laford was a prominent Sault Ste. Marie artist, who was born in 1955 on an Indigenous reserve in the West Bay area of Manitoulin Island.
Leaving his home at the age of 15, he eventually made his way to Sault Ste. Marie by his early 20s.
He felt that he had been painting for as long as he could remember. He always enjoyed art, design and doodling after he finished school but with no formal training, he was largely self-taught.
Laford travelled throughout Europe, Canada and the United States, studying and learning from various artists along the way.
"I would only paint to get enough money to continue along the way," he said.
By 1969, Laford began painting full-time. In 1977, at the age of 22, he had his work exhibited at the Centennial Room at the Sault Ste. Marie Public Library. He used his work to show his Ojibway legends and spiritual beliefs. His spiritual beliefs and Ojibway legends were central not just to his artistic career but to his personal life as well.
Laford went on to be a vocal critic of the Children's Aid Society (CAS).
As a child, he played with a young boy who lived next to him. In a 1978 Sault Star article he explained, it was not until he was 12 that he realized that the boy was his older brother.
When he was one year old, his father died. His mother took his four sisters and two brothers and moved back to her reserve. She did not receive any financial assistance to care for her children and CAS took over.
"CAS saw my mother had too many kids and just took them away," Laford said. "To me, it seemed they just wanted to scatter the family. I wasn't adopted into a native family and the Children's Aid paid for my care but no one ever bothered to tell me about my real parents and brothers and sisters."
The foster family cared for four of them for a while which he described as very strict but fairly good people which he says helped him.
At the age of 15, he ran away from home with his older brother and travelled to Toronto in an attempt to find their mother.
"I quit school. Things weren't too good on the reserve. I was drinking a lot," he said.
When they arrived in Toronto it took them a week to find their mother. He spent three years with her getting to know her and the rest of his family.
"What I'm saying is my opinion, just my own ideas about the things I went through with Children's Aid. I would have liked to have grown up with my mother, stayed with my real mother, but it didn't happen that way. You could look at it (CAS) as destroying Indian families but they're trying to do something good," he said near the end of the Sault Star article.
Laford and two other Indigenous artists Cecil Youngfox and Peter Migwans formed a group called "Artists of the Northern Sun." They hoped it would "form the nucleus of the Indian community in Sault Ste. Marie."
The three artists created the group around 1977 when Laford moved to Sault Ste. Marie. They planned on organizing events that would bring Indigenous and Non-Indigenous Canadians together. The three wanted to create a higher profile and take on a leadership role in the community.
By 1980 Laford had become a well-established artist in his own right whose work was included in the McMichael Canadian Art Collection. His work had been exhibited in Hamilton, Toronto, and Montreal and in 1980 his work was part of the Manitoulin Island artist's show at the Royal Ontario Museum (ROM). In 1990 his work was once again featured in Sault Ste. Marie at the Art Gallery of Algoma.
Laford passed away in 2021 at the age of 67. He left a lasting mark and legacy in the
Indigenous community. He used his spirituality and culture's legends to create works of art that are enjoyed and viewed by Canadians and the world alike.
Each week, the Sault Ste. Marie Public Library and its Archives provide SooToday readers with a glimpse of the city's past.
Find out more of what the Public Library has to offer at www.ssmpl.ca and look for more "Remember This?" columns here.
Indigenous art market comes to downtown Kitchener
A celebration of Indigenous culture is in downtown Kitchener for the weekend.
The "I Am Kitchener: Indigenous Art Market" has taken over the Gaukel block, with everything from clothes, to art, to beadwork.
The two-day event is a showcase for artists across Southwestern Ontario, but also a welcoming to the wider community.
"I think it's really important for folks in the region to really come out and support events like this," said co-organizers Maddie Resmer. "It's a huge step forwards. What it means to connect with Indigenous community members in the region, in Kitchener, and for folks in the area to get to know some of the Indigenous artists that live here and are close to these territories, that's how we celebrate ourselves, right?
"We highlight the positive and brilliant people who come from our culture."
The Indigenous art market wraps up Sunday.