#MeToo turns five: Taking stock of gender-based violence in Canadian politics
Five years ago, women around the world began publicly disclosing their experiences of sexual assault and harassment on social media using the hashtag #MeToo.
This milestone provides us with an opportunity to reflect on how Canada has dealt with its own supposed #MeToo reckoning and misogyny in Canadian politics more specifically.
The events of 2017 came 11 years after Tarana Burke founded the #MeToo movement to raise awareness about the violence Black women and girls experience in the United States. The #MeToo hashtag went viral in October 2017 after sexual misconduct allegations against Hollywood mogul Harvey Weinstein became public.
Five years later, what lessons have we learned about gender-based violence in Canadian politics?
The first is that violence and harassment have not abated; if anything, they've escalated in the Canadian political sphere.
In response to rising threats and safety concerns for parliamentarians, Canada's public safety minister announced in June 2022 that all MPs would receive "panic buttons" to increase their personal security.
During the 2021 federal election, analyses of tweets received by incumbent candidates and party leaders conducted by the Samara Centre for Democracy show that 19 per cent were likely toxic, meaning they were uncivil, insulting, hostile, threatening or profane.
While public officials from all backgrounds are being targeted, women, Indigenous, Black, racialized and queer politicians are bearing the brunt of current attacks on Canada's democracy.
Freeland accosted
In August 2022, a man cornered Finance Minister Chrystia Freeland and her all-women staff entourage in a city hall elevator in Grande Prairie, Alta. and hurled abuse and profanities at her.
The incident prompted other women politicians to speak out about their own experiences of harassment.
Calgary Mayor Jyoti Gondek shared her experiences of harassment on Twitter, while Québec Liberal MNA Marwah Rizqy went public with recent harassment and threats made against her.
Rizqy has received death threats, including from a man who allegedly called the police to tell them where they could locate her murdered body. She was pregnant at the time.
A few weeks later, an online harassment campaign directed at women journalists — several of whom are racialized — was underway.
Threaten violence
In all of these instances, the harassers invoked violent, misogynistic, racist language, imagery or props as a way to demean, intimidate and threaten their targets.
We've also learned that some political leaders seem willing to use the vitriol seeded in our political culture for partisan gain.
In October 2022, Global News reported that a hidden misogynistic tag was placed on 50 of Conservative Leader Pierre Poilievre's most recent YouTube videos.
The hashtag, "MGTOW" (men going their own way), refers to an online anti-feminist movement that advocates for male supremacy.
When pressed on the subject, Poilievre condemned all forms of misogyny but did not apologize.
Silence and exclusion
Academic research shows that when harassment is directed at female politicians, staffers, activists and journalists because they are women, it poses a threat to democracy.
Rutgers University political scientist Mona Lena Krook has argued that the goal of violence against women in politics is to silence and exclude them from public life.
As my research with the University of Windsor's Cheryl Collier indicates, violence and harassment in politics are barriers to women in Canadian politics and undermine democratic values like equal representation and participation.
After the 2021 federal election, women held 30.5 per cent of House of Commons seats. Today, Canada ranks 61st out of 190 countries in women's political representation.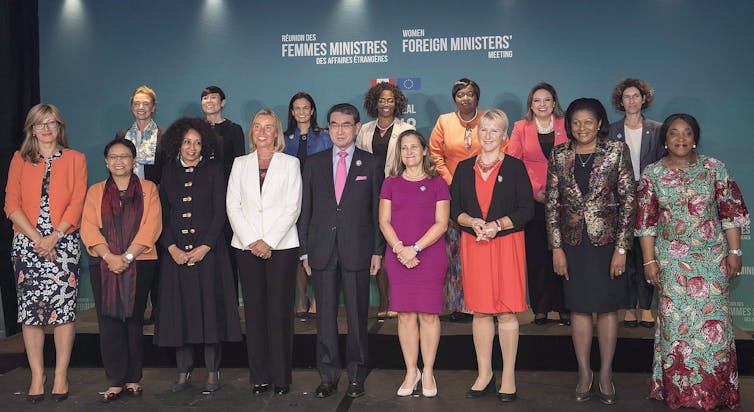 Positive developments
Thankfully, not all of #MeToo's lessons have been negative, and some positive strides for Canadian women have been made.
In 2018, the federal Liberal government passed a new law, Bill C-65, that updates and strengthens existing legislation to prevent and address harassment and violence across all federally regulated workplaces. That includes Parliament.
In response to Bill C-65, the House of Commons and the Senate updated their policies in 2021 to prevent and address violence and harassment.
Since #MeToo, many provincial and territorial legislatures have also adopted either codes of conduct or policies to deal with sexual harassment.
Although these codes and policies are insufficient and additional measures are needed, the media and the public's attention on workplace harassment and violence since #MeToo have spurred changes within these legislatures.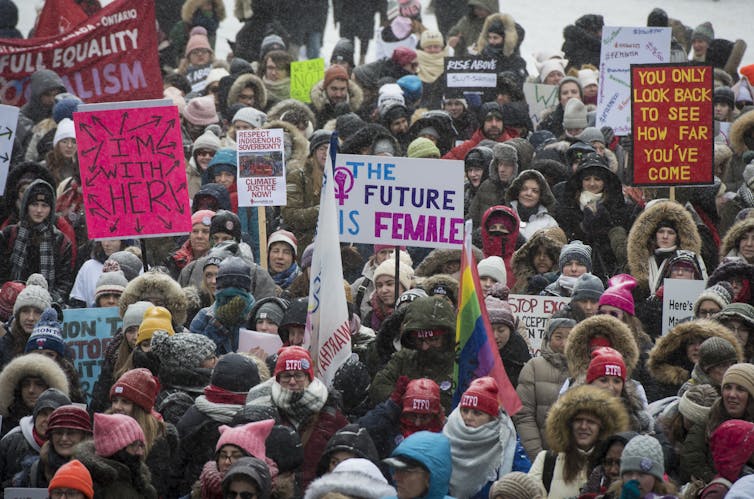 But more must be done. Non-disclosure agreements (NDAs) in harassment and violence cases need to be prohibited in all organizations and workplaces, including legislatures. Banning NDAs won't be enough to stop unethical behaviour, however.
As my research with Collier shows, political institutions — which remain mainly white, cis-gendered and male-dominated — need to do more to uproot their sexist, exclusionary cultures.
Lawmakers must adopt strategies to disrupt the "networks of complicity" that protect powerful perpetrators and enable abusive behaviour. Fully impartial, transparent processes that address all forms of violence and impose serious sanctions on those who commit violence or harassment would help.
Attack on democracy
The harassment of journalists, political candidates, staff and elected officials by a small faction of the public must also be addressed.
An attack on any political official must be viewed as an attack on Canadian democracy, and should not be tolerated in a free and democratic society.
Finally, political parties must do better at recruiting and electing diverse people to public office.
When the 10-year anniversary of the #MeToo movement arrives in 2027, Canadian democracy will hopefully be strengthened by the steps we take today to end violence and harassment in politics.
What lies ahead for Sask. politics after fall sitting begins in controversy, ends with $500 cheques in mail – CBC.ca
The fall sitting of the Saskatchewan Legislature started with controversy and ended quietly on Wednesday with confirmation $500 affordability cheques have been mailed.
The past seven weeks have seen the typical disagreements on what the government's priorities ought to be, but it began with an incident that made international headlines and led to an apology by the premier.
On Oct. 26, Lt.-Gov. Russell Mirasty delivered the government's throne speech. Seated in the crowd was convicted killer and former Saskatchewan cabinet minister Colin Thatcher.
Thatcher, 84, was found guilty in 1984 of the first-degree murder of his ex-wife, JoAnn Wilson, who was found beaten and shot to death in the garage of her home the previous year.
He was sentenced to life in prison with no parole for 25 years and granted full parole in November 2006.
Thatcher was invited by Thunder Creek MLA Lyle Stewart, who initially defended the decision, before calling it an "error in judgment."
The Saskatchewan Party government relieved Stewart of his legislative secretary duties. Five days after the throne speech, Premier Scott Moe apologized.
On Wednesday, deputy premier Donna Harpauer met with reporters, as Moe was in Washington, D.C.
"It was a mistake, one that the premier addressed on behalf of all of us, but we are very focused on the government agenda and got back to our agenda very quickly," she said.
NDP Leader Carla Beck said the invitation was a "slap in the face" to survivors of domestic violence, those that work in the field, and the assembly.
"We're looking at a government that is out of touch," the Opposition leader said.
"The fact that they did not see a problem with inviting a convicted wife killer to the legislature on throne speech day and then took five days and international embarrassment to even table the weakest of apologies," said Beck.
"It sent a terrible message in a province that has twice the rate of domestic violence in the country.
Saskatchewan First Act
A day after Moe's apology, Justice Minister Bronwyn Eyre introduced the Saskatchewan First Act, which the government said will confirm the province's autonomy and jurisdiction over its natural resources.
"This isn't about fed-bashing for kicks," Eyre said on Nov. 1.
"This is about quantifying, assessing, and defining economic harm. It's about our place in this federation and our responsibility to the people of Saskatchewan to foster economic growth."
The Saskatchewan First Act has been overshadowed by new Alberta Premier Danielle Smith's Alberta Sovereignty Within a United Canada Act which was introduced on Nov. 28 and is already going to be tweaked by government.
On Wednesday, the national chief of the Assembly of First Nations called for the proposed Alberta Sovereignty and the Saskatchewan First acts to be withdrawn.
Moe and Eyre have said the Saskatchewan act is inclusive.
"It doesn't change the intentions the government has to include all Saskatchewan people, Indigenous or otherwise, in the economy," Moe said last week.
"What the act is focused on is to make sure we have the focus on Saskatchewan so we can collectively benefit."
Last week, Beck and members of her caucus received some criticism for voting to move the bill to committee.
Beck said it is not clear what the bill accomplishes.
"My observation is that this was an act that was designed to have a political motivation behind it, but really materially wouldn't have had that much of an impact on the people of this province. It reasserts rights that already exist."
Beck said she has concerns about a lack of consultation with Indigenous and Métis communities.
$500 cheques not enough, says Opposition
Beck and the Opposition spent much of the sitting calling on the government to spend more to help people facing increased cost-of-living.
The government said it had responded with its decision to spend $450 million to send $500 cheques to more than 900,000 adults.
After an initial delay in getting the cheques mailed, they have been sent to people who filed their income tax by Aug. 31.
Harpauer said Wednesday the government is addressing needs by spending in areas of need like health care and education.
"We have committed additional dollars in a plan for health care for recruitment, retention, training and incentivizing more workers, recognizing that there is stress in the health-care system," she said.
"We also addressed stresses within education by providing additional dollars for inflation for our school divisions as well as an increase in student enrolment."
Beck said the government's priorities do not match the Opposition's, mentioning the government's decision to create a Crown corporation, the Saskatchewan Revenue Agency.
The bill to create the agency was introduced this week. The government said its aim is to "pursue greater autonomy in tax collection."
"We think this is a priority," Harpauer said.
"The piece of legislation I introduced this week is a very high-level piece of legislation that won't come to fruition for a few years. But at some point, we do want to explore it, and this lets the public know what our agenda is."
Beck said the public was not looking for a new tax collection and administration agency.
"There's a very big distinction between the priorities that we brought forward because these are concerns that people in the province have," she said.
"The government seems very pleased with in this building I don't think translates very well to the people out there who are struggling to just get by right now."
Harpauer disagreed, saying the proposed revenue agency is a response to what the government has heard.
"We are listening to stakeholders around the province, to different groups as well as our own constituents. This isn't just coming from nowhere. This is something that people are raising concerns about."
The Many Ad Bans of Disney+: No Booze, No Politics, No Netflix – BNN Bloomberg
(Bloomberg) — Walt Disney Co. debuts the ad-supported version of its Disney+ streaming service Thursday with strict rules: No alcohol commercials, no political spots and no ads from competitors.
The new service, which is priced at $8 a month, has signed up 100 sponsors across a wide swath of business, including finance, retail and automotive, Rita Ferro, Disney Media's president of advertising, said in an interview. The company intentionally left some slots open to accommodate marketer interest after the product's debut, she said.
Although Disney's position on some of the restrictions may change over time, the Burbank, California-based company will shut out rivals including Netflix Inc. and Amazon.com Inc.'s Prime Video to prioritize its own shows and films, Ferro said.
"Our content is going to be the only thing you see on our platforms," she said.
The ad-supported version of Disney's flagship streaming platform will have 4 minutes of commercials per hour or less, or about half the ad load of Hulu, its sister streaming service. It's becoming available at a tough time for the media industry at large amid a pullback in ad spending and fears of an imminent recession.
On Tuesday, shares of CBS owner Paramount Global fell 7% after Chief Executive Officer Bob Bakish said the company's advertising sales this quarter will be "a bit below" the third quarter in a "challenging" market.
Industry Challenges
The comments echoed those of Jeff Shell, chief executive officer of Comcast Corp.'s NBCUniversal division, who said the advertising market is "definitely getting worse." Last week, AMC Networks Inc. announced plans to fire 20% of its US staff, Warner Bros Discovery Inc.'s CNN division laid off employees, and NPR said it would "severely restrict" hiring after a sharp drop in sponsorship revenue.
So far, Disney has been less affected than peers by the wider downturn in ad spending and has benefited from a "flight to quality," Ferro said.
"There's no question that the marketplace is challenged, and there's no question there are more challenging times to come," Ferro said. "But we have not necessarily seen the slowdown that we have seen in the marketplace."
With the debut of the ad-backed Disney+, the price of the commercial-free version is increasing by $3 to $11 a month. Achieving profitability in Disney's direct-to-consumer division, which lost $1.5 billion last quarter mainly due to expenses at Disney+, is a priority for the company.
C-Suite Tumult
Disney shares fell by 13% on Nov. 9, the worst daily drop since 2001, after the company reported the loss. They were down 41% this year through the close Wednesday.
In response, Disney on Nov. 20 ousted Chief Executive Officer Bob Chapek and brought back longtime CEO Bob Iger. Iger told employees at the first town hall held after his return that the company will prioritize breaking even on its streaming initiatives over subscriber growth.
As of last quarter, Disney had about 236 million subscribers across all of its online TV businesses, including Hulu and ESPN+. Chapek said at the time that losses had peaked in the direct-to-consumer division, which Disney expects to reach profitability in 2024.
©2022 Bloomberg L.P.
B.C. Premier David Eby unveils his new cabinet
Here is a list of British Columbia Premier David Eby's ministers following his first major cabinet shuffle since taking over as leader:
Agriculture and Food — Pam Alexis (new to cabinet)
Attorney General — Niki Sharma (new to cabinet)
Children and Family Development — Mitzi Dean (unchanged)
Citizens' Services — Lisa Beare
Education and Child Care — Rachna Singh (new to cabinet)
Minister of state for child care — Grace Lore (new to cabinet)
Emergency Management and Climate Readiness — Bowinn Ma
Energy, Mines and Low Carbon Innovation — Josie Osborne
Environment and Climate Change Strategy — George Heyman (unchanged)
Finance (includes Columbia River Treaty) — Katrine Conroy
Forests and minister responsible for consular corps. — Bruce Ralston
Health and minister responsible for Francophone affairs — Adrian Dix (unchanged)
Housing and government house leader — Ravi Kahlon
Indigenous Relations and Reconciliation — Murray Rankin
Jobs, Economic Development and Innovation — Brenda Bailey (new to cabinet)
Minister of state for trade — Jagrup Brar (new to cabinet)
Labour — Harry Bains (unchanged)
Mental Health and Addictions — Jennifer Whiteside
Municipal Affairs — Anne Kang
Post-Secondary Education and Future Skills (includes immigration/foreign credentials) — Selina Robinson
Minister of state for workforce development — Andrew Mercier (new to cabinet)
Public Safety and Solicitor General (ICBC) — Mike Farnworth (unchanged)
Social Development and Poverty Reduction — Sheila Malcolmson
Tourism, Arts, Culture and Sport — Lana Popham
Transportation and Infrastructure (BC Transit and Translink) — Rob Fleming (unchanged)
Minister of state for infrastructure and transit — Dan Coulter (new to cabinet)
Water, Land and Resource Stewardship — Nathan Cullen
This report by The Canadian Press was first published Dec. 7, 2022