Michael Landy's Art of Destruction – The New York Times
A new show by the British artist, who once gained fame by destroying everything he owned in an art installation, is again calling attention to the pervasiveness of consumerism and waste in modern life.
COLCHESTER, England — Michael Landy is a British artist best-known for a project in which he systematically inventoried all 7,227 of his personal possessions. Then systematically destroyed them.
This year is the 20th anniversary of that installation-cum-performance, "Break Down," which brought Landy international fame as "The Man Who Destroyed Everything." It isn't often that conceptual works of art that no longer physically exist are still being talked about two decades later.
But a display to celebrate the 20th anniversary of "Break Down," as well as a new installation by Landy, on show at Firstsite, a gallery in southern England, show the artist is still a prescient critic of consumerism. The exhibition, called "Michael Landy's Welcome to Essex" after the county surrounding the gallery where the artist grew up, runs through Sept. 5.
"It's a good time for his work to get new exposure," said Julian Stallabrass, a professor of modern and contemporary art at the Courtauld Institute in London, and author of "High Art Lite: The Rise and Fall of Young British Art."
"Michael was, I think, always one of the most interesting artists of the Y.B.A. grouping," said Stallabrass, referring to the generation of Young British Artists that energized the contemporary art scene in the 1990s and early 2000s. "Not just because of his anti-commercial stance — or rather that his work was often about commerce and its consequences — but because of his long reflection on social class."
"Break Down" was produced by the London-based nonprofit ArtAngel in a disused department store on Oxford Street, then Europe's busiest shopping district. There, Landy spent two weeks in charge of an elaborate recycling facility repurposed to break down, pulp and granulate everything he owned, including the complete archive of his artworks, his record collection and his Saab 900 Turbo.
At the end of the process, witnessed by about 50,000 visitors, he was left with six tons of bagged-up waste. It was buried in a landfill site in Essex, where much of London's garbage is dumped.
"Consumerism has become the No. 1 ideology of our time," Landy, 58, said on a recent tour of the anniversary exhibition. "We end up with all this stuff," he added. "I wanted to take that apart."
Like Damien Hirst, Tracey Emin, Grayson Perry and other Y.B.A.s, Landy came from a working-class background. He studied at the prestigious Goldsmiths art school in London in the late 1980s, at a time before the introduction of tuition fees for higher education began dissuading many students from lower-income families.
Unlike Hirst, Emin and Perry, whose imposingly priced works have regularly featured at international art fairs and auctions, Landy has never courted commercial success. The highest price paid for his works at auction remains $36,000, given in 2002 for his sculpture "Costermonger's Stall."
But in 1997, the Tate Gallery acquired his "Scrapheap Services," a room-size installation in which a fictional "people-cleansing" company sweeps up human-shaped refuse and passes it through a shredding machine. The work's sale gave Landy a measure of financial security.
"It was the first time that, materially speaking, I was ahead in my life," said Landy, who celebrated his success by buying a Savile Row suit and the Saab that would become part of "Break Down."
But doubts set in. "Is that what I strove to do? I've got a Saab car and a Richard James suit. What does that all mean?" Landy recalled asking himself. "The idea popped into my head that I should destroy all my worldly belongings."
ArtAngel had already brought to life acclaimed art projects like Rachel Whiteread's "House" (1993) and Matthew Barney's "Cremaster 4" (1994), and Landy said that collaborating with its co-director James Lingwood was crucial to making "Break Down" happen. It took three years of planning. Listing his possessions took an entire year.
"Oxford Street was the missing ingredient," said Landy, recalling the vacant C&A store that he used to destroy all his belongings. "It's where people come to consume things, the latest items."
"People were angry, people were bemused. They were being given lots of consumer choice, but this was mine," he added. "I felt I was witnessing my own death."
Landy and ArtAngel agreed that none of it would become merchandise. "It was about a total erasure of possessions from his life," Lingwood said. The artist was going back to being someone who owned nothing and had some debt.
"He had a roof over his head. We bought him some clothes. Probably a friend of his gave him some cash. He went home to Gillian," added Lingwood, referring to the artist Gillian Wearing, who is now Landy's wife.
Perhaps unsurprisingly, Landy produced no art for a year after "Break Down."
Then, in 2002, he returned to drawing, the medium that had engrossed him as a child. He made a series of 12 painstakingly observed etchings of weeds, of "little things that grow in cracks in the street," for Paragon Press, a specialist publisher of prints.
"It's an allegory for rebirth," said Charles Booth-Clibborn, the publisher's founder, describing Landy's "Nourishment" etchings. "They were like portraits of Londoners," he added. "These plants exist in urban environments where it's hard for plants to survive. But they do thrive, and he celebrated them."
In recent years, Landy has returned to large-scale installations. In 2010, he created a giant metal and Perspex trash can for failed works of art at the South London Gallery. And in 2018, in the aftermath of what he saw as Britain's self-destructive vote to leave the European Union, he set up "Open for Business," a "Brexit kiosk" selling "100 percent British products" such as Union Jack-decorated mugs and condoms at the inaugural Riga Biennial in Latvia.
Landy's native Essex included two of Britain's five districts with the highest votes for Brexit in the 2016 referendum. Ever since the Thatcherite 1980s, when the county became a bastion of working-class Conservatism, it has fallen victim in British popular culture to derogatory "Essex Man" and "Essex Girl" caricatures, depicting its inhabitants as brash, uneducated and materialistic.
In addition to looking back to "Break Down" in Colchester, Landy is investigating these stereotypes in a three-room installation about Essex, a place that the artist bills as "England's Most Misunderstood County."
The show includes aerial footage of local garbage dumps, banners with Essex-themed tabloid headlines, and trash-filled dumpsters piled with TV sets showing interviews and comedies that feature Essex. It has divided local visitors to the gallery in Colchester, the historic university town that was once the capital of Roman Britain.
Stephen Callely, 60, a retired teacher, wasn't impressed. "It doesn't challenge us. We can snigger at it," he said after visiting the exhibition this month.
Yet Stella Clarke, 9, was intrigued the "Break Down" display, particularly a wall that reproduced a section from Landy's inventory of possessions, such as "C542: Sainsbury's single blue cotton/polyester sock.".
"It was a very strange thing he did," said Clarke. "Maybe he was saying he didn't need all this stuff."
Landy, too, was fascinated by art as a child. At 15, he had a scratchboard work included in an episode of "Vision On," an educational BBC TV show in which children were invited to send in paintings and drawings. Yet when he asked for the piece back, the BBC informed him it could not be returned.
"They always destroyed the work," Landy said. "That was the beginning."
White House on defensive over Hunter Biden art sales – FRANCE 24
Issued on: 24/07/2021 – 01:08
Washington (AFP)
The White House assured Friday that necessary ethical precautions would be taken around any exhibitions and sale of artwork by President Joe Biden's son, whose personal life and professional career have been peppered with controversy.
Asked by reporters about upcoming exhibitions of Hunter Biden's artwork in New York's Georges Berges Gallery, White House Press Secretary Jen Psaki said the president's son would be "attending gallery events."
The discussions about sales "will be happening with the gallerist" and not Hunter Biden, she said.
"That is different than meeting with prospective buyers."
Psaki had announced July 9 that a system had been established allowing Hunter Biden to practice his profession "within appropriate safeguards," including the confidentiality of any transactions and no contact with buyers.
At exhibits of Hunter's work, "the selling of his art will all happen through the gallerist and the names and individuals will be kept confidential," she said.
When pressed that a buyer could simply tell the artist that he or she is purchasing his work, Psaki stressed that a strict rules structure will be in place.
"He will not know, we will not know who purchases his art," she said.
Contacted by AFP, the gallery did not immediately provide any comment or details.
The Biden administration, which seeks to present itself as ethically unblemished, has been repeatedly questioned about the artistic career of the 51-year-old lawyer and businessman-turned-painter.
US media point out the obvious risks of businessmen or others purchasing the artwork with the sole aim of winning access to or influence with the White House.
Press reports have said the paintings by Biden, who has had no formal training, could sell for up to half a million dollars.
Hunter Biden is one of former president Donald Trump's favorite targets.
During the 2020 presidential campaign Trump and his supporters regularly criticized Hunter Biden for his economic interests in Ukraine and China when his father was vice president under Barack Obama.
Hunter is also the target of a federal investigation into possible tax crimes.
In a memoir published earlier this year, the president's youngest son recounted his struggle with addiction to cocaine and alcohol.
© 2021 AFP
Art exhibits return to Callander's Alex Dufresne gallery – BayToday.ca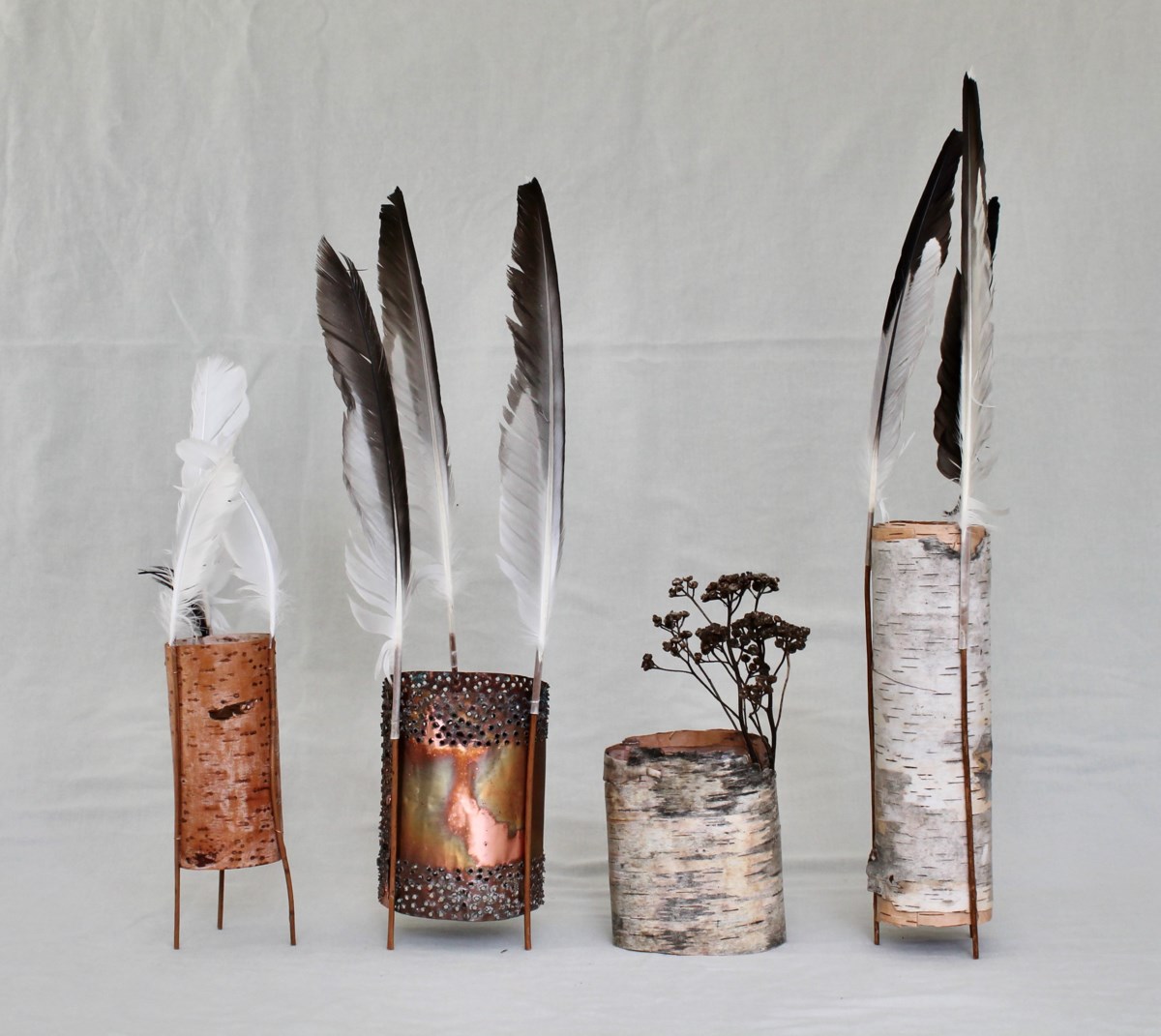 After a long hiatus, art shows are returning to the Alex Dufresne Gallery at the Callander Bay Heritage Museum this Saturday.
The works of Carole Davidson and Sara Carlin-Ball are highlighted in an exhibit entitled "Journeys to a Conversation with Nature."
In a release promoting the show, Davidson and Carlin-Ball explain the "works display a felt presence of our natural environment in unexpected materials and surprising subjects."
Their goal in selecting the pieces for the exhibit is to capture "the luscious spectacular that is Nature, Muse, Essence," and emphasize how these "inspire the audience to revision their place – their gratitude and responsibility – on this Earth."
See: Callander museum reopens from COVID with new art show
"It feels absolutely wonderful to have art back on the walls," said Natasha Wiatr, the gallery's curator.
The last show was this past April but did not last long before Covid regulations closed the event. Since then, "the walls have been empty."
"We haven't consistently had shows in what feels like so long," she said, and is pleased to launch what will hopefully be a long stretch of exhibits.
Currently, the gallery is booked until 2023, "and we've added two more shows per year," Wiatr explained.
"We see ourselves as a community-based gallery," she said, and as such, strive to present as many local artists as possible.
See: White Water Gallery has a new executive director
The Museum and Art Gallery are open Tuesday to Saturday from 10:00 – 5:00 p.m.
The gallery can hold 14 people at once, and walk-ins are welcome. Appointments can also be booked ahead of time at www.mycallander.ca/gallery.
Staff remind to you please wear a mask when you visit and maintain social distance.
Admission to the museum is $5 for seniors and students, $4.50 for kids 6-12, free for children under 6 and adults pay $5.50. Family rate for 4 is $15. Entrance to the gallery is by donation.
See: Mattawa museum celebrates reopening with Community exhibit
Callander museum reopens with art show – The North Bay Nugget
Article content
The art show Journeys to a Conversation with Nature will reopen the Callander Museum and Alex Dufresne Gallery Saturday.
Article content
The works of Carole Davidson and Sarah Carlin-Ball will remain on display to Aug. 20.
"There is an essential longing for life that erupts in a luscious spectacular that we call Nature," the artists said in a statement.
"The human animal is a part of this longing for life that some might call a Muse – a Muse for artists of every passion and discipline. Artists are at the mercy of their muse and transcribe whatever is whispered to them about life, people, and the compelling natural environment they belong to.
"One may be a studied artist haphazardly trained while another may be an experimental soul, interpreting the ever-changing environment around her."
Influenced by the gifts of their lives and the natural offerings around them, each artist interprets what touches her soul. Each piece of art tells a portion of her journey, calling to the viewer to look more closely at what life has to teach us.
Carlin-Ball's muse slumbered as she was raising her children and working. As soon as she could make time, there was an explosion of experimentation driven by her mantra 'What would happen if…?'
Mistakes happily romped with successes. Now, her careful, unique presentations interpret life and nature, and challenge one's imagination.
As she learned of the melting of the muskeg and the possibility that Canada will soon lose that habitat and vibrant spring bloom, Carlin-Bell felt the compulsion to replicate that vital image with unexpected media: patinated and fired copper was punched and threaded through with fibre knotted to create the blooms and surface stems.
Article content
Eventually, the vibrant muskeg spring emerged.
For Davidson, nature was a refuge she quietly celebrated with natural and cultivated talent for art and writing. A busy and brief career in graphic design took over until disabling MS symptoms forced (or allowed) her to slow down.
She began a meditation practice to cope with symptoms and immediately began painting again.
Her creative work parallels her spiritual path and the subjects of her study get smaller and smaller as she has the opportunity to stop and notice. She finds joy in a yellow spider on a sunflower or a nest full of baby robins.
Together, their works display a felt presence of our natural environment in unexpected materials and surprising subjects.
The Museum and Art Gallery are open Tuesday to Saturday from 10 a.m. to 5 p.m. Appointments can be booked ahead of time at www.mycallander.ca/gallery and the museum and gallery also welcome same-day walk-ins.
Those visiting are asked to wear a mask and social distance.
The museum and art gallery are located at 107 Lansdowne St. E., Callander.