Visual art students create thought-provoking artwork – The Peak
By: Paige Smith, Peak Associate
In the midst of the pandemic, SFU's first-year master of fine arts (MFA) students have successfully assembled an in-person exhibition. The work showcases their artistic research into topics such as identities and form.
Walking into the unusual gallery space — previously a salmon cannery — of SFU's Vancouver campus at 611 Alexander St., viewers see an assemblage of works. Each piece is distinct in style, though many involve moving images and sculptural elements.
The exhibition contains works from Barry Olusegun-Noble Despenza, Tin Gamboa, Homa Khosravi, Katie Kozak, Silas Ng, Jami Reimer, Matthew Toffoletto, and Katayoon Yousefbigloo. A few of these artists' pieces are detailed in this article and pictured above.
Three odd wooden boxes hang from a wall, each black with exquisitely painted flowers on their sides. The boxes are visibly open, and each contains a delicate object. The first holds sewing needles stuck to the top of the box, each holding a loose pink thread. The farthest box contains a dried, flattened yellow flower pinned like a dead butterfly for display. The middle box bears very small photographic projections, reminiscent of the antiquated practice of projecting family travel photos.
The photos evoke a personal and private world: cozy homes, women holding flowers. The grain of the wood creates a beautiful texture for the projection, and the sides of the box suggest a darkened miniature theatre.
Before even examining the artist's statement, it is clear Homa Khosravi's Pink Lacquer is an intimate piece. Khosravi's piece attempts to magnify her Islamic and Iranian heritage, alongside her recently passed mother. She gracefully interweaves symbols of growth in the painted flowers and loose threads with the symbols of grief in the calcified, pinned dead flower and the grainy family photography.
Nearby, a glowing blue light emanates from the ground. The light is shining through the sand-covered glass table top. Round mirrors sit on top, inviting viewers low to the ground to see Katie Kozak's work in detail.
Working with SFU MFA graduate artist Lucien Durey, Kozak's piece, Everything is borrowed and will be returned, contains an assortment of sea-related objects. These objects were borrowed from Durey and taken by Kozak to the ocean. There, she allowed the body of water to alter the objects.
The title seems to clarify Kozak's artmaking process and her work's environmental inclination. She borrowed the materials from Durey, but also borrowed the seawater and salts from the ocean. She states she plans to return everything, but the viewer is left to wonder whether they will be returned to the human owner of the objects or the land from which the objects originated.
Sprawling across the back wall, Silas Ng's The Blue Room immediately calls for closer inspection. The bright blue cyanotype prints each depict a graph layered over blurry images of a cello player. The graph's x-axis indicates audio frequencies, the y-axis decibels, and markings show whether the sound is heard with the left or right ear; the prints depict a hazy and confusing potential reading of how to visualize audio.
Accompanying the prints is a looping projection piece that layers the images further. The absence of an accompanying soundtrack to the moving image component seems to intentionally point to our assumptions of certain visuals containing accompanying sounds. The artist statement describes the work as an attempt to transform unseen sound into visual materials, navigating between Ng's experiences in both "audiocentric and Deaf worlds."
The SFU MFA first-year exhibition some things may pass was filled with distinct works with a diversity of topics and forms explored.
For more, check out @611studio on Instagram.
Art exhibits return to Callander's Alex Dufresne gallery – BayToday.ca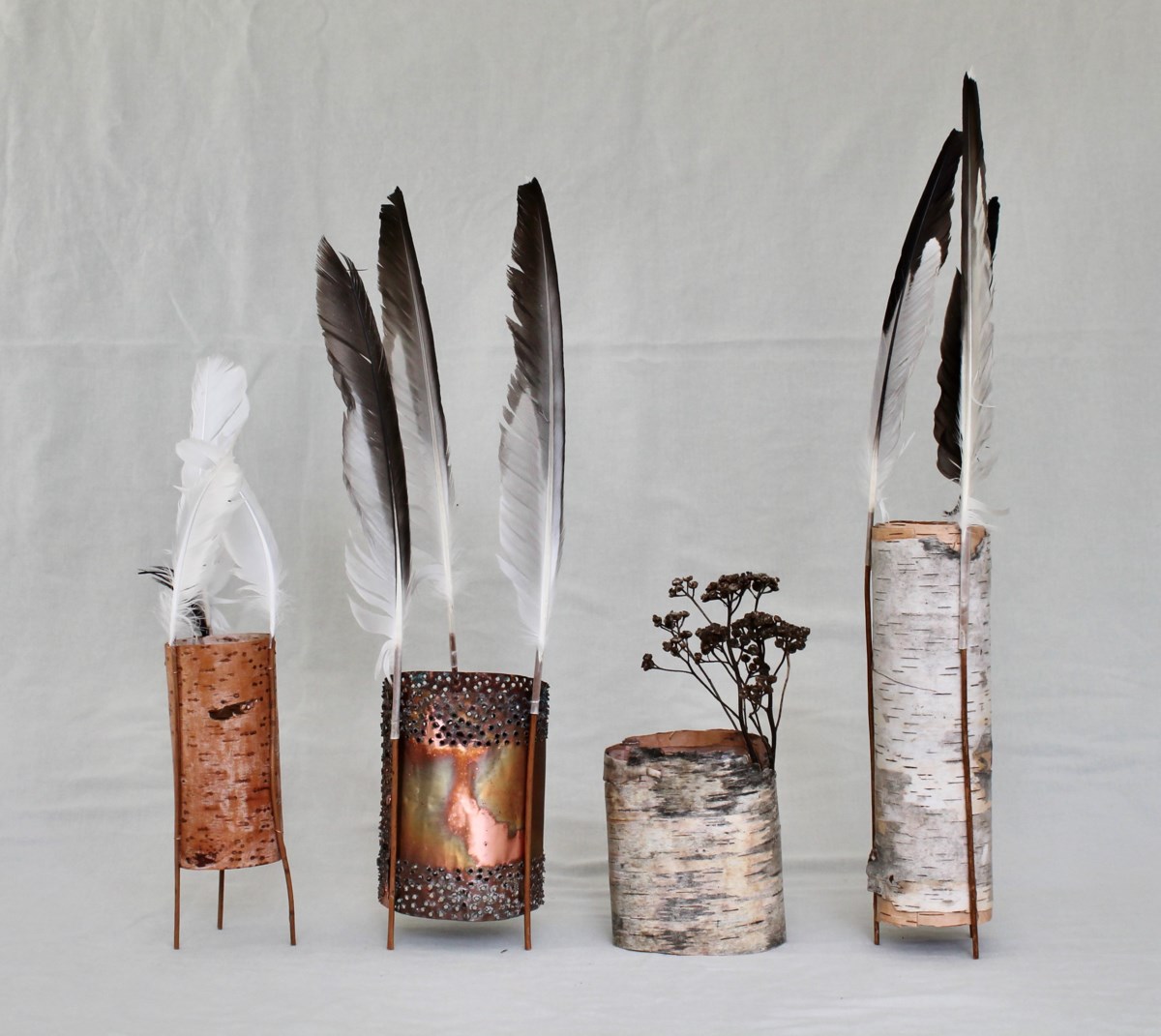 After a long hiatus, art shows are returning to the Alex Dufresne Gallery at the Callander Bay Heritage Museum this Saturday.
The works of Carole Davidson and Sara Carlin-Ball are highlighted in an exhibit entitled "Journeys to a Conversation with Nature."
In a release promoting the show, Davidson and Carlin-Ball explain the "works display a felt presence of our natural environment in unexpected materials and surprising subjects."
Their goal in selecting the pieces for the exhibit is to capture "the luscious spectacular that is Nature, Muse, Essence," and emphasize how these "inspire the audience to revision their place – their gratitude and responsibility – on this Earth."
See: Callander museum reopens from COVID with new art show
"It feels absolutely wonderful to have art back on the walls," said Natasha Wiatr, the gallery's curator.
The last show was this past April but did not last long before Covid regulations closed the event. Since then, "the walls have been empty."
"We haven't consistently had shows in what feels like so long," she said, and is pleased to launch what will hopefully be a long stretch of exhibits.
Currently, the gallery is booked until 2023, "and we've added two more shows per year," Wiatr explained.
"We see ourselves as a community-based gallery," she said, and as such, strive to present as many local artists as possible.
See: White Water Gallery has a new executive director
The Museum and Art Gallery are open Tuesday to Saturday from 10:00 – 5:00 p.m.
The gallery can hold 14 people at once, and walk-ins are welcome. Appointments can also be booked ahead of time at www.mycallander.ca/gallery.
Staff remind to you please wear a mask when you visit and maintain social distance.
Admission to the museum is $5 for seniors and students, $4.50 for kids 6-12, free for children under 6 and adults pay $5.50. Family rate for 4 is $15. Entrance to the gallery is by donation.
See: Mattawa museum celebrates reopening with Community exhibit
Callander museum reopens with art show – The North Bay Nugget
Article content
The art show Journeys to a Conversation with Nature will reopen the Callander Museum and Alex Dufresne Gallery Saturday.
Article content
The works of Carole Davidson and Sarah Carlin-Ball will remain on display to Aug. 20.
"There is an essential longing for life that erupts in a luscious spectacular that we call Nature," the artists said in a statement.
"The human animal is a part of this longing for life that some might call a Muse – a Muse for artists of every passion and discipline. Artists are at the mercy of their muse and transcribe whatever is whispered to them about life, people, and the compelling natural environment they belong to.
"One may be a studied artist haphazardly trained while another may be an experimental soul, interpreting the ever-changing environment around her."
Influenced by the gifts of their lives and the natural offerings around them, each artist interprets what touches her soul. Each piece of art tells a portion of her journey, calling to the viewer to look more closely at what life has to teach us.
Carlin-Ball's muse slumbered as she was raising her children and working. As soon as she could make time, there was an explosion of experimentation driven by her mantra 'What would happen if…?'
Mistakes happily romped with successes. Now, her careful, unique presentations interpret life and nature, and challenge one's imagination.
As she learned of the melting of the muskeg and the possibility that Canada will soon lose that habitat and vibrant spring bloom, Carlin-Bell felt the compulsion to replicate that vital image with unexpected media: patinated and fired copper was punched and threaded through with fibre knotted to create the blooms and surface stems.
Article content
Eventually, the vibrant muskeg spring emerged.
For Davidson, nature was a refuge she quietly celebrated with natural and cultivated talent for art and writing. A busy and brief career in graphic design took over until disabling MS symptoms forced (or allowed) her to slow down.
She began a meditation practice to cope with symptoms and immediately began painting again.
Her creative work parallels her spiritual path and the subjects of her study get smaller and smaller as she has the opportunity to stop and notice. She finds joy in a yellow spider on a sunflower or a nest full of baby robins.
Together, their works display a felt presence of our natural environment in unexpected materials and surprising subjects.
The Museum and Art Gallery are open Tuesday to Saturday from 10 a.m. to 5 p.m. Appointments can be booked ahead of time at www.mycallander.ca/gallery and the museum and gallery also welcome same-day walk-ins.
Those visiting are asked to wear a mask and social distance.
The museum and art gallery are located at 107 Lansdowne St. E., Callander.
Greenpoint This Week: Art Fair, Staycations and More – greenpointers.com
Happy Weekend Greenpoint!
This weekend, The Other Art Fair is back in town, with affordable artworks ready for your post-quarantine redecorating plans.
If you're eager to get out, plan a staycation in the neighborhood, for a change of scenery, without a sink full of dirty dishes. If you prefer your own pillows, consider just spending a day at one of our local outdoor pools. The newly opened Le Doggie Cool also has open cafe hours this Saturday, for pups to play in their backyard pool.
This week, we reported that Brooklyn Bowl is reopening in early September! Get your tickets now for upcoming parties and shows. If you're looking for a free event, Friday night brings a screening of Frozen to Transmitter Park.
We also reported that a new community fridge has opened on Greenpoint Ave. near Transmitter Park. And shared some unfortunate news about a Greenpoint resident arrested for recording his female roommates without their consent.
Make sure to fit in your last visit to the Leonard Library before it closes for renovations on Monday, August 2. Worry not – Greenpoint Library is still up and running, with computer service and open seating also now available.
Don't forget to check out our summer 2021 fashion sundae roundup for this season's best local looks.