Microsoft 365 for Consumers rumoured to include Windows 10 OS subscription
We reported a few weeks ago that Microsoft has become increasingly serious about offering a bundle of apps and services to consumers in the form of a Microsoft 365 for Consumers bundle.The bundle was believed to consist of Office 365 Personal and Home products, without Windows 10, but with Teams for Life (a consumer version of Teams and possibly a password manager included, according to ZDNet's Mary Jo Foley.

Now a new rumour has emerged which suggests the subscription service may, in fact, include Windows 10, according to WindowsUnited's sources.

They write:
We have received confirmation from a trustworthy source who is familiar with the subject, Microsoft 365 will actually include Windows 10 for consumers.
This does not mean every PC buyer will be forced to send Microsoft a monthly payment to keep their OS working (though this is exactly what Office 365 users have to do). According to WindowsUnited the subscription will include special Windows 10 features not available to regular Windows 10 users, meaning it will be a value-added product rather than the baseline of Windows.
Of course, Microsoft could build this special Windows bundle by moving features currently available to everyone to a special tier, or, god forbid, make regular Windows 10 ad-supported unless you pay for Microsoft 365.
We have heard earlier that the product is not expected anytime soon, with Mary Jo expecting it to arrive in Summer 2020. It was originally expected Summer this year.
It is difficult to see what the value proposition of the Microsoft 365 for Consumers is beyond the already great value to Office 365 for Home, which includes 1 TB of OneDrive storage for up to 5 people and all the major Office apps. Most of the SMBs tend to use Microsoft 365 business on a windows 10 virtual desktop due to its productive & collaborative workspace platform.
Microsoft has however talked up the integration of their various apps, and I hope they do not degrade the user experience of Windows 10 to encourage regular users to subscribe.
COVID-19: Here's how to boost your internet speed when everyone else is working from home – National Post
With #StayAtHome and social distancing now becoming a way of life, an increasing number of people are relying on the internet for work, education and entertainment. This has placed greater demand on our network infrastructure, reducing the bandwidth available for each user, and is leaving people frustrated at seemingly slow internet speeds.
While internet service providers may not be able to instantly respond to these changes, there are a few tricks you can use to boost your home internet's speed.
Why is your internet slow?
There may be many reasons why your internet speed is slow. Internet use requires a reliable connection between your device and the destination, which may be a server that is physically located on the other side of the world.
Your connection to that server could pass through hundreds of devices on its journey. Each one of these is a potential failure, or weak point. If one point along this path isn't functioning optimally, this can significantly affect your internet experience.
Web servers in particular are often affected by external factors, including Denial of Service (DOS) attacks, wherein an overload of traffic causes congestion in the server, and impedes proper functioning.
While you may not have control over these things from your home network, that doesn't mean you don't have options to improve your internet speed.
Wifi signal boost
The access point (wireless router) in your home network is used to connect your devices to your internet service provider. Most access points provide a wireless signal with limited channels, which can suffer interference from nearby signals, like your neighbour's. A "channel" is a kind of virtual "pipe" through which data is transferred.
Although your devices are designed to avoid interference by switching channels automatically (there are usually 14 available), it may help to check your router settings, as some are set to a single channel by default. When trying different options to reduce interference, it's advisable to select channels 1, 6 or 11 as they can help to minimise problems (for 2.4GHz wireless).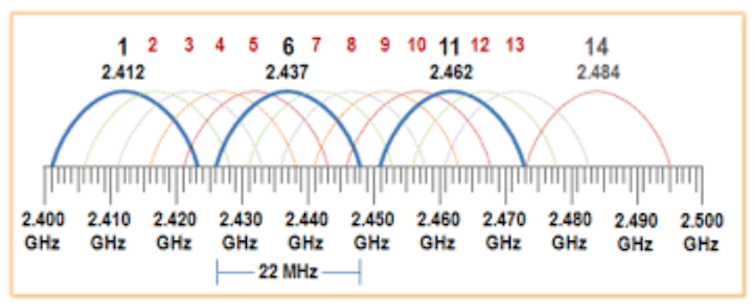 What else can you do?
There are further things you can try to improve your wifi signal. If your router supports 5GHz wifi signals, switching to this can provide a faster data rate, but over shorter distances. Reposition your router for best coverage (usually a central position).
The difference between 2.4GHz and 5GHz wifi signals is they have different data transmission speeds. While 5GHz can transfer data faster (with 23 available channels), 2.4GHz provides a wider range. If you want speed, go for 5GHz. For better coverage, choose 2.4GHz.
Some domestic appliances can cause interference with your router. It's worth checking if using your microwave oven, cordless phone or baby monitor affects your connection, as they may be using the same frequency as your router.
Using a wifi extender can help with coverage by boosting or extending the signal.
Viruses and malware
To avoid computer viruses, make sure you regularly check for updates on your devices and use antivirus software. It's also worth rebooting your router to clear specific malware (malicious software designed to damage your device or server), such as VPNFilter – a malware that infects more than half a million routers in more than 50 countries.
You should also check the following:
does your router need to be replaced with a newer model? This may be the case if it has been used for many years. Newer models support enhanced functions and faster internet speeds
Planning your usage
If multiple people are streaming video at your home, which often requires ten times the daytime demand, a limited internet connection will soon be fully used.
Try to plan your and family members' online activities around peak times. Before the pandemic hit, most internet usage was likely oriented around the early evenings, after close of business. With the shift to remote working and schooling, more internet access is likely during the day, with a 10% usage increase overall, and a 30% increase at peak times.
Outside your home, connectivity is likely to be on a "best effort" plan, which shares a fixed bandwidth with other users. In other words, your mobile internet bandwidth is shared with others in your area when they access the internet at the same time. A shared bandwidth results in slower individual speeds.
You can't control how many people access the internet, but you can manage your own internet activity by downloading large files or content overnight, or outside of peak hours (when there is less traffic).
How to improve your ISP's network issues
While you can try to fix issues and optimise the setup inside your home, unfortunately you can't really influence network performance outside of it. Thus, contacting your internet service provider's call centre and seeking support is your best option.
All of the above considered, it's important to remember that when using the internet, we're sharing a limited resource. Just like buying pasta or toilet paper, there are many who need it just as much as you, so use it wisely.
By James Jin Kang, Lecturer, Edith Cowan University and Paul Haskell-Dowland, Associate Dean (Computing and Security), Edith Cowan University
This article is republished from The Conversation under a Creative Commons license. Read the original article.
Google data suggests how well Canadians are staying at home – Toronto Sun
Google has released data showing how some Canadians are abiding by "stay home" orders during the pandemic.
According to the anonymized data yielded from mobile users who have Location History turned on, transit stations across Canada are seeing the biggest drop in visitors by 66%. In Ontario, specifically, the percentage is equal to the national baseline.
The next largest drop among the six categories is retail and recreation at 59%. People aren't frequenting places such as cafes, restaurants, shopping centres, theme parks, museums, libraries, and movie theatres — mainly because all those places except for the first two are shut down, unless ordering take-out and delivery. Ontario sits no differently at 59%.
Canadian workplaces are down by 44% as many people are now working remotely. The only increase in all categories is "residential" by 14% as many are staying at home. Ontario has a slight increase in the workplace area — down 46% — and residential matches the national data at 14%.
Essential services — grocery markets, food warehouses, special food shops, drug stores and pharmacies — have also seen a decrease of foot traffic at 35%. In Ontario, it's down 33%.
Visits to parks are only down 16% across the country, while Ontario has seen a 14% decrease. Mayor John Tory announced Thursday that while city parks remain open, people who don't live in the same household could be fined up to $5,000 under a new bylaw if they do not keep two metres apart. The new bylaw is a result of throngs of people being spotted at local parks, public beaches, plazas and public gardens.
Google says the report was prepared "to help you and public health officials understand responses to social-distancing guidance related to COVID-19." It says the report "shouldn't be used for medical diagnostic, prognostic or treatment purposes. It also isn't intended to be used for guidance on personal travel plans."
Apple Store appears to leak new, iPhone 8-like iPhone SE – Ars Technica
An apparent leak on the Apple Store suggests that a new phone carrying the iPhone SE name is coming soon.
A product title for a Belkin screen protector in Apple's online store listed the supported devices as iPhone 7, 8, and SE. This seems to indicate that a new SE would be the same size as an iPhone 7 or 8, making the new SE bigger than its 4-inch predecessor from 2016. The product page has since been updated to remove the iPhone SE name; it just says 7 and 8 now.
This leak corroborates a vaguely sourced rumor from 9to5Mac published only a short time earlier, which cited a "tip from a highly trusted reader" that Apple is days away from announcing a new low-cost iPhone and that the phone would be called the iPhone SE, not the iPhone 9 or iPhone SE 2. Like so many other Apple products, it would be distinguished from its predecessors by its year of release (2020).
That report also claims that the phone will be available in white, black, and Product Red colors and that it will come in 64GB, 128GB, and 256GB configurations. Users who don't download many games or rich media files would probably be served just fine by the 128GB configuration, though 64GB is on the small side for most.
The first iPhone SE was introduced in 2016, shortly after the launch of the iPhone 6S and iPhone 6S Plus. While those two phones had 4.7- and 5.5-inch screens, respectively, the iPhone SE kept the 4-inch size from the iPhone 5 a couple of generations prior.
This made it attractive to users who were turned off by large phones that can be more difficult to type on with just one hand. The iPhone SE was also relatively cheap; it combined the A9 processor from the flagship iPhone 6S with the form factor and features of the older iPhones.
The iPhone SE was popular until it was discontinued in 2018 alongside the launch of the iPhone XS.
While the new SE would likely be cheaper and smaller than the current top-tier iPhones (iPhone 11, iPhone 11 Pro, iPhone 11 Pro Max), it appears this one would share its size and design with the iPhone 8, which is roughly approximate to the iPhone 6S in size.
In other words, consumers who liked the iPhone SE because they felt the iPhone 6S was too big will be disappointed, but they'll still probably get a modern Apple processor in a phone that is markedly smaller than the current flagships.