Quantum Computing Breakthrough: Silicon Qubits Interact at Long-Distance – SciTechDaily
Princeton scientists demonstrate that two silicon quantum bits can communicate across relatively long distances in a turning point for the technology.
Imagine a world where people could only talk to their next-door neighbor, and messages must be passed house to house to reach far destinations.
Until now, this has been the situation for the bits of hardware that make up a silicon quantum computer, a type of quantum computer with the potential to be cheaper and more versatile than today's versions.
Now a team based at Princeton University has overcome this limitation and demonstrated that two quantum-computing components, known as silicon "spin" qubits, can interact even when spaced relatively far apart on a computer chip. The study was published today (December 25, 2019) in the journal Nature.
"The ability to transmit messages across this distance on a silicon chip unlocks new capabilities for our quantum hardware," said Jason Petta, the Eugene Higgins Professor of Physics at Princeton and leader of the study. "The eventual goal is to have multiple quantum bits arranged in a two-dimensional grid that can perform even more complex calculations. The study should help in the long term to improve communication of qubits on a chip as well as from one chip to another."
Quantum computers have the potential to tackle challenges beyond the capabilities of everyday computers, such as factoring large numbers. A quantum bit, or qubit, can process far more information than an everyday computer bit because, whereas each classical computer bit can have a value of 0 or 1, a quantum bit can represent a range of values between 0 and 1 simultaneously.
To realize quantum computing's promise, these futuristic computers will require tens of thousands of qubits that can communicate with each other. Today's prototype quantum computers from Google, IBM and other companies contain tens of qubits made from a technology involving superconducting circuits, but many technologists view silicon-based qubits as more promising in the long run.
Silicon spin qubits have several advantages over superconducting qubits. The silicon spin qubits retain their quantum state longer than competing qubit technologies. The widespread use of silicon for everyday computers means that silicon-based qubits could be manufactured at low cost.
The challenge stems in part from the fact that silicon spin qubits are made from single electrons and are extremely small.
"The wiring or 'interconnects' between multiple qubits is the biggest challenge towards a large scale quantum computer," said James Clarke, director of quantum hardware at Intel, whose team is building silicon qubits using using Intel's advanced manufacturing line, and who was not involved in the study. "Jason Petta's team has done great work toward proving that spin qubits can be coupled at long distances."
To accomplish this, the Princeton team connected the qubits via a "wire" that carries light in a manner analogous to the fiber optic wires that deliver internet signals to homes. In this case, however, the wire is actually a narrow cavity containing a single particle of light, or photon, that picks up the message from one qubit and transmits it to the next qubit.
The two qubits were located about half a centimeter, or about the length of a grain of rice, apart. To put that in perspective, if each qubit were the size of a house, the qubit would be able to send a message to another qubit located 750 miles away.
The key step forward was finding a way to get the qubits and the photon to speak the same language by tuning all three to vibrate at the same frequency. The team succeeded in tuning both qubits independently of each other while still coupling them to the photon. Previously the device's architecture permitted coupling of only one qubit to the photon at a time.
"You have to balance the qubit energies on both sides of the chip with the photon energy to make all three elements talk to each other," said Felix Borjans, a graduate student and first author on the study. "This was the really challenging part of the work."
Each qubit is composed of a single electron trapped in a tiny chamber called a double quantum dot. Electrons possess a property known as spin, which can point up or down in a manner analogous to a compass needle that points north or south. By zapping the electron with a microwave field, the researchers can flip the spin up or down to assign the qubit a quantum state of 1 or 0.
"This is the first demonstration of entangling electron spins in silicon separated by distances much larger than the devices housing those spins," said Thaddeus Ladd, senior scientist at HRL Laboratories and a collaborator on the project. "Not too long ago, there was doubt as to whether this was possible, due to the conflicting requirements of coupling spins to microwaves and avoiding the effects of noisy charges moving in silicon-based devices. This is an important proof-of-possibility for silicon qubits because it adds substantial flexibility in how to wire those qubits and how to lay them out geometrically in future silicon-based 'quantum microchips.'"
The communication between two distant silicon-based qubits devices builds on previous work by the Petta research team. In a 2010 paper in the journal Science, the team showed it is possible to trap single electrons in quantum wells. In the journal Nature in 2012, the team reported the transfer of quantum information from electron spins in nanowires to microwave-frequency photons, and in 2016 in Science they demonstrated the ability to transmit information from a silicon-based charge qubit to a photon. They demonstrated nearest-neighbor trading of information in qubits in 2017 in Science. And the team showed in 2018 in Nature that a silicon spin qubit could exchange information with a photon.
Jelena Vuckovic, professor of electrical engineering and the Jensen Huang Professor in Global Leadership at Stanford University, who was not involved in the study, commented: "Demonstration of long-range interactions between qubits is crucial for further development of quantum technologies such as modular quantum computers and quantum networks. This exciting result from Jason Petta's team is an important milestone towards this goal, as it demonstrates non-local interaction between two electron spins separated by more than 4 millimeters, mediated by a microwave photon. Moreover, to build this quantum circuit, the team employed silicon and germanium – materials heavily used in the semiconductor industry."
###
Reference: "Resonant microwave-mediated interactions between distant electron spins" by F. Borjans, X. G. Croot, X. Mi, M. J. Gullans and J. R. Petta, 25 December 2019, Nature.
DOI: 10.1038/s41586-019-1867-y
In addition to Borjans and Petta, the following contributed to the study: Xanthe Croot, a Dicke postdoctoral fellow; associate research scholar Michael Gullans; and Xiao Mi, who earned his Ph.D. at Princeton in Petta's group and is now a research scientist at Google.
The study was funded by Army Research Office (grant W911NF-15-1-0149) and the Gordon and Betty Moore Foundation's EPiQS Initiative (grant GBMF4535).
Elephants counted from space for conservation – BBC News


.css-94m6rd-HeadingWrapperborder-bottom:solid 1px #BABABA;padding-bottom:1.5rem;.css-94m6rd-HeadingWrapper > *:not([hidden]):not(style) ~ *:not([hidden]):not(style)margin-top:1rem;.css-vk3nhx-ComponentWrappermargin:1.5rem 0;
.css-2y05cd-StyledFigurefont-family:ReithSans,Helvetica,Arial,freesans,sans-serif;font-weight:400;font-size:0.875rem;line-height:1.125rem;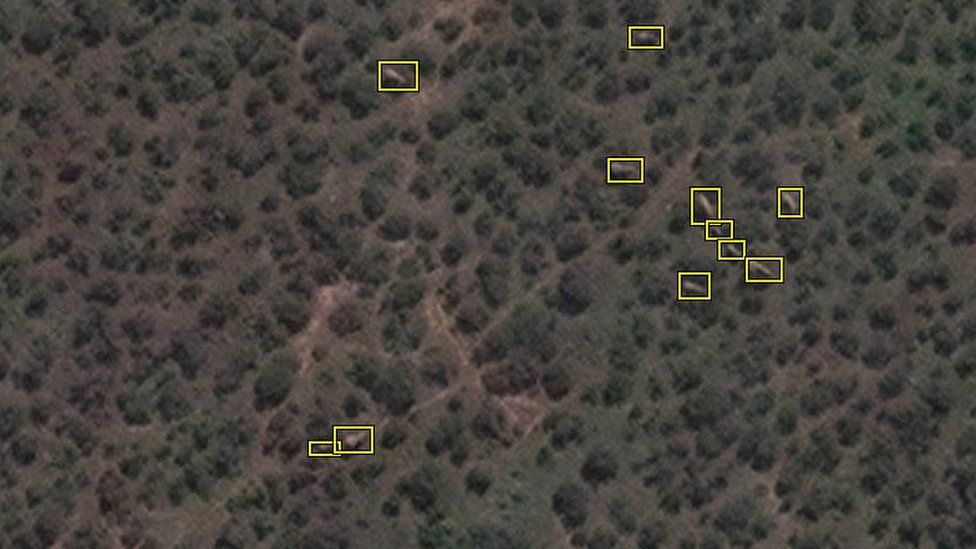 .css-uf6wea-RichTextComponentWrappermargin:1rem 0;max-width:36.25rem;
.css-83cqas-RichTextContainercolor:#3F3F42;.css-83cqas-RichTextContainer > *:not([hidden]):not(style) ~ *:not([hidden]):not(style)margin-top:1rem;
.css-14iz86j-BoldTextfont-weight:bold;At first, the satellite images appear to be of grey blobs in a forest of green splotches – but, on closer inspection, those blobs are revealed as elephants wandering through the trees.
And scientists are using these images .css-1xgj2ad-InlineLink:linkcolor:#3F3F42;.css-1xgj2ad-InlineLink:visitedcolor:#696969;.css-1xgj2ad-InlineLink:link,.css-1xgj2ad-InlineLink:visitedfont-weight:700;border-bottom:1px solid #BABABA;-webkit-text-decoration:none;text-decoration:none;.css-1xgj2ad-InlineLink:link:hover,.css-1xgj2ad-InlineLink:visited:hover,.css-1xgj2ad-InlineLink:link:focus,.css-1xgj2ad-InlineLink:visited:focusborder-bottom-color:currentcolor;border-bottom-width:2px;color:#B80000;@supports (text-underline-offset:0.25em).css-1xgj2ad-InlineLink:link,.css-1xgj2ad-InlineLink:visitedborder-bottom:none;-webkit-text-decoration:underline #BABABA;text-decoration:underline #BABABA;-webkit-text-decoration-thickness:1px;text-decoration-thickness:1px;-webkit-text-decoration-skip-ink:none;text-decoration-skip-ink:none;text-underline-offset:0.25em;.css-1xgj2ad-InlineLink:link:hover,.css-1xgj2ad-InlineLink:visited:hover,.css-1xgj2ad-InlineLink:link:focus,.css-1xgj2ad-InlineLink:visited:focus-webkit-text-decoration-color:currentcolor;text-decoration-color:currentcolor;-webkit-text-decoration-thickness:2px;text-decoration-thickness:2px;color:#B80000;to count African elephants from space.
The pictures come from an Earth-observation satellite orbiting 600km (372 miles) above the planet's surface.
The breakthrough could allow up to 5,000 sq km of elephant habitat to be surveyed on a single cloud-free day.
.css-1pzprxn-BulletListContainermargin-left:1.5rem;.css-1pzprxn-BulletListContainer *:not([hidden]):not(style) ~ *:not([hidden]):not(style)margin-top:1rem;.css-1pzprxn-BulletListContainer ullist-style-type:disc;.css-1pzprxn-BulletListContainer ollist-style-type:decimal;
.css-18mjolk-ComponentWrappermargin:1.5rem 0;max-width:50rem;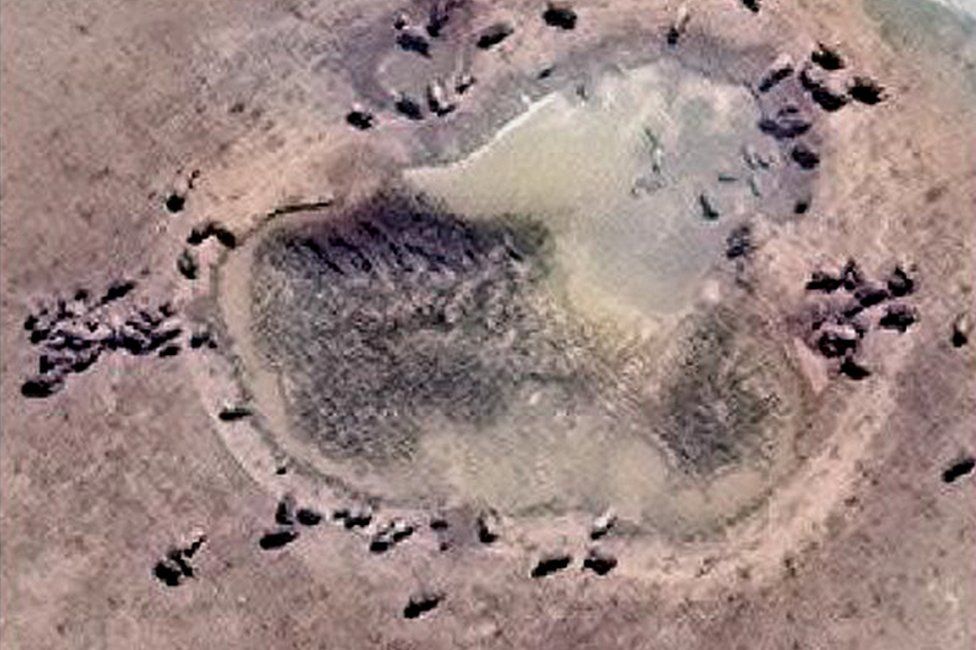 "We just present examples to the algorithm and tell it, 'This is an elephant, this is not an elephant,'"Dr Olga Isupova, from the University of Bath, said.
"By doing this, we can train the machine to recognise small details that we wouldn't be able to pick up with the naked eye."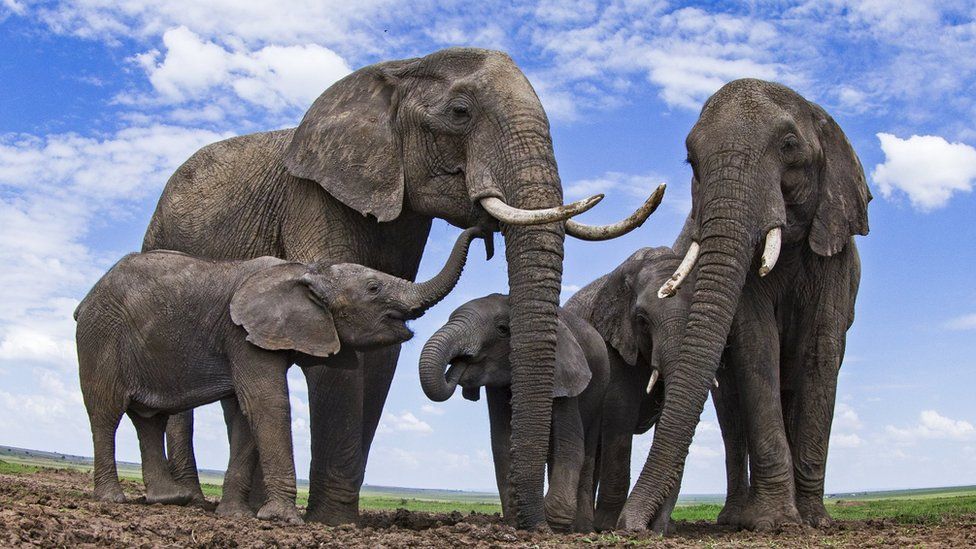 The scientists looked first at South Africa's Addo Elephant National Park.
"It has a high density of elephants," University of Oxford conservation scientist Dr Isla Duporge said.
"And it has areas of thickets and of open savannah.
"So it's a great place to test our approach.
"While this is a proof of concept, it's ready to go.
"And conservation organisations are already interested in using this to replace surveys using aircraft."
Conservationists will have to pay for access to commercial satellites and the images they capture.
But this approach could vastly improve the monitoring of threatened elephant populations in habitats that span international borders, where it can be difficult to obtain permission for aircraft surveys.
.css-mysbf6-ComponentWrapper-CrossheadComponentWrappermargin:1.5rem 0;max-width:50rem;padding-top:1rem;max-width:36.25rem;
.css-qozapo-StyledHeadingfont-family:ReithSerif,Helvetica,Arial,freesans,sans-serif;font-weight:500;font-size:1.5rem;line-height:1.75rem;color:#3F3F42;@media (min-width:37.5rem).css-qozapo-StyledHeadingfont-size:2rem;line-height:2.25rem;.css-qozapo-StyledHeading:focusoutline-style:none;.css-qozapo-StyledHeading:focus-visibleoutline-style:auto;
'Cutting-edge techniques'
The scientists say it could also be used in anti-poaching work.
"And of course, [because you can capture these images from space,] you don't need anyone on the ground, which is particularly helpful during these times of coronavirus," Dr Duporge said.
"In zoology, technology can move quite slowly.
"So being able to use the cutting-edge techniques for animal conservation is just really nice."
.css-kqym7f-SectionWrappermargin:1.5rem 0;padding-top:1.5rem;font-size:0.875rem;line-height:1.125rem;
Canadians Can Now Sign Up for Starlink Internet Beta Without an Invite, If Eligible – iPhone in Canada
SpaceX has made changes to its Starlink internet beta website, to now allow sign-ups without an invite, if your address is eligible for service, reports Tesla North.
Previously, Starlink website sign-ups for the beta program would be contacted via email to let them know about eligibility. But as of Wednesday, users in Canada and the United States can enter their address on the Starlink website—and if eligible, sign up right away.
All you have to do is visit the Starlink website here, enter your email and your home address. You'll be able to confirm your exact location with a pin on a map.
After that's done, you'll then be notified instantly if you can sign up for the internet beta program. If you are eligible, you'll be able to place an order right away for the Starlink hardware package, which contains a dish and router.
Tesla North reports Canadians in Ontario, Manitoba and Alberta were able to sign up today or received emails to join the Starlink beta. Eligible latitudes seen so far have been in the range of 43.1 to 45.3, and 50.01 to 50.71.
As for Starlink internet pricing in Canada? The dish is priced at $649 CAD, while the service is at $129 CAD per month. Starlink is targeting those in rural areas, lacking high-speed access.
Starlink internet beta invites hit Canada back in September. The low-Earth orbit satellite internet offers lower latency and faster download speeds compared to traditional satellite internet. This is because Starlink internet satellite constellations are hovering 550 km above Earth, whereas conventional satellite internet is at roughly 35,700 km above the globe, resulting in slow speeds with high latency.
[embedded content]
On Thursday morning, SpaceX's Falcon 9 rocket launched 60 more satellites into orbit, resulting in over 1,000 Starlink satellites in space. SpaceX has plans to launch 12,000 satellites and at its current pace, has a leg up on competitors.
The first location in Canada to use Starlink internet was the Pikangikum First Nation.
In Canada, the federal government recently inked a $600 million deal with Ottawa-based Telesat for its low-Earth orbit satellite internet. So far? There's only one Telesat satellite in space, but plans are to send more into orbit in 2021 aboard Amazon-backed Blue Origin rockets. Telesat satellites at 800 kg each, weigh more than three times that of a Starlink satellite, at just 227 kg.
Moreover, Telesat will sell its satellite internet services to internet providers, who will then sell directly to consumers. This is different than Starlink's direct-to-consumer business model, mirroring Tesla. Time will tell if $600 million of your tax dollars will see Telesat compete with SpaceX's Starlink internet.
For rural Canadians, Starlink internet will allow for high-speed internet connectivity that's unheard of, allowing for video conferencing and also streaming 4K video and playing video games. Beta testers have seen download speeds of 150 Mbps or higher.
Were you able to sign up for Starlink internet beta via the website?
Paleontologists finally have their first good look at a dinosaur's butt – CNET
Paleontologists spend their entire academic careers studying the anatomy of dinosaurs. Now a team of scientists from the University of Bristol has finally described in detail a dinosaur's cloacal or vent, which is used for everything from defecation and urination to attracting a mate to breed with (or, less scientifically, a jack-of-all-trades butthole).
In a new study, published in the journal Current Biology on Tuesday, Scientists revealed a range of theories about the cloacal vent on a dog-sized dinosaur called Psittacosaurus, a relative of Triceratops from the early Cretaceous era, which lived about 120 million years ago.
"I noticed the cloaca several years ago after we had reconstructed the color patterns of this dinosaur using a remarkable fossil on display at the Senckenberg Museum in Germany which clearly preserves its skin and color patterns," Dr. Jakob Vinther from the University of Bristol's School of Earth Sciences said in a statement on Tuesday.
"It took a long while before we got around to finish it off because no one has ever cared about comparing the exterior of cloacal openings of living animals, so it was largely unchartered territory," Vinther added.
The researchers reveal the dinosaur's cloaca has similar features as cloacas on alligators and crocodiles. The dino's outer cloaca areas were also likely highly pigmented. This pigmentation may have been used to attract a mate, much like baboons use theirs.
"We found the vent does look different in many different groups of tetrapods, but in most cases, it doesn't tell you much about an animal's sex." Dr. Diane Kelly from the University of Massachusetts Amherst said. "Those distinguishing features are tucked inside the cloaca, and unfortunately, they're not preserved in this fossil."
It's not just the appearance of the dino's vent that got the attention of mates, but also its smell. The large, pigmented lobes on either side of the cloacas could have also included musky scent glands to get the attention of a mate.
"Knowing that at least some dinosaurs were signaling to each other gives palaeo-artists exciting freedom to speculate on a whole variety of now plausible interactions during dinosaur courtship," palaeo-artist and study artist Robert Nicholls said in a statement.
"It is a game-changer!"