Minecraft YouTuber Dream Doxxed Following Speedrun Controversy – Screen Rant
YouTuber and Minecraft speedrunner Dream has been doxxed, in yet another blow to the controversial streamer over the past weeks. The doxxing came about after a picture of Dream's kitchen posted on his Twitter account, which was apparently enough for a few obsessed fans to use to find his personal information and location, a testament to the often destructive power of the internet as a tool for online stalking and harassment.
Despite the fact that he's never shown his face on-screen, Dream's internet fanbase grew by 12.5 million followers to a total of 14 million between January and November 2020 alone, largely thanks to his Minecraft speedruns and his fan-made Minecraft Manhunt and subsequent series of videos. But his reputation recently took a darker turn due to suspicions surrounding the legitimacy of his Minecraft prowess, along with a growing fan obsession to see what the enigmatic streamer actually looks like. The latter came to a head when YouTuber Mr. Beast posted a Rewind for 2020 that teased Dream revealing his face for the first time. However, the tease was all that fans were going to get, as Dream's face was ultimately obscured by his YouTube icon smiley face during the "reveal," which made it plain that Dream didn't plan to reveal his identity any time soon. Some fans were satisfied with that, but several were evidently not.
Continue scrolling to keep reading
Click the button below to start this article in quick view.
Related: Dunkey's Minecraft & Among Us Videos Roast Most Annoying YouTubers
Dream has already faced a few other controversies over the last few weeks, including being stripped of his speedrun record on Minecraft following allegations that his incredible luck was just a little too incredible to be credible. As catalogued by Twitter user defnoodles, hardcore Dream "stans" have since taken matters into their own hands, when Dream posted a picture of his kitchen to one of his Twitter accounts (whether they were motivated by his cheating or by his face reveal is unknown). Using online real estate marketplace Zillow, Twitter user mazouwu managed to figure out Dream's precise address and offered the information to anyone who asked before deleting all of the content from their account.
STANS TAKING IT TOO FAR: Dream doxed after posting a picture of his kitchen on his 2nd Twitter account. Dream has not published statement about situation yet in his public accounts. pic.twitter.com/QuKpIYRODQ

— Def Noodles (@defnoodles) January 2, 2021
Dream has yet to comment on his social media platforms about the doxxing, but there luckily don't seem to be any pictures of his face floating around the internet (yet), which hopefully means that no one has visited his home address. The tweet showing the picture of his kitchen has since been deleted, but the entire situation is a stark reminder that it doesn't take much for the most obsessive of fans to figure out sensitive information thanks to the internet, and the more famous a streamer is, the more likely they are to be stalked. Doxxing has always been a serious issue in the gaming world and has affected major corporations and individual gamers alike, necessitating an extreme amount of caution for anyone with any level of internet presence.
Of course there are "fans" out there who claim that Dream deserved the doxxing because of his refusal to reveal his face after actively hyping it up, but that's a toxic and bizarrely entitled mindset. Dream has the same rights to his privacy as anyone else, regardless of his online presence, and any punishment he deserves for cheating at Minecraft is already being dealt with. Dream is no saint in either respect, but no one deserves to be doxxed, especially when such instances can often be followed with personal threats and even violence against the victim or their friends and family. Hopefully this won't be the case with Dream, and his story should serve as a warning to other streamers that obsession and ingenuity are often bedfellows thanks to the power of the web.
Next: Minecraft: How to Trade With Piglin
Source: Def Noodles
.item-num::after
content: '/ ';
90 Day Fiancé: Jovi Dufren Answers Fan Questions, Addresses Break-Up Rumors
About The Author
Huawei Technologies in talks to sell premium smartphone brands P and Mate, sources say – The Globe and Mail
China's Huawei Technologies Co Ltd is in early-stage talks to sell its premium smartphone brands P and Mate, two people with direct knowledge of the matter said, a move that could see the company eventually exit from the high-end smartphone-making business.
The talks between the world's largest telecommunications equipment maker and a consortium led by Shanghai government-backed investment firms have been going on for months, the people said, declining to be identified as the discussions were confidential.
Huawei started to internally explore the possibility of selling the brands as early as last September, according to one of the sources. The two sources were not privy to the valuation placed on the brands by Huawei.
Shipments of Mate and P Series phones were worth $39.7 billion between Q3 2019 and Q3 2020, according to consultancy IDC.
However, Huawei has yet to make a final decision on the sale and the talks might not conclude successfully, according to the two sources, as the company is still trying to manufacture at home its in-house designed high-end Kirin chips which power its smartphones.
"Huawei has learned there are unsubstantiated rumors circulating regarding the possible sale of our flagship smartphone brands," a Huawei spokesman said. "There is no merit to these rumors whatsoever. Huawei has no such plan."
The Shanghai government said it was not aware of the situation and declined to comment further.
The potential sale of Huawei's premium smartphone lines suggests the company has little hope that the new Biden administration will have a change of heart towards the supply chain restrictions placed on Huawei since May 2019, the two people said.
The Shanghai government-backed investment firms may form a consortium with Huawei's dealers to take over the P and Mate brands, according to the second person, a similar model to the Honor deal. Huawei is also likely to keep its existing P& Mate management team for the new entity, if the deal goes through, the two people said.
OVERCOMING U.S. CURBS
Huawei, the world's biggest telecoms equipment vendor and No.2 smartphone maker, last November announced the sale of its budget phone brand Honor to a consortium of 30 dealers led by a company backed by the Shenzhen government.
The second source said the all-cash sale fetched more than 100 billion yuan ($15.5 billion). Honor declined to comment.
The Honor sale was aimed at keeping the budget brand alive, as sanctions slapped on Huawei by the United States had hampered the unit's supply chain and cut off the company's access to key hardware like chips and software such as Alphabet Inc's Google Mobile Services.
Huawei may have a similar objective in pursuing the sale of the mobile brands. The two sources said that Huawei's latest plans for the two high-end brands were motivated by insufficient chip supplies.
Washington says that Huawei is a national security threat, which Huawei has repeatedly denied.
On Friday, Honor indicated that the goal of the spin-off had been reached by announcing it had formed partnerships with chip makers such as Intel and Qualcomm and launched a new phone.
Last year, the company's Consumer Business Group Chief Executive Richard Yu said U.S. restrictions meant Huawei would soon stop making Kirin chips. Analysts expect its stockpile of the chips to run out this year.
Huawei's HiSilicon division relies on software from U.S. companies such as Cadence Design Systems Inc or Synopsys Inc to design its chips and it outsources the production to Taiwan Semiconductor Manufacturing Co (TSMC), which uses equipment from U.S. companies.
The P and Mate phone series are among the top players in the higher-end smartphone market in China and compete with Apple's iPhone, Xiaomi Corp's Mi and Mix series and OPPO's Find series.
The two brands contributed nearly 40% to Huawei's total sales over the third quarter of 2020, according to market research firm Counterpoint.
Analysts have already noted recent insufficient supplies of the flagship P40 and Mate40 series due to a severe components shortage.
"We expect a continuous decline in sales of P and Mate series smartphones through Q1 2021," said Flora Tang, an analyst at Counterpoint.
Be smart with your money. Get the latest investing insights delivered right to your inbox three times a week, with the Globe Investor newsletter. Sign up today.
India- Realme X7 and X7 Pro teased on Flipkart, launch imminent | NewsBytes – MENAFN.COM
(MENAFN – NewsBytes) Realme X7 and X7 Pro are expected to be launched in India on February 4. In the latest development, Flipkart has activated a microsite for the upcoming handsets, confirming that the Realme 7 series will be available through the e-commerce platform.
As for the highlights, the phones come with a 5G-enabled MediaTek Dimensity chipset, an AMOLED screen, quad rear cameras, and 65W fast-charging technology.
In this article Realme X7 and X7 Pro: At a glance For the shutterbugs and selfie lovers Under the hood Availability and pricing
The Realme X7 and X7 Pro sport a punch-hole design with a slim bottom-bezel, an integrated fingerprint sensor, and a quad rear camera setup.
While the X7 bears a 6.4-inch Full-HD+ (1080×2400 pixels) AMOLED screen, the X7 Pro comes with a 6.55-inch Full-HD+ (1080×2400 pixels) AMOLED screen with an aspect ratio of 20:9 and a 120Hz refresh rate.
Information For the shutterbugs and selfie lovers
The X7 and X7 Pro pack a quad rear camera setup comprising a 64MP (f/1.8) primary sensor, an 8MP (f/2.3) wide-angle lens, a 2MP (f/2.4) macro sensor, and a 2MP (f/2.4) depth sensor. On the front, they sport a single 32MP (f/2.5) selfie shooter.
The Realme X7 is powered by a MediaTek Dimensity 800U processor whereas the Realme X7 Pro is backed by a MediaTek Dimensity 1000+ chipset. They offer up to 8GB of RAM and up to 256GB of storage.
The standard X7 packs a 4,300mAh battery while the X7 Pro model houses a 4,500mAh battery. Both the handsets support 65W fast-charging technology via the Type-C port.
Key details Availability and pricing
At present, all we know is that the Realme X7 series will be available for purchase through Flipkart and is likely to be announced on February 4.
As for the pocket-pinch, the X7 model is expected to carry a price-tag of around Rs. 20,000 while the X7 Pro should cost around Rs. 25,000.
MENAFN25012021000165011035ID1101487103
Legal Disclaimer: MENAFN provides the information "as is" without warranty of any kind. We do not accept any responsibility or liability for the accuracy, content, images, videos, licenses, completeness, legality, or reliability of the information contained in this article. If you have any complaints or copyright issues related to this article, kindly contact the provider above.
Redmi Note 10 series likely to come without a charger in the retail box – gizmochina
Samsung started experimenting with the exclusion of accessories from the retail box of its phones started with the Galaxy Note 20 last year as it didn't offer earphones but shipped them for free to those who requested.
The strategy seems to be gaining more traction after Apple excluded the charger a few months back from all its iPhone devices. Xiaomi followed the suit with its Mi 11, but unlike Apple, it offers an option to customers to have a charger in the box.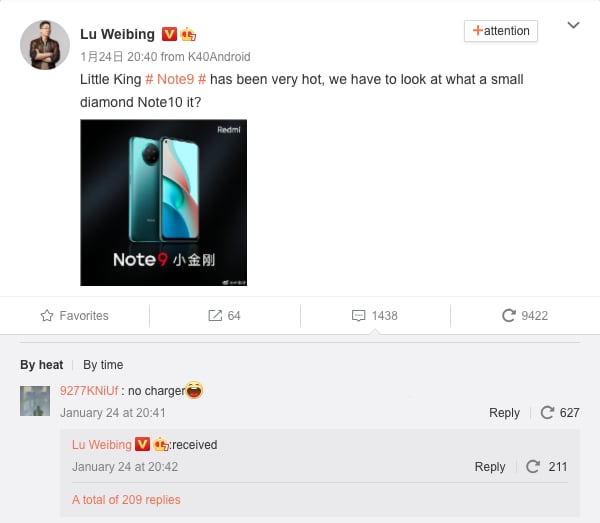 Now, Xiaomi's sub-brand is expected to do the same with the upcoming Redmi K40 series smartphones, if the newly released images are to be believed. It seems that another device from the company is also expected to remove the charger from the box — Redmi Note 10.
Lu Weibing, General Manager of the Redmi brand recently posted on Weibo, asking for suggestions for the upcoming Redmi Note 10 series smartphones. In the comments, some users suggested removing the charger from the box, and to one of those comments, Lu Weibing responded by saying "message received," which indicates that the charger won't be included in the retail box.
Smartphone manufacturers are justifying removing the charger from the box by citing the move as "environment friendly" and claiming that most users already have a charger at home. But they ignore the fact that the charger users might have at home won't be compatible with the latest fast charging technology and to get the advantage of that feature, they will have to purchase a new one.
While the Weibo post may hint that the Redmi Note 10 lineup could be launched soon, we don't expect the official launch at least for a couple of months as the company is currently gearing up to launch the Redmi K40 flagship smartphone by the end of next month, after the Spring Festival in China.
RELATED:
[embedded content]
ALWAYS BE THE FIRST TO KNOW – FOLLOW US!