Musk's leadership is not deterring media companies from quitting Twitter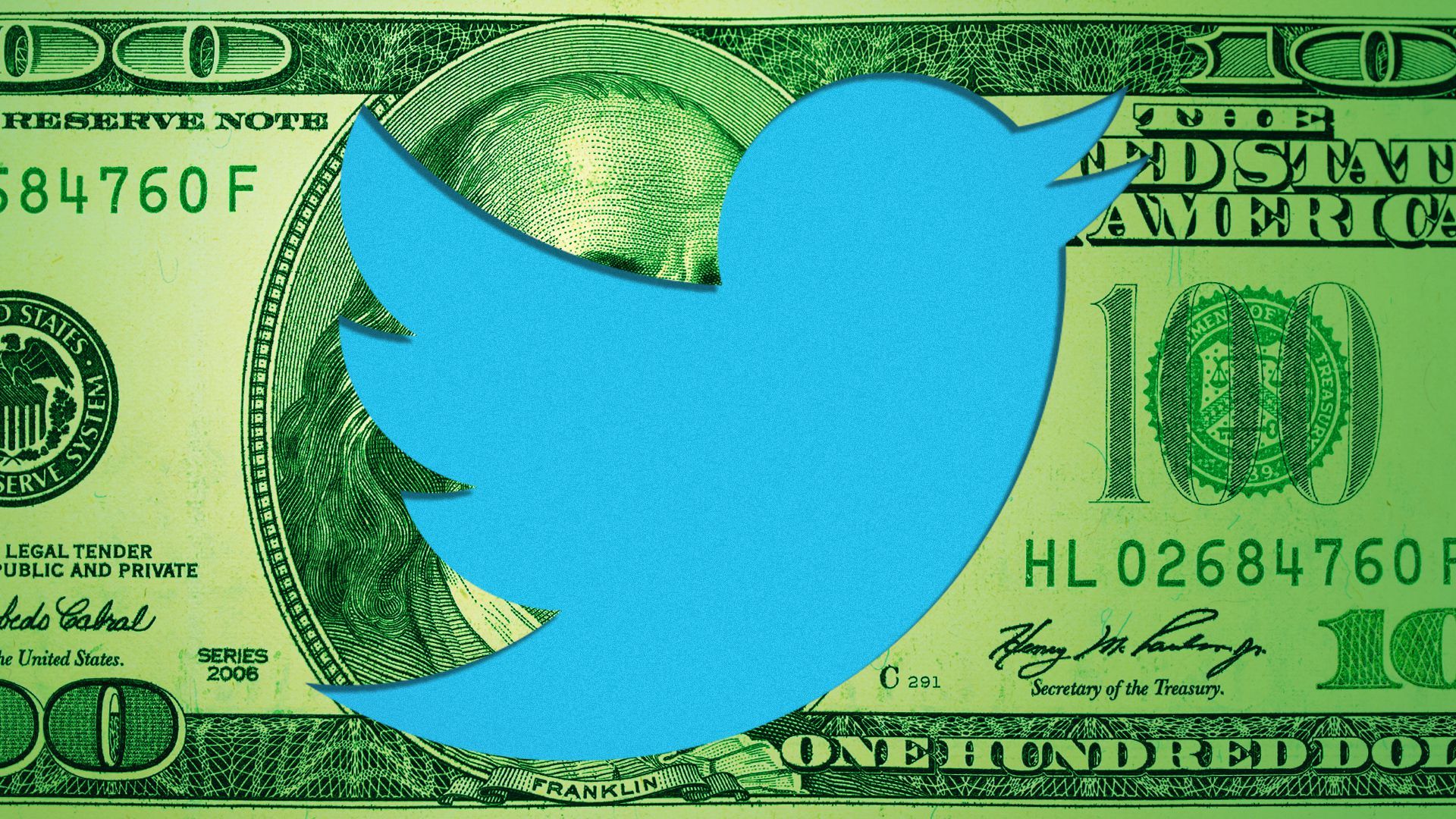 Illustration: Aïda Amer/Axios
Twitter is planning to run content sponsorship deals with more than three dozen news outlets, media companies and sports leagues in the first half of this year, according to a schedule of events shared with ad partners and seen by Axios.
Why it matters: Elon Musk's leadership style has caused many advertisers to flee, but media companies, newsrooms and sports leagues are reaping too much revenue and marketing advantage to quit the platform.
Details: This year, almost all of the major sports leagues, including the NFL, NBA, NHL, MLB, NASCAR, PGA Tour and more, plan to run content deals on Twitter around regular season games and tentpole events, like March Madness, NBA Playoffs and the Super Bowl, according to the schedule seen by Axios.
Sports publishers like CBS Sports, Turner Sports, ESPN, FOX, Univision and Telemundo are also slated to take part in deals around key sports events, per the document.
News outlets such as the Wall Street Journal, NBCU, Reuters, Axios, Bloomberg, Forbes, Conde Nast and USA Today are also slated to participate in various Twitter content deals around tentpole moments such as the World Economic Forum at Davos, CES and Pride Week.
Entertainment and TV companies such as NBCU, Paramount and Disney are all slated to run content aligned with various award shows, concerts and prime-time TV hits, like "The Bachelor" on Disney's ABC, "RuPaul's Drag Race" on Paramount's MTV and "The Masked Singer" on FOX.
How it works: Over the past few years, media companies and sports leagues have brokered multiyear deals with Twitter — typically between one to three years — through a selective program called Twitter Amplify.
The program pairs advertisers with timely videos from premium publishers, and publishers split a percentage of ad revenue made from their videos with Twitter.
Some content partners, like NBCU, sell ads directly to brands that want to sponsor their videos and share a portion of that ad revenue with Twitter. Others, like the NFL, rely on Twitter to sell the ads across their video content.
Most of these media partnerships are multiyear deals and were brokered before Musk took over Twitter. Some deals, like the NFL's partnership with Twitter, are worth seven figures if they run for their full term, according to two sources familiar with the agreements.
Be smart: There's little financial downside to staying in the content deals for publishers on the platform. But the companies and leagues don't want to broadcast that they are sticking with the deals because they fear reputational damage from Musk-era Twitter's free-speech free-for-all.
The NFL, Twitter's largest league content partner, declined to comment. The NBA and NHL did not comment. Paramount did not comment. Disney, NBCU, Conde Nast and Axios did not immediately respond to a request for comment.
For Twitter and participating content partners, the deals can be important incremental revenue drivers.
TV companies that sell Twitter ads as an extension of TV ad buys bring new clients to Twitter. Ads that Twitter sells against Amplify video content deliver incremental revenue to publishers who would've tweeted the videos organically anyway.
For publishers, the Twitter Amplify program makes it possible to monetize targeted video inventory at scale, especially around live moments, like viral clips from an awards show or football game.
The big picture: Most efforts by media organizations to quit Twitter have been brief or nonexistent, even for companies entangled in Musk's banning of journalists last year.
Puck News paused advertising on the platform briefly but returned to buying ads once Musk reinstated the banned journalists' accounts. CBS News quit Twitter for less than two days last year.
The Washington Post continued to run Twitter ads to boost views to its branded content campaigns on the platform late last month, despite one of its reporters being banned a few weeks prior. The Post did not comment.
CNN said last month it's "reevaluating" its relationship with Twitter in light of Twitter banning its tech journalist Donie O'Sullivan from the platform. O'Sullivan's account has been reinstated, but he still hasn't been able to tweet. CNN hasn't updated its statement.
By the numbers: While many advertising categories across Twitter saw between a 30%–60% drop in the number of active U.S. advertisers last quarter compared to the same quarter in 2021, the number of active U.S. media and entertainment advertisers fell by less than 15%, according to a source familiar with the situation.
Companies like Bloomberg and the Wall Street Journal continue to buy sponsored tweets, mostly to help with subscriber acquisition. Bloomberg did not comment. The Wall Street Journal did not respond to a request for comment.
Several other companies, including Gannett's USA Today and Conde Nast, have still been running Twitter ads around branded content campaigns. Gannett did not comment.
The top topics on Twitter by impression share in most of Q4 2022 were entertainment, sports & fitness, politics, food & beverage, financial services, news, and technology, according to an advertising pitch document seen by Axios.
Flashback: Most social media boycotts don't last forever. Fox News went quiet on Twitter for over a year, only to return in 2020 during the coronavirus news cycle.
The bottom line: At a tough economic moment for the media industry, Twitter has proven too useful to give up.
Vancouver woman wins identity fraud fight with Bell Mobility after posting on social media
It's been four blissfully quiet days since Erica Phillips last heard from the collection agencies ringing her two or three times daily for months, demanding payment of hundreds of dollars owed on a Bell Mobility account with her name on it that she never opened.
"It's a huge sense of relief," she said. "It's so nice knowing that this won't continue being a daily reminder of something that shouldn't have been my problem to begin with."
The Vancouver woman says she has been fighting the company for more than two years with little response, submitting documents supporting that the account was fraudulently opened using her name while at the same time filing reports with police, credit agencies and the Canadian Anti-Fraud Centre.
She says relief from the collection calls only came after she contacted news outlets and posted about her frustrations on social media.
"I took all of the correct avenues," she said. "I didn't want to make myself public but I felt like I was forced to," she said.
Phillips' ordeal started in 2020 when she received notices mailed to an old address from both Rogers and Bell Mobility that said she owed money. She says she had never been a client of either company, so she thought they were a phishing scam. Further investigation found that identity fraudsters had used her personal information to open the accounts in her name.
She says Rogers took quick action to cancel the account when she contacted them, but Bell Mobility did not.
"That's what seemed so insane to me at the beginning, that it was so easily taken care of with one of the companies and then not at all with the other," said Phillips.
In an emailed statement, Bell Mobility told CBC:
"We have conducted an investigation and have determined that this account was fraudulent. We are attempting to contact the client and have advised our affiliated credit agencies of the billing error."
The Consumer Protection B.C. website has information on how to prevent identity theft. It also has forms and advice for individuals who are being pursued by a company or collection agency for a debt that is not theirs.
Identity fraud and identity theft are criminal offences, but have become lucrative thanks to the growth of technology, according to the Office of the Privacy Commissioner of Canada.
In 2021, the Canadian Anti-Fraud Centre issued an alert after a spike in identity fraud reporting.
"Fraudsters are using personal information about Canadians to apply for government benefits, credit cards, bank accounts, cellphone accounts or even take over social media and email accounts," it said.
Phillips says in just one night her social media post received more than 100,000 views. She's been surprised by the number of people who have reached out to her to say they too have been victims of identity fraud.
"It's unbelievable the comments that I'm getting on all of the various stories now of people in similar situations," she said. "It's crazy."
She says Bell Mobility has not apologized.
Lawler pays tribute to Edmonton on social media, says goodbye to Elks ahead of CFL free agency
He was the Edmonton Elks' superstar free agent signing last year, but with one week to go until the next CFL free agency period begins, receiver Kenny Lawler announced on social media that he plans to leave Alberta's capital.
"Thank you so much for allowing me to represent this city and this amazing organization," the 28-year-old football player said in an Instagram post on Tuesday. He said his family was grateful for their brief time in the city.
"Everyone we crossed paths with helped make this transition easy as possible for us."
Last off-season, the Elks signed Lawler to a one-year contract worth a reported $300,000, making him the highest paid player in the CFL who was not a quarterback.
Citing an anonymous source, The Canadian Press reported Tuesday that the receiver who hails from California has agreed to a deal in principle with the Winnipeg Blue Bombers.
CFL contracts cannot officially be agreed to until Feb. 14, when free agency officially begins. However, once the reported two-year deal is officially announced, it would mark Lawler's return to Manitoba where he began his electrifying CFL career in 2019.
While playing for Winnipeg, Lawler helped the Bombers win Grey Cups in 2019 and 2021. In his only season with the Elks, Lawler managed to tally 58 catches for 894 yards and five touchdowns before undergoing season-ending shoulder surgery.
The 2022 season for the Elks was a difficult one. The club went 4-14 as it continues to rebuild since losing key players like quarterback Mike Reilly in 2019. Lawler said despite the challenging season with the Green and Gold, he was grateful for the competitive spirit the coaching staff maintained.
"Though we fell short, you all were never compromised in getting us to settle for nothing less than the goal we set out to achieve," Lawler said, adding he will miss the teammates he played with and that he has "gained relationships this year that I know will last a lifetime."
–With files from Dan Ralph, The Canadian Press
Media braces for the robot era
The rapid rise of generative AI tools like ChatGPT could displace dozens of media companies if they don't move quickly to adapt to a new internet reality.
Why it matters: Facebook's many pivots pushed media outlets to move their focus away from social media and toward search — but now experts predict another major disruption for publishers relying on search traffic.
"It's an undoing of the robotic behavior with which we were already committing journalism, because it's questionable whether writing about National Donut Day really served anybody," said S. Mitra Kalita, a former CNN executive who has co-founded two new local media companies, Epicenter NYC and URL Media.
"In some ways, the work we were doing towards optimizing for SEO and trending content was robotic. Arguably, we were using what was trending on Twitter and Google to create the news agenda. What happened was a sameness across the internet."
Driving the news: BuzzFeed last week said it is using OpenAI's publicly available software, which is similar to the popular generative text site ChatGPT, to automatically publish quizzes, beginning this month.
"To be clear, we see the breakthroughs in AI opening up a new era of creativity that will allow humans to harness creativity in new ways with endless opportunities and applications for good," the company's CEO, Jonah Peretti, said in a memo to staffers.
BuzzFeed doesn't plan to use AI to write journalistic articles, which seems to be a line that most publishers aren't eager to cross.
But figuring out the right balance when using AI won't be easy, as was made obvious by CNET's AI mea culpa last month.
The CEO of Dotdash Meredith, a rival to CNET's parent Red Ventures, told Axios last month that the firm "will never have an article written by a machine," but it has already begun to bake AI into many of its workflows, like sourcing images.
Be smart: The past few years gave rise to a slew of successful digital media companies that focused on monetizing search traffic, while social media-reliant publishers struggled to adapt.
But the content that has done well on search, such as evergreen articles that help people answer questions or provide recommendations, is poised to be challenged by artificial intelligence.
"The most immediate impact of AI is probably that it becomes an efficiency tool," said Brian Morrissey, former president and editor-in-chief of Digiday and author of a Substack newsletter on media called The Rebooting.
The big picture: Decades of constant pivots at the hands of Big Tech firms had media executives losing sight of which audiences they aimed to serve to begin with, Kalita noted.
ABC chief legal correspondent and media entrepreneur Dan Abrams said his media industry news site Mediaite began seeing record engagement once it started to push away from social media and search distribution.
The thinking has changed from "find the SEO angle" or "find the Facebook angle" to "find the Mediaite angle, and a large, loyal audience has followed," Abrams said.
Around 16% of the site's pageviews in 2022 came from homepage traffic, Abrams said.
What's next: As search-based content becomes more commoditized, media brands will need to pivot towards serving specific audiences, rather than the masses.
"You're going to have to get even more specialized as a publisher," Morrissey said.
Bottom line: "Trying to compete on efficiency with robots never works, they always win," Morrissey said.