Myanmar: End Crackdown on Media, Communications – Human Rights Watch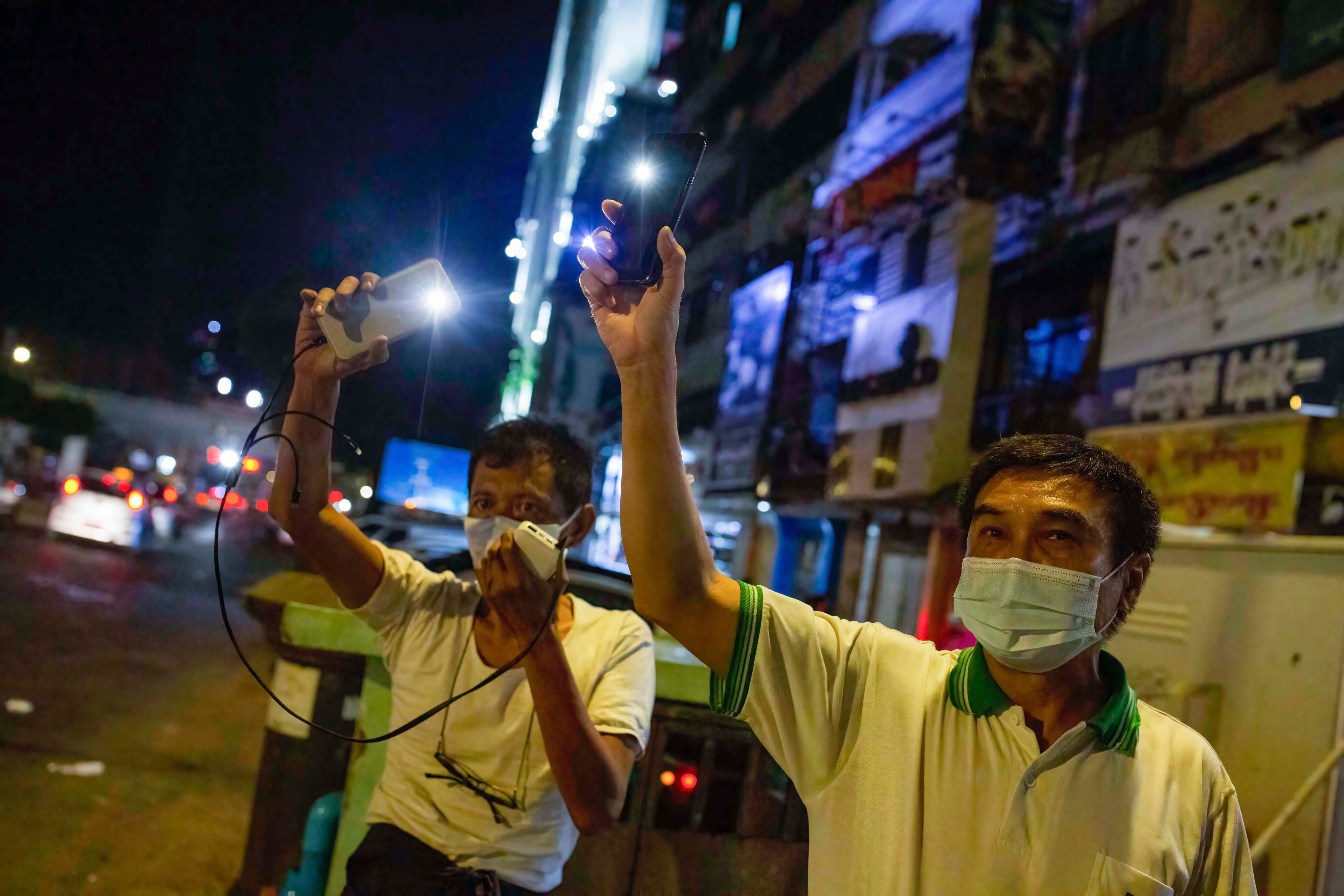 Myanmar's military junta should immediately lift internet restrictions, release all persons detained since the February 1, 2021 coup, and end harassment and threatened arrests of journalists, Human Rights Watch said today.
Journalists in Myanmar have reported credible threats of an imminent, broader-sweeping crackdown on media workers, and several have told Human Rights that they fear for their safety.
"A news and information blackout by the coup leaders can't hide their politically motivated arrests and other abuses," said Brad Adams, Asia director at Human Rights Watch. "The military should immediately release those arrested, restore access to online information, and protect the right to free expression."
On February 4, the Assistance Association for Political Prisoners (AAPP) in Myanmar said that in addition to 133 officials and lawmakers whom the military detained at the onset of the coup, 14 activists had also been detained. On the morning of February 4, the authorities arrested 4 among about 20 protesters who had gathered outside the University of Medicine in Mandalay to oppose the coup. It is not yet known if those arrested have been charged. On February 5, the authorities detained Aung San Suu Kyi's senior aide, Win Htein, 79, in Mayangone township. He is facing charges for his comments denouncing the coup.
Human Rights Watch called for the lifting of the February 3 and February 5 orders issued by the Transport and Communications Ministry, now fully under the control of the military, directing the blocking of social media services. The government said it was barring the use of the service because people were using it to "trouble the country's stability."
On February 3, the ministry ordered all mobile communications operators, international gateways, and internet service providers to cut off access to social media services owned by Facebook at least until February 7. The order went into effect on February 4, when Facebook, its Messenger app, as well as Instagram and WhatsApp, which Facebook owns, all became inaccessible on mobile data networks for people with SIM cards from the telecommunications company MPT. Telenor, a Norway-based telecommunications company, issued a statement saying that it had complied with the order that had a "legal basis in Myanmar law," but expressed "grave concern regarding the breach of human rights." Facebook is the main source of news and information in the country and for many Myanmar people is synonymous with the internet.
On February 5, the Council broadened the restrictions, ordering mobile communications operators, international gateways, and internet service providers to cut access to Twitter and Instagram. Disruptions to Twitter services were reported throughout the country and for numerous services providers. According to Netblocks, the service disruptions began on February 6 around 3 a.m. Instagram was already subject to restrictions under the previous directive at the time of the announcement.
On February 5, Telenor issued another statement saying it also complied with the February 5 directive, which it noted did not have a date of expiration, stating it had "legal basis in Myanmar's telecommunications law" and that Telenor had challenged "the necessity and proportionality of the directive."
Under international human rights standards, any internet-based restrictions must be provided for in law and be necessary and proportionate and pursuant to a legitimate aim. Internet shutdowns fail to meet these standards and hinder access to information and communications needed for daily life, which is particularly vital during times of crisis and the Covid-19 pandemic. Restrictions also provide cover for human rights abuses, and complicate efforts to document government violations.
Internet service providers should uphold their responsibilities under the United Nations Guiding Principles on Business and Human Rights, which says that companies should "[s]eek to prevent or mitigate adverse human rights impacts that are directly linked to their operations, products or services by their business relationships, even if they have not contributed to those impacts." This means resisting unjustified internet shutdowns. Service providers should insist upon a legal basis for any shutdown order, interpret requests to cause the least intrusive restrictions, and restore access as soon as possible, Human Rights Watch said.
On February 4, the United Nations Security Council members issued a statement expressing deep concern over the declared state of emergency and the arbitrary detention of the members of the democratically elected government in Myanmar. In calling for the release of those detained, the Security Council also urged Myanmar to "refrain from violence and fully respect human rights, fundamental freedoms and the rule of law." The council also expressed concern over restrictions on civil society, journalists, and other media workers.
"The Myanmar military has engaged in a naked power grab that if not reversed will set back democracy and the protection of human rights for a generation," Adams said. "The coup was so appalling that even China, which has consistently protected military from condemnation at the Security Council, signed onto a call for the respect of fundamental freedoms. Governments should be clear-eyed about the military's appalling human rights record and together demand the military abandon its wholesale assault on civilian rule, human rights, and the rule of law."
New ETF tracks social-media buzz from platforms like Reddit | Venture – Daily Hive
Partnership content presented by Market Buzz.
---
January's unprecedented GameStop saga completely changed the game for the stock market, as Redditors reigned over hedge fund superpowers. Who would have known that a social media community would single-handedly be responsible for the biggest short squeeze in recent history?
Although things might have simmered down on r/wallstreetbets lately, no longer is anyone underestimating the influence social media communities can have over the stock market.
This includes New York asset management firm VanEck, who is launching a new exchange traded fund (ETF) called BUZZ on Thursday. The clever business model will use AI to invest in the most-buzzed-about stocks in social media communities.
So how does it work? The index fund scours over 15 million online social media posts a month on sites like Twitter, Reddit, and StockTwits for investing hype using machine learning and artificial intelligence. It looks for patterns, trends, and sentiments that will impact the market value of certain stocks.
The algorithm will then produce a portfolio of 75 US large-cap stocks with the strongest market sentiment, which gets rebalanced once a month.
Emergency Press Conference – Introducing $BUZZ ETF pic.twitter.com/sgTc4MUS8e

— Dave Portnoy (@stoolpresidente) March 2, 2021
A big believer in BUZZ is Barstool Sports Founder Dave Portnoy, who excitedly shared the news of the ETF's launch on Tuesday with a video press conference on Twitter. Portnoy is no newbie to the stock market game, tweeting daily about his stock trades and actively getting involved during the recent GameStop frenzy.
Not surprisingly, Portnoy is also part-owner and director of Buzz Holdings ULC, the business entity that licences strategy to VanEck.
Although the fund, that launches this Thursday, might just seem to be piggybacking off the success of recent Reddit-driven investing, it's not the first time a social-media sentiment ETF has been created.
BUZZ U.S. Sentiment Leaders ETF (BUZ) launched in 2016 that tracked the same index that BUZZ will, but was shut down in 2019 because it never caught on. You could say the timing was off. But due to recent GameStop mania, the timing couldn't be better now for BUZZ.
According to its website, BUZZ is up 89.43% versus 32.08% for the S&P 500 over the past year. BUZZ's top holdings are Twitter, Draft Kings, Ford, Facebook, Amazon, Apple, Netflix, AMD, American Airlines, Netflix, and Tesla.
The VanEck Vectors Social Sentiment ETF, trading on the New York Stock Exchange (NYSE) under the ticker "BUZZ," will be available Thursday, March 4.
---
In partnership with Market Buzz. Subscribe to receive market investment stock news.
FOMO-obsessed people risk fraud via social media investment tips: BCSC – Richmond News
Social media is not the place to get your investment tips.
That's the message from the British Columbia Securities Commission (BCSC), which is detailing new research that shows younger adults and those who experience the fear of missing out – also known as FOMO – are more likely to think social media is a good place to find investment opportunities.
To mark Fraud Prevention Month, the BCSC said it surveyed more than 2,000 Canadians, including 1,000 British Columbians, to measure how age and FOMO influence investment attitudes.
"Results of this new research are particularly concerning because we've seen a surge in potentially fraudulent schemes peddled on social media during the COVID-19 pandemic," said Doug Muir, the BCSC's director of enforcement, in a news release. "We also know that fraudsters put pressure on people to act quickly. It's important to gather as much reliable information about an investment as you can before putting your money into it, and to not rush into it."
One warning sign of investment fraud is claiming that an opportunity is exclusive or available only to select people, said the BCSC, while in reality, most legitimate investments for ordinary British Columbians are available to anyone with the money to invest. Another warning sign is rushing would-be investors, telling them they must sign now to get in on the deal.
To educate people about the risk of letting FOMO drive their investment decisions, the BCSC is running a multi-media campaign called Hi, My Name is FOMO.
"The younger you are, the more FOMO you have," said the news release. "Half of B.C. residents between 18 and 34 said they experience it, compared to just 19 per cent of adults 55 or older. B.C.'s young adults also seem to have more FOMO than their peers across Canada – 50 per cent in B.C. compared to 40 per cent nationally."
This online survey was conducted for the BCSC by Innovative Research Group among a representative sample of British Columbians from February 11 to 23, 2021 as part of an omnibus survey. A total of 1,015 British Columbians aged 18 and over completed the survey. The results are weighted to a representative sample of 1,000 by age and gender within each region of the province using the latest available Census data to reflect the actual demographic composition of the population.
How Unpaid Internships In Sports Media Fuel Racial Disparity – Forbes
The entire media industry suffers from lack of diversity. But the problem is especially apparent in sports media, where largely white reporters and editors cover leagues with majorities of Black and Brown players. Unpaid internships only fuel this gross disparity.
The long-running debate over unpaid internships was reignited this week when NFL Media reporter Jane Slater shared an unpaid opportunity with her followers. When Slater encountered backlash, she doubled down, boasting about her experience working three unpaid internships in college along with a job. Soon thereafter, Twitter users picked up on previous comments from Slater, in which she praised her grandfather for supporting her "emotionally and financially" through college (Slater's grandfather was the president of Wolf Brand Chili).
"To the people shaming me for my hardworking grandfather and parents who instilled a similar work ethic to achieve success, you are rotten," Slater wrote.
Slater eventually clarified her thoughts, pointing out she would never support anybody working for free. She did, however, still highlight her work ethic: "I did not grow up rich," she wrote. "I always had a job and was taught to value hard work and paying my own bills."
Many of the NFL reporters who defended Slater, including Sports Illustrated's Albert Breer, echoed her sentiments about how working unpaid internships is one of the best ways to get ahead in a highly competitive field. And therein lies the problem: college students who can easily take unpaid gigs usually come from privileged backgrounds. That means opportunities are only open to a select few.
Way back in 1979, the American Society of News Editors forecasted that by the year 2000, the percentage of racial and ethnic minorities in newsrooms would mirror the population at large. That pledge was way off. While racial and ethnic minorities comprise almost 40% of the U.S. population, they make up less than 17% of newsroom staff at print and online outlets, according to the Columbia Journalism Review.
The numbers in sports media are just as porous. The last study of the 75 outlets belonging to the Associated Press Sports Editors, which was published in 2018, found at least 78% of all editorial positions were filled by white people. The gender disparity was even more stark: 90% of sports editors and 88.5% of reporters were men.
With those figures in mind, there's an obvious opportunity gap between white people and people of color when it comes to landing full-time jobs in sports media. One explanation is the staggering wealth gap between white and Black families. The Brookings Institute found the net worth of a typical white family is 10 times greater than that of a Black family. As we all know, wealthy kids are better positioned to grind through that unpaid college internship, because it's less likely they need to dedicate time to working. (With my parents taking care of tuition, I was able to focus on two unpaid internships during college, one of which resulted in a paying position.)
The racial composition in press boxes doesn't mirror the racial makeup in locker rooms: the NBA is nearly 80% Black; the NFL is 74% players of color; MLB is 40% players of color. It's generally considered a positive for journalists to reflect whom they cover. In that respect, sports departments fail miserably.
Racial disparities are prevalent everywhere in sports. In the NFL, there are only three Black head coaches, despite increased efforts to increase diversity in the coaching ranks. Just seven of the 30 NBA head coaches are people of color.
The front offices of professional sports franchises are just as white. The NFL and NBA each has five Black general managers. Of the three major sports leagues, only one principal owner is Black: Michael Jordan.
Black and Brown players aren't represented in the coaching ranks, front offices or the press. Eliminating unpaid internships in sports media wouldn't eradicate this entire imbalance, but it would help.