Saskatchewan real estate sales in January 2021, are up, way up, over January 2020 – Estevan Mercury
The whole economy changed with the advent of COVID-19 in March 2020. But prior to that, things were, well, more normal. And that's why year-over-year realty sales figures in Saskatchewan for January 2021 stand out, because they are up – way up.
On Feb. 3, the Saskatchewan Realtors Association (SRA) said in a release, "Building off the momentum seen in 2020, the Saskatchewan real estate market started 2021 off strong. Across the province, sales were up over 49 per cent from last January (going from 616 to 919), new listings were down just over five per cent (going from 1,855 to 1,758). Inventories were also down in 18 of the 19 markets that the SRA tracks."
"We haven't seen a January like this since 2012," said SRA economic analyst Chris Gbekorbu in the release.
With new listings down 10 per cent from their historical averages, there are fewer houses being put on the market. At the same time, the rising number of sales combined with falling inventory suggests strong demand for what housing is available. This could put upward pressure on prices and help to encourage potential sellers, according to the SRA.
"Although it is only one month and another COVID-like event could slow things down again like it did last March and April, this strong start should help us be optimistic for 2021," said Gbekorbu.
The SRA noted that while some analysts have suggested that national housing numbers could suffer significantly this year, "most analysts project that home prices will rise and that the economy will see strong growth as we continue to recover from the effects of COVID. Most consumers are also optimistic about real estate, expecting the market to continue to grow and be a good investment opportunity."
Samantha Krahn, director of external and government relations with the SRA, said by phone from Saskatoon on Feb. 4, "What is going on is pretty much across the entire province. People are still looking for homes, and there's definitely less homes out there. So, the ones that are available, people are clamouring for.
"We saw a lot of pent-up demand that basically drove the market up and we had one of the best years ever, last year, in real estate probably the last five years in almost all of the markets that we actually keep track of things for.
"So it's pretty extraordinary, considering the pandemic. You know, people really want to find a home and they're spending more time there."
This is happening despite an economy that saw thousands in Saskatchewan lose their jobs and businesses fighting to stay alive due to pandemic restrictions. Asked how that squares with the current realty market, Krahn said, "We had the lockdown in March, April and May. We were pretty stagnant; pretty much almost everything was on hold, it felt like in the market. And then June rolled around and things kind of just slowly picked up from there and even this month again, there's definitely less stock on the market but there's people out there looking for it."
She said in Saskatoon, in particular, they are seeing something called a "delayed presentation of offers." That's were five to as many as eight potential buyers may view a home, a number of offers are accepted and then at a certain time, they're all presented to the homeowner. Krahn said that hasn't happened in probably 10 years, according to some of their members. "It's definitely a sellers' market now," Krahn said.
Southeast Saskatchewan had some of the lowest numbers highlighted, but even they saw an increase, with sales up 13.3 per cent going from 30 in January 2020 to 34 in January 2021, up 27.8 per cent from the five-year average (and 12.2 per cent above the 10-year average). The total number of sales in Estevan was flat at 8 and fell 36.4 per cent in Weyburn, going from 11 to 7.
Sales in Estevan were 5.3 per cent above the five-year average and 22.3 per cent below the 10-year average, while they were 14.6 per cent below the five-year average and 20.5 per cent below the 10-year average in Weyburn.
The number of new listings in southeast Saskatchewan fell 1.1 per cent, going from 93 to 92.
Looking at commercial real estate more in depth in the fourth quarter of 2020, Krahn said their economist found that, "COVID has accelerated trends that were already happening; less need for retail space and way more need for warehouse space, things like that," according to Krahn.
She added, "It's definitely, I think, accelerated a lot of the trends that we've been seeing.
"You look at the southeast part, like Weyburn, Estevan, obviously things are a little bit less rosy down there, I think, probably because of resources and some of that. Same with Calgary, normally one of the hardest markets in Western Canada," she said.
Asked if we've crested, Krahn responded, "That's tough to say."
She doesn't see anything going downwards anytime soon. Right now, everyone is waiting for the COVID-19 vaccines.
BRAUN: Pace of real estate decline finally slowing – Toronto Sun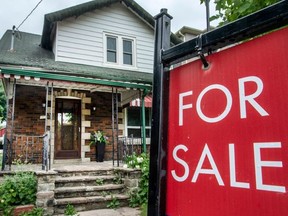 Article content
Prices will likely still fall in Toronto, but the decline has begun to slow and expectations are that prices will bottom in the spring.
Article content
Some areas in the GTA have done better than others.
As predicted, areas outside the city where prices skyrocketed once remote work became a possibility are among the hardest hit.
Prices in Cambridge, for example, are off 22%, while London and Brantford have seen an 18% decline. Kitchener-Waterloo, Kawartha Lakes and Hamilton/Burlington have all had a 17% drop in prices.
While Toronto's decline has been 11%, prices are expected to fall further.
Toronto also saw a drop of almost half (49.3%) in numbers of home sales in October versus October 2021, while new listings were down 11.5%.
Article content
"The market downturn may be in a late stage, but it doesn't mean things are about to heat up again," said Robert Hogue, RBC's assistant chief economist, in the report.
"We expect high — and still-rising — interest rates will continue to challenge buyers for some time. This will keep activity quiet for a while longer, even if it stabilizes near current levels."
Recommended video
For those on the sidelines wondering when or if to buy, a Toronto mortgage expert (who prefers not to be named) has some words of wisdom.
For starters, he prefers to keep all the gloom and doom on the down-low. A correction notwithstanding, real estate remains a solid investment.
So on the plus side, "with the correction have come reduced prices and reduced closing costs, especially in the GTA," the expert said.
Article content
And maybe no bidding war, although some neighbourhoods have not lost value because the three rules of real estate — location, location, location — never change.
If you're wondering what the bank will lend you for a mortgage, the expert offered a useful rule of thumb: 4.2 times your salary will tell you what you qualify for.
That's provided you don't have a lot of other debt, obviously.
As for figuring out your monthly mortgage payments, calculate $6 per thousand; a $500,000 mortgage will cost $3,000 a month, for example.
The fact that a one-year mortgage is currently at the highest rate and the five-year rate is lower — an inverted yield curve — is a sign of uncertainty.
"For the first time in my career, I'm not telling people what to do. Instead, I'm telling them their options," he said.
Article content
As for that swift rise in interest rates tamping down inflation, that's working "to some extent."
The government should have started two years ago and raised rates more slowly, he explained.
The consensus seems to be that the worst is behind us, "but we're heading into stagnation. Things will level off, but we need stability."
There's very little on the market right now, but the expert's expectation is that things will pick up after March break, when young families will start looking again in earnest.
"The banks aren't taking any chances. Anyone who thinks the banks are just giving money away — no! It's never been tougher to get credit."
Last word: focus on your debt. "I used to say, 'Continue to save.'
"Now I say, 'move from investing to getting rid of debt.'"
Durham real estate broker says 'date the rate, marry the house' – durhamregion.com
LACKIE: Buyers in driver's seat as sellers ride out real estate rough seas – Windsor Star
Article content
I got some blowback last week when I suggested that while quite clearly the housing market is in the throes of a strong correction, life and real estate continues on.
Article content
No, I was not shilling for my industry and, by extension, one might assume, my livelihood.
Article content
Yes, I still absolutely believe that things are rough and about to get rougher.
But notable to me is the fact that even amidst all of the scary headlines and all of the well-founded doom and gloom, there are still real estate deals happening in this city. And while as far as I can tell, the who and the how and the why has shifted from the who and the how and the why that drove that wild market that already feels like a distant memory, I'm not sure what we're seeing should be written-off as anecdotal outliers.
Transaction volume is down by half compared to this time last year. Interest rates currently stand at levels inconceivable less than a year ago. New homeowners are stressed, would-be home buyers are spooked, and everyone else is trying to figure out how worried they need to be.
Article content
Yes, yes and yes.
But here's what I am observing in real time: buyers are absolutely still out there.
Our transaction volume may be down by half, but the remaining half of what was truly record-levels is not inconsequential. It maybe just feels that way.
Case in point: I listed an adorable house in a central Toronto neighbourhood last week. The perfect starter home for first-time buyers. It would have been an absolute bun fight last winter.
I wasn't sure how it would go. And because of that, I left nothing to chance. We shined her up, I spent a small fortune on staging, the photos were perfect. We did all the things.
Article content
I also spent a lot of time managing expectations. All we need is one buyer, I explained to my clients — just one.
Never would I have guessed that we would end up with twenty-five groups braving the miserable cold to come to the open house. And these weren't people just out killing time on a Sunday. These were buyers, with parents in tow, and home inspection reports in hand, armed with their questions and their critical eye. The same buyers that are supposedly priced out or debilitated by the fear of catching falling knives.
RECOMMENDED VIDEO
Offer night yielded four offers. But unlike the offer nights of days prior, these prospective buyers weren't armed with letters to the sellers and waving their bank drafts around. They were cool. They had conditions. And their numbers were conservative. Even in competition.
Article content
The house sold for less than I expected, but with the four offers the market was clearly speaking and my clients were willing to listen.
And this experience tracks with what I am hearing from my colleagues: the buyers still out there will participate at the right price. They will come forward when they're good and ready. There is no FOMO. They will offer on things, sure, but will walk if it's not right for them.
And this will be how the prices continue to grind downwards.
So while yes, the market has slowed right down, I wonder if the stasis is also due to the logjam of sellers determined to wait out these unfavourable conditions.
I suspect that once reluctant acceptance of new-new normal settles in, we will see inventory rise and sales volume increase. But I feel pretty confident in saying that it will be quite a long time before sellers leave the table feeling like heroes again.