New collective aims to get more women active in politics – The Sarnia Journal
Cathy Dobson
Sarnia's Helen Cole is troubled that relatively few women are elected to municipal councils. So she's doing something about it.
Cole is the founder of The Jean Collective, a new group that aims to educate women about the political process and how to get elected in Sarnia-Lambton.
"Research shows women bring a different and important perspective to the conversation. Generally, we collaborate differently and represent a different viewpoint," she said.
"It's not good for democracy if we don't have women involved."
In Sarnia, Margaret Bird is the lone woman on a nine-member city council. She was elected in 2018 from a candidate slate of 29 men and 11 women. Prior to this term, Sarnia council had three women.
In Point Edward and Warwick Township, the mayors are both women and the councils entirely men.
Generally, Lambton County municipalities have one or two female politicians; Petrolia has none.
Of the 17 members that comprise the upper-tier Lambton County council, three are women.
Cole said many women don't run for office because they're intimidated by the election process and onerous rules governing municipal councils.
"I think they really don't feel they have enough experience and knowledge to consider running," she said.
Before moving to Sarnia, Cole served nine years on St. Thomas council in the 1990s. She wasn't daunted by the job because she'd worked as a municipal clerk/treasurer, she said.
Cole is currently business developer for the Sarnia Family Counselling Centre, and was recently named Member of the Year by the Sarnia-Lambton Chamber of Commerce.
Cole said she won't run for office again because "it's time for younger people to get involved."
But she believes The Jean Collective can inspire and support younger women interested in local politics, and ultimately close the gender gap.
The Collective's initial "meet and greet" is Jan. 20. Two dozen women registered within days of the announcement.
"It's been amazing," said Cole, who is organizing the collective with Carrie McEachran, Julie Hillier, Kirsty Kilner Homes, Helen Lomax, and Marika Sylvain Groendyk.
She anticipates a second meeting in February to talk strategy, then a series of monthly panel discussions and guest speakers at space provided by the Chamber of Commerce.
The Jean Collective is named for the late Jean Macdougall, a Port Stanley woman who mentored Cole in her political career. Macdougall was a cousin of Nellie McClung, the women's rights activist and member of Canada's 'Famous Five.'
"Jean was a community activist who paid attention and felt it was very important to see more women involved in local politics," said Cole. "I wanted to honour her memory by providing a way for other women to experience similar support."
Apart from The Jean Collective, Cole is working with the Sarnia Community Foundation to establish a Jean Macdougall Fund for Women in Politics.
For more about The Jean Collective, visit Facebook or www.thejeancollective.ca.
IF YOU GO:
WHAT: Inaugural reception for The Jean Collective. To inspire and educate women interested in running for public office.
WHEN: Monday, Jan. 20, from 5:30 p.m. to 7 p.m.
WHERE: Petite a la Carte, 170 Christina St. North.
TICKETS: Free but required. Reserve at https://www.eventbrite.com/e/the-jean-collective-a-women-in-politics-meet-greettickets-88306788983
RBG's Death Is About To Upend Politics Again : Death Of Ruth Bader Ginsburg – NPR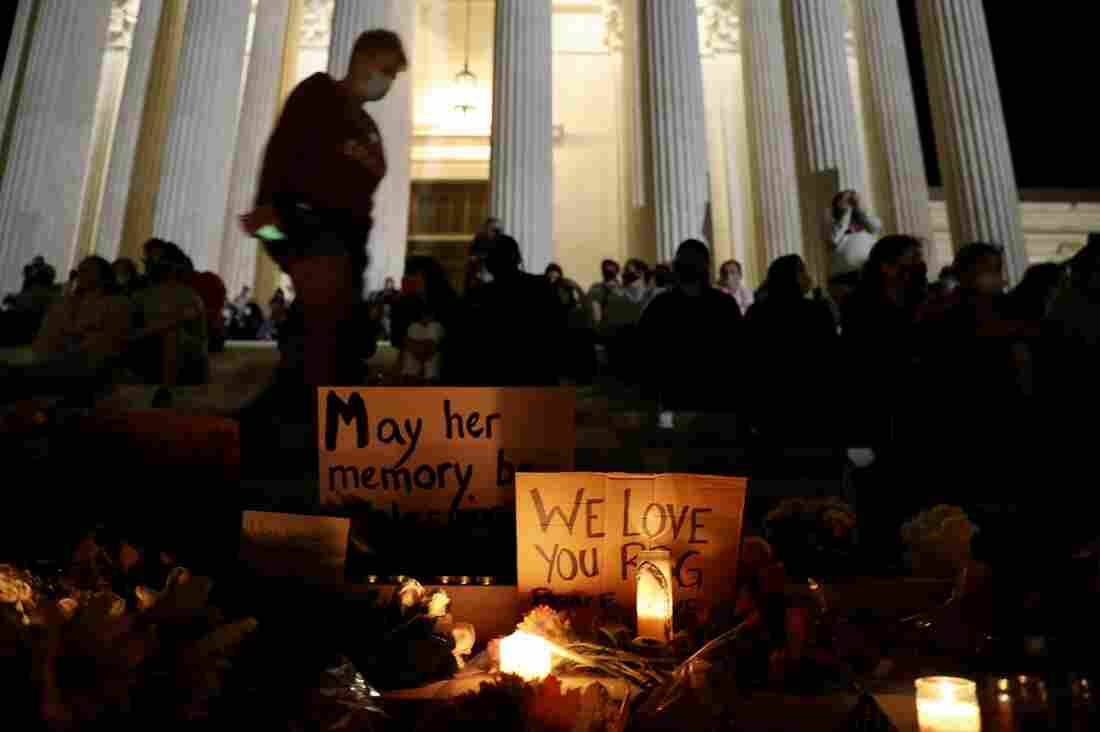 The death of Ruth Bader Ginsburg is a major cultural moment and has potential implications for the next generation of American society.
Just look at the images of people who crowded the Supreme Court's steps Friday night after news of her death broke.
The Supreme Court hasn't been this conservative in three-quarters of a century, and if President Trump nominates a replacement for her seat, and he or she is confirmed, it would move the court even further to the right and be difficult for liberals to take control of for a very long time.
Senate Majority Leader Mitch McConnell is vowing to bring a Trump nominee to the Senate floor for a vote — despite his denial of even a hearing for then-President Barack Obama's 2016 Supreme Court nominee, with far more time to go until the election.
It's unclear when that vote would take place — either before the election or during a lame-duck session. And it's not clear if Republicans would have the votes to pass a nominee. It would almost certainly be close.
It's also not clear how — or if — this reshapes the calculus in any way for the 2020 election. It could fire up the GOP base, which cares a great deal about the court. And it could fire up Democrats, especially women, to go to the polls for Democratic nominee Joe Biden.
But little has moved the needle in this election one way or the other, and those groups were already enthusiastic about voting.
So no one really knows how any of this is going to play out except to say that there is going to be some kind of fight over this seat.
Mandryk: 2020 election needs to take the politics out of the classroom – Regina Leader-Post
Article content continued
To be clear, there have been 85 new school capital projects announced in Saskatchewan compared with 32 school closures since 2008 after the Sask. Party took over — a period that has included unprecedented population growth.
And while New Democrat supporters might rightly be indignant about Sask. Party accusations of "NDP school closures" or playing politics with school openings, the NDP government wasn't exactly shy about doing the same. (Political lore suggests certain high schools in Regina only exist because a local NDP MLA bitterly complained he was the only cabinet minister without a high school in his riding.)
Moreover, the current NDP surely has not been shy about distributing pre-election campaign literature that screams this government has "no solution for overcrowded classrooms" that now contributes mightily to the lack of safety during COVID-19.
Can the NDP credibly complain about dangers of classroom overcrowding while muttering about Sask. Party playing politics with school openings and closures?
And then there's the little matter of the NDP campaign commitment to limit classroom size that would cost hundreds of millions in infrastructure and the hiring of teachers — a costly promise that may already becoming outdated by distance learning.
Of course, all this could inspire meaningful debate on education issuesthat isn't driven by partisan politics. Just don't hold your breath waiting for that to happen.
Mandryk is the political columnist for the Regina Leader-Post and Saskatoon StarPhoenix.
It's Been A Tense Week For Politics And Pandemic Science – NPR
Political interference on COVID-19 guidelines at the CDC, a DHHS spokesman on leave after attacking scientists on facebook live, and the President continues to contradict the science of the pandemic.