New media company puts Canada's Dene Indigenous narratives first, founder says – Eye on the Arctic
As the
Wet'suwet'en Nation conflict over a gas pipeline in B.C. unfolded earlier this year, Tyra Moses, an N.W.T. woman with roots in the Lı́ı́dlı̨ı̨ Kų́ę́ and Pehdzeh Ki First Nations, was emboldened to start up Dene Media.

"For a long time the narrative has been controlled by people who are non-Indigenous and I think now is the perfect time for Dene people to start reclaiming their own stories and their histories." Tyra Moses, Dene Media founder

The goal for Dene Media is to put Indigenous narratives at the forefront of storytelling and academia. Moses wants youth to feel empowered in their nationhood through those histories.

Moses returned north when COVID-19 hit and spent the pandemic building Dene Media. She said the fields of journalism, research and videography have only reinforced colonial perspectives but should reflect Dene as industrious and sovereign.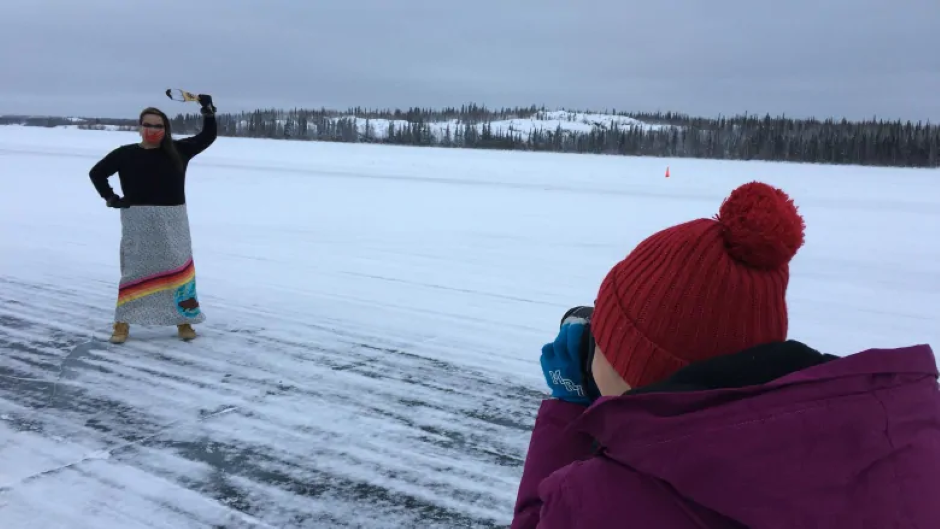 Moses plans to take on several media projects to make sure Dene have input on how their stories are told.
She reflects on a documentary she saw, as people across the country erected blockades in support of Wet'suwet'en defending their land.
"They were highlighting a family that was living on the territories like their families have since time immemorial." In it, a three-year-old girl responds to the threat of a police invasion by saying: "I don't want to leave, this is my home."
"I could imagine being forced off our land so that resource extraction could come through," Moses said.
Moses said that narrative resonated with her — she has a four-year-old daughter herself. And that kind of representation was badly needed in the discourse around the conflict, she said.
"Now is the perfect time for Dene people to start reclaiming their own stories."Tyra Moses, Dene Media founder
Moses says she saw key information about hereditary political structures, and the alternate routes suggested by the Wet'suwet'en not adequately represented in popular media.
At the time, Moses used her photography and social media to raise awareness about the situation, Indigenous rights and Indigenous-led conservation.
"That's how everything started."
Connect researchers with Dene
Moses wants to change the landscape of storytelling, journalism and research to make sure they reflect the resilience and strength of Dene.
"We're committed to using media as a tool to support the success of Dene and Indigenous nations."
One of the projects Moses plans on taking is about connecting research companies with Dene academics and promoting ethical research models.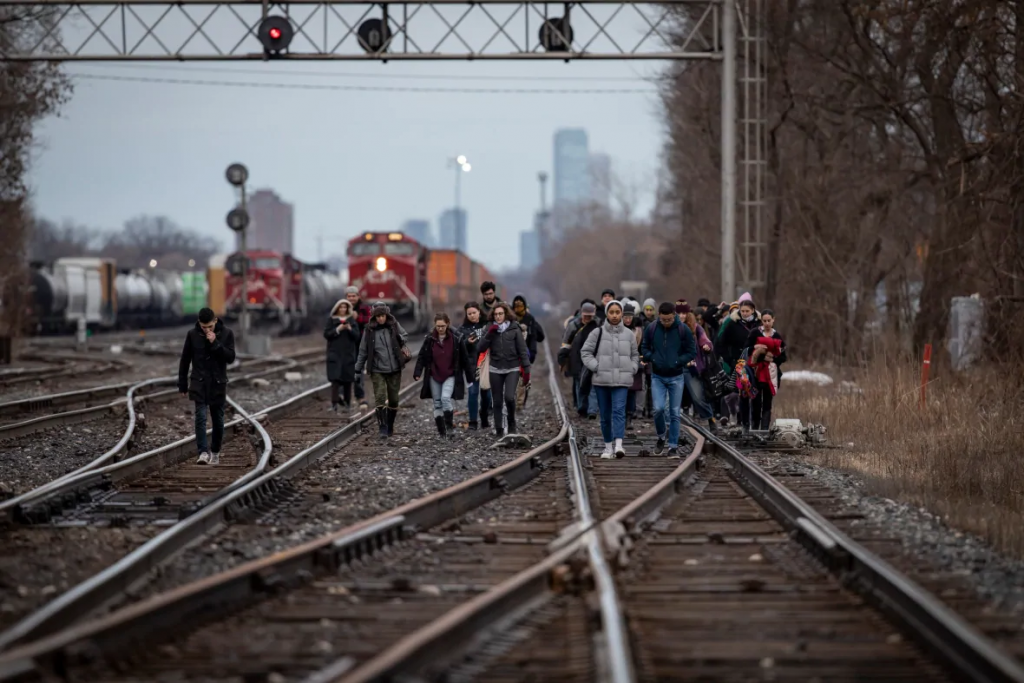 As a budding anthropologist, while in university she spent time researching ceremonies of the tribes that form the Blackfoot Confederacy, which straddles the U.S. and Canada. Moses said a non-Indigenous supervisor at university encouraged her to start her research before getting the right permissions.
Moses says she threw that advice to the wind and reached out to cultural advisors to respectfully connect with elders and community members.
Moses looks up to her own elders and Dene knowledge keepers who are passing along information for future generations, as well as organizations like N.W.T.-based Dene Nahjo, which advances social and environmental justice for northerners and promotes Indigenous leadership, and Dechinta Centre for Research and Learning, a so-called 'bush university' that focuses on land-based learning and is dependent on elders and knowledge keepers.
'Natural storytellers'
Moses said she'll work with Dene photographers and storytellers, create a children's book, and start publishing an online quarterly of Dene writers.
"Indigenous people are natural storytellers. Our oral histories and cosmology have been passed down for generations."Tyra Moses
She is inspired by writers like Mataya Gillis and Cassidy Lennie-Ipana, two young women who created Nipaturuq, a magazine for Inuvialuit youth.
Moses said her vision is all about the youth and how they see themselves.
It's also for her daughter.
She wants her to "see images of positive community role models within the community and see accurate representations of herself."
Related stories from around the North:
Canada: Artist from Canada's Northwest Territories designs new Royal Canadian Mint collector coin, Eye on the Arctic
Finland: Sámi-themed Finnish short film makes Sundance lineup, Yle News
Greenland: `Enough of this postcolonial sh#%' – An interview with Greenlandic author Niviaq Korneliussen, Eye on the Arctic
Iceland: Icelandic artist Olafur Eliasson lights up London's Tate Modern, Blog by Mia bennett
Norway: Walt Disney Animation Studios to release Saami-language version of "Frozen 2", Eye on the Arctic
Russia: Russia's Arctic culture heritage sites get protection, The Independent Barents Observer
Sweden: Sweden, Norway team up to preserve ancient rock carvings, Radio Sweden
United States: Set of Indigenous Yup'ik masks reunited in Alaska after more than a century, CBC News
Social media and COVID shaming: Fighting a toxic combination – CTV News
In the spring, Rick Rose drew the wrath of strangers after he practically shouted on Facebook that he wasn't buying a face mask. Two months later, he contracted COVID-19 — and, he posted, he was struggling to breathe. Days later, on July 4, he was dead.
That post, among the Ohio man's final public words on Facebook, attracted attention in the form of more than 3,100 "haha" laughing face emoji and a torrent of criticism from strangers.
"If they would have known him, they would have loved him like everybody else did," says Tina Heschel, mother of the 37-year-old Rose. She says she's "tired of all the hate."
"I just want him to rest," she says.
Shaming people who get sick or don't follow the rules in a public health crisis has been a thing since well before coronavirus, researchers say. But the warp speed and reach of social media in the pandemic era gives the practice an aggressive new dimension.
"It's like someone just turned up the volume on stigmas that were already there," says University of Pennsylvania professor David Barnes, who has studied pandemics and stigmatization.
People shame or stigmatize when they feel threatened by something. They need an explanation, and they find a scapegoat. It helps them reaffirm their thinking and make sense of what's happening. That's an important notion during a pandemic, which can feel vague and invisible.
"There's never been a society that hasn't moralized disease, ever," Barnes says.
Social media sites like Facebook take this practice, which used to be confined to social circles or by geography, and scale it to mass proportions, making it effectively limitless.
"It's changed the expectation of being able to speak up," says Pamela Rutledge, a psychologist who studies the impact of social media as director of the Media Psychology Research Center. "Everyone has a voice now."
And those voices are used.
When a Florida sheriff said in August that his deputies wouldn't be allowed to wear masks except in limited circumstances, Twitter users swiftly branded him a ".COVIDIOT." When doctors diagnosed Ecuador's first coronavirus case earlier this year, pictures circulated within hours on social media showing the retired school teacher unconscious and intubated in her hospital bed.
Rose's death was reported by national media, and visitors from around the country have stopped at his Facebook page to post messages or memes shaming him. Many also left messages wishing him well or scolding those who criticized.
Shaming can help people feel reassured that they have done things right and that the other person must have made a mistake, says Sherry Turkle, a Massachusetts Institute of Technology professor who studies social media. She calls this "magical protection and fantasy."
"It's a way of putting a wall between ourselves and the people who are getting sick," she says.
Social media also gives people isolated in a pandemic a quick way to join communities that share their beliefs. And when someone joins a group, that broader identity makes it easy to pile on.
"You behave in ways that you would not behave individually," Rutledge says.
People may not even realize that they are piling on as they click an emoji or leave a comment while scrolling through their feed. Social media, Turkle says, can make shaming very addictive.
"They're not even addicted to the particular content anymore. They're just sort of addicted to the process of participating," she says.
Plus, Facebook, Twitter and the like give users a way to quickly pass judgment — one that Rutledge says can create "legal, economic and all kinds of ramifications that never would have happened before."
Julian Siegel figures business dropped about 20% earlier this spring at his Fort Lauderdale, Florida, restaurant after someone posted a picture on the Nextdoor app of people waiting in his parking lot for food. The person said the customers weren't following social distancing guidelines at The Riverside Market; Siegel insists that they were.
"It was crazy. People who have never been here were bashing us, saying how we were spreading COVID," Siegel says.
After that, he started seeing people drive slowly by his restaurant, apparently taking pictures or video with phones. "We call them social media warriors. There's nothing you could do," he says. "We would wave."
Siegel saw three or four posts on the Nextdoor app and Facebook, and he says arguments would break out on the posts about whether patrons were being safe. In the end, he figures more people defended the restaurant than criticized it.
Christy Broce used social media to fight stigmatization instead of fuel it. The Pocahontas County, West Virginia, resident spent nearly a month in quarantine this summer after she and her two sons came down with the virus.
She says family members brought them groceries, and she and her boys kept to themselves. But they still felt scorned, especially after someone falsely reported to the local health department that she was shopping at a grocery store a couple days after she tested positive.
That prompted her to make a public plea for compassion on Facebook. Hundreds of people liked or loved that post, and several sent cards or messages of support.
"People have reached out and been a little more caring," Broce says.
Such a response doesn't surprise Rutledge. She says sharing empathy or support on social media makes both the giver and the recipient feel better. Like shaming or criticism, it can also help reaffirm a person's views or beliefs.
And there's this benefit, too: "It's also a way to sort of make the world seem like a kinder, gentler place."
A Practical Guide to Social Media Crisis Management
Today, 4.57 billion people worldwide use the internet, and almost 4 billion of those internet users are active social media users. During the COVID-19 pandemic, there has been a significant increase in online activity, with data usage increasing by almost 50% during quarantine.
Source:- Law.com
California County Enlists Social Media to Thwart a Misleading Election Photo – The New York Times
Election officials in Sonoma County, Calif., asked the broader social media community on Friday to help them rebut a false report about mail-in ballots in the county.
After receiving phone calls from constituents claiming they saw online pictures of mail-in ballots in a landfill, the county posted a message on its main Twitter account alerting residents and other Twitter users that a false report was circulating. The picture showed 2018 election materials that had been sent out for recycling, as state law permits, the county said.
Help us stop a false report
Someone posted pictures on the web showing empty Vote-by-Mail envelopes from Sonoma County in recycling bins. The pictures are of old empty envelopes from the November 2018 election that were disposed of as allowed by law. pic.twitter.com/0FrhnD3jHg

— County of Sonoma (@CountyofSonoma) September 25, 2020
County officials said they were not sure of the origin of the false report, but by Friday it had been picked up by some conservative media outlets on Twitter. Conservatives and President Trump have recently seized on news reports of issues with mail-in ballots, such as nine that were found to have been discarded in a northeastern Pennsylvania county.
Sonoma County's post underscored the difficulties that local election officials face in combating misinformation in the final six weeks before the Nov. 3 election. With the local news media in crisis across the nation, fighting misinformation largely falls on area officials, who are already stretched thin to meet the demands of the most complex election in decades.
For officials on the front lines in Sonoma, correcting the record as quickly as possible was paramount.
"I think we wanted to be proactive and make sure that people got the information from us, because we did hear from some concerned citizens," said Deva Marie Proto, the county registrar of voters in Sonoma County.