New show at Art Gallery Kimberley | Kimberley – E-Know.ca
Second Chance – Journey to the Butterfly: soapstone sculptures, flipstones, drawings and paintings that invite contact, interaction, and introspection.
Born on the prairies, Barbara Maye found herself moving and travelling as a nomadic seeker for decades. But when she hugged her first Giant Cedar near Radium in 2005, she knew she had finally found home in B.C.
Inspired by Indigenous beliefs from around the globe, and the spiritual wisdom of healing energies both in our bodies and in entities of nature, Barbara's artworks acknowledge the origins; wood as tree, stone as mountain, and body as spirit.
As a multimedia artist, sculptor, and art instructor based in Revelstoke, Barbara has dedicated more than 20 years to creating art that invites contact, interaction, and introspection. By presenting close-up perspectives of figural movement, pure abstraction and objects from nature, her method invites the passive observer to interact and self-identify with the art.
This summer, Barbara is presenting not one, but two art exhibitions in Kimberley. After a successful solo art exhibition at the Centre 64 Gallery where she filled the main gallery with her soapstone sculptures and paintings, Barbara's journey continues with a completely new art exhibition at Art Gallery Kimberley.
"Second Chance – Journey to the Butterfly" will feature Barbara's soapstone sculptures, as well as multi-media/multi-genre paintings and drawings inspired by the story of soapstone.
According to Barbara, soapstone is the result of a metamorphosis. "Like the transformation to a butterfly inside the chrysalis, soapstone undergoes a complete physical restructuring when the correct environmental conditions are present. The resulting rock is coloured uniquely by the minerals present and the flow of the molten experience. It is understandable why many honour soapstone for its healing properties associated with openness, flexibility, communication, imagination, and change," said Barbara.
Emulating this rolling, molten formation, Barbara created her innovative Flipstones, which are interactive sculptures that you are encouraged to pick up, examine closely, and 'flip' into a new resting position. By changing the position of the Flipstones, you shift the initial perspective for the next person and create an ever-changing art exhibition.
"When carving stone, I am deeply aware of the release of energy stored in the stones over millennia," said Barbara. "My free-form style of carving is a co-creation process with the stone, during which my role is to help the stone take a new form
to express itself. I see myself as merely a channel for creative energy to flow through."
Barbara uses soapstone dust and rock chips from her carving studio to create rich textures in her paintings. This texture can be found in her Landscape paintings – which are memories of locations visited in search of soapstone; her Lava Study paintings exploring the stones' metamorphosis; and in the Emergence series paintings, where she expresses the euphoria of post-transformation.
Immediately after graduating from the University of Calgary with a Bachelor of Fine Arts with Distinction, Barbara studied with Chaka Chikodzi, a Zimbabwean Canadian master stone carver. He taught her the Shona people's way to carve; approach the rocks with respect and no expectations then co-create the form intuitively. This ignited a passion for stone carving and the free-form style Barbara practices to this day.
Deeply influenced by the generous teachings of Noreen E. Saddleback of the Samson Cree Nation and Elder Bart Thomas, Splatsin Band, Guardian and Knowledge Keeper of the Secwepemc First Nation, Barbara's artworks respectfully explore Nature for the arcane wisdom she holds.
It took 10 years to realize Barbara's dream of harvesting stone directly from the land to carve, but Mark McKay, a retired carver and prospecting took her on a mentorship in the mountains surrounding Revelstoke. Understanding the tectonics (earth processes) that form soapstone, locating and respectfully harvesting the raw stone and the original locations of the rocks all inform the creation process of Barbara's abstract sculptures – some carved into Flipstones and some in the traditional pedestal style.
When asked what she enjoys most about creating art, Barbara says "I think what I like most about art are the gifts found in the 'happy accidents.' If we can stay open minded during the creative process, a mistake can be a generous reward. It's how the Flipstones came to be. I was carving a large stone and at the very end, it broke into five pieces. Yes I was upset, but it taught me about stone fractures, and acceptance that the stones were in charge. Later I picked up those pieces and turned them into multiple-position, interactive sculptures … and the concept of interplay and changing perspectives is the language of my work today."
Barbara says the greatest challenge she faces during the creation of her art is her mind getting in the way. "I try to approach my work like meditation, keeping my critical mind quiet. But overthinking and self-criticism are my nemesis. The techniques I discover and practice to overcome this challenge are the methods I teach in my art classes."
As an art instructor, Barbara strives to make the language of art more attainable to everyone. She began teaching while in university and continues today as a freelance and on-line instructor of primarily adult art education classes in several media. Barbara's teaching philosophy is rooted in the belief that anyone, given a fresh perspective, can recapture their creative voice.
"I think my greatest pride as an artist comes from teaching; seeing the opening in a student as they recognize their creative self; sharing what I have learned in my own creative journey; and the genuine friendships that have evolved from the classroom," said Barbara. "I have many students who have continued classes with me for years, just to keep their practice going, and several who have gone on to exhibit and sell their work as much better artists than me. It's so rewarding to be a small piece of their growth."
Barbara's exhibition will be in the art gallery from August 3 to 27. The art gallery will be participating in this year's Columbia Basin Culture Tour on August 6 and 7.
As part of this tour, Barbara will be presenting a slide show on Abstract Art and she will set up art creation stations introducing visitors to: Upside Down Drawing; Drawing on our Senses; Surrealist Inspired Abstraction; and Fauvist Inspired Abstraction. More information can be found at artgallerykimberley.com.
Submitted
Please enable JavaScript to view the comments powered by Disqus.
---
Article Share
Article Share
---
Rubbish fashion: street art costumes of Kinshasa – in pictures – The Guardian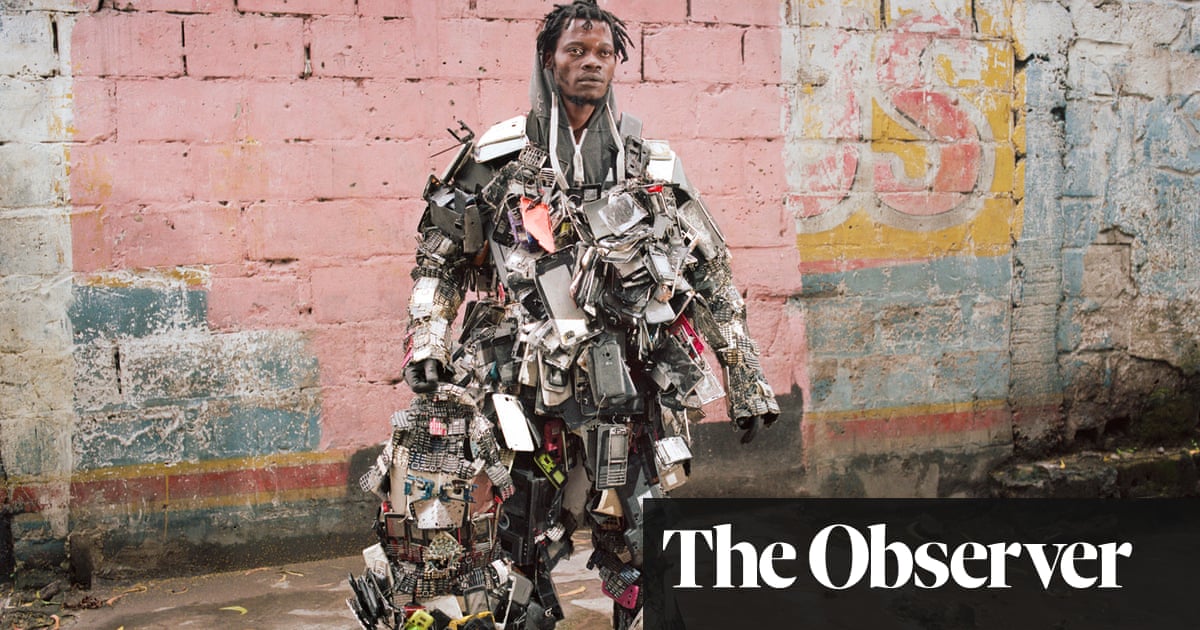 Falonne Mambu posing in her electric wires costume in Limete district, Kinshasa. As a performing artist, she raises issues about social development in her own country. The Democratic Republic of the Congo is potentially the biggest electricity provider in sub-Saharan Africa. Unfortunately, decay and corruption have crippled the national Inga dam, which only works to the minimum of its capacity. Nowadays, only 19% of Congolese people have access to electricity.
Montreal artist won't change puppet that community groups say looks like blackface
MONTREAL — A theatre performance for children featuring a puppet that has been described as racist is continuing in the Montreal area.
Several Black community organizations have criticized the puppet as being reminiscent of blackface minstrel shows — racist performances during which white people portrayed exaggerated stereotypes of Black people for laughs.
But the show's creator — Franck Sylvestre, who is Black — has no plans to change the puppet, which he said is a caricature of his own features. Sylvestre said in an interview he can't accept the idea that he's not allowed to create a caricature of someone who is Black because racists created caricatures of Black people in the past.
"That's unheard of for an artist," he said.
The play, called L'incroyable secret de barbe noire — French for The Incredible Secret of Blackbeard — first drew controversy in February.
A performance at a municipal theatre in the Montreal suburb of Beaconsfield, Que., was cancelled after complaints by Black community organizations. The neighbouring community of Pointe-Claire, meanwhile, removed the play from its official Black History Month programming but allowed the performance to go ahead.
Sylvestre, who wrote the one-man show in 2009 aimed at kids aged five to nine years old, said he had never received a complaint about his show before February.
A series of performances of the play, which combines theatre, storytelling, masks and puppetry, begins Sunday in Laval, Que., he said, before he takes it to France for 30 performances.
Sylvestre said the play tells the story of a young man who travels from Montreal to Martinique — the Caribbean island where Sylvestre's parents are from — at the request of his dying grandfather, who is haunted by his discovery of a mysterious wooden chest with a connection to the pirate Blackbeard.
Max Stanley Bazin, president of the Black Coalition of Quebec, describes the puppet's appearance as "very, very, very ugly" and said he worries that seeing a Black person presented in such a way could cause emotional damage to young audiences.
"It will have an impact on them, it will have an impact on the mind of the young people who see this puppet, and that's what we should think about," he said in an interview.
People are more likely to speak out about racism now than they were in 2009, Bazin said, adding that he thinks Sylvestre should listen to community members and replace the puppet with a less controversial creation.
"If there are people in society who have said this isn't right, you have to react," he said.
Philip Howard, a professor in the department of integrated studies in education at McGill University, said he's not sure the puppet is an example of blackface — but he said that's beside the point.
"There is still very much the matter of representation and the potential use of monstrous and grotesque representations of Black people as a source of entertainment and even humour," said Howard, who has studied contemporary blackface.
Howard said the intentions of the artist are less important than the impact of the performance on an audience.
"Here we have, in this particular instance, a whole community of folks that are responding and saying, 'Wait a minute, we don't love this, we don't think this is OK and we're particularly disturbed about it during Black History Month,'" he said.
Dismissing the opinions of Black people who have a problem with the performance demonstrates anti-Black racism, he said.
Sylvestre said he thinks much of the criticism comes from people who haven't seen the play.
"It's the job of the community to see what purpose these caricatures serve; are they, like blackface, denigrating Black people, or, as in my case, are they being elevated?" he said. "This character, he's a strong character for me personally, and when I made it, I was inspired by myself."
He said the puppet, named Max, is "like a great sage," whose interventions lead to the play's happy ending.
"Max, he was the voice of reason, he was the one who advised us, who mocked me when I made a bad decision, who was above me," he said.
Prof. Cheryl Thompson, who teaches performance at Toronto Metropolitan University, said she didn't like the puppet when she viewed a trailer for the play.
"I was extremely shocked," she said. "I just couldn't believe what I was seeing."
While blackface minstrel shows are primarily associated with the United States, Thompson's research has shown that blackface performances took place in Canada, with shows in Montreal as recently as the 1950s.
Even though blackface originated with white performers, Black actors in the 1800s would also don the exaggerated makeup and participate in the racist performances for white audiences.
"It actually didn't matter if it was a white actor in blackface or a Black actor in blackface, it was the caricature that audiences thought was funny," she said.
Thompson said there's room for theatre performances to be provocative. But performers, she said, need to engage with audiences and be willing to discuss artistic choices — especially when artists are performing for audiences whose histories might be different than their own.
"Why wouldn't this person at least try to hear the voices of people who maybe have a different experience to him?" she said.
She said she wouldn't take a child to see the show, especially during Black History Month.
"I just don't see the uplifting messaging," Thompson said. "I don't see the messaging of 'you matter,' I just don't see that celebration of life. I just see something that is steeped in a history of racial caricature and mimicry."
This report by The Canadian Press was first published March 25, 2023.
Jacob Serebrin, The Canadian Press
Vancouver to remove unsanctioned spider art creeping-out transit riders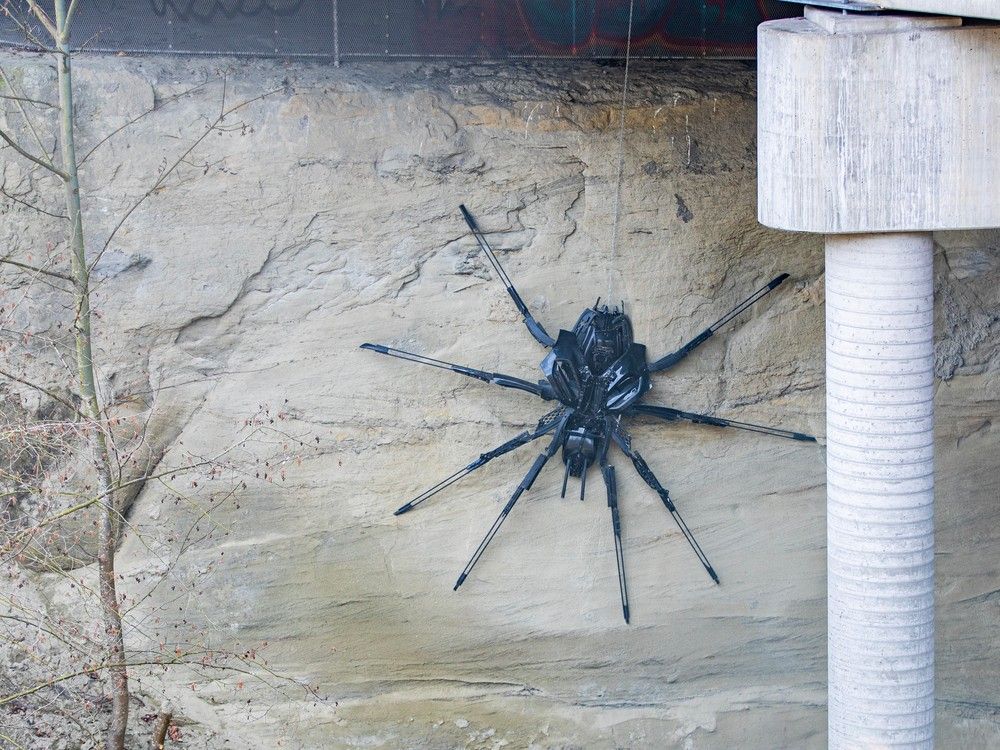 City staff are looking into how to remove a large metallic spider from under a high-traffic bridge on Commercial Drive in Vancouver.
The artwork, which startled some arachnophobic SkyTrain riders when it was installed earlier this month, was created by pop artist Junko Playtime.
In an email to Postmedia News on Friday, city staff say they were made aware of the unsanctioned spider artwork located in a corridor for SkyTrain and CN/BNSF Rail.
The installation wasn't done in consultation with the city or the rail corridor partners, city staff said. They're trying to figure out the best way to remove the artwork so there is no damage to the bridge structure or rail lines.
Staff said the artist will have the ability to claim the work through the city's impoundment process.
According to Playtime's Instagram page, the eight-foot-diameter spider was installed at night recently on the north bank below the bridge between North Grandview Highway and Broadway.
Playtime, from Montreal, has gained a reputation over the past two years for installing very large and far-out insect like futuristic sculptures from scrap metal and household items.
The artist called this latest spider creation "Phobia 2023. Time to face our fears."
— With files from David Carrigg