Netflix is not in deep trouble. It's becoming a media company – CNN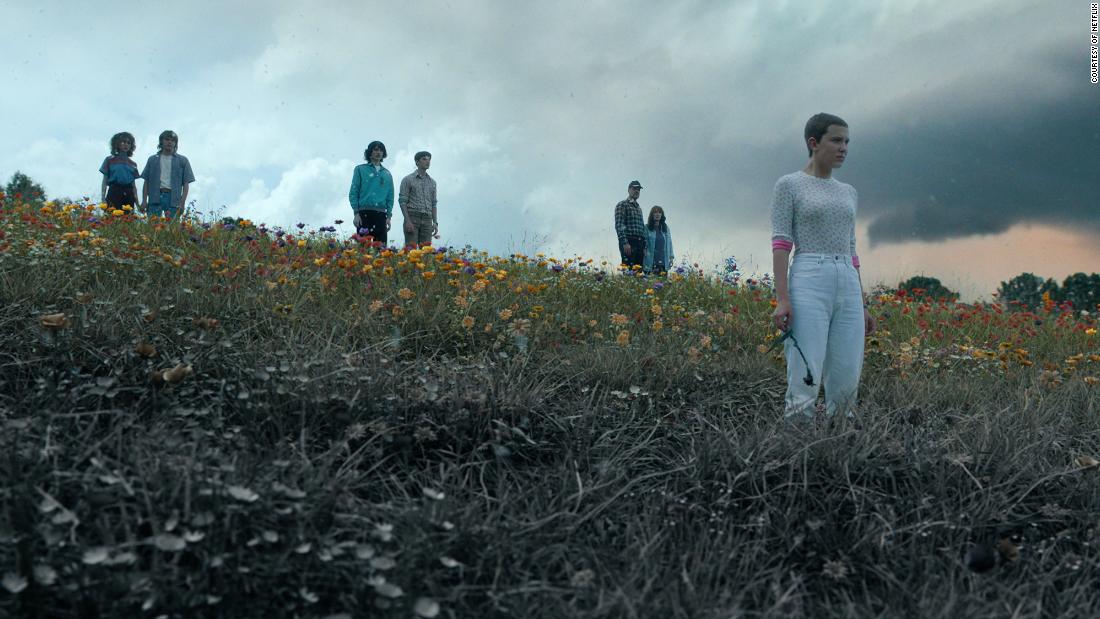 New York (CNN Business)Netflix has had a terrible 2022. In April, it said it lost subscribers for the first time since 2011. Its stock has tumbled more than 60% so far this year.
Yet its recent struggles may not be the start of a downward spiral or the beginning of the end for the streaming giant. Rather, it's a sign that Netflix is becoming a more traditional media company.
Netflix
(NFLX)
was originally valued as a Big Tech company, part of the Wall Street acronym, "FAANG," which stood for
Facebook
(FB)
,
Apple
(AAPL)
,
Amazon
(AMZN)
, Netflix and
Google
(GOOG)
. Wall Street once valued the company at about $300 billion — a number on par with many Big Tech companies that Netflix's business model ultimately couldn't live up to.
"I think Netflix was extremely overvalued," Julia Alexander, director of strategy at Parrot Analytics, told CNN Business. "Unlike those companies that have different tentacles, Netflix does not have a lot of tentacles."
But Netflix was never really a tech company.
Yes, it relied on subscriber growth like many companies in the tech world, but its subscriber growth was built on having films and TV shows that people wanted to watch and pay for. That's more a like a studio in Hollywood than a tech company in Silicon Valley.
Netflix looked a lot more like a tech company than, say, Disney, Comcast, Paramount or CNN parent company Warner Bros. Discovery. But as those traditional media companies start to look a lot more like Netflix, Netflix in turn is starting to take page out of its rivals' playbooks: It's going to
start serving ads
and it has been releasing some shows over the course of weeks and months rather than all at once.
Netflix has said that its cheaper ad tier and clampdown on password sharing may come next year. It's partnering with
Microsoft
(MSFT)
for its
ad business.
"I think in many ways the moves Netflix are making suggest a transition from tech company to media company," Andrew Hare, a senior vice president of research at Magid, told CNN Business. "With the introduction of ads, crackdown on password sharing, marquee shows like 'Stranger Things' experimenting with a staggered release, we are seeing Netflix looking more like a traditional media company every day."
Hare added that Netflix's former business strategy, which was "once sacrosanct is now being thrown out the window."
"Netflix once forced Hollywood deeply out of its comfort zone. They brought streaming to the American living room," he said. "Now it appears some more conventional practices could be what Netflix needs."
At Netflix right now, "a lot of these strategic moves are being made as they mature and move into the next phase as a company," noted Hare. That includes focusing on cash flow and revenue rather than just growth.
"In other words, old school business," he said.
— CNN Business' Moss Cohen contributed to this report.
Media Release – September 26, 2022 – Guelph Police – Guelph Police Service
Male arrested after taxi stolen and crashed
A Guelph male faces several charges after a taxi was stolen and then crashed Friday evening.
Just after 8:30 p.m., Guelph Police Service officers were called to a collision on the property of Guelph General Hospital. Investigation revealed a taxi had just picked up a passenger when a male got into the front passenger seat and demanded to be taken to an address. The cabbie refused as he already had a passenger on board.
When the taxi driver went to seek assistance from hospital security, the male climbed into the driver's seat. The rear-seat passenger noticed what was going on and exited the vehicle.
The taxi accelerated quickly, sideswiping another vehicle and then striking a curb, causing it to briefly become airborne before hitting a hydro pole. Both vehicles received significant damage. The accused sustained minor injuries.
A 29-year-old Guelph male is charged with theft of motor vehicle, dangerous operation and impaired operation. His driver's licence was suspended for 90 days. He will appear in a Guelph court November 8, 2022.
Thousands in tools stolen
The Guelph Police Service is investigating after thousands of dollars worth of tools were stolen during a break and enter early Sunday.
Shortly before 3 a.m. police received an alarm call at a business on Silvercreek Parkway North near Speedvale Avenue West. Officers arrived to find the glass front door smashed out.
Video surveillance showed a white GMC Savana van reversing up to the front door. Two males exited the rear of the van and smashed the door before loading up several Milwaukee and Dewalt-brand power tools, including a chain saw. The total value of the stolen tools was more than $4,000.
The first suspect is described as having dark skin and a thin build, wearing a black track suit with white stripe, full dark face covering and possibly a turban. The second male also had dark skin and a medium build and was wearing a white jacket, black hoodie, jeans and a face mask. There is no description available for the third suspect who was driving the van.
The incident remains under investigation. Anyone with information is asked to call Constable Scott Bangay at 519-824-1212, ext. 7209, email him at sbangay@guelphpolice.ca, leave an anonymous message for Crime Stoppers at 1-800-222-8477 (TIPS) or leave an anonymous tip online at www.csgw.tips.
Couple faces charges following traffic stop
A Guelph couple face a long list of charges following a traffic stop Saturday morning.
Just after 3 a.m., a male contacted police indicating he had just witnessed two people stealing his wallet from his vehicle on Eramosa Road. A vehicle matching the provided description was stopped a short distance away. The driver of the vehicle was found to be breaching a court order by being in the company of his female passenger.
The male was arrested and a search incident to arrest revealed he was in possession of credit cards in the victim's name as well as a large quantity of cash. The female passenger was also arrested and found to be in possession of more of the victim's credit cards as well as a spring-loaded knife. Break and enter tools were also located during a subsequent search of their property.
A 35-year-old Guelph male and 35-year-old Guelph female face charges including possessing stolen property and possessing break-in instruments. The female, who is also charged with possessing a weapon for a dangerous purpose, will appear in a Guelph court October 14, 2022. The male was held for a bail hearing Monday.
Two males arrested for impaired
Two males were arrested for impaired driving early Sunday, including one who had several passengers riding in the bed of his pickup.
At 2 a.m. Sunday, Guelph Police Service officers on patrol observed a pickup driving erratically in a parking lot on Stone Road West. There were nine people riding in the bed of the truck, which drove over a concrete median before being pulled over.
The driver had a strong odour of alcoholic beverage on his breath and was unsteady on his feet. He was arrested and taken to the police station, where testing confirmed he had more than the legal limit of alcohol in his system.
A 20-year-old male from the Shelburne area is charged with impaired driving, stunt driving, novice driver having alcohol in his system and driving with open cannabis available. His driver's licence was suspended for 45 days and his vehicle was impounded for 14 days. He will appear in a Guelph court October 21, 2022.
Approximately 4:40 a.m. Sunday, officers driving on Woolwich Street observed a vehicle enter an intersection and brake abruptly for a red light. A traffic stop was conducted and the driver had a strong odour of alcoholic beverage on his breath. He registered a fail on a roadside screening device and was transported to the police station, where further testing confirmed he had more than the legal limit of alcohol in his system.
A 36-year-old Guelph male is charged with impaired operation. His driver's licence was suspended for 90 days and his vehicle was impounded for seven days. He will appear in a Guelph court October 14, 2022.
Car entered downtown
The Guelph Police Service is investigating after more than $2,000 worth of property was stolen from a car downtown.
Just before 10 p.m. Friday, police were called to a parking lot downtown and met with the victim, who had returned to his vehicle to find a window smashed out.
Property including a paintball gun and attachments valued at $1,500 had been stolen.
The theft is under investigation. Anyone with information is asked to call Constable David Lee at 519-824-1212, ext. 7108, email him at dlee@guelphpolice.ca, leave an anonymous message for Crime Stoppers at 1-800-222-8477 (TIPS) or leave an anonymous tip online at www.csgw.tips.
Total calls for service in the last 72 hours – 820
Sense of continuity the theme of Raptors media day – Global News
TORONTO – At this time last year, Nick Nurse had no idea what kind of team he had or how the season might play out, and the Toronto Raptors coach admitted as much.
Gone was longtime leader Kyle Lowry, rookie Scottie Barnes' was still unproven, and the team had no true centre.
Fast forward a year, and continuity was a theme of Monday's traditional Raptors' media day.
"I was sitting up here a year ago and we didn't have any idea who we were, identity-wise … For the most part, we played really good basketball after we kind of clicked into that mentality," Nurse said. "I feel confident in knowing who we are quite a bit more than a year ago at this time."
In what was intended to be a rebuilding season, the Raptors went a solid 48-34 last year, and saw Barnes win rookie of the year. They were eliminated by Philadelphia in the first round of the playoffs, and headed into their longest off-season in five years.
Amid a frenzy of player movement around the league, the Raptors had a relatively quiet summer, going with the status quo instead of a major shakeup. Fourteen players returned, making Toronto the league's top team for roster stability.
"We made a commitment to grow," team president Masai Ujiri said. "We're a young team, a young growing team. That's all we talked about last year, lots of players who can make a jump. Even our veterans are young veterans in the league, with Freddy (VanVleet), Pascal (Siakam), O.G. (Anunoby), we've always wanted to preach patience.
"We want to win. We're expecting to win. Honestly, we can't react to what's going on in the league. Yeah, we see other teams. We study all of that. But in terms of our plan, it's to grow our young players and continue to develop and see (where) that takes us."
Media day, held in a sunlight observatory in a posh hotel near the Raptors' practice facility, had a sense of normalcy — finally — after a couple of seasons rocked by COVID-19. The pandemic hit the Raptors hard, forcing them to relocate to Tampa, Fla., for a season, and then playing much of last season in front of no fans at Scotiabank Arena.
"It's really good to see us coming back from a normal summer again," Ujiri said. "Hopefully we get through this winter and we have a bit of back to normal."
The Raptors were scheduled to board a flight to Victoria immediately after media day, marking the first time camp has been held in an alternate Canadian city in three years. It was in Tampa in 2021, and Toronto last season.
"We want to feel the love of the people of Canada because we know of the support," Ujiri said. "It's been a couple of years since we've been able to do stuff like this."
The Raptors have exhibition games Oct. 2 in Edmonton versus Utah, and Oct. 14 in Montreal against Boston.
While Tuesday marks the first official day of camp, most of the players gathered in Los Angeles weeks ago, prompting Clippers star Paul George to heap praise on them during one of Rico Hines' famous scrimmages.
"Shout-out Toronto, man. Y'all came and y'all represented," George said. "It's crazy, I saw y'all on YouTube the first week, came and played the second week, now it's Week 3 … and y'all still here. I'd be disappointed, coaches, if y'all ain't come out hot to start the season."
Nurse, who's added Hines to his coaching staff for this season, was thrilled to see the players connect weeks before camp opened.
"I just kind of sense a little urgency, I sense some togetherness and I sense some real intensity this summer, and I think those are all three really good words going into a training camp," Nurse said. "I think the team's shaping the identity that showed up a little bit late last year. They know who they are and are looking to expand it. It was a good summer."
One change Nurse has planned for this season is lightening VanVleet's load. The guard stepped admirably into Lowry's shoes as team leader, but logged am onerous 37.9 minutes, and the 28-year-old was walking like an old man by season's end, his body battered before the playoffs even began.
VanVleet blamed himself on Monday.
"Just with the adrenalin and the way that the season was going and the last push that we made to get to that position that we were in, I think that I kinda zoned out a little bit in terms of listening to my body," VanVleet said. "Definitely had to listen to my body. We lost and I had to go to the doctor and all those things to plan out the rest of my summer. I had to get stronger. I had to make some changes and I did those things, and I feel great."
Barnes could lighten some of his load. The six-foot-seven, 225-pound sophomore had Twitter in a frenzy when the Raptors listed him as a guard/forward.
"I've always been a point guard, I always had those point guard things," Barnes said. "I feel like I can do it all, no matter what it is. I can play any position, so I don't really try to limit myself to one position."
Barnes, who said he chose to attend Florida State because of their promise to let him play point guard, averaged 15.3 points, 7.5 rebounds and 3.5 assists in 35.4 minutes per game in his first season, starting all 74 games he played.
Ujiri called the versatile Barnes "one of those players of the future."
"I don't know how to describe him," Ujiri said. "I don't know what position that guy plays. He's one of those guys who just plays basketball and is an incredible basketball player."
The Raptors will practise at the University of Victoria. Their first pre-season game in Toronto is Oct. 9 versus Chicago. They open the regular season Oct. 19 at home against Cleveland.
This report by The Canadian Press was first published Sept. 26, 2022.
© 2022 The Canadian Press
NBA Media Day 2022: Best moments from around the league – NBA.com
NBA Media Week tipped off over the weekend with the Wizards, Hawks, Bucks and defending champion Warriors — all teams competing overseas in preseason NBA Global Games — holding their Media Days.
The rest of the league returned on Monday with live coverage on NBA TV.
> Full Schedule: NBA Media Days 2022
Here are some of the best moments, portraits, interviews and more from NBA Media Day 2022.
---
LeBron talks about potentially passing Kareem as the NBA all-time leading scorer this season.#NBAMediaDay pic.twitter.com/IyyGpQsR1f

— NBA (@NBA) September 26, 2022
Joker and mics never really get along :/ pic.twitter.com/hEzmywvOou

— Denver Nuggets (@nuggets) September 26, 2022
Giannis' press conference jokes will officially start at the NBA Global Games in Abu Dhabi. pic.twitter.com/u9qUDuwNb7

— NBA (@NBA) September 25, 2022
7/11 pic.twitter.com/4O2QL9flIo

— Brooklyn Nets (@BrooklynNets) September 26, 2022
Whole lotta smiles 😄 pic.twitter.com/vVWFVb3gWx

— Brooklyn Nets (@BrooklynNets) September 26, 2022
KD speaks on his offseason work.

For all things #NBAMediaDay: https://t.co/x72YsaFUZ9 pic.twitter.com/LCts0qDrm0

— NBA (@NBA) September 26, 2022
Someone's looking forward to Christmas this year… but first, preseason…😁@luka7doncic | #MFFL pic.twitter.com/WQyuHONWQf

— Dallas Mavericks (@dallasmavs) September 26, 2022
"I'm just messing with stuff to make the internet mad. That was my goal this summer and it worked."

Jimmy speaks on his offseason hair styles. 🤣#NBAMediaDay pic.twitter.com/5cDFBFadhB

— NBA (@NBA) September 26, 2022
DeMar on the doubters: "At this point, I always find humor in it. You always try to find reasons to be motivated. At this point I have so many other motivational factors, that it becomes laughable to me. I always use whatever I can take, it's free energy." pic.twitter.com/Rx8CQsg58H

— Chicago Bulls (@chicagobulls) September 26, 2022
The Dragon is a Bull 🐉 @Goran_Dragic pic.twitter.com/Sjqhx8MtDr

— Chicago Bulls (@chicagobulls) September 26, 2022
12skii @JaMorant checking in from media day 🥶〽️ pic.twitter.com/qFe8KTApmv

— Memphis Grizzlies (@memgrizz) September 26, 2022
12 @JaMorant found a new nickname 😂 🥷 pic.twitter.com/fxFBilz2NP

— Memphis Grizzlies (@memgrizz) September 26, 2022
no context 😂@therealZiaire x @jarenjacksonjr pic.twitter.com/5CegAiC7oP

— Memphis Grizzlies (@memgrizz) September 26, 2022
Jaylen Brown speaks on the Celtics' resiliency and honoring the great Bill Russell.

Follow along with #NBAMediaDay: https://t.co/x72YsaFn9B pic.twitter.com/KEtR6WQcJa

— NBA (@NBA) September 26, 2022
"Take a picture with your grandson!"

This moment between Jaylen Brown and his grandfather. 💚#NBAMediaDay pic.twitter.com/tv8Wcy6SZg

— NBA (@NBA) September 26, 2022
Words of wisdom from The Logo himself on Media Day. pic.twitter.com/1zBABRs6JO

— LA Clippers (@LAClippers) September 26, 2022
"I'm in the gym and something happens… I'm like 'Oh man, I can really do that! That's different!'" 🤣 pic.twitter.com/pQpzfJPXZV

— New Orleans Pelicans (@PelicansNBA) September 26, 2022
Year 18 🔜 pic.twitter.com/s7q5kL5EqL

— Phoenix Suns (@Suns) September 26, 2022
It's no secret what Book's goal is here.

🗣 @DevinBook pic.twitter.com/cHPl0L002W

— Phoenix Suns (@Suns) September 26, 2022
Since you've been asking… https://t.co/A6ELWtlBt8 pic.twitter.com/XvdoFpBHoH

— Phoenix Suns (@Suns) September 26, 2022
"yep i'm showing off. I hope you got that."

we did. ⚽️ pic.twitter.com/7aYXDRdo6W

— Philadelphia 76ers (@sixers) September 26, 2022
A New Journey Begins#LakersMediaDay | @bibigoUSA pic.twitter.com/8UEFYytsVE

— Los Angeles Lakers (@Lakers) September 26, 2022
🥶 x 🇫🇷 x 🐜 pic.twitter.com/G89QQq2aTx

— Minnesota Timberwolves (@Timberwolves) September 26, 2022
Æ 1️⃣ pic.twitter.com/rXSZCg59e9

— Minnesota Timberwolves (@Timberwolves) September 26, 2022
.@keegan3murray 🔥🔥 #KingsMediaDay presented by @dialpad pic.twitter.com/0u5VaBYJII

— Sacramento Kings (@SacramentoKings) September 26, 2022
Framing this one.#GSWMediaDay pic.twitter.com/KyuLIbQhCf

— Golden State Warriors (@warriors) September 26, 2022
— NEW YORK KNICKS (@nyknicks) September 26, 2022
First day of school vibes 🤣 #HornetsMediaDay pic.twitter.com/LdntiIyEk9

— Charlotte Hornets (@hornets) September 26, 2022
🐶 Pluto Beauchamp appreciation thread: pic.twitter.com/oXlYgGY1op

— NBA (@NBA) September 25, 2022
Year 10 💪🏾🙌🏾🔋 pic.twitter.com/spn7ZbDndp

— Giannis Antetokounmpo (@Giannis_An34) September 26, 2022
Threw our guy @jcollins20_ a birthday party at Media Day 🥳 pic.twitter.com/LcM8ZO404z

— Atlanta Hawks (@ATLHawks) September 24, 2022
ATL#NBAMediaDay pic.twitter.com/DLWfnwFkpN

— NBA (@NBA) September 23, 2022
"The goal is to push each other, grow through the ups and downs, and go out and win basketball games."

Dejounte 🤝 Trae

Watch Hawks Media Day live ➡️ https://t.co/x72YsaFn9B pic.twitter.com/QbbaD2YI1q

— NBA (@NBA) September 23, 2022
Year 11! Man I'm a true old head now 😂 pic.twitter.com/yblpxOlyOM

— Bradley Beal (@RealDealBeal23) September 26, 2022
.@JohnWall checkin' in from Media Day! pic.twitter.com/OIatIUXFKt

— LA Clippers (@LAClippers) September 26, 2022
behind the scenes at media day.🔥 pic.twitter.com/OCces1MSFZ

— Indiana Pacers (@Pacers) September 26, 2022
Kyle Kuzma talks his iconic New York Fashion Week runway fit at #NBAMediaDay 👀 pic.twitter.com/AOF6DvaW20

— NBA (@NBA) September 26, 2022
𝐌𝐄𝐃𝐈𝐀 𝐃𝐀𝐘 𝐋0️⃣0️⃣𝐊𝐒#TakeNote pic.twitter.com/io8E4pq1j4

— Utah Jazz (@utahjazz) September 26, 2022
"It was amazing. It was so nice being in the gym and working out and getting shots up."

Klay speaks on having a normal offseason.#NBAMediaDay pic.twitter.com/4D2LyHRe5i

— NBA (@NBA) September 25, 2022
Steph talks about what it means to wear the Bill Russell No. 6 patch.#NBAMediaDay pic.twitter.com/vLipcKq3dZ

— NBA (@NBA) September 25, 2022