New Tech Brings Fresh Approach to Real Estate Co-Ownership – Storeys
What if you could become one of multiple investment landlords of a property — like buying into a timeshare — and earn passive income? And you could do it on the cheap?

Co-ownership models have given rise to a new way of looking at affording real estate. Take Arrived Homes, a Seattle-based real estate investment company, backed by Amazon, which has set up over 100 single-family homes in cities across the U.S. These homes are co-owned by everyday investors, many of which cannot afford a home on their own.
The company worked with the U.S. Securities and Exchange Commission (SEC) to be qualified, meaning they received regulatory compliance from the SEC, not product approval, as the SEC does not approve any investment offering.
READ: When It Comes to Purchasing Property as a Group, People in B.C. Are Fearless
Ryan Frazier, co-founder and CEO of Arrived Homes, says they spent close to a year organizing their SEC offer, which was vital to ensure anyone, including non-accredited investors, could invest.
"Before Arrived there were no SEC Qualified Offerings for everyday people, or non-accredited investors, to invest in shares of single family rental homes," Frazier tells STOREYS. "The options were limited to the capital-intensive option of buying homes or investing in a public REIT."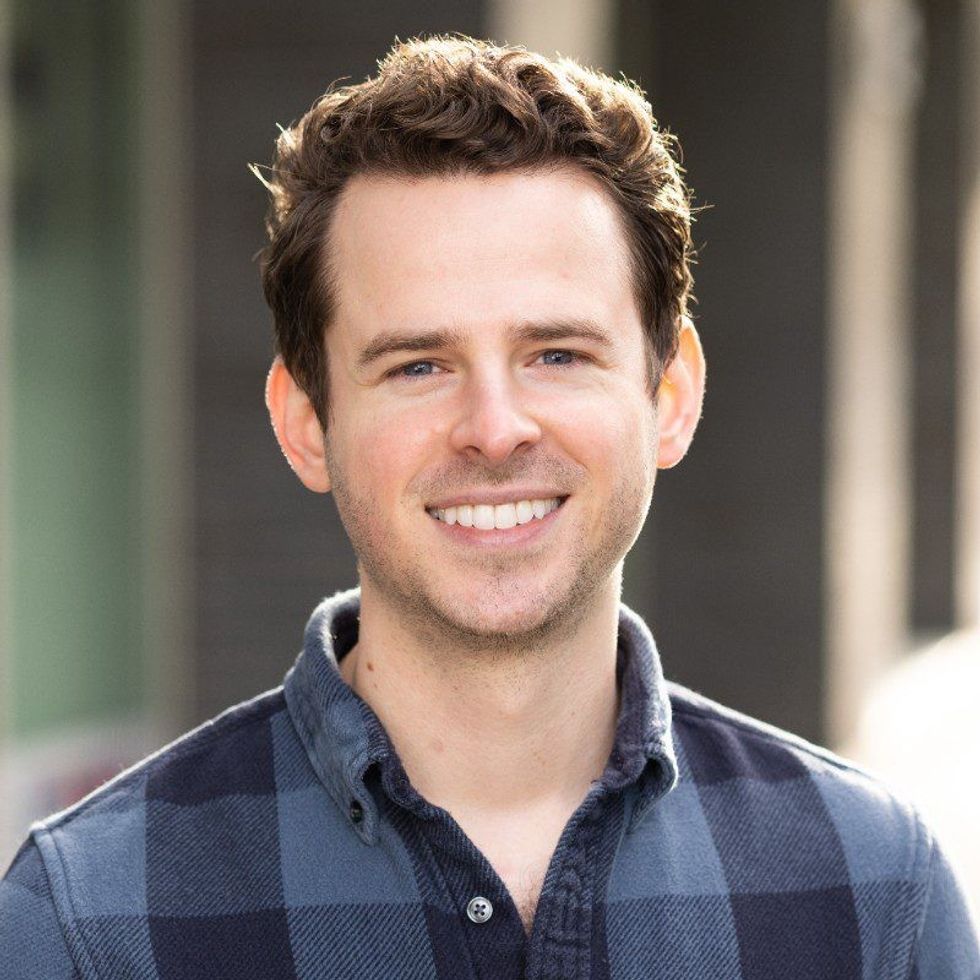 Frazier sees each property as a "mini house IPO," adding that a property must be qualified on an individual basis by the SEC to offer the home for fractional ownership on their platform.
Currently, Arrived Homes offers property shares to U.S.-only investors, who buy shares starting at US$100.
A similar model can be seen in Canada, but instead of single-family homes, Addy offers investment on multi-family, mixed-use, industrial, and commercial properties.
Addy serves as a mix between a landlord and property manager. Like Arrived Homes, Addy allows retail investors a chance to own property, in a co-ownership way, helping them capitalize on real estate deals which would often only be available to wealthy investors.
Founded by Michael Stephenson, Stephen Jagger, and Jeff Booth, Addy breaks each property into investment increments valued at $1. Units of each investment are listed for sale on the platform and an investor can invest anywhere from one buck to $1,500 per property. For example, a $1,000,000 investment opportunity would be divided up into 1,000,000 units.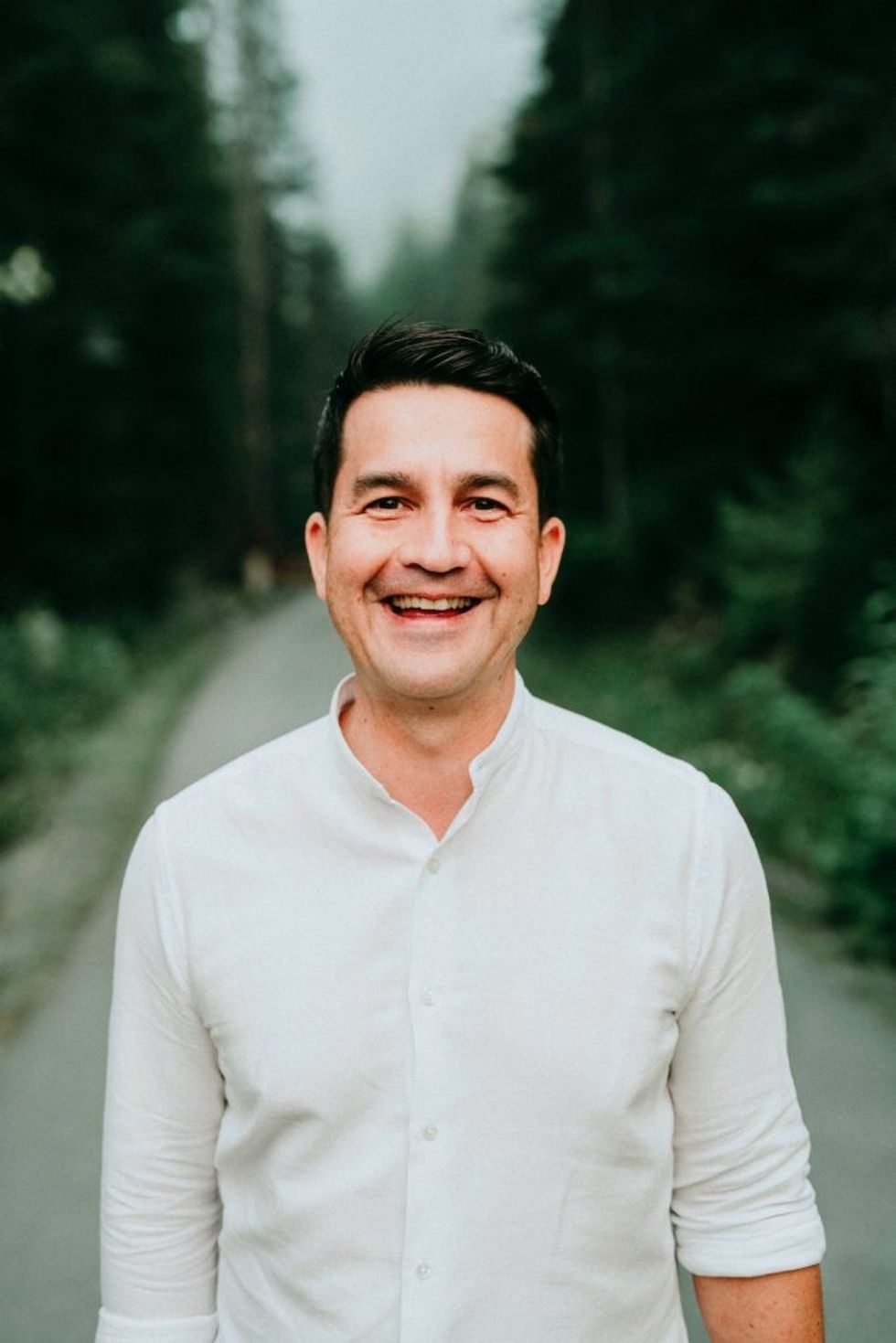 "As governments continue to print money in response to the global pandemic, they are pushing asset prices higher, which ironically makes it harder for anyone without vast sums of cash to participate in real estate," says Michael Stephenson, Addy's co-founder and CEO, to STOREYS. "This has increased demand for Addy."
Stephenson also says rising interest rates have made it more expensive to borrow money, which reduces the amount of debt on commercial real estate and increases the amount of equity needed.
How It Works
After signing up via Addy's website or downloading the app (which is currently only available in the Apple Store), interested investors will need to become a member (minimum of $25/year).
Next, they connect their bank account to link their digital wallet via the Addy platform, choose a property, review the due diligence documents, sign, and invest.
The number of people who can invest in a property depends on the amount being raised (and cap of $1,500 per property). Some deals have seen hundreds of investors, while the largest investment saw 2,197 investors, according to Stephenson. The average investment is approximately $346, and if someone wants to invest more than $1,500, they can invest in multiple properties.
To date, 26 properties have sold out on the Addy platform, of which include industrial, retail, office, and hospitality spaces, as well as recreational units. 11 properties are in British Columbia; 10 in Ontario; three in Alberta; and two in Quebec.
"All investment decisions are made collectively by Addy's real estate acquisitions teams, and all opportunities go through a rigorous due diligence process," says Stephenson.
Tenants of a multi-family or mixed-use property can invest in the building they are residents of and reap financial gains too. However, Addy does deal with renting out units; the only way to rent in a building that is on the Addy platform is through a traditional realtor or property manager.
Future Plans
Addy is currently open to residents in British Columbia, Alberta, Ontario, and Quebec over the age of majority. "As Addy gets enough members in each province, we aim to unlock it," says Stephenson.
Frazier says any company wishing to follow in its footsteps "should realize there is a lot of regulatory work you need to tackle to do this the right way."
"Working on the process through the SEC helped us do two things. First, we were able to produce an innovative investment product that anyone can access. Second, going through the registration process with the SEC gives our customers the peace of mind knowing that we have gone through the property disclosure process and will do things like reporting audited annual financial statements," says Frazier. He says the company wants to expand its offerings to include short term rentals, like Airbnb's and VRBOs.
As for Addy, Stephenson says the plan is to add more properties and grow the membership base.
"Owning real estate is no longer an overwhelming solo venture," he says. "Now you will own a piece of a commercial complex, business park, or entire apartment building alongside us and other community members, which includes tenants, employees, and local residents."
Moncton Named Best Place to Buy Canadian Real Estate – RE/MAX News
<![CDATA[<![CDATA[<![CDATA[<![CDATA[]]]]]]]]>]]]]]]>]]]]>]]>
<![CDATA[<![CDATA[<![CDATA[<![CDATA[]]]]]]]]>]]]]]]>]]]]>]]>
<![CDATA[<![CDATA[<![CDATA[<![CDATA[]]]]]]]]>]]]]]]>]]]]>]]>
Real estate: Homes in Canada's most affordable markets – CTV News
For the fifth month in a row, Canadians saw a drop in the national average price of a home, according to the latest data compiled by the Canadian Real Estate Association (CREA).
The average price of all residential property types in Canada fell to $629,971 in July, a significant drop from the record-high average of $816,620 recorded in February. (Both figures are not seasonally adjusted.)
While most Canadian real estate boards and associations saw a drop in the average price of residential properties, regions that have maintained some of the lowest prices throughout the pandemic continue to do so, said Shaun Cathcart, CREA's senior economist and director of housing data and market analysis.
"The places that were always affordable continue to be affordable," he told CTVNews.ca in a telephone interview on Tuesday. "The further away you are from major cities … [in] that sort of middle part of the country, that is definitely where you'll find the most affordable house prices."
Regions such as Saguenay, Que., Saint John, N.B. and Trois-Rivières, Que. had the most affordable home prices across Canada in July. Cathcart also pointed to rural parts of provinces such as New Brunswick, Quebec, Ontario, and Saskatchewan, as having low average home prices compared to other parts of the country.
Additionally, activity within these regions remains relatively strong, Cathcart said. With more affordable home prices, markets in these areas aren't as sensitive to interest rate hikes as some of Canada's more expensive markets, such as the Greater Toronto and Vancouver Areas.
Displayed in the graphic are regions in Canada with the lowest average home prices, all of which are below the national average home price of $629,971. (Canadian Real Estate Association)
"Sales in the Maritimes didn't get the memo because it's so much more affordable," Cathcart said. "In Quebec, the Maritimes and the Prairies, activity is still above average."
With lower average home prices, it's possible more people will move to places where housing is more affordable, Cathcart said, especially with Canada's inflation rate remaining high. CTVNews.ca has compiled a list of properties currently on the market in some of the most affordable regions across Canada.
SAGUENAY, QUE.
(Marc-André Desbiens, Via Capitale Saguenay/Lac St-Jean)
Type: House
Price: $249,000
Year Built: 1988
Lot Size: 301.7 sq. m
Located on a 301-square-metre lot, this house in Saguenay, Que. features three bedrooms and two bathrooms. In the kitchen are black granite countertops and bright white cabinets. Several exposed brick walls line the home, which also has a fully finished basement. A detached garage sits behind the property, and the backyard includes a deck.
SAINT JOHN, N.B.
(Studio Royale / William Tarr, Royal LePage Atlantic)
Type: House
Price: $220,000
Year Built: 1976
Property Size: 209 sq. m
Lot Size: 426.98 sq. m
This four-bedroom, two-bathroom home is just a short drive away from uptown Saint John, N.B. Making up the main floor are dining and living rooms, as well as a large eat-in kitchen complete with a new stove and dishwater. On the upper level is a sizeable master bedroom as well as a newly renovated bathroom. The finished basement can be used as either a family room, office or gym.
TROIS-RIVIÈRES, QUE.
(Versom VR / Jimmy Lemay, Groupe Sutton – Alliance Inc.)
Type: House
Price: $249,900
Year Built: 1919
Property Size: 137.52 sq. m
Lot Size: 212 sq. m
Built in 1919, this semi-detached home combines wood floors with interior brick walls. Along with five bedrooms and one bathroom, the house also has a spacious common area with a wood fireplace on the main floor. At the entrance of the home is a veranda, while the backyard area is surrounded by greenery. The house is within walking distance of the city centre and key amenities in Trois-Rivières, Que.
NEWFOUNDLAND AND LABRADOR
(Tyler Oxford / Reagan Dilny, Re/Max Realty Specialists)
Type: Townhouse
Price: $285,000
Year Built: 1967
Property Size: 137.5 sq. m
Lot Size: under 0.2 hectares
Located near Quidi Vidi Lake in St. John's, N.L., this end unit townhouse has three bedrooms and two bathrooms. An open-concept living and dining area with large windows and a propane fireplace occupies the main floor. On the upper floor are a storage room, bathroom, and three bedrooms with enough space to serve as a TV room or office instead. In the backyard is a deck, storage shed and inflatable hot tub.
THUNDER BAY, ONT.
(Dan Garrity Media / Cathy Hunt, Royal LePage Lannon Realty)
Type: House
Price: $329,900
Year Built: 1910 to 1920
Property Size: 142.14 sq. m
Lot Size: under 0.2 hectares
In addition to three bedrooms and two bathrooms, this Thunder Bay, Ont. home also has a contemporary kitchen that connects to a large sunroom. With enough space to serve as an additional living room, the sunroom also offers views of the fully fenced backyard and patio. The combined living and dining rooms inside have a wood burning fireplace, and a walkout basement completes the home.
REGINA
(Ryan Spanier, OverWatch Solutions / Aideen Zareh, Royal LePage Regina Realty)
Type: House
Price: $249,900
Year Built: 1969
Property Size: 80.64 sq. m
Lot Size: 290.41 sq. m
This updated bungalow features three bedrooms, two bathrooms and a finished basement. The main level has laminate floors throughout, as well as large windows that allow natural light to enter the home. The open-concept floorplan blends the living room with the dining and kitchen area, which has plenty of cabinet and counter space. A large patio occupies the backyard, and the home itself is a short drive from downtown Regina.
SASKATOON
(David Oh, Darioso Photography / Lacy Watson, Coldwell Banker Signature)
Type: House
Price: $349,900
Year Built: 1945
Property Size: 94.76 sq. m
Lot Size: 526.76 sq. m
With a spacious front lot and backyard, this Saskatoon home is surrounded by greenery. In the backyard is a sizeable deck along with trees and garden boxes full of flowers. Inside, hardwood floors run across the living and dining areas, and a stone-clad wood burning fireplace creates a cozy atmosphere. The kitchen has stainless steel appliances and a tile backsplash, while three bedrooms and an updated three-piece bathroom sit on the top floor.
QUEBEC CITY
(Manon Drolet / Alexandre Lebrun-Côté, Via Capitale Sélect)
Type: Apartment
Price: $396,000
Year Built: 1928
Property Size: 101.2 sq. m
Lot Size: N/A
Situated in Quebec City, this apartment unit is located on the first floor of a newly renovated building, and features new insulation, doors and windows. The unit has three bedrooms and one bathroom, as well as an open-concept living, dining and kitchen area with white walls throughout. Nearby are the Cartier-Brébeuf National Historic Site, and the St. Charles River.
WINNIPEG
(Scott Zielke / Marcia Bergen, Royal LePage Prime Real Estate)
Type: House
Price: $329,900
Year Built: 1910
Property Size: 101.64 sq. m
Lot Size: 290.32
This three-bedroom, one-bathroom home in Winnipeg's Lord Roberts neighbourhood features a number of upgrades, having been recently renovated. These include a new kitchen, updated floors on the main level, and a new bathroom with an oversized tub. On the main floor is an eat-in kitchen and sizeable sunroom that can also serve as an office space. Completing the home are a basement and large backyard with a deck.
EDMONTON
(Darlene Strang, Re/Max Real Estate (Edmonton))
Type: Apartment
Price: $399,924
Year Built: 2019
Property Size: 49.8 sq. m
Lot Size: N/A
Built in 2019, this condominium suite has one bedroom and one bathroom, as well as a den. In the kitchen are white cabinets and quartz countertops that extend to create a breakfast bar. The unit also has a balcony that offers views of downtown Edmonton. Residents have access to the building's rooftop patio, as well as amenities such as a spa and pool.
Local builders still busy as real estate market takes a break – Times Colonist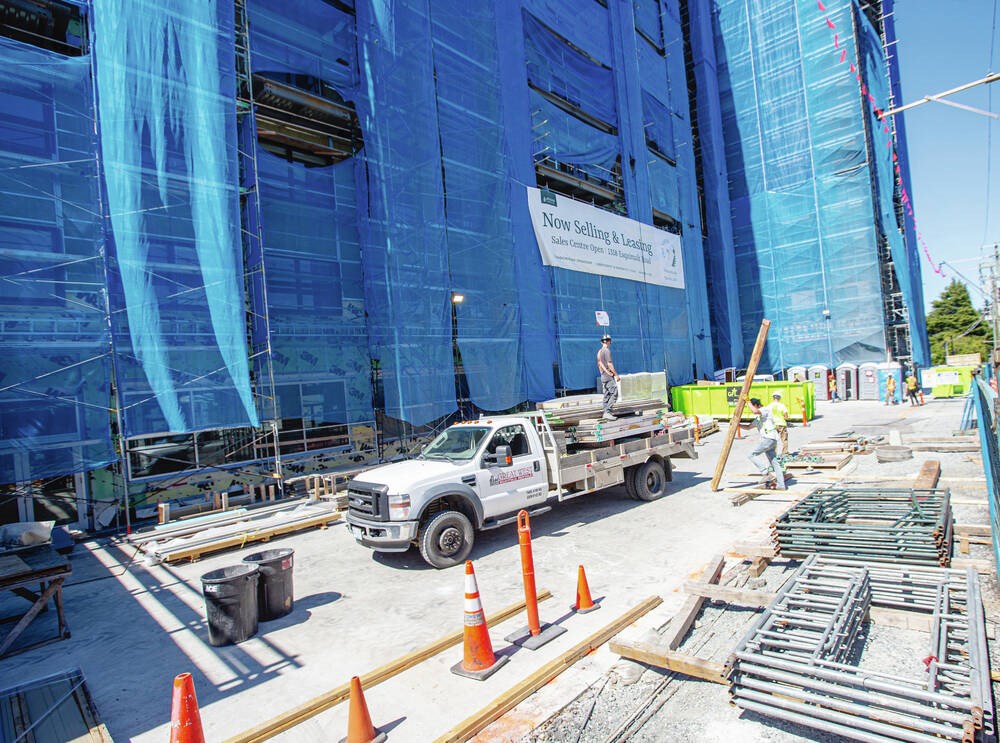 The real estate market may be taking a breather, but there has been no such break for homebuilders in the region judging by new housing start figures from the Canada Mortgage and Housing Corporation.
The numbers, released Tuesday, show 2,681 new homes were started through the first seven months of this year in Greater Victoria, ahead of last year's pace when 2,500 new units were started.
It's a tale of multi-family projects in two parts of the region, said Casey Edge, executive director of the Victoria Residential Builders Association.
Edge said Victoria and Langford are once again doing all of the heavy lifting.
"There are a bunch of municipalities that just fly under the radar every year, like Oak Bay that still doesn't have zoning for duplex housing," he said noting Oak Bay has built just 19 new homes this year, while North Saanich has started 16.
"And people question why do we have a housing affordability problem," he said.
"Well, you have just a handful of municipalities that are really carrying the weight for 13 municipalities."
The lion's share has been done by Victoria so far this year.
With a focus on condo and rental apartments, the city has seen 1,219 homes started, well ahead of last year's 696. Langford has started 663 so far this year, off last year's pace of 862 through the end of July.
Edge said what's missing is the missing middle housing — townhomes and houseplexes, rather than the usual condos and single-family homes — that can suit small families and provide more housing options in all parts of the region.
The fact builders in at least two of the region's centres are busy may help the market catch up a bit, as the number of property sales has slowed considerably. The B.C. Real Estate Association released numbers on Tuesday showing Victoria's sales dropped 37.5 per cent in July compared with the same time last year, while the Island saw a 40 per cent drop and the province fell 42 per cent.
"High mortgage rates continued to lower sales activity in July," said BCREA chief economist Brendon Ogmundson.
"Many regions around the province have seen sales slip to levels well below normal for this time of year."
At the same time, provincial active listings rose 28 per cent year-over-year.
Inventories remain quite low, but the slow pace of sales has tipped some markets into ­balanced or even buyers' market territory, the association noted.
Year-to-date, residential unit sales were down 29.3 per cent to 56,801 units, while the average residential price was up 13.2 per cent to $1.03 million.
aduffy@timescolonist.com
>>> To comment on this article, write a letter to the editor: letters@timescolonist.com