Newmarket transforming historic home to event space, art gallery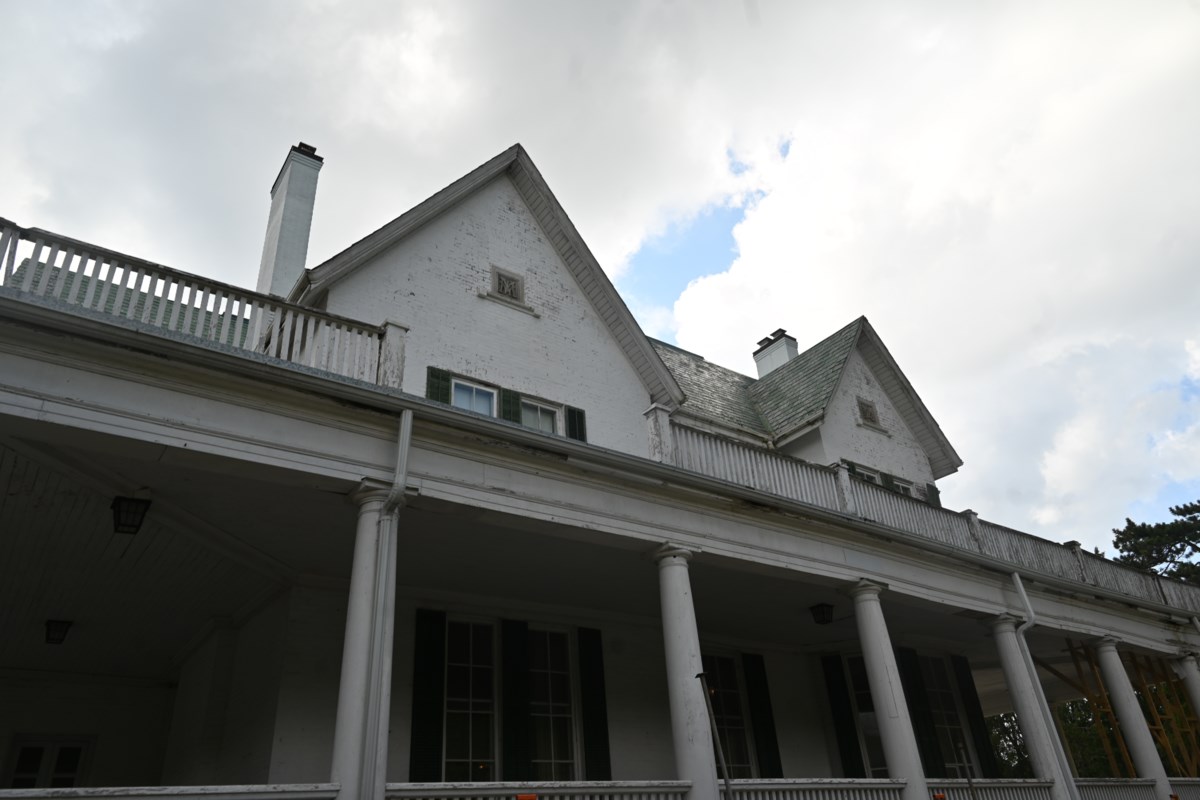 The historic Mulock house is undergoing a transformation to become an art gallery and event space.
Additions including hanging features, geothermal heating and accessibility ramps are all in the plans for the building, according to an update from Town of Newmarket planners and consultants who presented to the town's heritage advisory committee May 23 about the future event space and exhibition site for the Art Gallery of Ontario.
Heritage committee member Pamela Vega complimented the more sustainable heating system, along with efforts to respect the heritage aspects of the building.
"It's great to see so many of the interior finishes and elements are going to be retained," Vega said. "I'm just excited to see what's coming forward."
The historic house owned by Sir William Mulock is set to become the central part of the town's new Mulock park, including food services. Last summer, the town announced the adaptive reuse of the building would feature a site for the Art Gallery of Ontario.
Partner for +VG Architects David Ecclestone told the committee that the project is a renovation rather than a restoration to allow the new uses. But he said heritage would still be respected, with many features of the building maintained. There will be a rehabilitation of the building, as well.
"We're seeing this as a balanced approach between the new public use and the heritage fabric," Ecclestone said.
Accessibility ramps will ensure the public space meets accessibility standards. A fire sprinkler system will added throughout the building to protect the building, including the valuable art installed by the Art Gallery of Ontario.
A new HVAC system is also being added utilizing ground-source geothermal heating. Ecclestone said it's all part of meeting standards for the interior environment of the building from the Art Gallery of Ontario.
The kitchen space is being expanded, with the parlour area set to become a bistro for patrons of the park. But other rooms in the building will be kept as is.
Committee member Joshua Campbell asked about the use of a bar area on the lower level of the building. Ecclestone said it would potentially be available for lease for events, though other options are being considered.
"It is an interesting space in its own right," project manager Bill White said of the bar area. "We're hoping to make the most of that."
The town plans to bring forward a heritage permit application in the fall.
In addition to providing multiple levels of food service and an art gallery, White said a guiding principle is to have the house be a place for residents to enjoy as a public space.
"A place for people to meet and interact, possibly a place to take your laptop on a Saturday afternoon," White said. "A real broad range of opportunities, and closely linked with the whole park around it."
Renowned Queen Elizabeth II portrait on display at Art Galley of Peterborough – Global News
As he stood in the Art Gallery of Peterborough looking at the large portrait of Queen Elizabeth II, Alex Bierk says he can "hear my dad painting on it, being excited about working on it."
The city councillor spoke passionately about his father David Bierk as the portrait went on public display Wednesday evening for the first time since it was removed from the Peterborough Memorial Centre last fall where it hung over the ice for nearly five decades.
"So intuitively and immediately I'm connected to my dad's big presence and his energy when I view this work," Bierk told the audience.
READ MORE: Art Galley of Peterborough acquires Queen Elizabeth II portrait from Memorial Centre
In February, the gallery acquired the eight f0ot-by-12-foot portrait, which was first installed at the arena in January 1980 and remained there until the State Funeral of the Queen on Sept. 19, 2022.
Original commissioning documents, held at Trent Valley Archives in Peterborough, state that if the painting ever needed to be removed, it should be donated to the Art Gallery of Peterborough, or the Peterborough Public Library, whichever was preferred.
Briefly in 2003, the painting was removed from its original location due to arena renovations. However, public protest saw the portrait rehung.
Bierk follows in his father's footsteps as an oil painter and says the portrait is a labour of love. He recalled running around the Memorial Centre as a kid looking up at the painting. Bierk's brother Zac is a former Peterborough Petes player. David died in 2002 at the age of 58.
"The painting intersects my dad's love of sports and his life as an artist and how it hung over Zac's head all those years he played for the Petes," Alex said.
The portrait was launched as part of the gallery's Special Project: Tea with the Queens exhibition, a short-run project to showcase David Bierk's painting, Portrait of Her Majesty Queen Elizabeth II before it goes into collection storage joining the Permanent Collection.
The portrait will hang in the gallery until June 29 alongside works by artists who are Indigenous, queer, and living with disabilities.
"We've got a lot of works by David Bierk so it's pretty exciting to have this joining a number of his other pieces," curator Fynn Leitch said.
There will also be a series of afternoon tea sittings or "Tea with the Queens," hosted by local drag performers Betty Baker and Sahira Q. Seatings will take place on June 11 and June 14 from 2 p.m. to 4 p.m. and June 22 at 4 p.m. Tickets are available to purchase in person at the gallery or by calling 705-743-9179 during regular business hours.
Mayor Jeff Leal recalled he and others taking classes under David Bierk who was seen as an "artistic genius" and helped many to "develop a unique love of the arts."
Bierk says his family is appreciative of the gallery for accepting the painting.
"The amount of calls I got asking if I was going to take the painting — no!" he quipped as he waved his hands. "We're really glad it's here. It's safe and being a part of the collection at the Art Gallery of Peterborough will ensure it will live on in our community in really beautiful ways — ways like I felt when I walked into this room tonight."
Also launched Wednesday was Wayfinding: Works from the Youth Art Mentorship Program, a collection of works by youth artists Amber Rose, A. Carabine, Charley Pesonen, Kellan Mackenzie, Lauren Armstrong, and Mujgan Hussein Zada who spent the last three months working with artist-mentor Spencer J. Harrison. The goal was to explore the professional practice of being an artist and produce an exhibition of their work. The youth were selected by a jury of arts professionals earlier this year.
&copy 2023 Global News, a division of Corus Entertainment Inc.
Andy Warhol paintings sell for $936,000 at auction
Four Andy Warhol paintings that were part of the Winnipeg Art Gallery's collection have sold at auction, with the money being used to help increase the Indigenous art collection at the gallery.
Four colour silkscreens of Queen Elizabeth II created in 1985 were on the auction block Thursday at Cowley Abbott Auctioneers, where the realized price when the auction ended was $936,000.
A spokesperson for the gallery says the money from the sale will go towards an endowment that will sit for at least one year. The gallery will use the accumulated interest to begin purchasing artwork by Indigenous artists to add to its permanent collection.
While the Winnipeg Art Gallery contains the largest public collection of contemporary Inuit art, only around one per cent of its collection is from First Nations and Metis artists.
The artwork by the famed pop artist was estimated to sell for between $700,000 and $900,000. It was donated to the WAG in 1999 by a collector.
-With files from CTV's Taylor Brock
Jaw-dropping immersive environmental art exhibit 'Arcadia Earth' is coming to Toronto this fall
Just when you think Toronto has been spoiled enough with world-class interactive art exhibits we get yet another one.
But we're not complaining.
A jaw-dropping immersive environmental art exhibit called Arcadia Earth is coming to Toronto this fall and from the looks of it, it's not one to pass up.
After a wildly successful run in New York, Las Vegas and Saudi Arabia, the exhibit is making its way up north for its Canadian debut.
Visitors can experience a 17,000-square-foot journey through planet Earth in all its glory and weaknesses.
The exhibit combines both large-scale art installations and technology.
"Arcadia Earth Toronto will transport visitors to the heart of global challenges such as overfishing, plastic waste, and biodiversity loss," the exhibit creators said in a statement.
"From an underwater world built from salvaged commercial fishing nets to a large-scale beehive made from thousands of pages of reclaimed books, the spaces promote individual empowerment and equip guests with actionable suggestions to help protect the future of our planet."
The exhibit will officially open in the fall of 2023 and set up shop at The