Novak Djokovic: The politics behind Australia's decision – BBC News
The Australian government was never going to come out of this saga looking good.
They've been on the back foot ever since Novak Djokovic announced he was coming to defend his Australian Open title.
The decision to cancel Djokovic's visa – after a court previously ruled in his favour – is largely about saving face with Australian voters in an election year.
To achieve this, the government is prepared to endure any diplomatic fallout, international embarrassment and the wrath of Djokovic's supporters.
Throughout the past two weeks, the federal government has been adamant to make a point: no-one is above the rules. Not even the men's world number one.
A simple, straightforward principle. But the way it's been handled has been anything but.
On the afternoon before Djokovic arrived, Prime Minister Scott Morrison said the player would "be on the next plane home" if his documents were not in order on arrival in Melbourne.
"Rules are rules," Mr Morrison reiterated when Djokovic's visa was revoked the next day, on 6 January.
Mr Djokovic's visa has been cancelled. Rules are rules, especially when it comes to our borders. No one is above these rules. Our strong border policies have been critical to Australia having one of the lowest death rates in the world from COVID, we are continuing to be vigilant.

— Scott Morrison (@ScottMorrisonMP) January 5, 2022

When Djokovic challenged the decision, Mr Morrison said it was up to the court.
But suddenly the government's position began to look very shaky as it asked for more time – denied by a judge – to compile its legal case amid questions over federal procedures. It also faced scrutiny over why Djokovic had been allowed to get on a plane in the first place.
The whole thing could have ended when judge Anthony Kelly decided in Djokovic's favour – citing a bungle in the process at Melbourne Airport – and ordered the government to reinstate his visa and get him out of detention.
The immigration minister, Alex Hawke, had the option to use his executive powers to cancel the visa and deport Djokovic and he did.
A lot has been said about the motivation behind this – mainly that it's political. And it is. The blaring politics is impossible to escape.
There are two things to consider here on the government's front.
First, the deep embarrassment this has caused the Morrison administration. To Australians and indeed to the world, politicians look like they are enforcing rules they themselves don't understand or are unclear about. They also seemed to not talk to each other.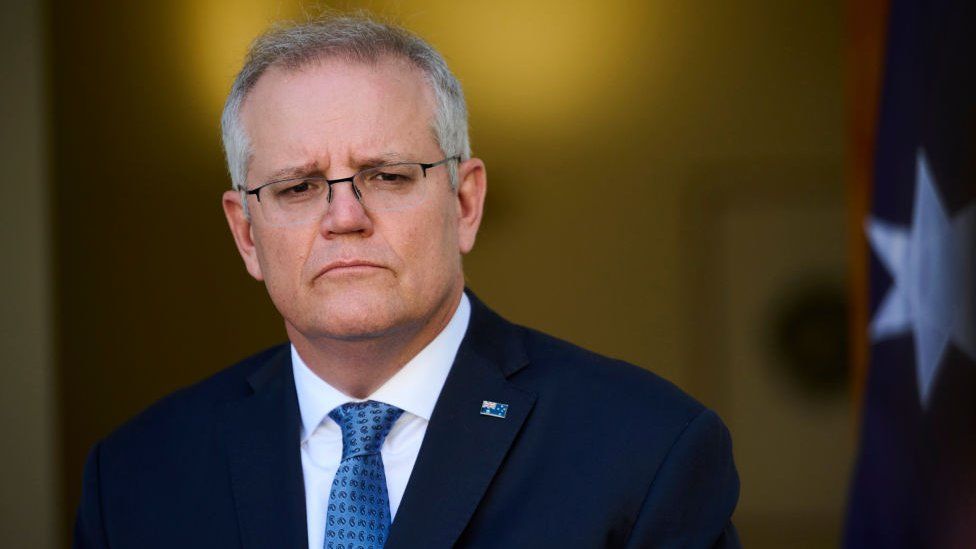 One layer of government – the state of Victoria – was making decisions with Tennis Australia, in isolation. Federal officials were saying something entirely different. And the tournament organisers were complaining they'd been caught in between.
The second has to do more with Covid and less with tennis. The mood in the country is one of shock and fury. Australia's two most populous states, New South Wales and Victoria, have been reporting tens of thousands of cases for weeks now.
Testing clinics are still struggling and the number of deaths is also rising. Though it's not at the rate of, say, Europe or the US, this is Australia – a country that imposed some of the strictest Covid rules in the world. A country where, at times, a single case could push a whole city or state into lockdown.
Australians feel abandoned. They feel like things have turned so bad, so quickly. Many also say they've done everything that's been asked of them.
They got vaccinated and are now getting their boosters, But still, the Omicron variant is rampant around them leaving many asking what more they could've done.
Now juxtapose that picture against a tennis star who publicly said he opposed the vaccine and who admitted to breaking isolation rules while Covid positive, and to providing false information on his travel declaration form.
There's also that discrepancy about when he found out he had Covid. He said in his statement that week that he knew on 17 December. But the sworn affidavit he presented to the court said the positive test was confirmed on 16 December.
"If it were you or me," someone said on my Twitter feed, "Would they allow us in after all that?"
There's no doubt that Scott Morrison's government has been bruised by this controversy.
The political tussling between state and federal governments; the breakdown of communication; the opaqueness of which rules apply to whom; an unvaccinated famous athlete that has broken Covid rules. It all makes for a messy picture that politicians have been trying to straighten out.
Given all that we know now, the government would have had a lot more to explain if they didn't cancel Novak Djokovic's visa.
Perfect storm brewing for extreme politicians – Axios
Redistricting and a flood of departing incumbents are paving the way for more extreme candidates in this year's midterm elections.
Driving the news: At least 19 House districts in 12 states are primed to attract such candidates — hard partisans running in strongly partisan districts — according to an Axios analysis of districts as measured by the Cook Political Report's Partisan Voter Index (PVI).
They stretch across every region of the U.S., from Alabama to Michigan to California.
While a new generation of hard-right figures like Reps. Matt Gaetz of Florida and Marjorie Taylor Greene of Georgia has hardened the identity of the Republican Party in recent years, 12 of the 19 districts we're watching favor Democrats.
What we're watching: These 19 districts are open seats — with no incumbent running because of retirement, or the incumbent running for another office or district — and with PVI scores of at least +15R or +15D.
Scores reflect redistricting changes where applicable, and the list could change as new maps are finalized.
That score measures by how many points on average a given congressional district outperformed the national vote — either in favor of Republicans or Democrats — during the two most recent presidential elections.
The big picture: Incumbents start with a huge advantage; 91% of them won re-election in 2018, according to OpenSecrets.
When they leave, it levels the playing field for new candidates. And as districts grow more partisan, so, generally, do the candidates who step up.
"Open seats are the biggest accelerant of extremism" and "breeding grounds for ideological warfare," Cook's Dave Wasserman tells Axios.
Yes, but: More intensely partisan players also can get elected without help from open seats.
Why it matters: Congress already finds it difficult to compromise on anything or get things done.
Tremendous energy's already devoted to partisan threats from former President Trump.
There's also gamesmanship by congressional leaders and messaging to the base by both Democrats and Republicans.
How it works: Our 15-point threshold is an arbitrary one but large enough to make it highly unlikely the district would switch party control regardless of the general election candidates.
In such cases, primary campaigns all but decide who goes to Congress.
Structural conditions are in place such that primaries will produce the deepest-red Republican or deepest-blue Democrat, said Ohio State University's Edward Foley. His recent scholarship has focused on the so-called "primary problem."
This is, in part, because primary elections tend to attract fewer voters. They also attract the most active ones, and they, in turn, are likely to be on the political extremes — as highlighted in a recent Pew Research study.
By the numbers: Political extremism has grown acute among Republicans in recent years.
Each of the 15 most politically right-leaning members who served in the last Congress, per GovTrack, entered Congress in 2010 or later.
Fourteen of the 15 voted against certifying the 2020 election for President Biden; the 15th was a lame-duck leaving Congress. Thirteen of them were elected to open seats.
The list includes Gaetz and Reps. Jody Hice (R-Ga.) and Paul Gosar (R-Ariz.).
By contrast, five of the furthest-left 15 House Democrats date back to 2002 or earlier. Twelve were elected to open seats.
'OPB Politics Now:' The problem with Interstate 5 – OPB News
Interstate 5 is a key part of the transportation system that moves both people and goods up and down the West Coast.
But the highway has problems, especially as it winds through Portland into Washington state.
On this week's show, OPB political reporter Sam Stites and host Tiffany Camhi examine the politics of transportation and two new developments: A setback for state planners hoping to expand I-5 through the Rose Quarter and a positive, and cash-rich, bit of news for local, state and federal leaders working to replace the interstate bridge that connects Oregon and Washington.
GOLDBERG: How an enduring myth about voter turnout distorts our politics – Toronto Sun
Article content
I have long opposed making voting mandatory, an idea that pops up every few years. I still don't like the idea. But it's become more attractive, at least as a thought experiment.
Article content
The arguments against compelling people to vote – as Australia and a handful of other countries do – run from the constitutional (it's coerced speech) to the cultural (this is America, dagnabbit) to the practical and the partisan.
Historically, the practical case is that it's the wrong solution chasing a nonexistent problem. Proponents of mandatory voting think that low voter turnout is a sign of civic decay and democratic entropy. This view, no doubt accurate or at least plausible for some people, misses the fact that for many other Americans not voting is a sign of general satisfaction. We had record-breaking turnout in 2020. Raise your hand if think that was proof that America's civic and democratic commitments are stronger than ever.
Article content
More importantly, if voting is virtuous, its virtue – like all virtue – derives from it being voluntary. Compelled virtue is an oxymoron.
Partisanship enters the equation because both parties subscribe to an enduring myth: that increased voter turnout automatically favors the Democrats. Thus, if everyone were forced to vote – many opponents and proponents believe – some imagined reserve army of leftwing voters would swamp the polls. This belief plays a significant role among those who want to make voting easier and those who want to make it harder.
The problem: It's not true. Yes, of course, turning out more of your own voters is how you win elections, but if everybody voted it's unlikely that one party would always benefit more than the other. As Daron Shaw and John R. Petrocik demonstrate in their book "The Turnout Myth," "there is no systematic or consistent partisan bias to turnout." The recent Virginia governor's race saw huge turnout, and the Republicans routed the Democrats.
Article content
Partisan Democrats have all sorts of high-minded and sincere reasons for making casting ballots easier for Black voters in particular and disadvantaged communities in general. But on a practical level, the fact that they think these voters will disproportionately vote Democratic drives many of their policy preferences. Partisan Republicans discount the high-minded arguments and focus on the Democratic advantage they see in such efforts. Meanwhile, Democrats assume any concern with fraud or voter integrity is a ruse for disenfranchising voters.
Republicans tend also to suffer from a weird cognitive dissonance. They fear that if everyone voted, the GOP would lose; they've also convinced themselves that Democrats only win by "importing" voters (i.e., immigrants) and through fraud.
Article content
Each party believes – without evidence – that they have the people on their side and that if elections were run "right," they'd be the majority party. For Democrats this means curtailing "big money" in elections and, lately, federalizing election rules to combat voter suppression. For Republicans, it means catering to Donald Trump's conspiracy theories and rantings.
More broadly, both parties ignore the closeness of their victories and act as if they have mandates to behave like they have super-majorities supporting them. They then devote their energies to pandering both rhetorically and in terms of policy to the slender slice of the electorate that is their base.
The incentives for pandering to the hyper-partisans are all too familiar: the pernicious effect of our primary system, self-sorting polarization, an ideologically skewed media ecosystem, and the ease of raising small donations from partisan super-fans.
Article content
And that's what appeals to me about mandatory voting. If everybody voted – even just once – it just might dispel the myth that either party speaks for some untapped silent majority. The incentive to drive up the base turnout would evaporate. Low voter turnout – which benefits incumbents and their special interest allies – would not skew election results. Candidates, elected officials and big donors alike would ignore electoral majorities at their peril.
I still oppose this solution, but at least the case for mandatory voting is no longer a solution in pursuit of a problem. Even as a thought experiment, it helps illuminate the real problems we face.