Oil Dips as 2019 Ends; Big Gains on Year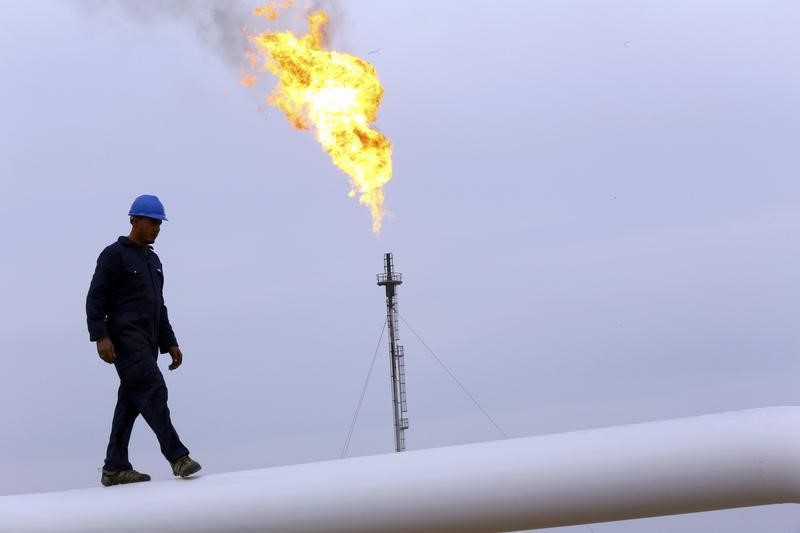 © Reuters.
Investing.com – Oil prices fell on the last day of 2019, but still rounded the year out with the biggest annual gains in three. A rebound forecast in U.S. shale crude production could, however, pose greater challenges for the market in 2020.
New York-traded , the U.S. crude benchmark, settled down 62 cents, or 1.0%, at $61.06 per barrel. Despite that drop, WTI rose 11% for December, its largest monthly gain since January.
London-traded , the global oil benchmark, settled down 67 cents, or 1%, at $66.65 per barrel. Notwithstanding Tuesday's slide, the U.K. crude standard settled up 7% for December, its largest monthly advance since April.
For the year, WTI rose 34% while Brent had a 24% gain, the biggest annual gains since 2016 for both benchmarks.
Oil's 2019 rally was largely helped by production cuts carried out by OPEC. Since January, the Saudi-led OPEC, joined by its ally Russia under the OPEC+ alliance, has tried to observe a daily production cut of 1.2 million barrels. In December, as that arrangement was about to expire, OPEC+ said it would deepen those cuts to 2.1 million barrels per day from the start of 2020.
Despite its plan for stiffer production cuts, OPEC+ could have a tougher time keeping oil prices up in 2020 as U.S. shale oil output could rebound next year, some long-time traders in oil said.
While production as a whole hit a record high of 12.9 million barrels per day in 2019, shale oil output, which accounts for more than half of U.S. total production, has been somewhat restrained this year. U.S. crude producers as a whole cut the number of in the country to 677 this year from 885 at the end of 2018, a drop of 208 rigs, or 24%.
"The main reason for the 24% cutback in actively-drilling U.S. oil rigs this year was the price uncertainty that persisted midyear," said John Kilduff, founding partner at New York energy hedge fund Again Capital. WTI hovered between $50 and $55 during most of the summer months, weighing on the broader oil market.
Kilduff said with the OPEC decision to double down on production cuts taking effect only in early December, it will take U.S. drillers some time to turn their spigots back on in full and plow ahead with production.
"With oil prices being the way they are, one can bet on more challenges ahead for production," Kilduff added. "WTI at above $60 is very, very remunerable to U.S. shale. OPEC will have to take a lot more off the market to face that wall of shale supply headed the global market's way."
Non-OPEC oil supply, led by the U.S. shale, is forecast to grow by 2.1 million barrels a day in 2020, according to the Paris-based International Energy Agency (IEA).
Global demand for oil, meanwhile, is set to increase by 1.2 million barrels a day next year, the EIA said.
That means the world will need 900,000 fewer barrels of oil every day from both OPEC and non-OPEC producers alike, a situation that could sharply offset OPEC+ production cuts.
For the bulls, the coming year may still have a positive start from the phase one of the U.S.-China trade deal, which, according to a tweet by President Donald Trump on Tuesday, will be signed on Jan. 15. Yet, the positive impact of that deal could just be fleeting if U.S. crude production starts ramping up strongly.
Malls are reopening — but will shoppers come back? – CBC.ca
Malls across the country are beginning to open their doors after weeks of government-mandated shutdowns, but both operators and retail tenants are stepping into uncharted territory amid the COVID-19 pandemic.
In the near-term, operators are focused on reopening their properties safely, but there's a larger concern that shoppers — who have embraced e-commerce and curbside pickup since the pandemic's outset — will be unimpressed upon returning to malls as many stores remain closed and new safety measures change the experience.
Tim Sanderson, head of Canadian retail at Jones Lang LaSalle, said he's worried about a repeat of U.S. retail giant Target's ill-fated attempt to penetrate the Canadian market, where supply chain issues resulted in empty shelves and annoyed customers who left and never came back.
"This is the experience that I fear, that we fear, could happen in the malls," he said. "Someone goes to a shopping centre, goes through all of the protocols involved, walks into the shopping centre, and the store she came for is not even open, but also, the experience is going to be underwhelming."
New protocols
Sanderson emphasized that the safety measures malls have rolled out, such as one-direction travel, reduced or eliminated seating, physical distancing requirements and increased security to enforce policies, may be detrimental to the shopping experience but are crucial as a resurgence of the pandemic is the worst-case scenario.
"If we re-open business, and then the government has to lock it down again, I think that's just bad for everybody in a whole lot of ways, not just shopping and retail, but peoples psyche and everything," he said.
Mall owners have a strong incentive to get their properties open safely, as rents have plummeted following the provincial orders to close.
Owners were only paid about 20 to 25 per cent of their expected April rent, and around 15 per cent in May.
"There's lots of talk among the retail and landlord community about what rents look like going forward, people have had a major, major impact to their sales."
But he said there hasn't been much progress as nobody's in a position to say what sales will look like, or what rent levels will be affordable.
Mall owners, like many other landlords, have engaged tenants in rent deferrals to help struggling tenants.
Ivanhoe Cambridge has given deferrals to the "vast majority" of tenants "in solidarity with the difficult circumstances," said spokeswoman Katherine Roux Groleau.
Some landlords are stepping in to help in other ways. Brookfield Asset Management, which has extensive mall holdings especially in the U.S., has said it's ready to invest $5 billion US in large retailers to keep them afloat.
The situation could also lead to a return of pure percentage deals, where rent is tied to sales, especially for restaurant tenants, said CBRE Ltd. vice chair Paul Morassutti.
The crisis, however, will likely also accelerate the trend already underway of mall properties moving away from strictly retail, especially as numerous retailers like Reitmans, Aldo, Pier 1 and others go into creditor protection.
"This pandemic has accelerated the timing for some of those stores," said Ray Wong, vice president at Altus Group.
"It's not just the pandemic, they were having challenges before, and this just pushed them along."
He said that while some premier shopping centres like Yorkdale Mall in Toronto will continue to see high demand, others in secondary markets could see an accelerated switch to more mixed used condos and rentals and office, while some in smaller markets might not survive as retail spaces at all.
"Certain malls or certain shopping centres, it may not be viable to have retail there and it may be redeveloped to other types of uses."
The coronavirus outbreak, and the resulting shift to working from home, could also make people more reluctant to take long commutes and will instead gravitate to suburban hubs, like a massive development Oxford has planned for central Mississauga to further the trend of diversifying mall properties.
"It will be really interesting to see the discussion on the office front, with more people working from home, not wanting to do the two-hour commute on the subway, that they prefer locations that are closer to where they live, especially in the suburbs," said Wong.
"It's a constant juggling act to figure out what will work."
'We are excited by these results': Saskatoon lab plans human trials after potential COVID-19 vaccine shows promise in animal tests – CTV News Saskatoon
SASKATOON —
After showing
human clinical trials for a Saskatoon research lab's potential COVID-19 vaccine could begin as early as this fall.
In a news release, the Vaccine and Infectious Disease Organization-International Vaccine Centre (VIDO-InterVac), said the vaccine proved "highly effective" in ferrets, animals which are widely used for COVID-19 modelling.
"Proving that the vaccine is effective in ferrets is a key milestone in the development pathway," VIDO-InterVac director Dr. Volker Gerdts said in the release.
During the trial, the vaccine decreased viral infection in the animals' upper respiratory tract to "almost undetectable levels."
More trials are planned for the coming months, which will include safety studies that could clear the way for human clinical trials this fall.
As the lab's vaccine research continues VIDO-InterVac is also in the process of readying a vaccine manufacturing facility.
"We are excited by these results and are continuing to develop our vaccine towards regulatory approval," project leader Dr. Darryl Falzarano said.
The University of Saskatchewan-based lab received a
from the federal government for its COVID-19 research in March.
Five business groups urge Ontario to halt commercial evictions during pandemic – CP24 Toronto's Breaking News
Shawn Jeffords, The Canadian Press

Published Monday, May 25, 2020 12:25PM EDT


Last Updated Monday, May 25, 2020 3:43PM EDT

TORONTO – Five business groups called on the Ontario government on Monday to impose a commercial eviction moratorium during the COVID-19 pandemic, saying many small and medium-sized businesses are at risk of closing.
The groups make the request in an open letter to Premier Doug Ford, saying the help is needed as the due date for June rent approaches.
The groups include the Canadian Federation of Independent Business, Ontario Chamber of Commerce, Ontario Restaurant Hotel & Motel Association, Restaurants Canada and the Retail Council of Canada.
"Without your immediate assistance, more businesses will be forced to close," the letter says. "In the absence of sufficient support, a large portion of the economy and the jobs created by our hard-working members will disappear forever."
Last month, the federal and provincial governments announced the joint Canada Emergency Commercial Rent Assistance program to help businesses stave off eviction during the pandemic shutdown.
The program will see Ottawa and the provinces offer forgivable loans to commercial property owners to cover 50 per cent of rent for eligible small businesses, with the tenant covering 25 per cent.
But the groups said some landlords are not applying for the program, which means businesses will receive no aid at all.
"Even though the program just officially started, we already know from our members that many landlords will not apply, meaning that their tenants will not be able to access the program and the commercial tenant eviction protection it includes," the business groups said.
On Monday, Ford resisted calls for the moratorium, noting the joint rent relief program was just getting underway. But he cautioned landlords against not taking part in it and instead evicting tenants.
He called the program an "olive branch" to landlords and urged them to register.
"They need to start signing up for this," Ford said. "They aren't going to like the consequences if they don't sign up for it. I can assure you. I'm protecting the tenants, it's simple."
Green party Leader Mike Schreiner said the province could grant the moratorium and give businesses relief without costing the government anything.
"Today the Ontario business community asked the province for a temporary moratorium on evictions, but the Premier would only pass the buck to landlords with vague threats," Schreiner said in a statement. "Small businesses need a champion, not a cheerleader."
This report by The Canadian Press was first published May 25, 2020.