Old walls, new life? Britain's builders embrace the retrofit revolution
A stone's throw from London's affluent Sloane Square, a 1980s redbrick facade hides a fully revamped office building, partially built from reclaimed materials. The new features include larger, opening windows, higher ceilings and two "green walls" of living plants on the outside. The car park at the rear has given way to almost 80 cycle spaces, along with lockers and showers.
Holbein Gardens, which is nearly complete and will house up to 260 workers across six floors, is Grosvenor Group's first net zero carbon office building in its 346-year history – and Grosvenor is keen to points out that it is net zero in operation, without relying on carbon offsets. The Duke of Westminster's property company, which owns swaths of London's most exclusive neighbourhoods in Mayfair and Belgravia, decided to redevelop the mid-1980s concrete-frame building and add another storey – the latest example of the nascent "retrofit" boom.
Retrofitting is a conscious move away from the practice of knocking down office blocks after 25 to 30 years to build again, and it is starting to catch on. For instance, the US bank Citigroup plans a major overhaul of its 42-storey tower in Canary Wharf, to be completed in early 2026.
Retrofitting the UK's historic buildings, from Georgian townhouses to the mills and factories that kickstarted the Industrial Revolution, could generate £35bn of economic output a year, create new jobs and help the government achieve its climate goals, according to a new report jointly authored by the National Trust, the housing trust Peabody, Historic England, the crown estate and Grosvenor.
The British Property Federation (BPF) supports a "retrofit first" approach, and wants the government to introduce an "overarching retrofit strategy and tax incentives".
"There certainly is a shift," says Tim Downes, development director at British Land, one of the UK's biggest developers. "Carbon saving has undoubtedly gone up the agenda for, I hope, all developers but certainly all of the publicly listed developers, particularly on the commercial side."
Higher borrowing costs, following the Bank of England's 10th interest rate rise to 4% in February, are another factor. "As interest rates go up, the cost of capital goes up," says Anna Bond, an executive director at Grosvenor. "You can quickly find that it becomes commercially unappealing to take forward large projects. While every building is different, retrofits can offer a more cost-effective way to create highly sustainable modern office space that can attract competitive rents."
When deciding whether to retrofit or knock down and build again, developers have to weigh up the balance between "operational" carbon – having a brand-new building that is highly energy-efficient to run – against "embodied" carbon – the substantial emissions caused by making building materials and constructing a building from scratch.
The World Green Building Council has calculated that two-fifths of global greenhouse gas emissions come from constructing, heating, cooling and powering buildings. The BPF has urged the government to regulate embodied carbon and has called for planning reforms to prioritise the reuse of buildings, and a VAT exemption for refurbishment works.
The real estate investment group CBRE predicts that embodied carbon associated with buildings will make up 50% of built-environment emissions by 2035, up from 28% now, as operational emissions reduce "but we carry on building". It warns: "Without action on embodied carbon, the UK's 2050 net zero goal is not achievable."
CBRE says: "There are tough choices ahead around whether operationally efficient newbuilds or refurbishments are most effective at reducing overall carbon emissions. But given that 80% of 2050's built stock is already standing, the need to reduce the impact by refurbishing existing buildings is clear."
Grosvenor, owned by one of Britain's youngest billionaires, Hugh Grosvenor, hails Holbein Gardens as a big step in its ambition to become net zero by 2025. Retaining the 1980s brick facade saved 59 tonnes of carbon emissions, according to the UK Green Building Council.
The windows have been enlarged, letting in more natural light, and can be opened on every floor; sensors tell you when it is a good idea to do so to save energy, says project director Philip George. Ceiling heights were expanded by leaving the cooling and heating pipework exposed.
The company has opted for low-carbon products rather than concrete, such as Thermalite aircrete blocks with tiny pockets of trapped air for high thermal and sound insulation, and cross-laminated timber. About a fifth of the steel used (24 tonnes) is reclaimed, including columns from the firm's revamp of the Peek Freans biscuit factory in Bermondsey, east London (Grosvenor offloaded the build-to-rent project to the US developer Greystar last summer).
Other reclaimed materials include blue bricks and raised floor tiles. There is a strong market for the latter, while using reclaimed steel is "really complicated and expensive" and harder to get insurance for, says George.
Downes says material passporting – stamping specifications on to steel and other materials and barcoding them – should help as the secondhand materials market evolves. British Land is already doing this at some sites.
The future occupier of Holbein Gardens, a local asset manager in Chelsea, will save 50% on energy compared with typical London offices, Grosvenor claims.
The group has a £90m retrofit fund and spent £19m on this building. Its other retrofit projects include turning a former ice factory near Victoria station into offices and shops, and Newson's Yard – London's oldest timber yard, also in Belgravia – into boutiques.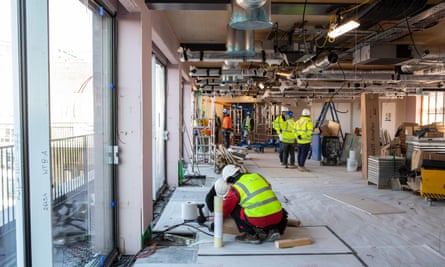 "Your real estate is one of the easier ways to reduce emissions as a business," says Bond. "Sustainability is becoming more important to occupiers, investors and employees."
Similarly, the flexible workspace provider The Office Group has vowed to refurbish rather than build where possible. The renovated Chancery House from 1885, which still has the London Silver Vaults market in its basement, is its biggest office retrofit to date and is due to open this spring, while the revamped 1950s Parcels Building in Oxford Street will open later this year.
Charlie Green, the firm's president, says retrofitting "gives us speed to market" and points out that "the embodied carbon is significantly lower with a refurbishment".
In Birmingham, the Rum Runner Works, the former home of a nightclub where Duran Duran used to play, has been turned into an office building after a £2m refurbishment, overlooking a canal. CBRE, the developer, says half the space is under offer. It has also completely revamped nearby 10 Brindley Place, formerly bank offices and flats, where the flexible office operator Spacemade is moving in, along with the Caribbean restaurant chain Turtle Bay.
Despite the shift towards retrofits, British Land argues that new developments are still needed, to "deliver best-in-class buildings which are operationally highly energy efficient". For example, it is knocking down 1 Broadgate in the City of London, built in 1987, and replacing it with a building in which energy use will be one-sixth of the old one.
Downes explains that when a building comes back to British Land after the end of a lease, it is carefully assessed to see how much can be kept. For example, the firm decided to retain the facade and most of the structure of a 2002 office block at its Paddington campus, while a retrofit of 1 Triton Square near Euston station, originally built for First Bank of Chicago in the late 1990s with a huge atrium, has been more extensive. British Land filled in some of the atrium, added more floors and refashioned the facade of the building – let to Facebook owner Meta, which is looking to sublease the space.
And not everyone is going down the retrofit route. Marks & Spencer's decision to demolish its 90-year-old landmark store close to Marble Arch in London sparked a public inquiry last year. But chief executive Stuart Machin has said that the store is "riddled with asbestos" and "belongs to a bygone era".
Bank Crisis Could Cast Pall Over Commercial Real Estate Market – The New York Times
The market hadn't fully rebounded from the pandemic. Some worry that another slowdown could add to fears of a recession.
The fallout from the recent banking crisis spurred by the collapse of two banks — and concerns about the health of a third — is bubbling up in the market for commercial real estate lending, as borrowers fear that banks will pull back. That could slow down construction activity and increase the likelihood of a recession, analysts and real estate experts said.
Silicon Valley Bank and Signature Bank imploded in the same week. First Republic Bank teetered for days before its shares partly recovered on Tuesday. Both Signature and First Republic are large lenders to builders and managers of office buildings, rental apartments, shopping complexes and other commercial properties.
First Republic has the ninth-largest loan portfolio in that market in the United States, and Signature had the 10th largest before it collapsed, according Trepp, a commercial real estate data firm.
Midsize and regional banks like Signature and First Republic not only provide the bulk of commercial real estate loans to businesses, they are also part of a far bigger market. Banks typically package the loans they make into complex financial products and sell them to investors, allowing the banks to raise more money to make new loans.
That means that a pullback in lending can also alter the behavior of investors. Commercial real estate contributed $2.3 trillion to the nation's economy last year, according to an industry association. And because the industry hasn't fully rebounded from the blow dealt by the pandemic, analysts worry about a fresh slowdown.
"It is a perfect storm right now," said Varuna Bhattacharyya, a real estate lawyer in New York with Bryan Cave Leighton Paisner who mainly represents banks.
"We were already in a place with a much lower rate of originations," Ms. Bhattacharyya said, referring to new loan applications that banks process. "It's hard not to feel a bit of panic and anxiety."
Ms. Bhattacharyya said lenders would become even more cautious about writing loans for any new construction projects other than the highest-profile "trophy deals."
The fear among borrowers is that banks will become more conservative about lending. And although the panic appears to have mostly stabilized for now, the specter of bank failure could haunt the decisions of regional banks for months.
For much of last year, commercial real estate lending had begun rebounding from the depths of the Covid-19 lockdowns, when new loan applications almost came to a standstill in the fourth quarter of 2020. By comparison, the annual rate of commercial real estate loan origination by dollar volume grew 18 percent in the fourth quarter of 2022, according to Trepp.
Even before the Federal Deposit Insurance Corporation stepped in to take over Silicon Valley and Signature, a noticeable slowdown in lending to the commercial real estate industry had begun in January.
On an annual basis, the rate of commercial real estate loan growth this year had already been cut in half compared with last year, said Matthew Anderson, a managing director at Trepp. He said some of the slowdown was the result of interest rate increases by the Federal Reserve, which were starting to take a bite out of commercial real estate activity.
And lending has probably tapered off further since the collapses of Silicon Valley and Signature, Mr. Anderson said. "How long and deep the impact will be remains to be seen," he said.
The universe of commercial real estate includes loans for new construction, mortgages and loans specifically for managing multifamily apartment complexes. The so-called securitized products containing loans that banks make are called commercial mortgage-backed securities — a more than $72 billion market last year. But it's a different story in 2023, with issuance of those bonds down 78 percent from a year ago.
Daniel Klein, president of Klein Enterprises, a commercial real estate management firm based in Maryland, had been talking to several banks recently about a construction loan for a new project. But just the other day, after the banks collapsed, one of the banks suddenly pulled a term sheet for a loan, he said.
Mr. Klein, whose family-owned business manages about 60 shopping centers, offices and apartment buildings, said that the bank had offered no explanation for its decision, and that he did not know if the trouble in the banking sector had been a cause. He said he expected loan terms from lenders to get more onerous in the coming months, as midsize banks get skittish after the Signature and Silicon Valley Bank collapses.
"Banks in general are being more conservative than they were six or nine months ago," he said. "But we have been pretty fortunate. We have many long standing community banking relationships."
Regional banks are a critical part of the commercial real estate ecosystem because their bankers invest a lot of time into forging relationships with real estate developers and managers, said Michael E. Lefkowitz, a real estate lawyer with Rosenberg & Estis in New York. Large banks do not tend to provide that kind of "high-level service" to middle-market real estate firms.
Some of the concerns of real estate lenders eased a bit when the F.D.I.C. announced on Sunday that it had sold substantially all of the remaining deposits at Signature Bank to a subsidiary of a peer, New York Community Bancorp, which is also a major commercial real estate lender. The banking regulator took over Signature on March 12 after business customers — including real estate firms and crypto investors — began pulling money out of the bank.
Before its collapse, Signature was one of the biggest commercial real estate lenders in the New York metropolitan area.
In buying some of Signature's assets, New York Community Bancorp picked up about $34 billion in customer deposits, down from the $88 billion that Signature had before the bank run, an indication of just how many customers fled the bank before regulators stepped in on March 12 to stem the bleeding.
Even with the sale of banking deposits to New York Community Bancorp, there are worries about whether other banks will fill the void left by the collapse of Signature.
New York Community Bancorp acquired about $12.9 billion in loans from Signature, the F.D.I.C. said, but most were business loans to health care companies and not part of Signature's large commercial real estate portfolio. That means the F.D.I.C. still needs to find a buyer for Signature's core commercial real estate loan portfolio.
A spokesman for the F.D.I.C. said that the organization "has not characterize the types of loans left behind" and that they would be "disposed at a later date."
"I think this means that Signature's commercial real estate portfolio is still up in the air," Mr. Anderson of Trepp said.
An indicator that Trepp uses to measure the risk of default to loans held by banks on office complexes found that those facing the most distress were in San Francisco — where First Republic is based.
Banks are likely to cut back on lending to preserve capital in order to strengthen their balance sheets in anticipation of further Federal Reserve interest rate increases and renewed calls for regulators to get more aggressive in monitoring risk taking by banks. Any pullback in new lending could affect the start of commercial developments and push the economy closer to a recession.
As bank regulators work to stabilize the financial system, they will also need to keep an eye on banks holding too many commercial real estate loans in their portfolios — something that can create its own set of problems in a slowing economy.
A report late last year by Moody's Investors Service, the credit rating agency, found that 27 regional banks already had high concentrations of such loans on their balance sheets. The report said the issue could become problematic for banks if the economy fell into a recession.
Gisele Bundchen Reacts to Reports Linking Her to Jiu-Jitsu Teacher and Billionaire Real Estate Developer – TooFab
Of one of the men, she said, "I wouldn't be with this guy … I mean, puh-leeze!"
Gisele Bundchen is speaking out against reports she's dating her Jiu-Jitsu instructor Joaquim Valente or real estate developer Jeffrey Soffer following her split from Tom Brady.
In the months since filing for divorce, Bundchen has been linked romantically to both men. The supermodel has been spotted out with Valente solo and with her children on multiple occasions, while the Daily Mail recently reported she's been seeing 55-year-old Soffer for several months.
"I think, at this point, unfortunately, because I'm divorced, I'm sure that they're going to try to attach me to anything," she told Vanity Fair when asked about the reports, which, at the time of the initial interview were only about Valente.
Waiting for your permission to load the Instagram Media.
Speaking with the publication about Joaquim and his brothers — Pedro, Gui, who are also instructors — she said she was "so grateful to know all of them, because not only have they helped me and helped my kids, but they have become great friends, and Joaquim especially."
"He's our teacher and, most importantly, he's a person that I admire and that I trust," she added.
"It's so good to have that kind of energy, to have my kids around that type of energy."
When asked about Soffer in a follow-up interview weeks later, the reporter noted she sounded "devastated" when they brought up his name. The real estate developer and billionaire is a longtime friend of her ex-husband was previously married to fellow supermodel Elle Macpherson.
Calling the report "absurd," she said she has "zero relationship with him in any way" and hasn't seen him in more than six months. "He's Tom's friend, not my friend … I wouldn't be with his friend. I wouldn't be with this guy," she added, "I mean, puh-leeze." She also said, "They were saying I'm with this guy, he's old, because he's got money — it's ridiculous."
Saying that "seeing lies being created all the time about yourself is not easy," 42-year-old Bundchen insinuated the stories were "planted," said VF, and said whoever did it wants "to make me look like something I'm not." She concluded that all she wanted to do was "to go do my job and raise my children in peace."
Tom and Gisele split in 2022 after 13 years of marriage. Announcing the news on Instagram, Bundchen wrote, "The decision to end a marriage is never easy, but we have grown apart and while it is, of course, difficult to go through something like this, I feel blessed for the time we had together and only wish the best for Tom always."
The former couple married in 2009 and share two children, Vivian and Benjamin. Tom also shares a son, John Edward, from his previous relationship with actress Bridget Moynahan.
Simcoe County's real estate market shows signs of recovery
Real estate experts paint a cautiously optimistic outlook after a year of downward market trends across the country.
Trends in Simcoe County show an increase in viewings and buyers re-entering the market after key interest rate hikes from the Bank of Canada warded off many last year.
Lance Chilton, the broker of record at Re/Max Hallmark Chilton Realty, calls the local market "more or less balanced."
"Inventory conditions are the same as they once were in 2018," he noted." From 2020 to 2022, prices rose to about 43 per cent, which was rather rapid."
Chilton said key interest rate hikes eventually bottomed out the local market by about September – that's when home prices that peaked at around $1 million dropped to about $730,000.
"Since then, it's recovered by about five per cent," Chilton said. "In fact, we actually saw showings increase for the first time in about six months."
The Barrie and District Association of Realtors (BDAR) confirms that showings have picked up again, with people getting that "spring fever."
However, the one key issue that remains is low inventory.
"We saw prices dip because of interest rates and people pulling out of the market, but we never saw that supply come back online," said Luc Woolsey, BDAR president, adding the situation creates multi-offer bids.
"So there's still a lot of people having to come in firm, waiving conditions and inspections because they're having to compete."