Opinion: Jason Kenney has become the Boris Johnson of Canadian politics – The Globe and Mail
In March of last year, Alberta Justice Minister Kaycee Madu was pulled over in the province's capital and issued a ticket for distracted driving in a school zone.
A couple of days later, he phoned Edmonton's chief of police, Dale McFee, to discuss the $300 ticket, which he eventually paid.
The ticket, and the phone call, only recently came to light thanks to the CBC. Things moved quickly after that; Mr. Madu defended himself by saying he didn't phone Mr. McFee to protest the ticket, but rather to discuss the issue of racial profiling. Mr. Madu is Black. He also wanted to be assured he wasn't being "unlawfully surveilled," which some police in the province have been accused of doing.
This week, Premier Jason Kenney expressed "profound disappointment" in Mr. Madu for making the phone call, and asked him to "step back from his ministerial duties" while an independent investigation into the matter is carried out.
Mr. Kenney should have fired Mr. Madu on the spot.
There is almost no circumstance in which Mr. Madu, who is also solicitor-general and responsible for law enforcement in Alberta, could be returned to his cabinet duties, such is the iron-clad rule in politics that elected officials (particularly cabinet ministers) don't interfere in the administration of justice at any level. It's an automatic termination offence.
Mr. McFee, for what it's worth, has corroborated the justice minister's version of events; that he wasn't calling to get out of the ticket but to discuss carding, an issue he has championed. And while I may have some sympathy for Mr. Madu on this matter, you do not pick up the phone and call the chief of police to have a conversation about it after getting a ticket.
In a different scenario, maybe the police chief interprets the call as subtle pressure and gets the violation ripped up. The fact that didn't happen in this case is irrelevant. Cabinet ministers can't appear to be using their office to exert influence or put their finger on the scales of justice in any way. Especially if you are the justice minister.
So while some will say Mr. Madu's intentions weren't malicious or corrupt, it doesn't matter. He violated a sacred tenet of government. He may have found other means, or avenues, to have this issue addressed that didn't involve him picking up the phone and calling the city's top cop.
There is, however, another disturbing aspect to this whole affair: The question of what Mr. Kenney knew, and when he knew it.
As mentioned, the incident and phone call happened 10 months ago. According to veteran Alberta columnist Don Braid, it was widely known among members of cabinet and discussed in "jocular" terms. It seems inconceivable that if members of cabinet knew about this, Mr. Kenney didn't also.
The Premier should make clear when he found out about the matter; was it only when the CBC story made it public? If Mr. Madu discussed the issue with colleagues, would he not also have notified the Premier's office of what happened? I would think that most justice ministers in this country would notify their bosses when they have a run-in with police, regardless of how insignificant it was.
At the very least, it's inconceivable that Mr. Madu's own chief of staff wouldn't have been told about it and then passed it along to the Premier's office. No head of government likes nasty surprises. That's one of the core rules of being in government, and especially cabinet. If there is a potential for some damaging information to come to light, you alert the top person.
That is why I am highly skeptical that Mr. Kenney only found out about this recently. He's renowned for his micromanaging tendencies and his insistence that he not be the victim of any unpleasant surprises. It's virtually impossible to believe he wasn't aware of this story long before now.
This is, of course, just another illustration of the shockingly poor judgment that members of Mr. Kenney's cabinet – and the Premier himself – have demonstrated over the past couple of years. Mr. Kenney's nearly three-year reign of error has been enveloped by melodrama and controversy. At various times his response to the pandemic was atrocious. His response to most internal problems has been to deny and delay until he's boxed into a corner and is forced to do something. There have been calls for his resignation both inside and outside his party.
Mr. Kenney has become the Boris Johnson of Canadian politics. Like the British Prime Minister, he seems to have put a foot wrong at almost every turn, and come to be seen as a bumbling, incompetent leader. And his handling of this latest imbroglio will do nothing to diminish that image.
Keep your Opinions sharp and informed. Get the Opinion newsletter. Sign up today.
Steven Del Duca says his politics come from personal life as he makes run for premiership – The Globe and Mail
Anyone who has heard Steven Del Duca speak during this election campaign likely knows he has two daughters in public school, two elderly parents who want to age at home, and that his Saturday mornings include grocery shopping for his family.
Weaving in personal touches to speeches is a tried and true political tactic, but the Ontario Liberal leader says his politics come from his personal life.
"Family is really the centre of everything … so it's just a very natural, I guess, lens for me to view those issues," he said in a recent interview.
Del Duca's focus on home care comes not only from his 83-year-old Italian-born father and his 80-year-old Scottish-born mother, but also his grandparents, all of whom lived past 80 – one to 97 – and stayed in their own homes.
Education policy is important to Del Duca as the father to two daughters, Talia, 14, and Grace, 11, but he also mentions a teacher who kept him on track as he was drifting in his final year of high school.
By that time, he was already actively engaged in politics and didn't have much interest in what the school curriculum had to offer in social sciences, and the teacher worried that his grades wouldn't be able to get him into university.
So she developed two large research projects that he could do as independent studies and got the principal to sign off on it.
"I loved it because it gave me a chance to actually take what I was doing in reality, fuse it to with what I was reading and learning about and kind of taking a run with it," Del Duca says.
"I don't know how it would have worked out otherwise."
Thirty years later, he's taking a run at much bigger projects: the premiership and rebuilding the Ontario Liberals four years after their walloping that saw them lose official party status.
One of Del Duca's oldest friends, Anthony Martin, has known him since the two were in Grade 3, and is not surprised to see him running for the province's top job. Martin says his friend was always well informed about current events for his age, but once he was bitten by the political bug, that was it.
"He said he wanted to be premier, because, he thought that was where you could do the most good and make the most change in people's lives," Martin said.
Del Duca's interest in politics was first sparked at age 14, when his older sister gave him "The Rainmaker," the autobiography of legendary Liberal organizer Keith Davey, for Christmas.
He has since asked his sister why she settled on that present, a peculiar selection for a young teen, and "she can't remember what possessed her to get that specific book."
Regardless, Del Duca was hooked. He was then reeled in a few months later when a cousin invited him to a nomination meeting. It turned out to be a hotly contested race, with an incumbent being challenged for a federal Liberal nomination.
"I felt the electricity in the room," he says.
Later that year was the 1988 election and Del Duca volunteered for the Liberals, knocking on the doors of voters who found a 15-year-old wanting to talk to them about free trade on the other side.
At age 48, Del Duca still likes talking, and he has developed a particular style. On the campaign trail he looks straight into the camera, delivering his words with a measured cadence that generally comes from reading prepared remarks.
Except there is no teleprompter in sight.
Del Duca says it's partly due to him being quite hands on with platform development, but the seed was planted at his own nomination meeting in 2012.
He was being acclaimed to replace Greg Sorbara, who was retiring. Del Duca had actually written speeches for Sorbara, though he eschewed speaking notes.
"(It) used to drive me crazy," Del Duca says. "He'd say, 'Steven, this is such a beautifully written speech. I'm not using it."' Ahead of the nomination meeting, Sorbara told Del Duca not to use a written speech, but rather a single page of bullet points to "frame the mind."
He was unsure about speaking off the cuff in front of so many people, and brought both his speech and his page of bullet points to the banquet hall. But after sitting in the parking lot and mulling it over, he left his speech in the car.
"It went fine," Del Duca says. "That was really good advice Greg gave me … Even if you get back in the car afterwards, or you're back at the office and think, 'Oh shoot, I was gonna say those two things, but I didn't,' it's OK. You connect with the audience far, far better."
He would go on to spend nearly four years as transportation minister and a few months as economic development minister.
Liberal MP Yasir Naqvi, who served in cabinet with Del Duca, says he is someone who was always prepared, and can disagree with others cordially. The two have known each other since they were in the Liberals' youth wing together, and Naqvi says personally Del Duca is a devoted family man.
Del Duca's younger brother was killed in a car crash in 2018, and Naqvi says he was impressed by how Del Duca faced the tragedy.
"There were times of course he was fragile, but then he was also there for his parents, who lost their son," Naqvi says.
"He was there for his sister-in-law, who lost her husband. He was there for his niece and nephews, who lost their father and of course, provide support for his family as well. Really, I was incredibly impressed by his strength, his calmness and his resiliency."
Del Duca was chosen as party leader just days before the first COVID-19 lockdown.
March 7, 2020 was, in hindsight, not the best time for a mass gathering, and the timing was especially poor for Del Duca, who needed to spend the next two years both rebuilding the party from its disastrous 2018 election showing and introducing himself to voters.
But the new Liberal leader was one of the last things on voters' minds as they dealt with devastating effects of the pandemic, and it has left Del Duca still fairly unknown, said Chris Cochrane, an assistant professor of political science at the University of Toronto Scarborough.
"It's made life difficult for (him)," he said.
During last week's debate, Del Duca came across as someone who had a good grasp of policy, but when it comes to a unique and easily identifiable charisma, Progressive Conservative Leader Doug Ford has him beat, Cochrane said.
"Doug Ford has a presence, a way of speaking, mannerisms, everything about him, that sends a message automatically, no matter what he says to the people he wants to vote for (him) that he's one of them," he said.
"As soon as you see (Ford) and you hear him speak, it's unique to him … Jean Chrétien, for example, also had that, in the past. Del Duca doesn't have that."
But those who know him say he has a good sense of humour, trading dad jokes and offering up self-deprecating remarks.
He has also tried to cultivate a relatable image, often appearing in public wearing a suit with sneakers and ditching his signature black-rimmed glasses after getting laser eye surgery just before the campaign.
"I figured it was easier than trying to grow my hair," he quips.
Want to hear more about the Ontario election from our journalists? Subscribe to Vote of Confidence, a twice-weekly newsletter dedicated to the key issues in this campaign, landing in your inbox starting May 17 until election day on June 2.
Politics Podcast: Trump's Revenge Primary In Georgia Fails – FiveThirtyEight
After pursuing a vendetta against statewide Georgia Republican officials for more than a year, all of former President Trump's endorsees failed to unseat incumbents in the state on Tuesday. Gov. Brian Kemp bested his Trump-backed challenger by more than 50 points and even Secretary of State Brad Raffensperger, who wrote a book about Trump's attempt to overturn the 2020 election in Georgia, won outright to avoid a runoff. Trump's endorsees in open races, such as Herschel Walker in the Senate primary and Burt Jones in the lieutenant governor primary, fared better. In this installment of the FiveThirtyEight Politics podcast, the crew recaps the night's contests in Georgia, Texas, Alabama, Arkansas and Minnesota.
You can listen to the episode by clicking the "play" button in the audio player above or by downloading it in iTunes, the ESPN App or your favorite podcast platform. If you are new to podcasts, learn how to listen.
The FiveThirtyEight Politics podcast is recorded Mondays and Thursdays. Help new listeners discover the show by leaving us a rating and review on iTunes. Have a comment, question or suggestion for "good polling vs. bad polling"? Get in touch by email, on Twitter or in the comments.
Alberta's political culture and history played a part in Jason Kenney's downfall – theconversation.com
Jason Kenney's imminent resignation as Alberta premier shows that even leaders with track records of success can fall victim to unpredictable crises, poor leadership choices and the unspoken norms of provincial politics.
Kenney failed because he didn't fully understand Alberta's populist and leader-centric culture and its role in creating expectations about how the province should be governed. But even though he faced a challenging set of problems, the final outcome is Kenney's own responsibility.
What makes Kenney's poor showing in the recent leadership review so striking is the fact that he played a key role in the Stephen Harper government's electoral success and the creation of its policy agenda.
He represented something that some contemporary Canadian conservatives struggle with: a coherent, consistent and electorally viable conservative approach to governing.
---


Read more:
Ontario election: 4 ways Doug Ford has changed the province's politics


---
In addition to his roots as the director of the Canadian Taxpayers Federation, Kenney was also seen as the key architect of the Conservative Party of Canada's success in appealing to suburban immigrant communities through the careful articulation of shared social conservative values.
That's why Kenney was able to establish himself as the heir apparent to Alberta's conservative movement in 2017. In doing so, he managed to unite two bitterly divided parties, the Progressive Conservatives and Wildrose, into the United Conservative Party (UCP) and delivered a big majority win in the 2018 provincial election.
Started on a high as premier
As premier, Kenney not only had the support of his large caucus, but he also had the majority of the province behind him to pursue his promises to expand the energy sector and take a more confrontational stance against what some Albertans believe is an increasingly hostile federal government.
Unlike the centrism pursued by some of his fellow Conservative premiers, Kenney continued to run Canada's most consistently conservative government throughout his tenure, introducing corporate tax cuts, reduced spending, strong deregulation and overhauls to the school curriculum.
Nevertheless, before finishing his first term, Kenney's premiership is now effectively over following his poor showing (51.4 per cent) in the UCP's leadership review.
What went wrong? Some observers have pointed to the UCP's ultra-conservative faction that's punished Kenney for his occasional support of COVID-19 restrictions. Others also cite Kenney's autocratic leadership style.
These are both only partially true. A full understanding of what occurred requires a broader look at Alberta's general political culture and history.
Alberta is anti-establishment
Although historically supportive of conservative governments, Alberta's conservatism is consistently overstated. In addition to being the home of notable leftist movements, polls have consistently shown that Albertans are in line with the rest of Canada in supporting high levels of government spending and interventions to address issues related to poverty, the environment and discrimination.
Alberta is better understood by examining how it's been shaped by the anti-establishment, grassroots and populist sentiments that are a feature of both left and right.
This is largely the product of history, because Alberta's role as a frontier society fostered the belief that prosperity and well-being would come through self-reliance, fairness and the wisdom of ordinary people, rather than tradition, authority or hierarchy. This has come to be romanticized as the prototype of the contrarian, free-thinking Albertan "maverick."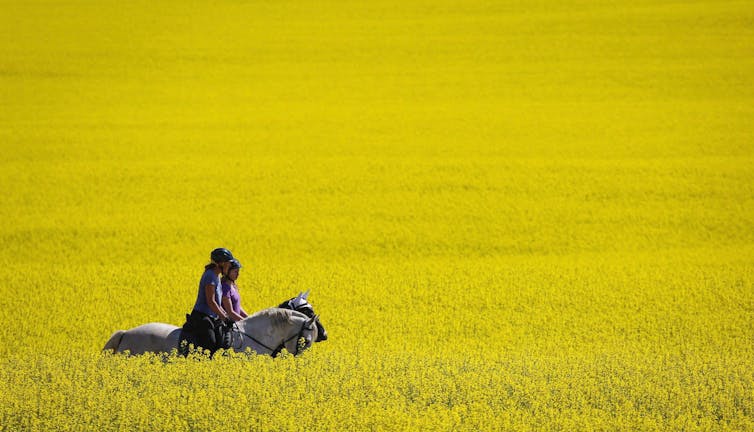 The province's ongoing reliance on oil and gas exports has historically united Albertans, while also placing the federal government in the role of the villain for its perceived hostile interventions in Alberta's energy sector.
This populist culture is evident in direct democracy initiatives at the local level that has allowed citizens to have a more immediate role in decision-making through practices like referendums and the ability to recall elected politicians.
But it's also created a leader-centric provincial dynamic. Through the common practice of attacking the federal government or other supposedly hostile forces, several leaders have found success in positioning themselves as the authentic voice of Alberta.
---


Read more:
Jason Kenney won by portraying himself as the Guardian of Alberta


---
When combined with Albertans' general lack of partisan attachment and a majoritarian electoral system, this has allowed these leaders to create an illusion of unanimity through substantial electoral wins, despite the fact that a large portion of Albertans may oppose them.
It's a tricky dynamic: despite having significant power, leaders are also pressured to be effective, fair, democratic and anti-elitist towards the public and their own caucus. Alberta has had popular, larger-than-life leaders, but it's also had a number of premiers who — due to economic downturns, personal scandals or inadequate caucus management — can be regarded as failures.
Uneasy alliance
What puts Kenney in the second category is the fact that enough of his party lacked confidence in his leadership. Wildrose party members, who Kenney had successfully merged into the UCP coalition, initially liked his contrarian tradition of opposing what they viewed to be the elitist, self-interested and out-of-touch power brokers in the mainstream PC party. To them, Kenney had simply returned to the old form.
The trends were there before the pandemic. The race between Kenney and Brian Jean, the former leader of Wildrose, for control of the UCP left a bitter aftertaste due to allegations of criminal identity fraud that is the subject of an ongoing RCMP probe.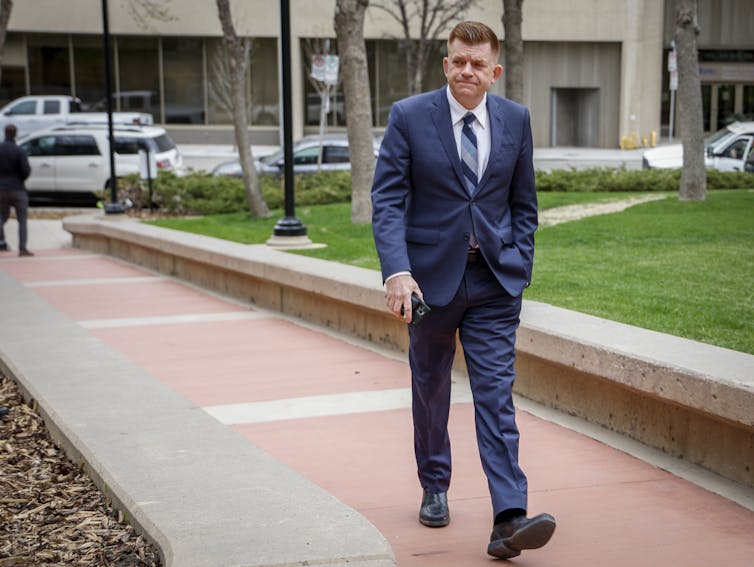 Former Kenney staffers also alleged a toxic environment of long hours, sexual harassment and alcoholism. Discontented caucus members also complained of a premier's office that was insular and failed to consult with caucus which, in their view, contributed to many of the government's mistakes.
The province's handling of the COVID-19 pandemic entrenched this opposition. The response itself was inconsistent as Kenney manoeuvred between a public that supported restrictions and a more skeptical caucus.
His promise to totally reopen in the summer of 2021 was his biggest mistake because a subsequent outbreak forced Kenney to backtrack and simultaneously disappoint both sides. Kenney's own personal integrity was also compromised, as both he and cabinet ministers were caught violating their own restrictions.
Kenney's failure, therefore, is largely the immediate consequences of his own leadership choices. But there's a broader context. The premier not only faced an unprecedented crisis, but dealt with a profoundly contrarian wing of the Albertan conservative movement. Kenney, to his credit, made an effort to consult and accommodate these voices once dissent began to congeal.
But Alberta provincial politics is a gamble. Although leaders have the potential to become era-defining personalities — think Ralph Klein or Peter Lougheed — they can also be quickly cast aside. Kenney's fall from grace is a vivid illustration of the volatility of the province's political landscape.