Opinion | Powell Needs to Cool the Economy Now to Avoid Recession Later – The New York Times
It's official: President Biden will seek to keep Jerome Powell at the helm of the Federal Reserve for another four-year term. Mr. Powell has his work cut out for him. With inflation rising to alarming levels, the Fed should be making moves to cool the economy. But under its dual mandate the agency is also obligated to ensure maximum sustainable employment.
At present, the Fed is erring too much on the side of maximum employment. Instead, Mr. Powell must tip the scales back in favor of price stability. If he doesn't, he risks inviting a sluggish economy — or even a recession — in the coming years.
The Fed's loose monetary policy — keeping the key interest rate it controls close to zero and purchasing large quantities of government bonds and mortgage-backed securities — provides juice to the economy and increases employers' need for workers. It has contributed to troubling price increases that show signs of accelerating. On net, over half of small businesses, the highest on record, plan to increase their prices in the next three months, according to a National Federation of Independent Business survey. Investors in the bond market expect inflation to average around 3 percent over the next five years — nearly double their expectation from one year ago.
By running the economy so hot, Mr. Powell may think he is giving idle workers their best shot at re-entering employment. At present, there are six million fewer jobs than there would have been without the pandemic. Among workers ages 25 to 54, work force participation is down 1.4 percent from the start of the pandemic in February 2020. The rate for younger workers is 2.1 percent lower, and workers over the age of 54 have a nearly 5 percent reduction in participation.
As he enters his second term, Mr. Powell must confront the fact that many of those missing workers aren't coming back. A large share of them have taken early retirement or are otherwise reluctant to return to their prepandemic lives. Inflationary monetary policy and a hot economy won't change most of their minds.
Many others might come back under the right circumstances. They are temporarily on the sidelines because of Covid fears, child care problems, swollen bank balances and excessively generous government programs.
But by the time they are ready to return to the work force next year, the economy could be slowing under the weight of inflation. And as concerns about inflation become more ingrained in the psychology of consumers and businesses, the threat of fast price growth might leave the Fed with no choice but to rapidly increase interest rates, communicating to investors and businesses that it is worried about the economy.
This would slow business and consumer spending, possibly shutting even more workers out of jobs. So what seems like the pro-labor move — taking less aggressive action to fight inflation — is actually the riskier option for workers.
Mr. Powell has indicated that the Fed will wind down its purchases of Treasury and mortgage-backed securities over the first half of next year. After that, it will probably begin increasing interest rates in the summer.
Instead, Mr. Powell should immediately take tougher action to fight inflation. Rather than slowly reducing its purchases of mortgage-backed securities, given the white-hot housing market, the Fed should immediately stop buying them. It should aim to eliminate all additional asset purchases by the time Fed officials hold their March meeting, not June.
In addition, the Fed should signal that it expects to begin raising interest rates early in 2022, and that it is willing to increase rates several times next year. It should also more clearly acknowledge the threat inflation poses to household finances, business psychology and to the economy as a whole.
If this works, the Consumer Price Index may still be growing at an uncomfortable clip in the third quarter of 2022, but at a much slower pace than it is today and otherwise would be. This would accommodate a gradual and steady labor-market recovery while avoiding the risk of the Fed abruptly throwing the economy into reverse.
But it's not just unwise Fed policy that could damage the economy. President Biden's Build Back Better agenda would make our already troubling inflation problem worse. According to the nonpartisan Congressional Budget Office, this ambitious agenda would increase the deficit by around $300 billion over 2022 and 2023. The bill would also increase household income through more generous tax credits and deductions, encouraging consumer demand and putting upward pressure on inflation. Moreover, the one-year expansion of the child credit in the current bill could be extended. If so, Build Back Better would increase the deficit by around $400 billion over the next two years.
The White House argues that Build Back Better will reduce inflation over the next decade, and a few components of it might do that. For example, if its child-care provisions make it easier for parents to work, that would put downward pressure on wages and prices.
But even if they eventually materialize, any disinflationary forces won't have kicked in next year. It will take time for the bill's new programs to come online, and for people to rearrange their lives to take advantage of them. On the other hand, the extra demand for goods and services generated by the bill's boost to household income would happen next year, as soon as government checks are deposited in people's bank accounts. For purposes of taming inflation, what matters most is the effect the bill will have over the next year or two.
Some may think the bill is worth the cost of higher inflation, or even a recession. But this is a false choice: Mr. Biden will still be president in 2022. He should wait to see how the economy evolves before deciding if building back better will make things worse.
Of course, concerns over inflation and the recovery of the work force may well turn out to be overwrought. But Mr. Powell faces a very different economy now than he did when he assumed leadership of the Fed in 2018. Today, the balance of risks favors more aggressive tightening — immediately.
Michael R. Strain (@MichaelRStrain) is a senior fellow and the director of economic policy studies at the American Enterprise Institute.
The Times is committed to publishing a diversity of letters to the editor. We'd like to hear what you think about this or any of our articles. Here are some tips. And here's our email: letters@nytimes.com.
Follow The New York Times Opinion section on Facebook, Twitter (@NYTopinion) and Instagram.
LETTER: Sidney working towards a vibrant economy – Sooke News Mirror
In the spring of 2014, Sidney's then-mayor Cross struck a mayor's downtown revitalization task force and I was appointed vice-chair to Mark Dickinson's chairman. Mr. Dickinson led a cross-functional team of dedicated citizens, representatives from the chamber of commerce, Sidney BIA, as well as town staff to renew the economic development strategy for Sidney. Going in, we knew there were several iterations of well-intentioned committees in the past and we mused would we be able to forge a new strategy.
Hours were spent in the Arbutus Room at town hall over several months on a SWOT (strengths, weaknesses, opportunities, and threats) analysis, prioritizing an action registry and producing a report to present to council on our findings. The council of the day accepted the report just prior to the civic election.
Mayor Cross retired and a new council reviewed and ratified the report which provided four pillars for success and a roadmap to achieve them. It included the recommendation to establish an economic development committee of citizens willing to 'roll up their sleeves' to operationalize the recommendations. If this model wasn't successful after a year or so, it was recommended that a consultant be engaged to fine-tune the strategy and the tactics.
The EDC was formed and quite frankly was ineffective due to several strong personalities with differing agendas and goals. Members resigned, new members stepped in, but it became clear that 'Plan B' needed to be effected. The EDC is still an entity in the town but I am pleased to see that cooler heads have prevailed and a consulting firm with expertise in this area has been engaged.
I applaud this decision and sincerely hope the contract deliverables can leverage the town's strengths and mitigate any perceived weaknesses in support of a vibrant business economy.
Brian Losie
Sidney
Nobody seems to know what's going on with the economy – CNN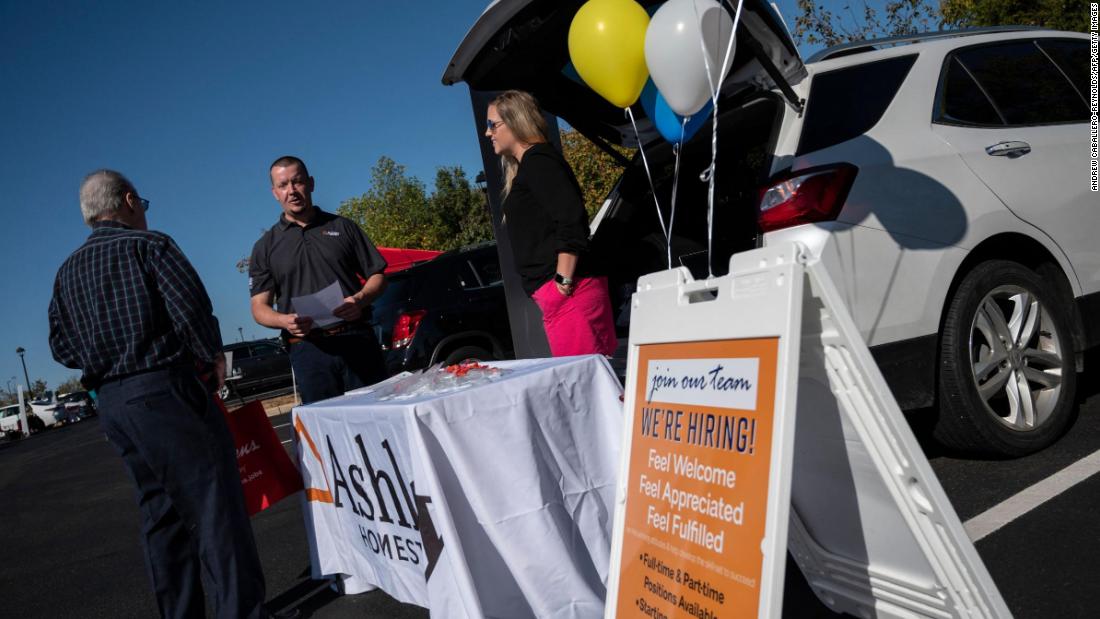 The economy is on the road to recovery from the coronavirus pandemic, reeling from inflation or a source of disappointment on jobs creation, depending on who you're talking to.
It's probably all three, and what happens from month to month seems to be something of a surprise. That element of unpredictability might be the most normal possible thing given the shock of the pandemic — the extraordinary government intervention to save the economy is unlike anything anybody alive today has ever seen.
It's hard to decide how important any single thing is.
Omicron Variant May Be Good For Economy – Forbes
The omicron variant of Covid-19 has sparked great fear. With time, we may find the fear to have been justified, but we may find the opposite: that this is good news for the economy.
It's still early days for our knowledge of omicron. Waiting to learn more seems to make sense, but consider this: Business decisions are being made every day. Any person who waits for perfect certainty—about the economy, technology or Covid-19—will never make a single decision. In many areas decisions have to be made this week. So it's worthwhile to consider how omicron may be good for the economy.
Omicron seems to be displacing the delta variant in South Africa. Ted Wenseleers showed that delta's share of total Covid-19 cases in South Africa has plummeted while omicron has surged. Because the early indications show that omicron was highly transmissible, it could well displace the delta variant around the world.
So far omicron has triggered a surge in infections in South Africa, but not a comparable increase in deaths. There's good reason for the virus to mutate to be less dangerous. Bugs that kill their hosts don't replicate as much as bugs that allow their hosts to remain alive. Many viruses in the past have evolved to be milder. We cannot take this idea too far, however.
The omicron virus may have mutated so that it has greater ability to infect those who already had been exposed to earlier variants. That's no surprise to South African scientists, who have observed a very high past infection rate in their population. The virus could not get ahead by finding people never exposed to any version of Covid-19, so it found a way to infect the previously ill, this theory goes.
BioNTech CEO Ugur Sahin said recently that current vaccines probably help protect against severe illness from the omicron variant, and that new vaccines are under development that would be more targeted against omicron. Given the speed with which our vaccines were developed, we may have new versions being tested in the lab right now. The question will be how long we have to wait for regulatory approval.
From an economic forecasting viewpoint, business leaders should consider the upside potential of omicron. Although it is way too early to be sure, we may find that the disease becomes dominated by a less dangerous mutation. Illness would continue if this happens, but with fewer deaths and hospitalizations. People would come to feel more comfortable dining out, traveling and seeking routine non-Covid healthcare tests and procedures. The rosy view is far from certain, but current evidence is not more pessimistic.
Companies that that are especially sensitive to the Covid pandemic should try to delay big decisions. We'll have better information in the coming weeks. But decisions that cannot be delayed should probably consider the possibility of a stronger economy rather than greater Covid problems.