Why would anyone think the Liberals want to control the media? Oh, I can think of a few reasons.By Andrew Coyne The Globe and Mail
Wait, so the allegations in The Globe story were true? Our sources were not partisan coup-plotters? The Globe's reporters and editors are not credulous half-wits?
Or what else are we to conclude from the Trudeau government's decision to expel a Chinese diplomat, Zhao Wei, shortly after The Globe reported he had been gathering information on family members of Conservative MP Michael Chong, a prominent critic of the Beijing regime, with the intent of making "an example" of him.
The Globe cited "a top-secret intelligence assessment" and an unnamed "national-security source," as it has in several previous stories on Beijing's wide-ranging attempts to interfere in Canada's politics – much to the Liberals's embarrassment. To now the government and its proxies have spent considerable effort trying to dismiss these as unimportant, or unreliable or both – hearsay! innuendo! – without specifically denying anything. That campaign is now presumably at an end.
The story, it is now admitted, was true. Mr. Chong's family was being targeted. The Globe's sources were right, and The Globe was right to report what they had to say – even if they remained unnamed. Had it not, the matter would never have come to light, Mr. Chong would never have been told, and no Chinese diplomat would be going home.
And yet even as the Liberal government was tacitly endorsing The Globe's use of unnamed sources, the Liberal Party was busy demanding the practice be outlawed. Resolution 472 at the party's national convention, passed without debate, calls on the government to "explore options to hold on-line information services accountable for the veracity of material published on their platforms and to limit publication only to material whose sources can be traced." How very tidy.
Understand: the government has no more business "holding" anyone "accountable" for the "veracity" of anything. But the second part, urging the government to ban all material whose sources cannot be "traced" – material like, say, The Globe's reports – is frankly chilling. Any crank can present a motion of course. But it was the party at large, the party in power, that passed it.
(And not only that: a second motion passed at the convention, Resolution 437, calls on the government to regulate the content of political campaigns via "truth in political advertising legislation," decrying, without apparent irony, the absence of federal laws "to prevent politicians from deliberately misleading the public").
It will never happen, Liberal officials hastened to assure everyone. The government "would never implement a policy that would limit freedom of the press or dictate how journalists would do their work," a spokesperson added.
Why, heaven forfend! However did anyone get the idea that it would?
Perhaps it was a few weeks ago, when it came to light that a senior government official had pressured Facebook and Twitter in 2021 to remove links to a newspaper article on immigration, claiming it risked "undermining public confidence in … the integrity of the refugee determination system."
Perhaps it was the revelation that, over the last three years, the government has made more than 200 similar attempts to censor social media.
Perhaps it is the current proceeding before the CRTC, in which the broadcast regulator is considering whether to ban Fox News from Canadian cable carriers.
Perhaps it is the recent passage of Bill C-11, which will expand the CRTC's purview to include much of the internet as well: every audio or video streaming service, large or small, domestic or foreign, offering curated or user-generated content.
The best-case scenario is that this unworkable law is aimed only at the supremely pointless objective of promoting "Canadian content" on the web, at a time when it is awash in it. The worst case is the CRTC takes the same micro-managing approach to the internet, for whatever reasons enter its head, that it has to traditional broadcasting (see: Fox News ban).
Also in the works is Bill C-18, whose contribution to a free and independent press is to hook it up to the large social media platforms, who will be forced to "compensate" the news media for the crime of linking to our stories. Fortunately, the platforms seem to be embracing the "logic" of this proposal and ending the practice – or rather unfortunately, since they will no longer be sending readers to our pages by the millions, for free.
Still to come, the Online Harms Act, with whatever ill-judged new limits on free expression it brings. And hovering over all, the original sin of this government's approach to the news media – and of the news media's approach to the government – the tax credits and other subsidies for "Qualified Canadian Journalism Organizations."
Supposedly temporary, these now seem to be permanent, as anyone could have predicted: for having sought them so eagerly, we are not about to give them up, ever. As always, the tightest shackles are made of the purest gold.
Discarded mortar detonates killing more than 20 in Somalia: Media
Local official says unexploded mortar detonated near to where mostly children – aged between 10 and 15 – were playing.
A mortar shell explosion in Somalia's Lower Shabelle region has killed more than 20 mostly children and young people and injured more than 50, according to media reports.
Most of the victims who were killed on Friday were aged between 10 and 15 years, according to news reports, which blamed the blast on an unexploded mortar shell which was struck and detonated near an area where the children and young people were playing.
The explosion "caused by unexploded mortar shells" occurred near the town of Qoryoley, approximately 120km (75 miles) south of the capital, Mogadishu, said Abdi Ahmed Ali, deputy district commissioner of Qoryoley.
"They were playing with a mortar shell … It exploded on them. Twenty of them died and others are injured," Ali said.
"We request the government and aid agencies to clear mines and shells from the area," he said.
Residents said that Somalia's warring factions had left the shell behind at some stage.
Another report said the children had found an intact explosive device on a football field and were playing with it when it exploded. Recent rainfall had uncovered the explosive device, according to reports.
How to Grow Your Business With Social Media
Opinions expressed by Entrepreneur contributors are their own.
Personal trainer Miriam Fried built her business, MF Strong, primarily by posting how-to videos on her social media channels, like Instagram, TikTok, and Facebook. But when it was time to expand from a virtual presence to a brick-and-mortar location, she realized there was more heavy lifting to do. She needed a way to advertise her business locally and attract in-person clients.
As a one- or two-person company working in the virtual space until this year, Miriam wasn't sure she was a big enough business to justify creating a Yelp Page. Once she sat down with Yelp's Small Business Expert Emily Washcovick, however, Miriam saw the benefits immediately.
"I'd love to have a Yelp Page. I just had never sat down to do it," she said. "[Emily] gave me that accountability of yeah, this is a good thing. We should have this, especially since we opened our own brick-and-mortar studio this year. A lot of people in the neighborhood don't know we exist. If anybody lives in the area and they're searching for personal trainers, I always want to be the first one that shows up for people, and Yelp is a really good way to do that."
As Miriam discovered, setting up and claiming her Yelp Business Page was easy since she already had all the information she needed on hand. In addition to adding basic business information, like contact details and location, she was able to add high-quality photos and a business description that tells potential customers who she is, what she believes in, and what she offers—something Miriam learned is more important than telling people what she doesn't do.
"Sometimes when I talk about my business, I'll say we don't do diet culture. We don't do the shame and the blame and the guilt," she said. "So it was very important for me to edit and say what we do offer versus what we don't offer. If someone's searching, I want the stuff we offer to pop up."
Within a short period of time, Miriam started to notice an uptick in search results and new clients. By changing the way she thought about her messaging, she could better convey MF Strong's unique stance on fitness, focusing on health and happiness rather than weight loss.
Miriam also asks each new client how they heard about MF Strong when they sign up so she has an accurate picture of how, and if, her marketing efforts (and dollars) are working. Because it's free to be on Yelp, Miriam didn't have to spend anything to get set up and going.
Before setting up her Yelp Page, she said, "Most of our clientele come through social media. That's our biggest funnel of clients. So I definitely take note when I see them coming from elsewhere.."
Now that the business has taken off, Miriam has handed MF Strong's social media channels to a social media manager, an important delegation strategy that shows how robust the business has become.
"It's so important to be able to delegate and be able to say, 'I could do this, but it's just a thing I don't need to do.'" she said. "As a business owner, making those distinctions is so vital for the business but also for your own mental health to say, 'Where am I needed and where is it non-essential for me to be controlling the situation?'"
There are more lessons from Miriam and Emily that could help your small business on this episode of Behind the Review, including:
List your business categories and specific services on your Yelp Page. There are more than 1,500 categories on Yelp to choose from, and you can choose up to three. Displaying your niche is key to helping potential customers find you, so be sure to select your specific services and describe the outstanding ones in your Specialties section.
Be yourself. On social media and your Yelp Page, showing up with an authentic voice goes a long way with potential and current customers.
Get ahead with artificial intelligence (AI). AI can help you draft content like polite and professional communications to customers or social media captions. The key is using it sparingly and always maintaining a personal touch in every correspondence.
Listen to the episode below to hear directly from Miriam and Emily, and subscribe to Behind the Review for more from new business owners and reviewers every Thursday.
Russia to Build State Media Ecosystem in Occupied Ukraine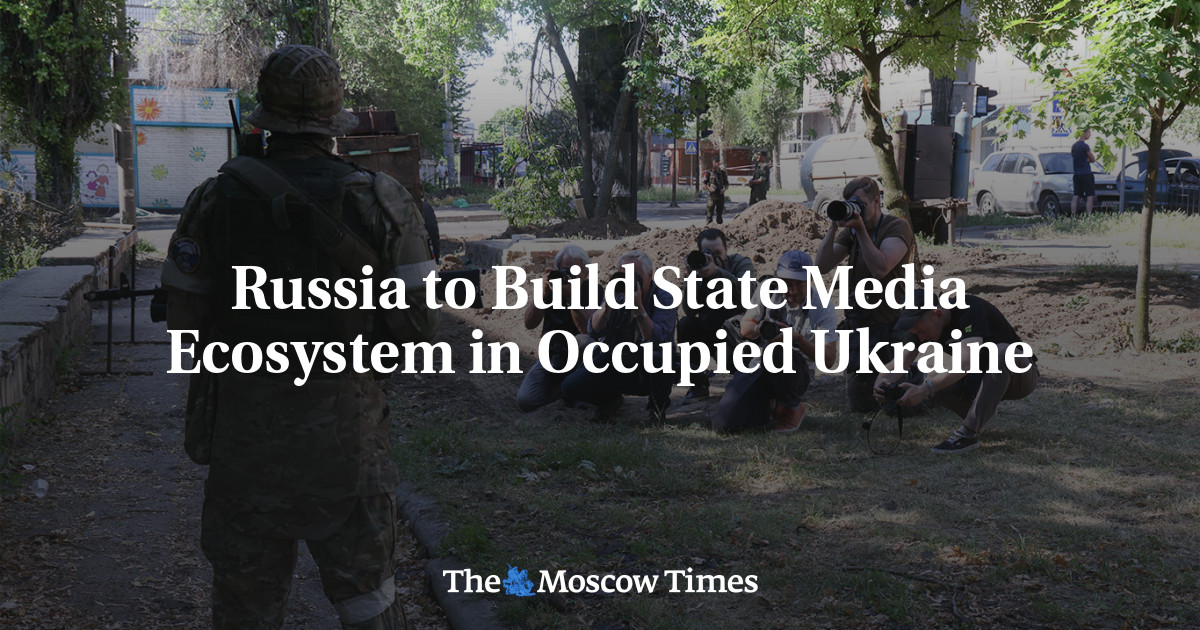 Russian-installed authorities in occupied Ukraine are developing a centralized "information space" for pro-Russian mass media and outreach, the Vedomosti business daily reported Friday.
Russia claims to have annexed four regions of Ukraine — Donetsk, Luhansk, Zaporizhzhia and Kherson — in September 2022 following widely disputed referendums, despite failing to fully control any of them.
Moscow-installed authorities in these regions now seek "to create a channel of verified information in each region," Vedomosti said, citing sources in the regions' Russian administrations.
These channels' main focus should be on news about the "socio-economic agenda" and the "agenda of creation" — in other words, positive news.
Like the rest of Russia, the occupied regions have faced censorship of information that contradicts the Kremlin's narrative of the war since its invasion began in February 2022.
Currently, the only local pro-Russian media sources in the Zaporizhzhia and Kherson regions are the social media pages of Kremlin-appointed officials and military bloggers.
The Donetsk and Luhansk regions' "news agencies" were first created in 2014 — when pro-Moscow separatists went to war with Kyiv — with the support of Russian state agencies.
The creation of similar agencies in the Zaporizhzhia and Kherson regions was announced earlier this month, with Russian officials and state journalists again playing an advisory role.
According to Vedomosti, one of these consultants will be Lana Samarina, the former first deputy editor-in-chief of the state-run TASS news agency.
Russia launched efforts to "Russify" the Ukrainian territories under its control shortly after invading Ukraine, implementing the Russian currency, issuing passports and installing Kremlin-appointed "governors."
The occupied regions have also faced censorship of information that contradicts the Kremlin's narrative of the war.
Russia last month announced plans to hold local parliamentary elections in the occupied Ukrainian regions in September.