Pandemic cools property purchases by foreign buyers – Business in Vancouver
The numbers and the anecdotal evidence are clear: while Metro Vancouver's housing market has been on a surprising tear during the COVID-19 pandemic, the market for foreign buyers looking to enter the Lower Mainland has not followed suit.
But while local real estate industry representatives and urban development analysts agree that COVID travel restrictions have limited international interest in Vancouver-area homes, they disagree on whether the foreign-buyers market faces a longer-term correction.
According to municipal residential real estate data, there were five months out of 12 in 2019 in which there were more than 30 foreign-involved transactions that triggered the 20% provincial foreign-buyers tax in Vancouver.
Since March 2020, that monthly number of transactions has not surpassed 15 – and failed to break single digits for six of 2020's last 10 months.
"Who really wants to move globally in the middle of a pandemic?" said Andy Yan, director of the City Program at Simon Fraser University and one of the city's leading urban-planning researchers. "In March 2020, we had 24 foreign-involved transactions in the city of Vancouver. The next month, we went down to six."
Mike Stewart, who works with corporate rentals for out-of-town executives, said the pandemic "has really put the crimp on corporate rentals, because people are not travelling."
Brian Higgins, founder of YVR4Sale, which has clients from the U.S., Europe and Asia, agreed that the real estate market boom is driven locally. But Higgins said foreign-buyer activity in Vancouver has lagged behind as far back as 2016, when former premier Christy Clark introduced the 20% foreign buyers tax on any such purchases.
Higgins added that Vancouver's empty home tax and the additional speculation tax implemented under the John Horgan BC NDP government also "scared a lot of people onto the sidelines."
Yan, however, noted that even as the number of transactions fluctuated in the market since 2016, their overall value has stayed relatively stable in the $20 million-to-$60 million range every month. That indicates that the taxes have not dramatically shrunk the total dollar value of transactions – just the number of buyers who can afford the extra 20%.
"You have to remember, the nature of the foreign buyers tax wasn't to prevent more buying," Yan said. "It was just to capture value for the B.C. taxpayer. It's essentially increasing the fee for [international buyers] to access the clubhouse. And you've also got to remember: It's very specific to where and what. It's a very particular type of property in specific regions that are moving up."
He added that the B-20 mortgage rules introduced in 2018 that have been credited with spurring the current real estate boom have instead discouraged foreign buying, because the requirement for non-Canadians to get a mortgage makes the process more difficult.
What is also clear, observers say, is that international demand has not gone anywhere. Both Stewart and Higgins said they anticipate a surge in buying from abroad – mostly from Canadians living outside Canada in places like the United States, Hong Kong, Great Britain or Europe – as soon as vaccinations become widespread and travel restrictions are loosened.
Higgins said Ottawa's plan to bring in as many as 400,000 immigrants annually in the next few years to boost the Canadian economy means the Metro Vancouver market will likely see another wave of cross-border buyers soon after the pandemic ends.
"If you are coming out of an unstable situation, people are willing to put a little more money into a more stable country. And Canada is a stable country … and Amazon [Nasdaq:AMZN] is coming in 2024. The tech coming out of that will be an immense economic boom for the city."
But Yan urged caution. He noted that while the demand has not gone away abroad, how strong and consistent that foreign demand will be is hard to determine.
"Of course, the rest of the world has changed. Let's face it, one of the main sources of growth had been coming in from China, and the Chinese rules – from the people I've talked to – have certainly tightened up. That brings a complication that we may not see the [previous high levels of] demand come back in.
"We don't know what happens globally.… And a lot of things that drive foreign buyers happen outside of Canada. The world in 2021 is vastly different than what it was in 2016." •
Credit 'Zombies' on the Rise as Real Estate Firms Lead Charge – BNN
(Bloomberg) — The walking dead of the corporate world are multiplying — and the property industry sustains the most.
A new study on companies that have dodged default for years, even though they don't have enough money to pay interest, comes just as markets from Hong Kong to New York are roiled by real-estate giant China Evergrande Group's showdown with its creditors.
Consultancy firm Kearney found their numbers have expanded by 9% globally in the past decade, in part because loose monetary policy has allowed them to keep rolling over debts.
While "zombies" have been on the rise since the last financial crisis, the pandemic looks likely to bolster their ranks, with more companies seeking waivers after taking on unsustainable piles of debt when economies were shuttered.
The OECD defines zombie companies as those that have been trading for more than 10 years and have been unable to cover their interest burden from their operating revenues for three consecutive years.
Kearney studied records of 67,000 listed companies from 152 countries. It found:
7.4% of real-estate firms were zombies
5.9% of healthcare
5.5% of telecommunications and media
5.1% of travel and tourism
Within retail, online retail had a slightly bigger share of zombies than brick-and-mortar counterparts, potentially due to the low profitability of online players, according to the report.
Europe
At least 5 issuers are offering debt on European markets on Thursday, with new issuance volumes of at least EU2.25 billion-equivalent.
Bank of England voted to keep bond-buying target and interest rate benchmark unchanged at a record-low 0.1%
Ashmore Group Plc's Jan Dehn is set to leave the firm, ending a 16-year stint at the emerging market-focused money manager
SMCP's majority shareholder, European TopSoho's, failed to redeem at maturity EU250 million 4.0% bonds exchangeable into SMCP shares
Asia
Financial regulators in Beijing issued a broad set of instructions to China Evergrande Group, telling the embattled developer to focus on completing unfinished properties and repaying individual investors while avoiding a near-term default on dollar bonds.
Global investors will focus on China Evergrande Group's $83.5 million interest payment due Thursday on a five-year dollar note
The People's Bank of China pumped in 110 billion yuan ($17 billion) of cash with seven- and 14-day reverse repurchase agreements.
Four Chinese firms were offering dollar bonds Thursday, ending a three-day lull in the Asian credit market amid holidays and concern about contagion from the distressed property giant Evergrande
U.S.
Federal Reserve Chair Jerome Powell said there is little direct U.S. exposure to debt of the Chinese company Evergrande but said it could impact global financial conditions
Powell said the Fed could begin scaling back asset purchases as soon as November and complete the process by mid-2022
The takeover of medical supply company Medline Industries Inc. is being funded by the largest leveraged buyout loan in three years
A gauge of volatility in the $4 trillion market for state and local-government debt has tumbled to just shy of a record low set in early January
©2021 Bloomberg L.P.
Record-breaking real estate: North Saanich property sells for nearly $23M – CHEK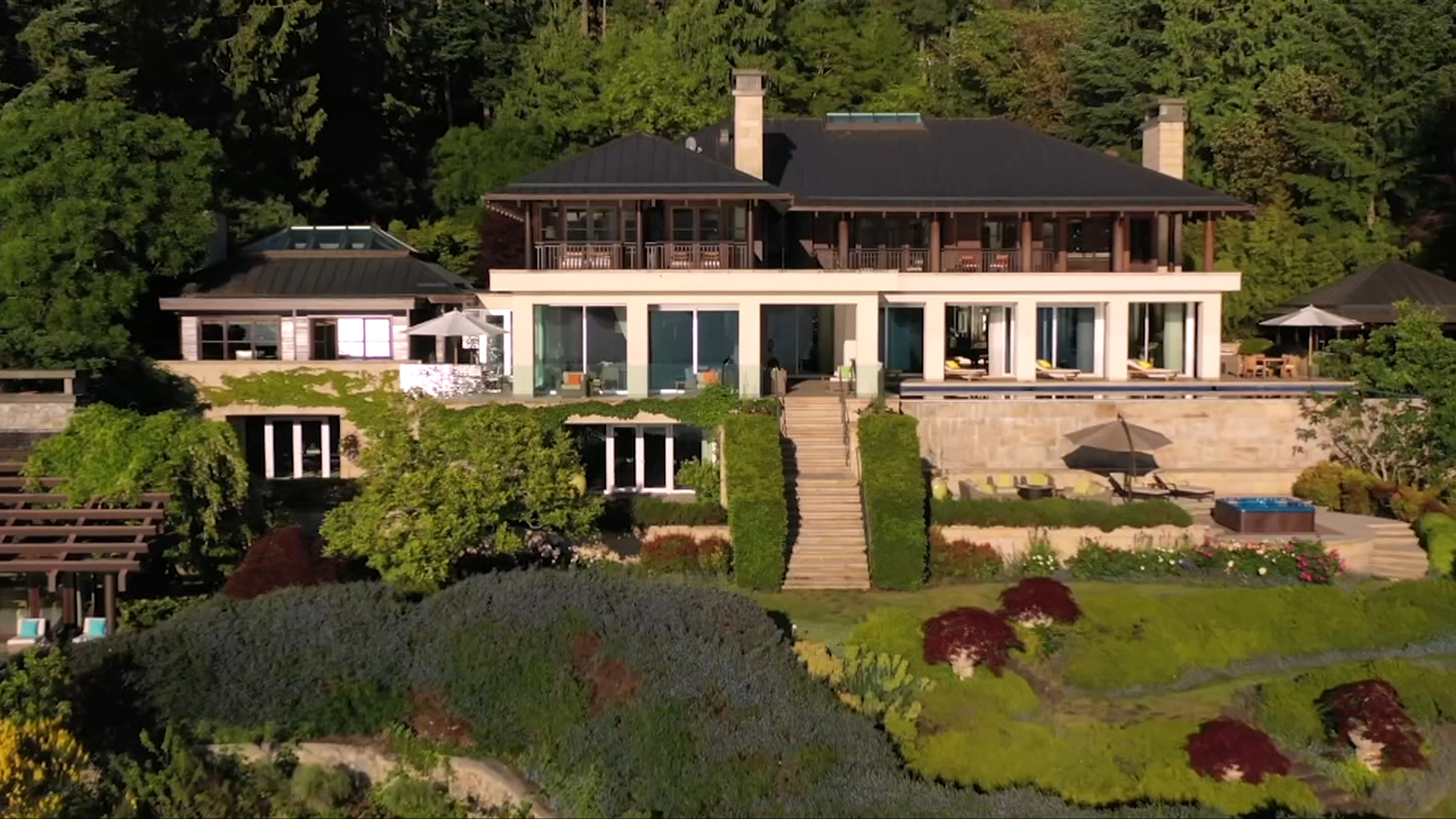 The sale of a multi-million dollar listing in North Saanich is shattering any previous record for highest house price on Vancouver Island.
For $22.75 million, the Lawrence Road property includes a 13,000-square-foot home with eight bathrooms, six bedrooms, a two-storey study, a detached yoga studio, an infinity pool, tennis court, gym — even an underground wine cellar.
The president of the Victoria Real Estate Board, David Langlois, said the property is unique.
"You are looking at a very high-end, very interesting property that is going to offer features that you simply can't find anywhere else," he said.
It also comes with its own detached two-bedroom guest cottage.
"It's significant in that it's certainly the largest recorded sale that we've seen in our marketplace," Langlois said.
"We do have a lot of really valuable real estate throughout the Greater Victoria area. We've got lots of private islands, and lots of estate-like settings. It's not surprising."
In June, a property in Metchosin sold for $12 million. It sits on 67 acres and a stream runs under parts of the 10,000-square-foot home.
WATCH: Luxury home with stream running through it sets real estate record in Greater Victoria
At the time, it was the highest price ever paid through the Victoria Real Estate Board listings.
Tina Ireland, a regional assessor with BC Assessment, said there are fewer homes in the luxury market available right now.
"The luxury home market is more unique though of course, because the properties are more unique."
With demand up for properties worth $4 million and more, so are prices.
"Last year's assessment, we had seen a 10 per cent increase," Ireland said. "This year I think we'll see at least that in our assessed values."
There have been 245 sales of homes in the $2 million category so far in 2021, compared with just 94 in the same period in 2020.
Dubai real-estate firm DAMAC approved to take firm private – 95.7 News
DUBAI, United Arab Emirates (AP) — A Dubai real-estate company known for its deals with former President Donald Trump said Thursday it had received regulator approval for an effort to take the firm private.
DAMAC Properties still plans to offer $595 million for outstanding shares of the company, the firm said in a filing on Dubai Financial Market stock exchange.
It said it would offer an update on the plan in the coming weeks. It earlier announced plans in June for the offer to take the company private, then withdrew them as regulators examined the plan.
The buyout would be through Maple Invest Co. Ltd., a holding company of DAMAC's billionaire founder Hussain Sajwani. Sajwani owns nearly four-fifths of the company through various investment firms.
DAMAC stock traded up Thursday over 3% on the news. The firm has a market capitalization of over $2 billion.
DAMAC is known in Dubai for a development that features a Trump-branded golf club surrounded by villas and apartments, making it the only one of its kind in the Middle East that bears the Trump logo.
The company's partnership with the Trump Organization to manage and run the golf course was struck before Trump's election as U.S. president.
The Associated Press