Pfizer confirms possible November COVID vaccine application – BNN
Pfizer Inc. said it could seek emergency-use authorization for its COVID-19 vaccine in the U.S. by late November if the shot is shown to be effective in a large late-stage trial, putting to rest any notion that a vaccine could be cleared for emergency use in the U.S. before Election Day.
Safety reviews will dictate the time line, with the U.S. Food and Drug Administration requiring that at least half the people in the study be watched for side effects for two months. That milestone should be achieved in the third week of November, Pfizer Chief Executive Officer Albert Bourla said in an open letter published Friday on the company's website.
"Let me be clear, assuming positive data, Pfizer will apply for emergency authorization use in the U.S. soon after the safety milestone is achieved," Bourla wrote. An initial readout on whether the vaccine is effective could come later this month, depending on how quickly subjects in the trial — some of whom got a placebo shot — become infected with the virus.
Pfizer's shares rose 3.2 per cent to US$37.73 at 1:40 p.m. in New York trading.
Although Bourla's letter ends the idea that a vaccine could be cleared in the U.S. before Nov. 3 — a goal President Donald Trump has pushed for — the Pfizer timetable could give the president a partial victory. If Pfizer and its German partner BioNTech SE can say in late October that its inoculation protects people from the virus, that could let Trump claim his administration successfully pushed for a working vaccine before Nov. 3, regardless of whether the FDA has reviewed it.
'Too Politicized'
"It's a huge win. It's a win for public safety," said Jeremy Faust, an emergency medicine physician at Brigham and Women's Hospital in Boston. "We don't want something that works, but we didn't give patients a full and accurate assessment of the side effects that might be expected among some people."
Faust was among a group of leading scientists who previously urged Pfizer to wait until at least late November before seeking emergency authorization.
Even mild or moderate side effects could undermine public trust in a vaccine if they weren't initially understood or explained, something that waiting for two months of safety data makes significantly less likely, he said.
"I think what we effectively did was to point out the risk of ruin was higher if they rushed," he said. "The worst possible scenario is people just stop trusting Pfizer and their astronomically large portfolio of products."
'Right Thing'
Howard Forman, director of the Yale School of Public Health's health-care management program and another signer of the letter, also spoke approvingly of the decision by Pfizer. If Pfizer had pushed ahead with an October filing, "it was going to seem to be too politicized," engendering skepticism among members of the public, he said.
Forman, who also signed the letter from the scientists, is participating in the Pfizer trial and received his second dose of the vaccine about a month ago.
"It sounds like they're doing the right thing," Forman said, noting that while he's optimistic about the new November time line, the company still has to prove the vaccine is safe and works, including in different subgroups like the elderly.
The Pfizer partnership and Moderna Inc. are the two front-runners in testing COVID-19 vaccines in the U.S. Both are testing so-called messenger RNA vaccines, a new type of vaccine that turns the body's own cells into tiny vaccine-making factories. The technology has never been used in an approved vaccine.
Vaccine Leaders
Moderna is only slightly behind Pfizer, and has said it could get preliminary efficacy data by late November. While both began late-stage trials at the end of July, Pfizer is in the lead due to the speed at which it enrolled its trial and quirks in how the vaccine is given. The two doses of the Pfizer vaccine are given three weeks apart compared with four weeks for the Moderna vaccine, shaving a week off the timetable. Moderna also slowed enrollment in its trial slightly to increase diversity among participants in the research.
U.S. trials of two other vaccines are on hold for safety checks, putting them significantly behind the two mRNA vaccines.
A U.S. trial of an AstraZeneca vaccine has been on hold since early September while regulators investigate a participant in the U.K. that experienced neurological issues, although large trials of the vaccine have resumed in the U.K., South Africa and Brazil. And a 60,000-patient trial of a Johnson & Johnson vaccine was paused this week due to an unexplained illness in a participant.
The Bourla letter released Friday confirmed a time line laid out by BioNTech CEO Ugur Sahin this week. The partners haven't had to stop their late-stage study over safety concerns, Sahin said.
BlackburnNews.com – Canadian retailer to shutter operations – BlackburnNews.com
Canadian retailer to shutter operations
A Le Chateau store at Eaton Centre in Toronto. Photo courtesy Google Maps.
October 23, 2020 6:35pm
A popular women's fashion chain is the latest Canadian retailer to fall victim to the slumping economy caused by the COVID-19 pandemic.
Le Château Inc., which is based in Montreal, announced Friday that it had filed a Companies' Creditors Arrangement Act (CCHA) application to protect its assets, while it liquidates and winds down operations, according to a media release posted on the company's corporate website.
The chain has 123 stores across Canada, including one at Devonshire Mall in Windsor and one at White Oaks mall in London. The company also maintains a website that serves customers in both Canada and the U.S.
In its release, the company said every effort was made to keep the company afloat.
"The retail industry faced numerous challenges due to the ongoing COVID-19 pandemic and the second wave currently hitting our communities across Canada," the company said. "Its already evident impact on consumer demand for Le Château's holiday party and occasion wear, which represents the core of our offering, has diminished Le Château's ability to pursue its activities."
There were 900 people employed in the chain's stores, plus 500 at the head office in Montreal.
"We regret the impact this will have on our people and can assure you that we explored all options available to us prior to taking this difficult decision," the company said. "We also thank the fashion schools and the business partners that have been part of our legacy and wish them continued success in keeping Montréal the fashion centre of Canada. Most importantly, we thank the millions of Canadians whom we have had the privilege of serving over the past six decades."
There is no word on when the stores will close.
Alberta to stop limits on oil production in December after nearly two years – Business News – Castanet.net
Photo: The Canadian Press
Pumpjacks pump crude oil near Halkirk, Alta., June 20, 2007. Alberta's UCP government says it will end in December monthly oil curtailment quotas introduced by the previous NDP government at the beginning of 2019 to support oil prices by aligning surging output with static pipeline capacity.THE CANADIAN PRESS/Larry MacDougal
Alberta's oil curtailment quotas are set to end in December, nearly two years after the previous NDP government introduced them to support oil prices, the UCP government announced Friday.
The curtailments, reset monthly, are no longer necessary because 16 per cent of Alberta's crude oil production is off-line, down from 22 per cent at the start of the COVID-19 pandemic, the government said in a news release.
It added it will retain the regulatory authority to reintroduce the measures if necessary in 2021.
"Maintaining the stability and predictability of Alberta's resource sector is vital for investor confidence as we navigate the economic conditions brought on by the pandemic, the commodity price crisis and the need for pipelines," said Energy Minister Sonya Savage.
"This purposeful approach serves as an insurance policy, as it will allow Alberta to respond swiftly if there is a risk of storage reaching maximum capacity while enabling industry to produce as the free market intended."
The province quoted Genscape in noting that there were about 20 million barrels of oil in storage as of Oct. 16, down from nearly 40 million when the curtailment program began.
High inventory levels are blamed on the inability of the pipeline system to match the province's growing oil production levels, mainly from new and expanded oilsands projects.
The program has been controversial from the start, with oil producers such as Cenovus Energy Inc. largely in favour of it while oil producers that also own refining operations, such as Imperial Oil Ltd., adamantly opposed.
"We have always maintained that a market-based approach is best and support the government's move to end the current program," said Husky Energy Inc. spokeswoman Dawn Delaney on Friday.
In a report, RBC analyst Greg Pardy said the end of the program is beneficial for producers including Cenovus, Suncor Energy Inc., Canadian Natural Resources Ltd. and others that have been forced to choke back production at their facilities.
Suncor, for example, has not been able to maintain full production at its Fort Hills oilsands mine after expanding its capacity to 194,000 barrels per day in 2018. Earlier this year, it shut down one of its two extraction trains because of low oil prices.
However, a rebound in production could result in widening of the price discount on western Canadian crude versus U.S. benchmarks, Pardy warned, noting that lower oilsands output so far this year has reduced the discount on western Canadian Select bitumen-blend oil.
The province's allowable production quota was gradually raised from 3.56 million barrels per day in January 2019 to 3.81 million bpd by year-end, a level maintained through the first 11 months of 2020.
The province says production was actually 3.1 million bpd in August and it's not expected to exceed export capacity before mid-2021.
The government's move to stop the program makes sense given the impact of the COVID-19 pandemic on the oil market, said Ben Brunnen, vice-president of fiscal and economic policy for the Canadian Association of Petroleum Producers.
"This enables companies now to be making decisions from a production perspective based on market fundamentals as opposed to government-mandated limitations," he said.
But he added it's unfortunate the government felt obliged to intervene in the market in the first place.
"CAPP supports transparent and unconstrained market access to ensure all of Alberta's oil production is delivered to desired markets at market clearing prices," he said.
The government says it extended what was intended to be a short-term measure because of ongoing delays to pipeline projects that would increase the province's export capacity.
Pardy said the completion of pipelines including Keystone XL, the Trans Mountain expansion, and Enbridge Line 3 "should enhance the province's permanent ability to balance production and takeaway capacity, helping to ensure Alberta's resources are exported at full value."
Le Chateau closing all 123 stores, including Thunder Bay location – Tbnewswatch.com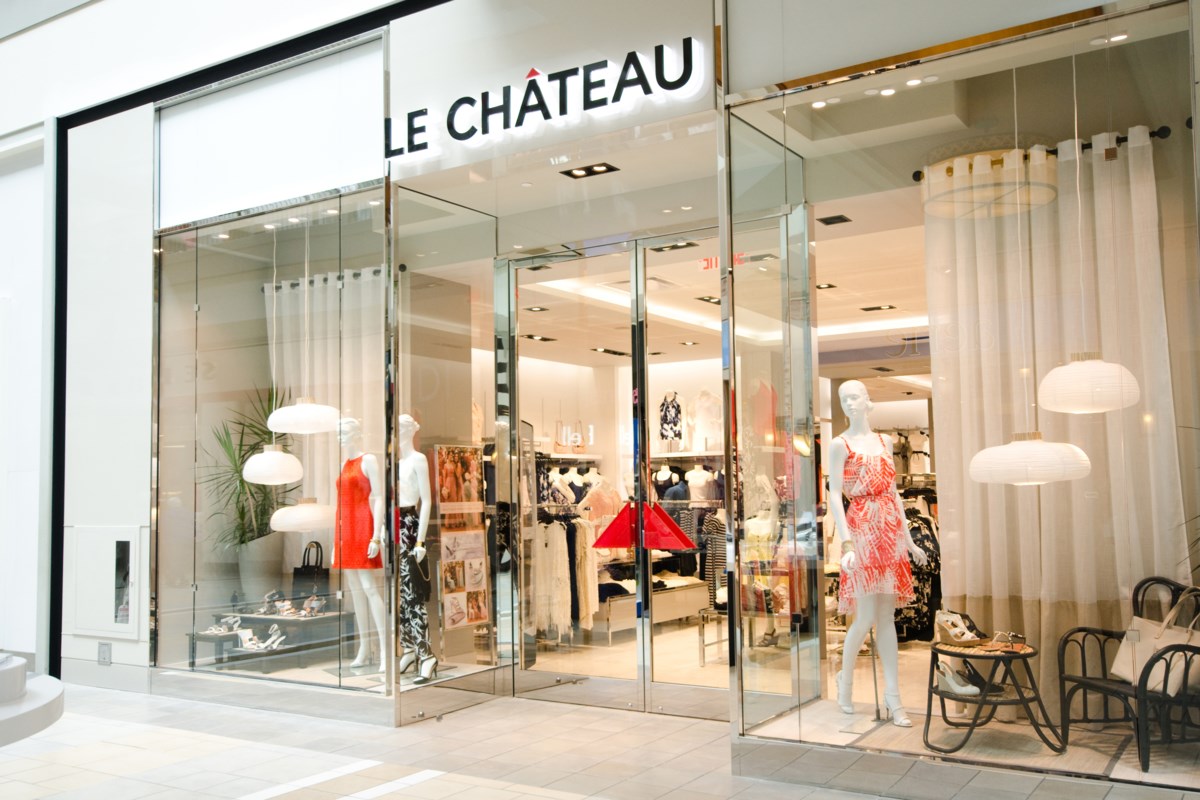 THUNDER BAY — The city is losing another long-standing national clothing outlet.
The Montreal-based company on Thursday announced its intention to seek protection under the Companies Creditors Arrangement Act and plans to close all 123 of its locations, including one at Intercity Shopping Centre. The company cited the challenges of the pandemic and the second wave of COVID-19 hitting many communities as an underlying factor.
"Its already evident impact on consumer demand for Le Chateau's holiday party and occasion wear, which represents the core of our offering, has diminished Le Château's ability to pursue its activities. Regrettably, these circumstances leave the Company with no option other than to commence the liquidation process," reads a statement posted on the company's corporate website.
About 1,400 people are expected to lose their job as a result.
Stores are expected to remain open through the liquidation process.
The mall has been hard hit in recent years, losing anchor tenants Lowe's and Sears. Marshalls did take over a portion of the former Sears location.
Le Chateau says it looked into means of refinancing or finding a third party to operate th company, but was unsuccessful. The company has been in business since 1959.