Philippine Economy Signals Shaky Rebound From Worst of Virus
(Bloomberg) — The Philippines' economic contraction moderated in the third quarter by less than forecast, signaling an unsteady recovery from the pandemic even as movement restrictions were relaxed and businesses reopened.
Gross domestic product shrank 11.5% in the three months through September from a year earlier, an improvement from the second quarter's revised 16.9% drop. The median forecast in a Bloomberg survey of 20 economists was for a 9.6% decline.
Compared to the previous quarter, the economy expanded 8%, below the median estimate of 8.9% among seven economists surveyed, Tuesday's data showed. The first sequential growth this year shows the economy is on the mend heading into 2021, Acting Economic Planning Secretary Karl Chua said.
"The economic team is optimistic that the worst is over for the country," Chua said, adding that officials would reassess their economic projections in light of Tuesday's data. "The path is clearer to a stronger bounceback in 2021."
The peso fell 0.2% to 48.25 per dollar as of 11:08 a.m. in Manila. The country's benchmark stock gauge rose more than 3%, joining a rally in Asia on vaccine optimism.
The quarter-on-quarter growth comes after two straight periods of contraction, including a revised 14.9% drop in the second quarter, when the economy entered recession amid Southeast Asia's second-worst Covid outbreak.
"While growth is going in the right direction, it will take a while until pre-pandemic production is attained," said Eugenia Victorino, head of Asia strategy at Skandinaviska Enskilda Banken AB in Singapore. "The risk is the longer the recovery takes, the more permanent the destruction of incomes become. This will cap growth momentum going forward."
Consumer and business sentiment remain weak after a stricter quarantine was reimposed in Manila for two weeks in August. Unemployment rose in the capital region, which accounts for about a third of the economy, even as the nationwide jobless rate eased in July from a record high in April.
What Bloomberg Economics Says…
"Another double-digit slump in Philippine GDP underscores the challenge of reviving the economy amid an uncontained virus outbreak, ongoing containment measures and restrained fiscal support. While the loosening of movement restrictions should help to release some pent-up demand in the months ahead, we anticipate the economy will remain in annual contraction in 4Q."
— Justin Jimenez, Asia economist
Fading Potential
No major sector performed strongly in the third quarter, according to Nicholas Mapa, economist at ING Groep NV.
"More worrisome is the sustained weakness in capital formation, which points to fading potential output and slower growth for quarters to come, no matter how much government pushes to reopen," he said.
Tuesday's data showed:
The agricultural sector expanded 1.2% year-on-year
Industry contracted 17.2% compared to a year earlier
Services were down 10.6% from the year-ago period
The central bank, which is scheduled to review monetary policy Nov. 19, will likely retain its easing measures until long-term economic growth and job targets are reached, Governor Benjamin Diokno said Nov. 5. So far this year, the bank has cut its key rate by 175 basis points, eased some lending rules and boosted money supply.
The government is banking on next year's record 4.5 trillion-peso ($93.5 billion) budget to boost an economy expected to contract by as much as 6.6% this year. Timely passage of the budget is crucial in attaining the 6.5%-7.5% growth projection for next year, with Chua estimating that each day of delay results in 1.1 billion pesos not spent.
Chua said the government won't revert to stricter curbs on movement to fight the pandemic, and will instead pursue a strategy of implementing minimum health standards.
"Managing risks instead of avoiding them will allow us to safely open more of the economy," he said. "This will also put the Philippines on its solid growth and development trajectory."
(Updates market levels in fifth paragraph, adds bullet points.)
©2020 Bloomberg L.P.
Source:- BNN
The worsening pandemic raises the stakes for Biden's economic program – CNN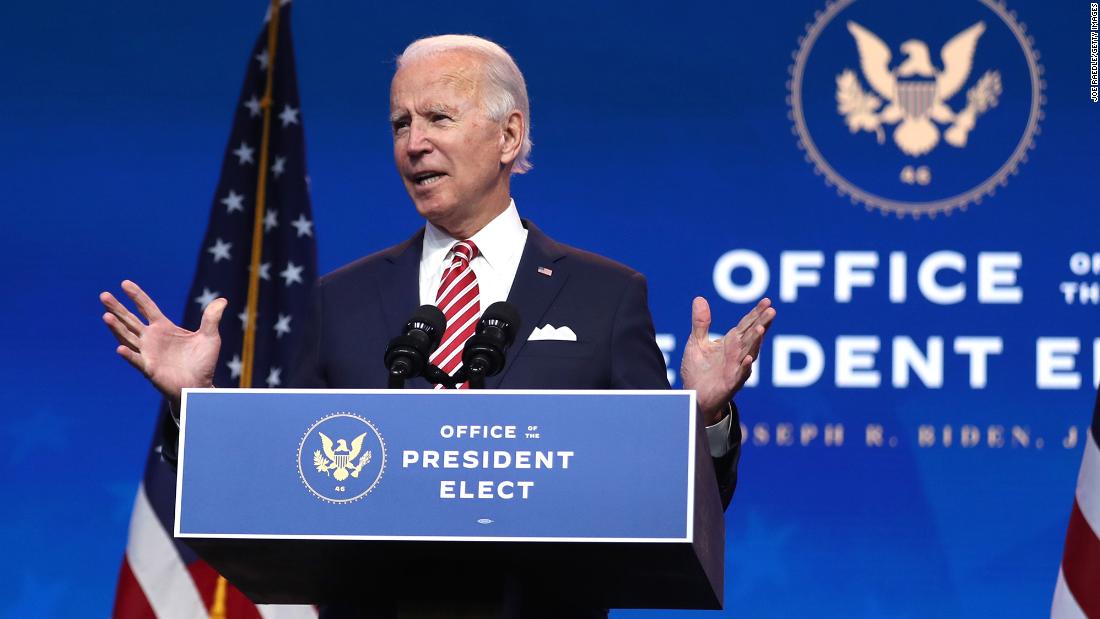 "You have to right the market a little bit," the former vice president told me. "The middle class is getting killed."
Within weeks, the coronavirus hit and worsened the toll — literally and figuratively. That steepens the challenge President-elect Biden faces when he replaces
President Donald Trump
in January.
For at least a half century, multiple economic forces have exacerbated disparities within American society. By 2016, a Pew Research Center analysis recently found, the most affluent 5% possessed 248 times the wealth of the least affluent 40%. Wealth improves health; on average, the richest 1% of Americans live more than 10 years longer than the poorest 1%, a study in the Journal of the American Medical Association has found.
Covid has deepened both dismal grooves. Blacks and Hispanics, who lag behind Whites in wealth and income, die from the virus more than five times as often, according to the Institute for Health Metrics and Evaluation at the University of Washington.
The economic dislocations of the pandemic have largely spared more affluent Americans. Buoyant financial markets and home values have protected their wealth, and their ability to work from home has protected their jobs.
Low-paid service workers, by contrast, have been devastated. Many of those who have been lucky enough to avoid being laid off must report to job sites as "essential workers," heightening their risk of exposure.
Others have faced layoffs due to plummeting demand, and the prospect of permanent job loss from sectors such as leisure travel or in-person retailing that won't recover soon if ever. While higher-wage employment has risen back to pre-pandemic levels, the number of jobs paying $27,000 or less remains down 19%, according to Harvard's Opportunity Insights Economic Tracker.
"For people who can work remotely, all this is slightly inconvenient," observed Massachusetts Institute of Technology economist David Autor. "For many others, they're going to have to change their livelihoods."
'A lot of people have been left behind'
Responding to all this won't require Biden to rewrite the economic plans he'd already developed, because of who they were always intended to help.
"The agenda was really crafted with the core insight in mind that a lot of people have been left behind for a long time," noted longtime Biden economic adviser Jared Bernstein.
In the name of rebalancing for fairness and equity, his campaign proposed trillions in tax increases on the affluent to finance trillions in spending on health care, infrastructure, education and other programs.
But Covid raises the stakes for getting his proposals enacted, and suggests subtle shifts of emphasis.
For example, higher minimum wages work best in tight labor markets. So elevated unemployment has diminished the urgency of Biden's call for doubling the federal minimum to $15, according to Autor.
Yet pushing any tax increases through Congress will be difficult, especially if Republicans keep control of the Senate after
Georgia's runoff elections
in January. But Biden's proposed payroll tax hike on incomes over $400,000 has grown more important. That's because a significant number of older Americans who've lost jobs are expected seek Social Security earlier than previously planned, adding new strains to the program's finances.
Workers cast off by suddenly declining industries face a more immediate need for the job training upgrades Biden has proposed. Those responsible for young children and aging parents have grown more desperate for the kind of help Biden's proposed caregiving subsidies would provide.
The inadequacy of virtual learning required by Covid elevates the importance of his higher proposed school funding levels. Without remedial education programs, low-income families less able to compensate with technology or tutoring will fall farther behind than they already are.
"The learning deficits are going to be so deep we don't know if they'll ever be able to overcome them," said Melissa Kearney, a University of Maryland economics professor who specializes in inequality. "I want to be an optimistic person, but I am so disheartened at this moment."
Congress remains stalled on more relief
The stalemate augurs poorly for passing a major new economic stimulus once Biden and the new Congress take office in 2021. Mark Zandi, the chief economist for Moody's, calls a large infrastructure program, to help stave off a backslide into recession, the most potent single step the new president could take to reduce economic disparities.
Democrats say Biden can make some progress without Congress, including possible executive action to relieve some student loan debts. His expected choice for
Treasury Secretary, Janet Yellen
, is a labor market expert deeply familiar with fiscal and monetary tools from her past work as Federal Reserve chair and a Clinton White House economist.
Incoming White House chief of staff Ron Klain
brings expertise in pandemics from his work overseeing President Barack Obama's successful response to Ebola. Taming the coronavirus would at least help the new administration prevent economic disparities from widening any further.
A year later, that issue remains Biden's target.
Families 'facing hardest period in five decades' as Britain's economy stalls – The Guardian
How this ocean-to-table operation is helping the N.L. economy by keeping it local – CBC.ca
Through late summer and early fall, Tim Ball spent as much time as possible underwater in his dive gear, scouring the seabed off the Burin Peninsula for scallops.
It's an ocean-to-table operation that sees his hand-harvested scallops quickly making their way to dinner plates in the downtown of St. John's.
"I try to keep it all local," said Ball about his business philosophy.
With a provincial economy that's in dire straits and in need of reversing its course, Ball thinks every little bit can help— especially if the focus is keeping as many of those little bits as possible in the province.
For Ball, that means, among other things, using locally made bags and boxes for packing his scallops and using a Burin Peninsula cab company for sending his catch into St. John's.
"Because this is a primary industry … we are in, and we are getting the actual resources from the bottom, this is creating new money for the economy," Ball said. "If the money is staying in Newfoundland, then great."
Terre Restaurant in St. John's is one of the destinations for Ball's scallops. Before the season ended last month they could be found listed on the menu as "Seared Diver Scallops."
"They're amazing," said head chef Matthew Swift.
"Anywhere else in the world … the idea of marketing day boat scallops is sort of a pipe dream. If I were to tell friends in other places that Tim gets out of the water, and I get the scallops in as long as it takes to drive in from Burin? It's insane," he said.
On top of the quality, it's Ball's business recipe that also interests Swift.
"Just in terms of having a diverse and smaller economy, where we can support people on a more individual level," he said.
This way of thinking is something that also strikes a chord with John Schouten — Memorial University's Canada Research Chair in Social Enterprise.
Schouten says Ball's operation means more than just local spending on his supply chain. There's also a spillover effect which would also see Ball spend money at local businesses in and around Garnish, where he fishes from.
"So every hundred dollars that passes from me, to you, to somebody else here locally, that $100 is working the whole time in our favour here in the province," said Schouten in an interview last month.
Patch the bucket
It may be a small example, but there's a bigger lesson in it for the provincial government, said Schouten. He thinks the government should treat the economy like a leaky bucket, where money comes in and goes out.
"If the government could, using that metaphor, start patching the bucket to keep the money in the province longer, working harder for local businesses, local people, people who are making a living wage — that would do wonders for the stability of the economy here," he said.
Speaking of helping the economy, Ball thinks what he's doing is scalable. In addition to scallops, Ball also hand harvests sea urchin, but he thinks there's more that can be harvested as well — including kelp, sea cucumbers and periwinkles.
For that to happen, there would have to be consistent licensing periods from the federal government and more divers with commercial dive training.
Eventually Ball would like to see a special school that trains up to a dozen divers a year for this type of work.
If a community had a handful of divers, Ball said, the economic spin-off is easy to see — you need people shucking scallops and spotting the divers, gear needs repairing, supplies need to be bought.
"I think it's just a win-win situation for small communities," he said. "It could be a good economic boon."
Read more articles from CBC Newfoundland and Labrador